(This page may contain some affiliate links. Please see my disclaimer for more information.)
Last Updated November 6, 2022
Are you a fisherman or do you know someone who enjoys fishing? If so, you already know how challenging it may be to find the best Christmas gifts for fishermen. However, you can come up with a great gift idea with some assistance. This list has some of the best gifts for fishermen of all ability levels, whether your loved one likes fishing as a pastime or is an expert. And best of all, most of the gifts in this gift guide are under $50 so you're sure to find something in your price range. Let's find your fisherman an affordable Christmas gift that won't break the budget, shall we?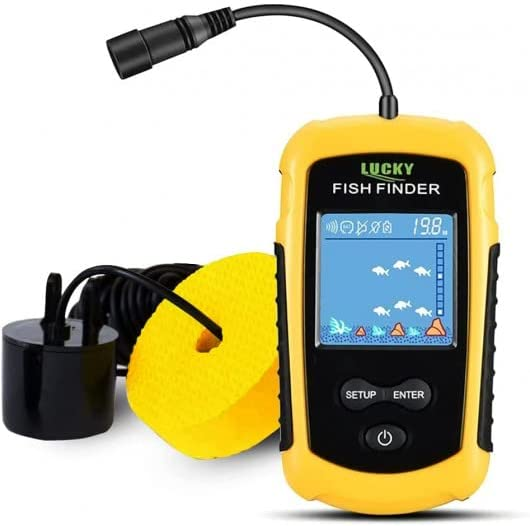 A fish finder is a great gift for any fisherman as it helps them to locate fish underwater. This handheld device uses sonar technology to detect the approximate fish location and water depth. This depth finder will help your fisherman can see where to cast their line and choose the best fishing spot. This is an essential tool for any serious fisherman and makes a great fishing gift.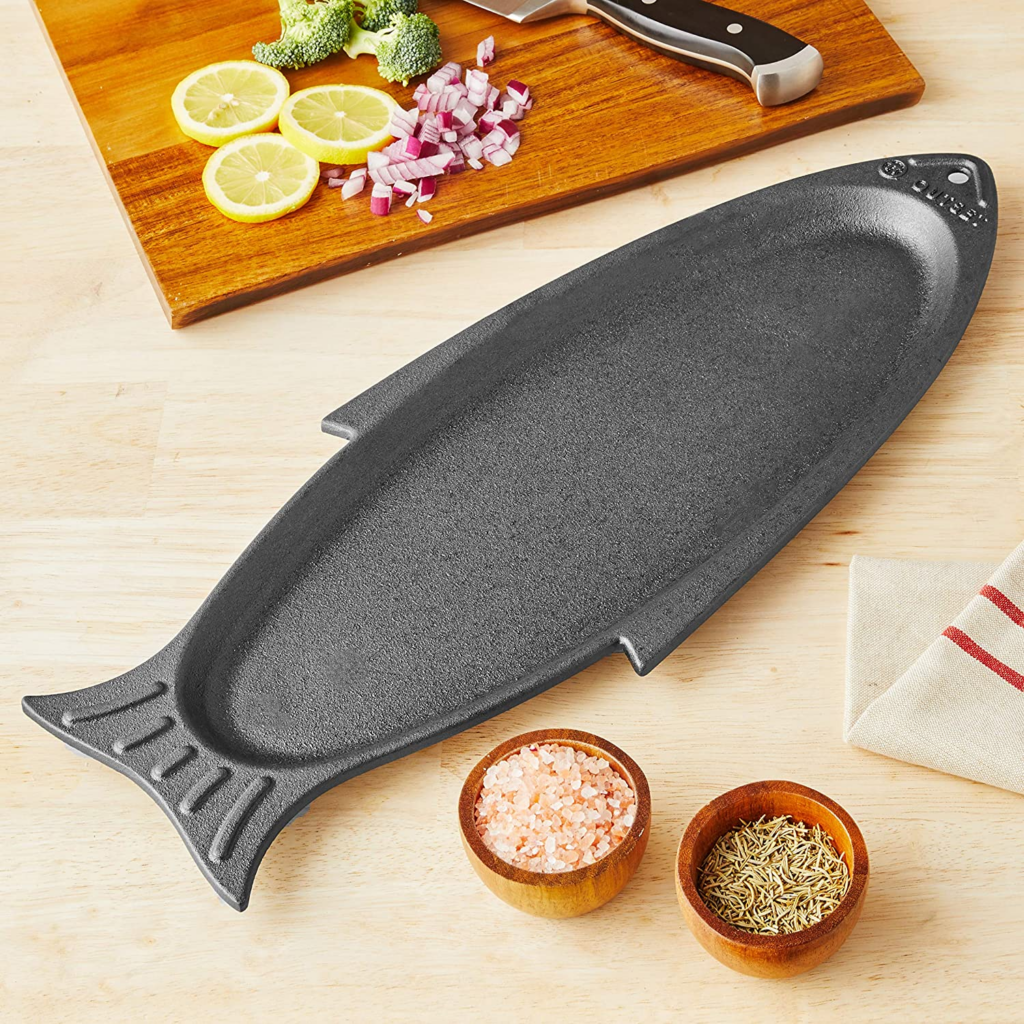 Do not lose any filets when cooking your fish because they fell through the grill grate. This grilling pan is nonstick so you season your fish without oil or fats, and the pan improves with age and usage. Try it on the stovetop, fire up the grill, or bring it along on your next camping trip. It's compact enough to move effortlessly from one cooking surface to another.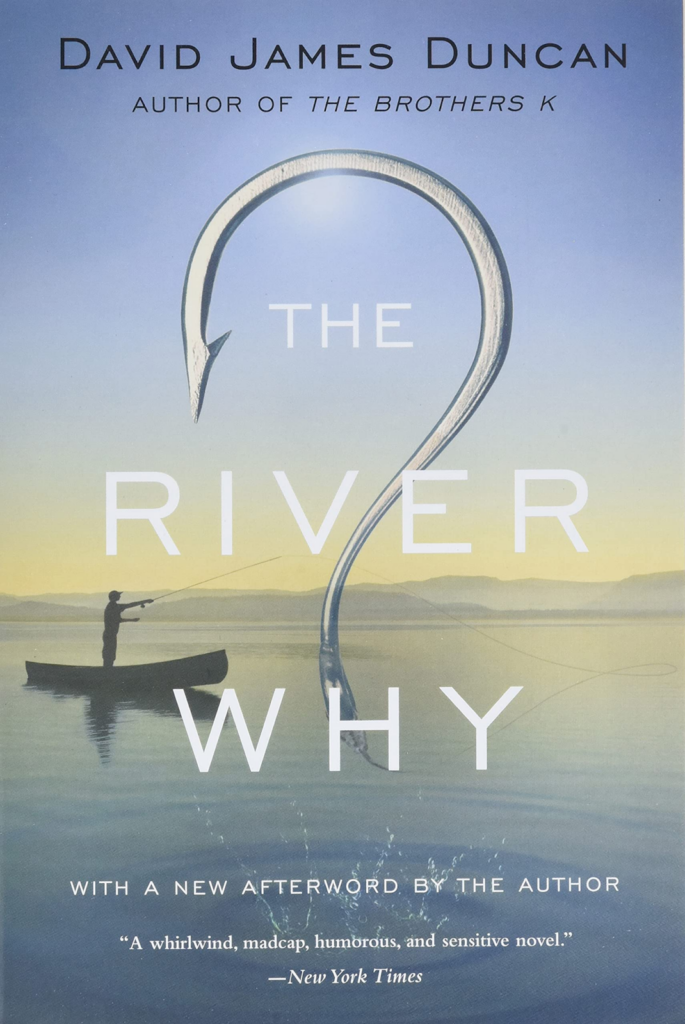 A must-read for all fishers. It discusses the author's perspective on growing up, the spiritual aspect of fishing, and much more. This is a great Christmas gift for any fishing lover.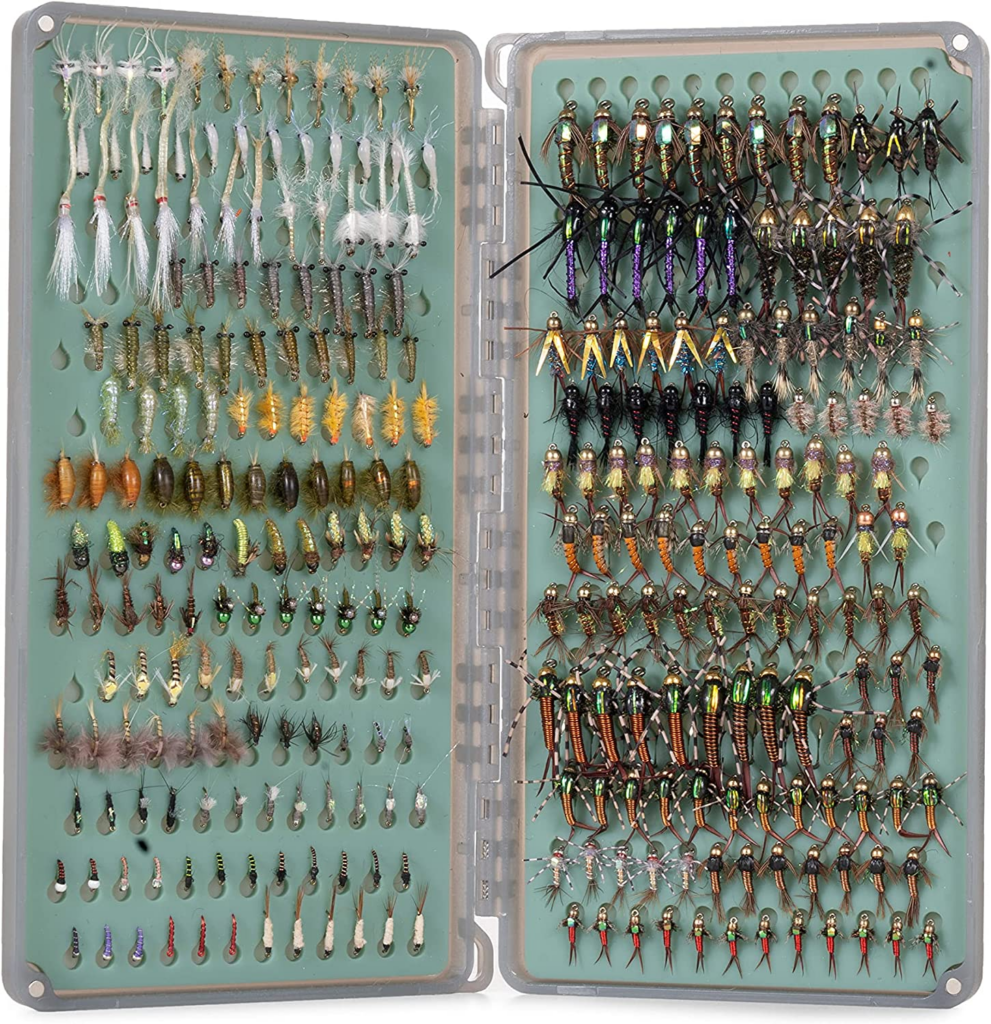 When it comes to storing flies, nothing beats the Original Box for its superior organization, transparency, and dependability.
The silicone anchoring pad is a trademark feature since it provides a more secure grip, doesn't absorb water, stays in place in a wide range of temperatures, and is resistant to wear from sharp hooks. They're continuing their efforts to lessen their environmental impact by upgrading their sturdy, shatterproof structures to use recycled polycarbonate.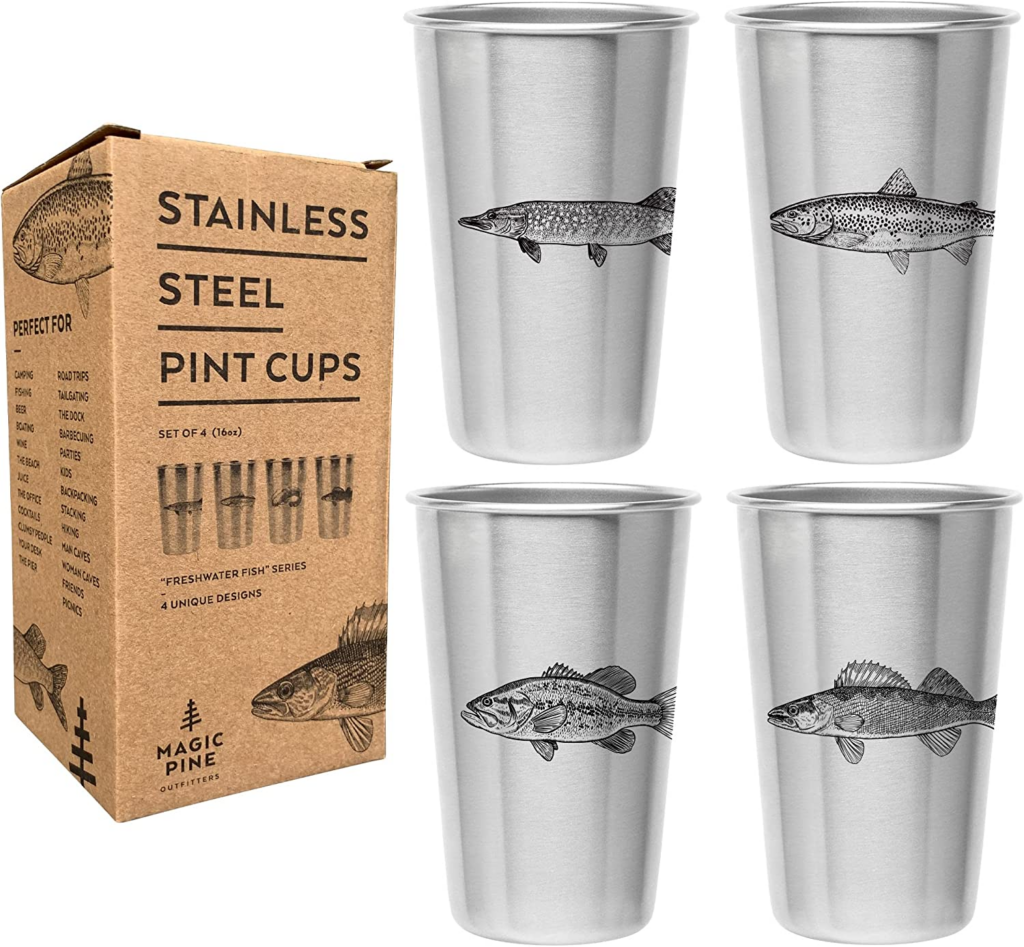 Northern Pike, Trout, Catfish, and Walleye are among the freshwater species shown in this collection of four black-and-white coasters. They are dishwasher safe since they are composed of high-quality, food-grade stainless steel. They're the perfect gift idea for the fisherman on your list this holiday season.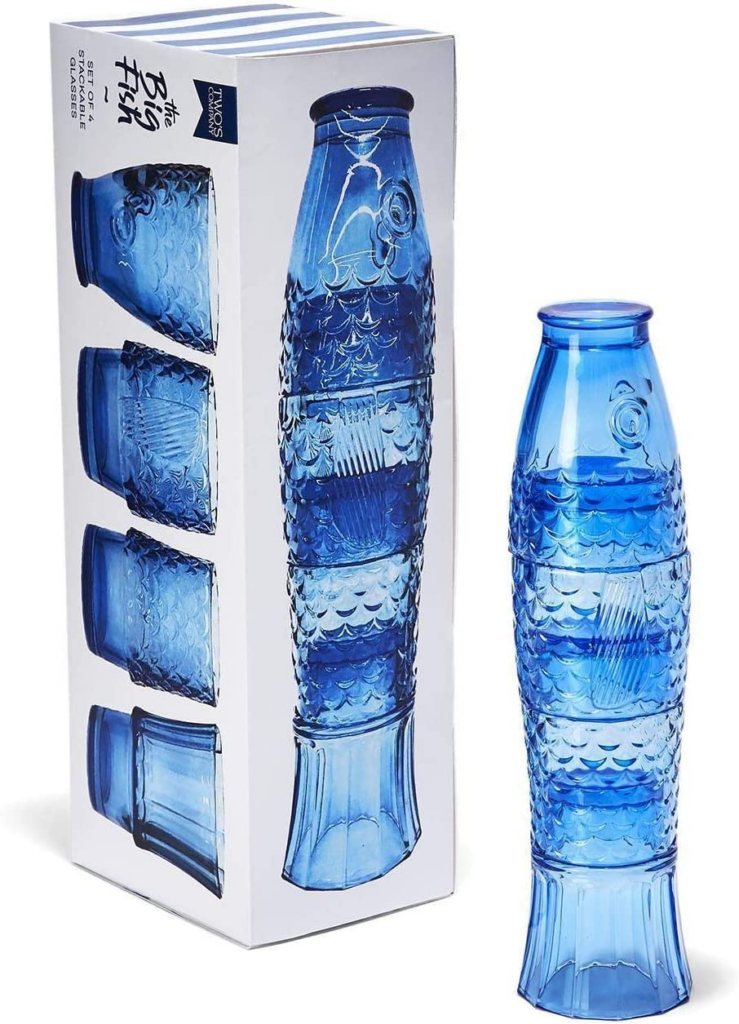 These Japanese Koi-shaped wine glasses stack to create a 12″ tall storage cube. It's a lot of fun to stack your glasses for storage or display. These four glasses will look great in your home bar. These whimsical glasses are perfect for pouring everything from traditional kombucha or sake to crafted cocktails or even plain old orange juice.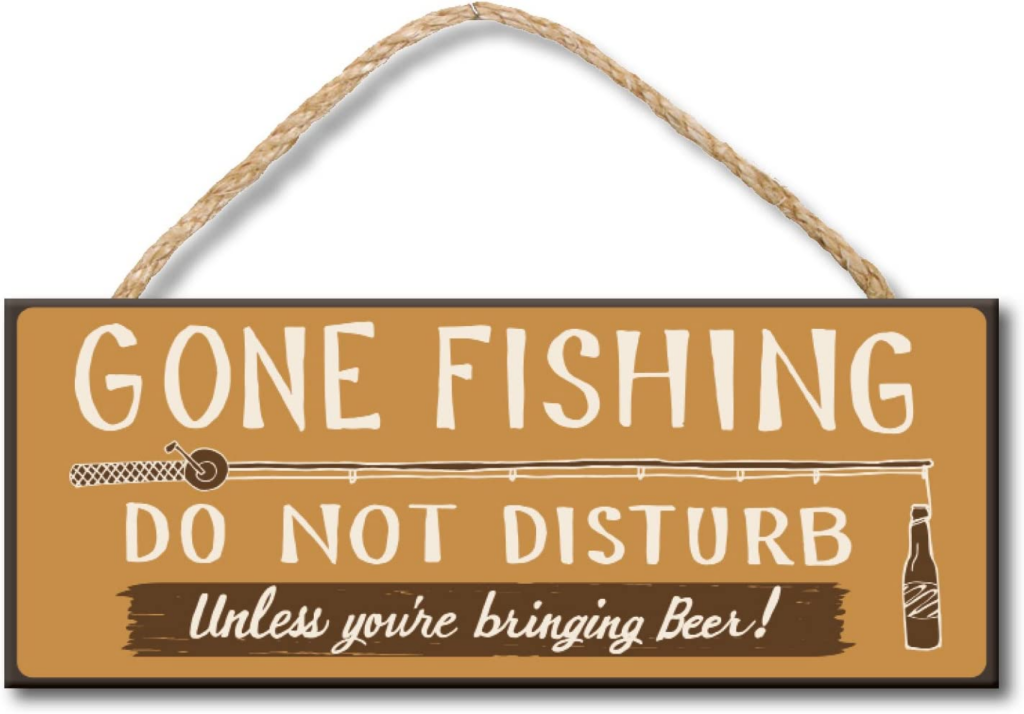 The gone fishing sign is an excellent present for any shop-owning angler. This sturdy sign may both be hung on a wall or stand alone. In addition, it incorporates a keyhole slot for wall mounting. The carving is exquisite and the whole item is sturdy.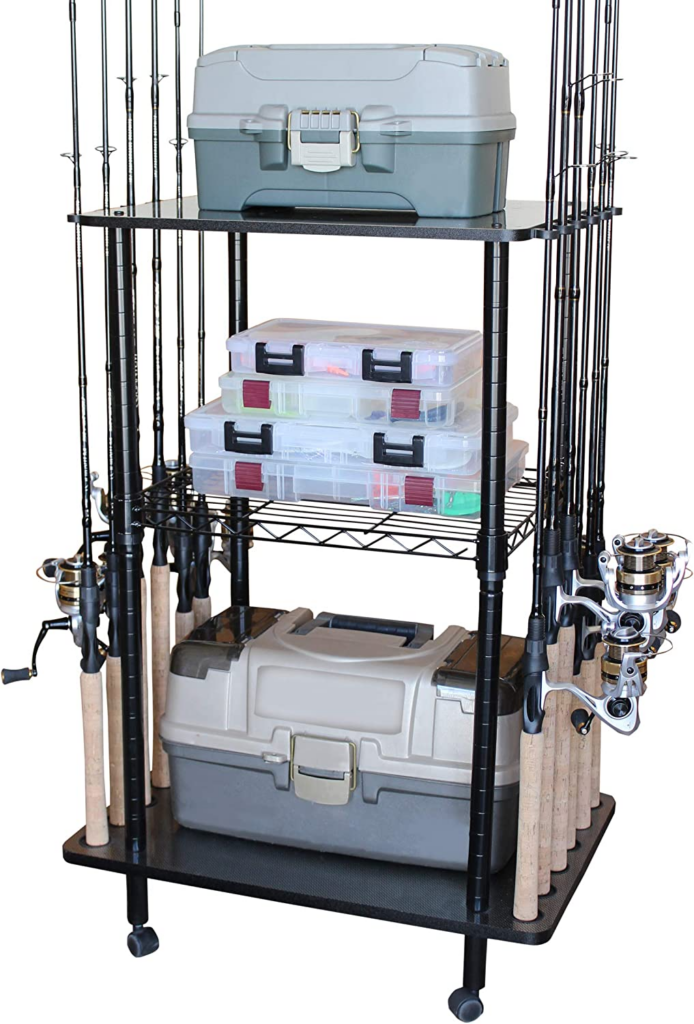 This tackle storage cart for fishing rods is great for keeping new fishing rods. It can hold up to 12 freshwater fishing rods. The rack boasts a sturdy, scratch-resistant steel frame and caster wheels for convenient mobility. It is also simple to put together. This is a great idea for any avid fisherman.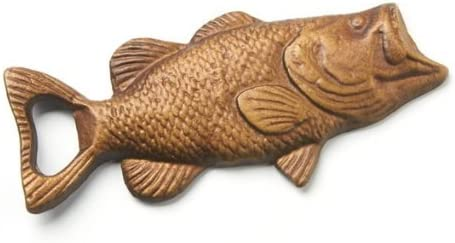 This magnetic bottle opener is designed like a bass fish and is made of stainless steel. Simple to put on any bottle of beer. The ideal present for any avid angler or magnet enthusiast.
You can hang this opener on the fridge and nobody will know it's just an opener. It is compact enough to fit in a tackle box and versatile enough to be used by the pool or on a boat. So give this to your fishing friend so he can enjoy a nice cold beer after a long day of fishing.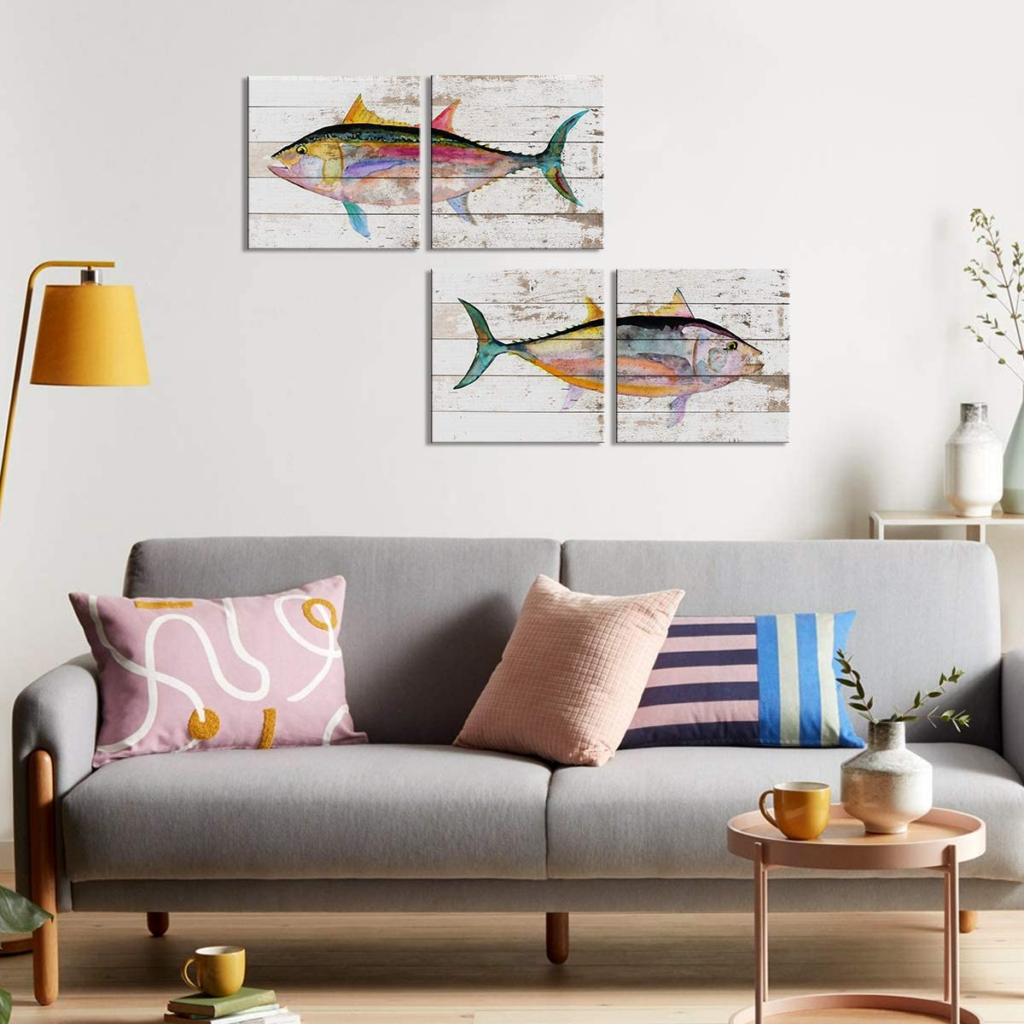 These are just a few of the fish shown in these vintage prints. High-performance matte paper is used for all fine art prints. The linen texture is embossed, adding a touch of class. The end effect is a subtle texture that complements your photos without masking any features. This is a great way for your friend to show off their love for fish.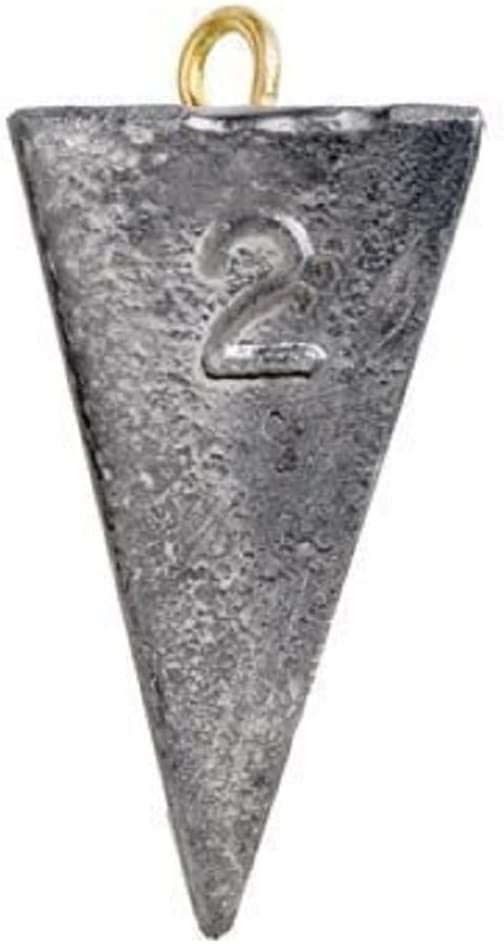 Sinkers are crucial to fishing. You may express your affection for your fishing pal by purchasing one of these pointed tip Sinkers. The flat sides and pointed tip of the Sinkers prevent your weight from being carried by the current. Your fishing friend will get a lot of use out of this great gift.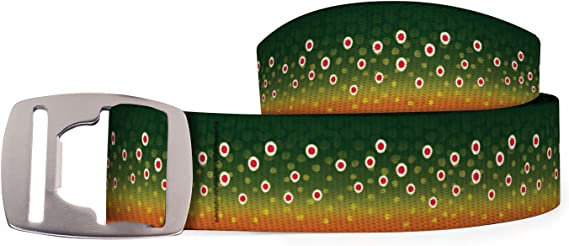 When fishing, some anglers like a splash of color or a unique design that brings to mind the sport. Here's when the fishing belt comes in handy. Although Croakies' colorful trout line is a personal favorite, any belt with fishing themes is certain to be well received. This belt comes in different colors, so hopefully, there's one you really like.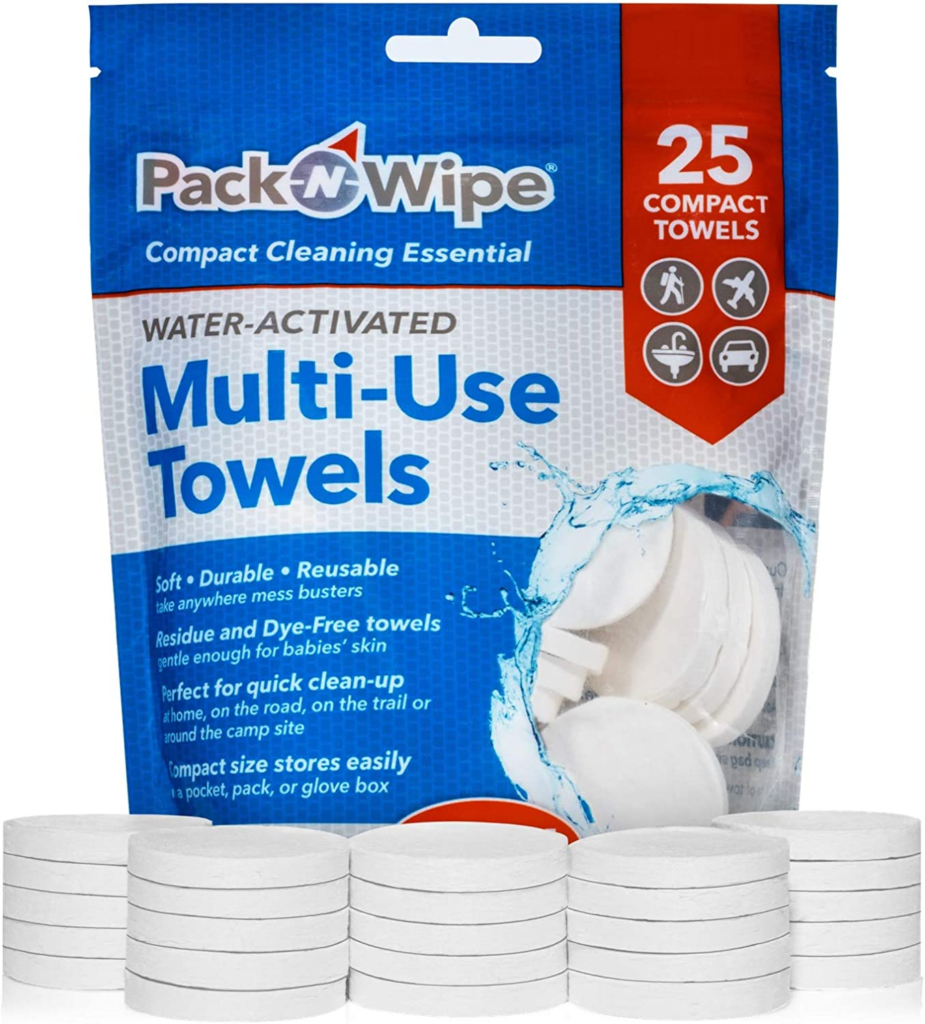 If you like water, you will inevitably get wet. What could be a better present for a fisherman than a disposable towel that can be reused twenty times? This is a gift that he will find quite useful while out on the lake.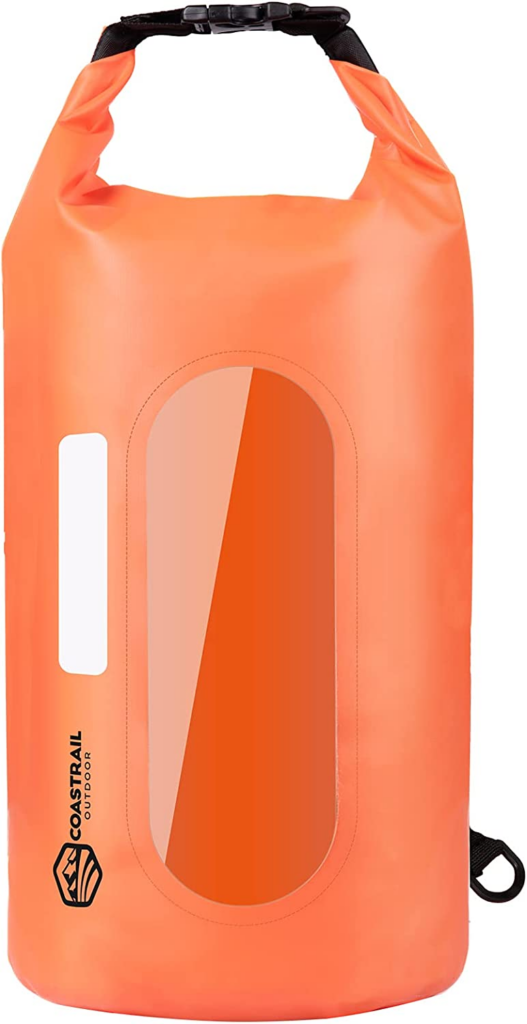 Whether you're on a crowded boat or in a dim campground, you'll have no trouble finding your luggage thanks to the transparent glass.
Afloat with the majority of its contents and completely submersible in water: When used properly, the roll top closure on this bag is simple to use and very watertight. It also floats until you load it with something really heavy.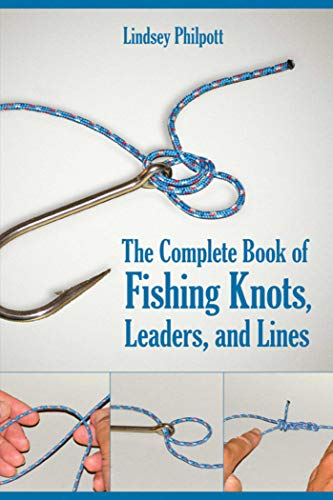 The finest presents for fishermen are those that are the most useful, and one component of fishing that every angler needs assistance with is tying fishing knots. With this present, he will be able to tie any knot he will ever need, making this one of the best fishing gift ideas.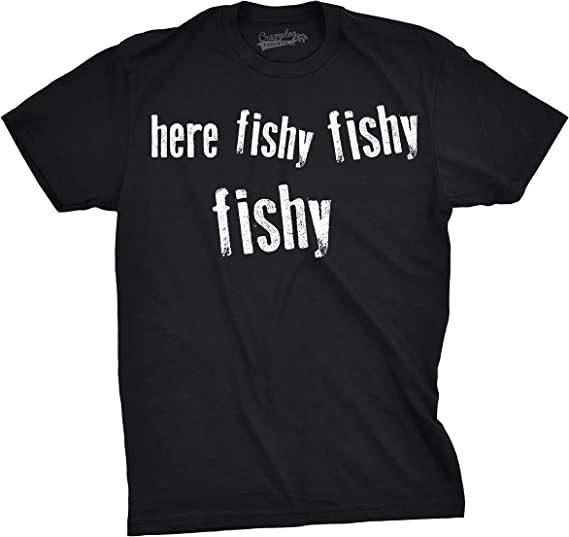 Want to make your fisherman laugh? You won't want to miss out on this graphic t-shirt. It is one of the greatest fishing gag presents available and can make anybody laugh. It's sure to be his favorite gift this Christmas.

This baitholder is a wonderful pre-tied snelled fish hook that has six pieces and is created in the United States. It is also available in several sizes. This is definitely a good gift for any fisherman.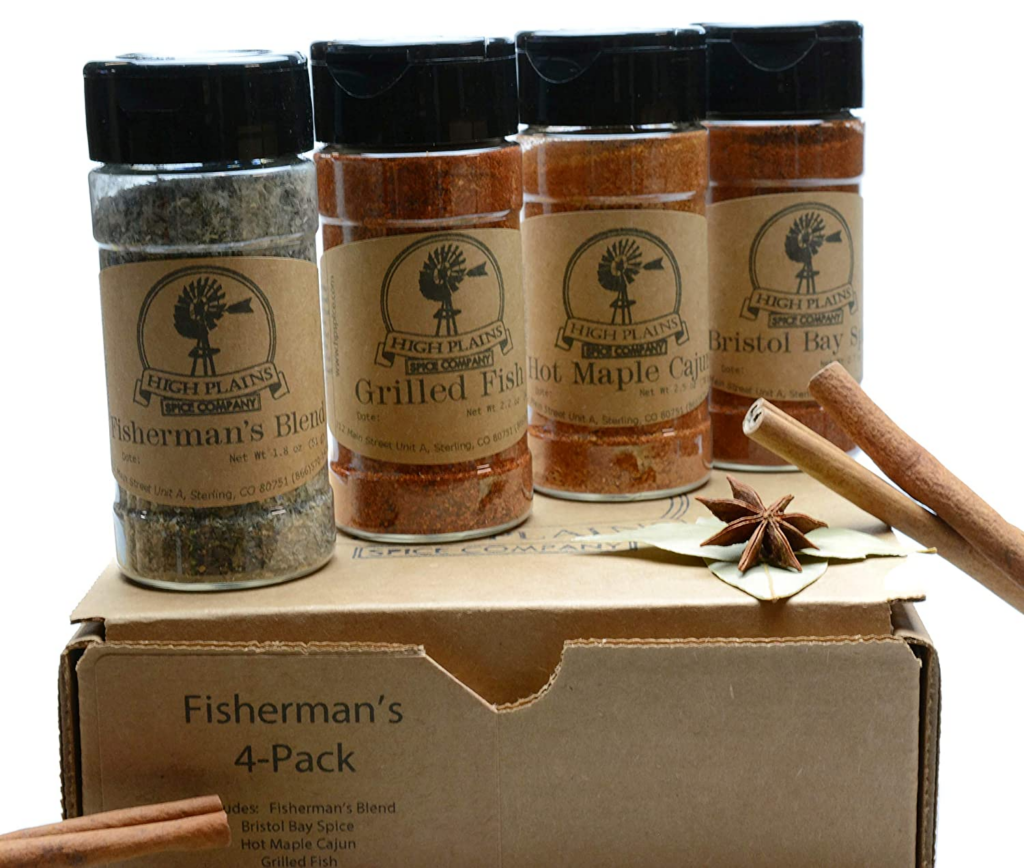 Whether your man is an occasional fan of seafood or a true fisherman at heart, this collection of four rubs and spices will allow you to make him a delicious meal. Alternatively, you can just give him this special spice combination for his own use.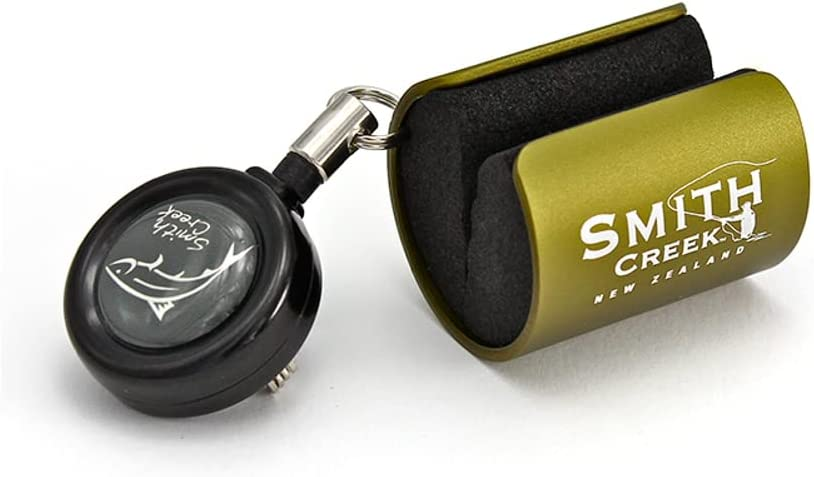 Looking for a great rod holder? The Smith Creek Rod Clip comes in at number two on the list of preferred rod holders.
The Smith Creek Rod Clip may be attached to a vest, jacket, or life vest in place of a belt. The foam rubber on the inside provides a snug fit for a fishing rod blank. The rod is held vertically due to the weight of the reel. It's perfect for a broad range of fishing rods, and you can use the clip whenever you need both hands, such as when tying on a new bait, taking the hook out of a fish, or taking a picture. This is the best Christmas gift you can give any fisherman.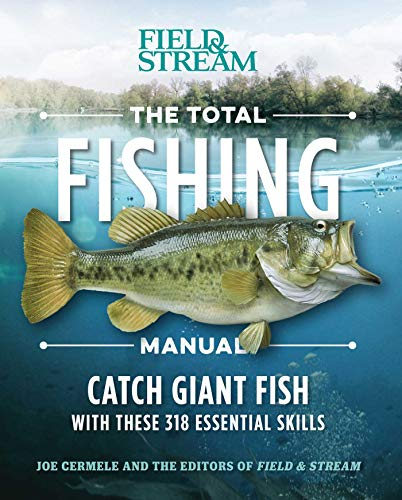 This fishing guide will make a great present for any fisherman since learning is both continuous and beneficial. This fishing guidebook includes over 317 tried and true methods, gear, and strategies. This book would be great for any man with a love of fishing.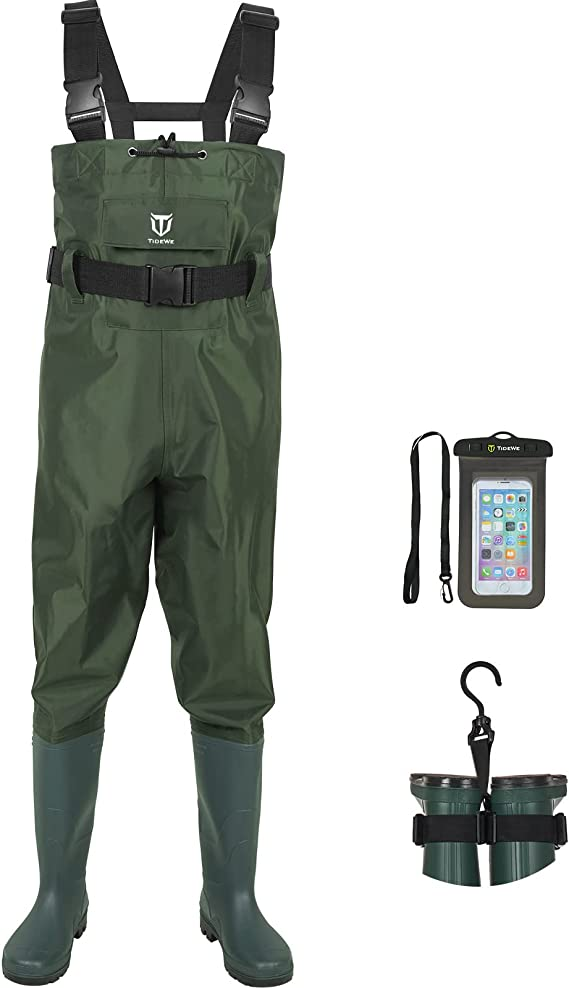 These utility waders are constructed from a durable, rip-resistant, and water-resistant fabric with double-stitched feet to keep the body warm and dry. It also comes with an adjustable shoulder strap and adjustable elastic waistband for the perfect fit. This fishing gear would make an excellent Christmas present for a fisherman.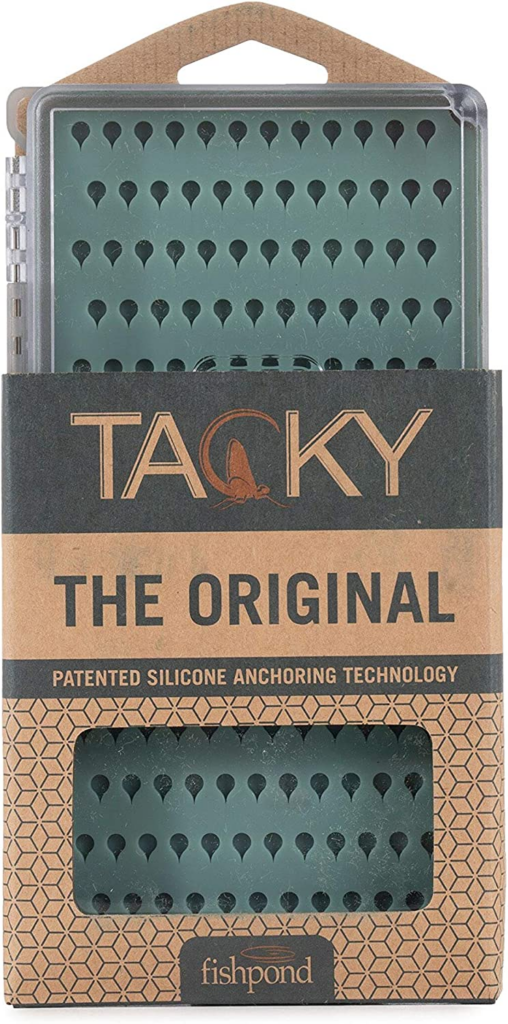 The greatest fly box is made by Tacky, so if the angler in your life is always dealing with tangled flies, this is the perfect gift. The Fly Box makes it very simple to store and organize all of your flies, allowing for fast and efficient access. This gift would be sure to improve any fishing experience.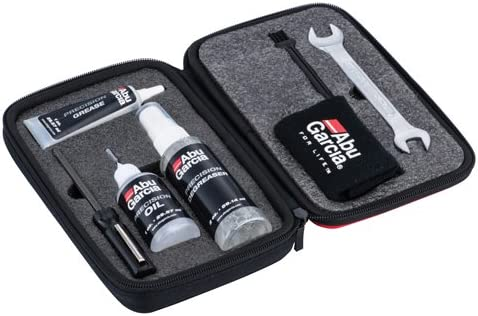 This may not be the most spectacular present, but it is a useful one that most people will enjoy. When the fisherman in your life returns their rod and reel from the ocean, they will need to do some additional maintenance to avoid corrosion and damage to the internal and exterior components. This rod repair kit includes everything they would need.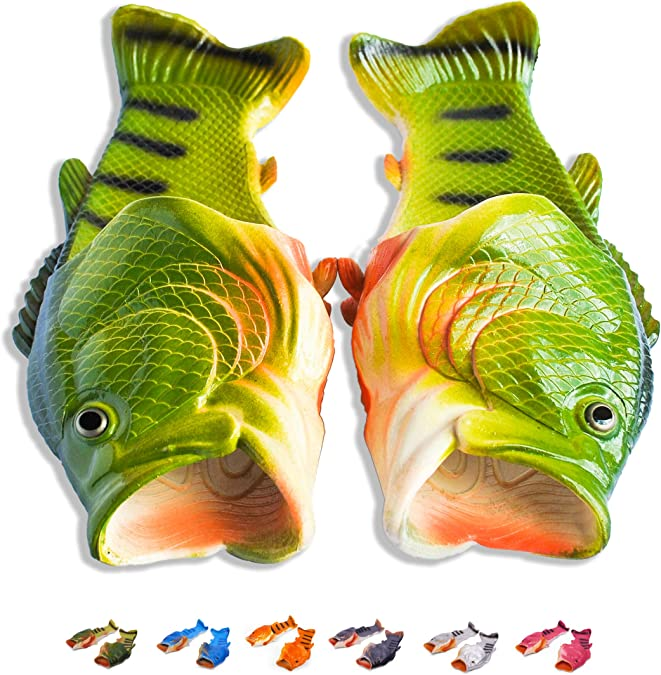 When you're at a loss for what to give the fisherman in your life, give them these Fish Flop shoes. They're a fishing joke present, but they're also a means for him to get more attention in the frozen food aisle of Walmart.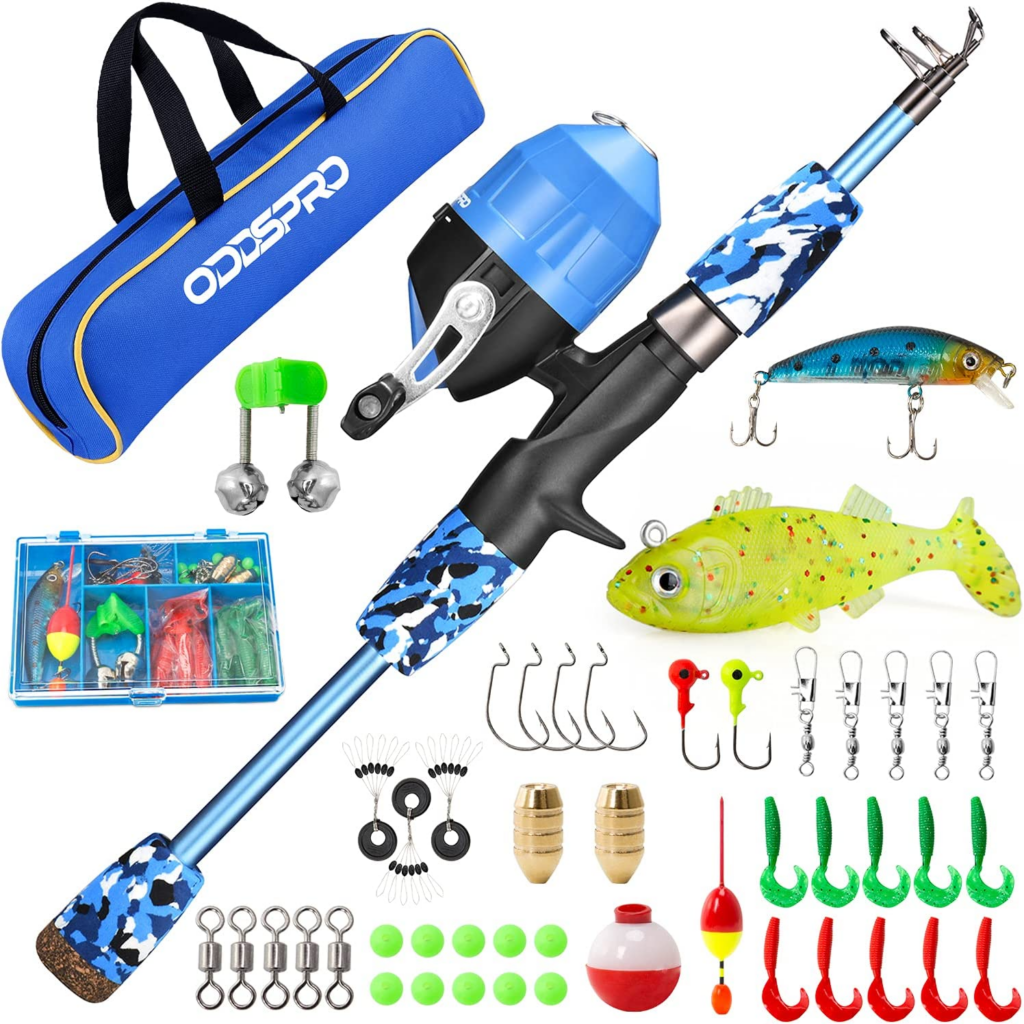 If you want to introduce your children to the beautiful world of fishing, start them out with this comprehensive equipment. It includes fishing lures, hooks, a fishing bag, and a rod with a push-button reel. This kit is the ideal present, and you may continue to add to it for many years.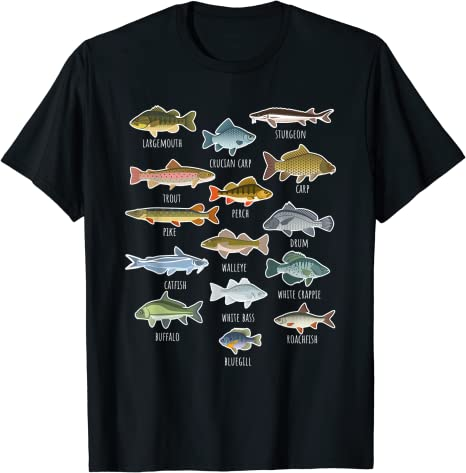 Academic, entertaining, and comfy I would use these three terms to describe this fishing shirt. It depicts some of the most common freshwater species, making it an ideal shirt to wear while taking a child fishing, as they can compare their catch to the picture on their shirt.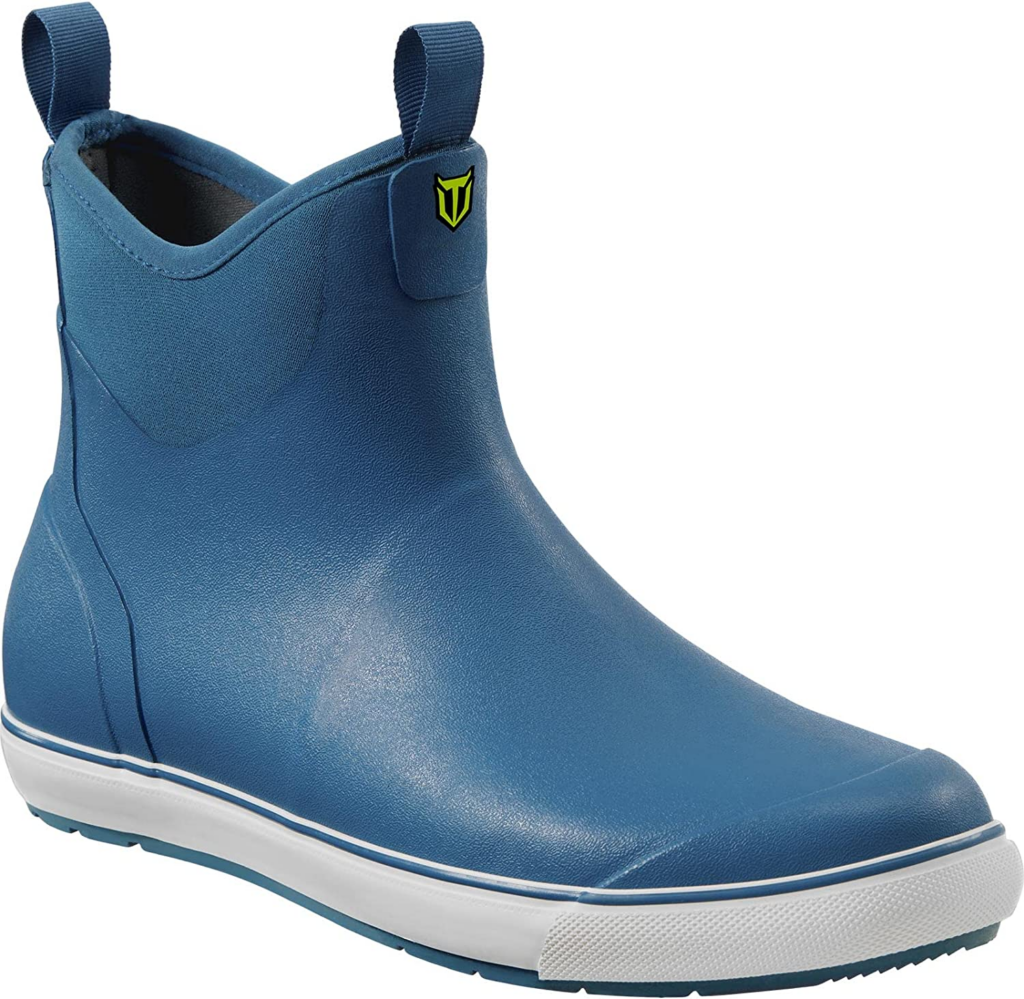 Get him a pair of rubber boots to complement that rain jacket. These high-quality fishing boots keep his feet dry in all weather conditions. Its moisture-wicking lining is breathable to keep feet dry and improve comfort. Also, the EVA insole with memory foam brings more comfort and arch support. Finally, the anti-slip tread makes it great for flowing water and provides great traction on uneven footing.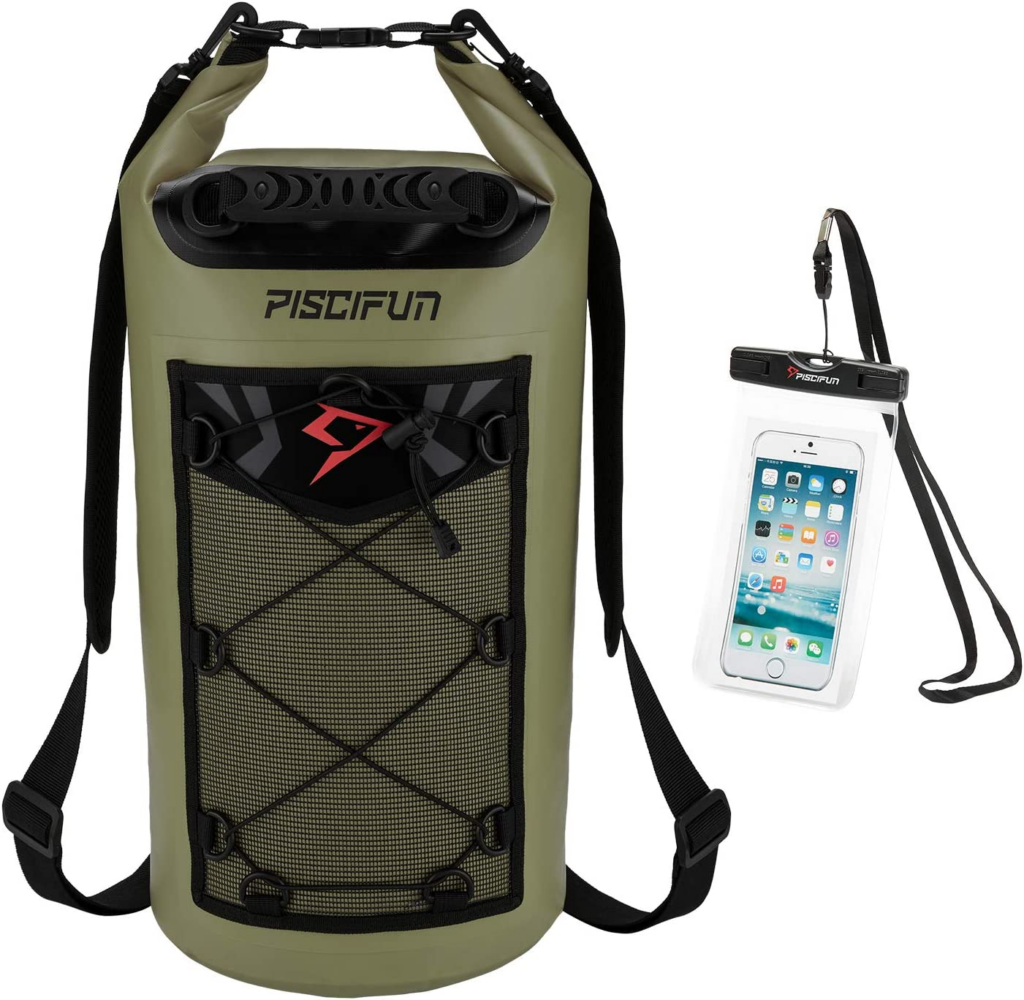 Few things are worse than carrying an unsuitable bag to the lake and having its contents get soaked. The worst-case scenario is that you drop your luggage overboard, it sinks, and you lose everything. Not only does this waterproof dry bag keep its contents dry, but it also floats.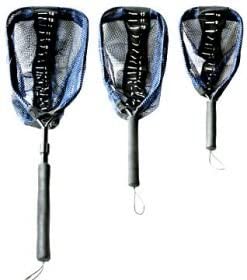 The Measure Net is one of the best fishing gifts you can give. The integrated ruler marks are the net's main selling point. Once you've caught a fish, all you have to do is measure it from head to tail and back again to discover its total length. It's so awesome it's crazy. It is available in several different sizing options. Most trout fishermen should choose the Medium, while the expandable Large is the best option for everyone else.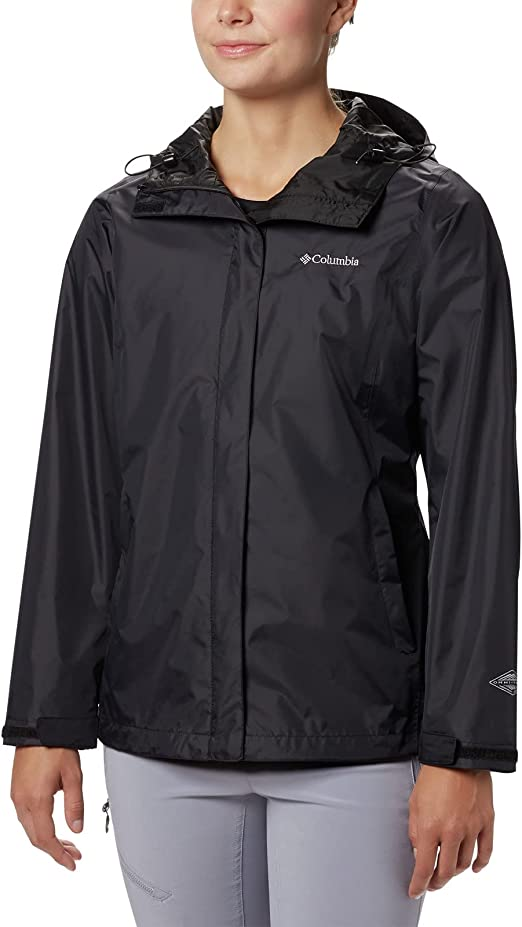 It appears like a lot of fishing equipment is meant for guys, which is terrible since I know many formidable female fishers. If this describes a lady in your life, this fishing rain jacket will help keep her dry. It is constructed with durable materials, is entirely waterproof and breathable, and is built to last.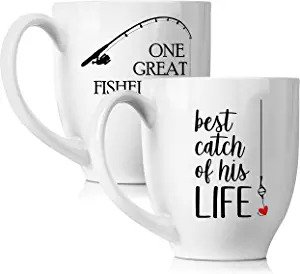 This is the perfect present for the most accomplished fishing duo. If you and your significant other have numerous memories of being covered in fish guts and smelling like the bottom of a pond, you should get these mugs to enjoy your favorite hot beverage at home.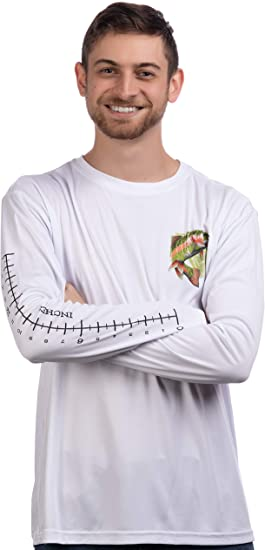 What's nicer than a tee that is fashionable, entertaining, and functional? Nothing, obviously. This shirt is quite popular among fishermen, and they may use it to measure their catch if they don't mind having a fishy arm when fishing.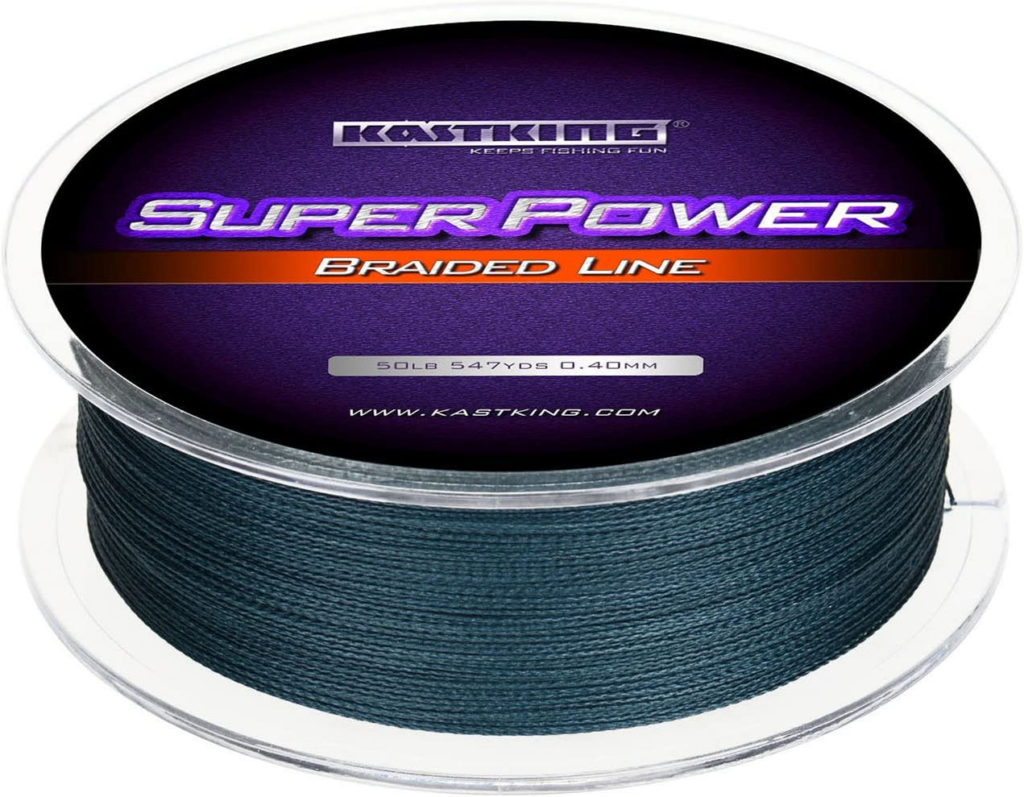 Generally, a braided line is required for saltwater fishing due to the need for increased abrasion resistance and longevity, since the salt will destroy the monofilament bass fishing line. KastKing is a reputable company, and I suggest that saltwater anglers use one of their products.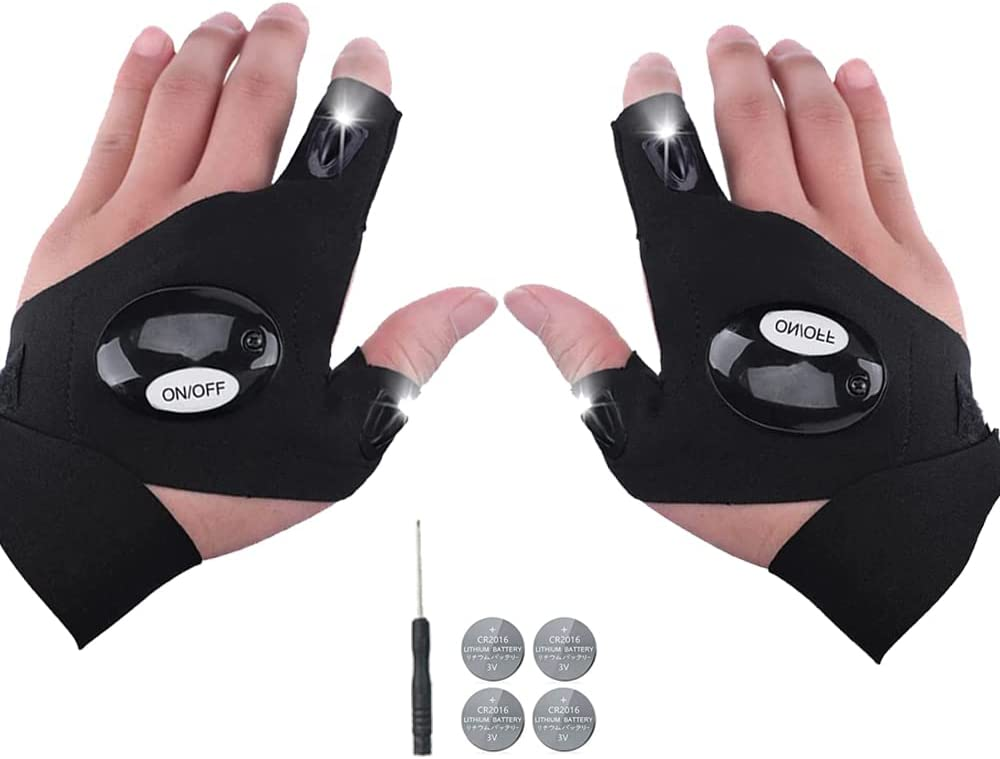 When working in the dark, this is a fantastic aid since it lends a third hand. It is useful when no one is available to hold the light. A material that is lightweight and pleasant makes you feel soft and fits your hand properly. The gloves have a high degree of flexibility, allowing them to move freely. You also don't have to worry about it becoming loose as you work.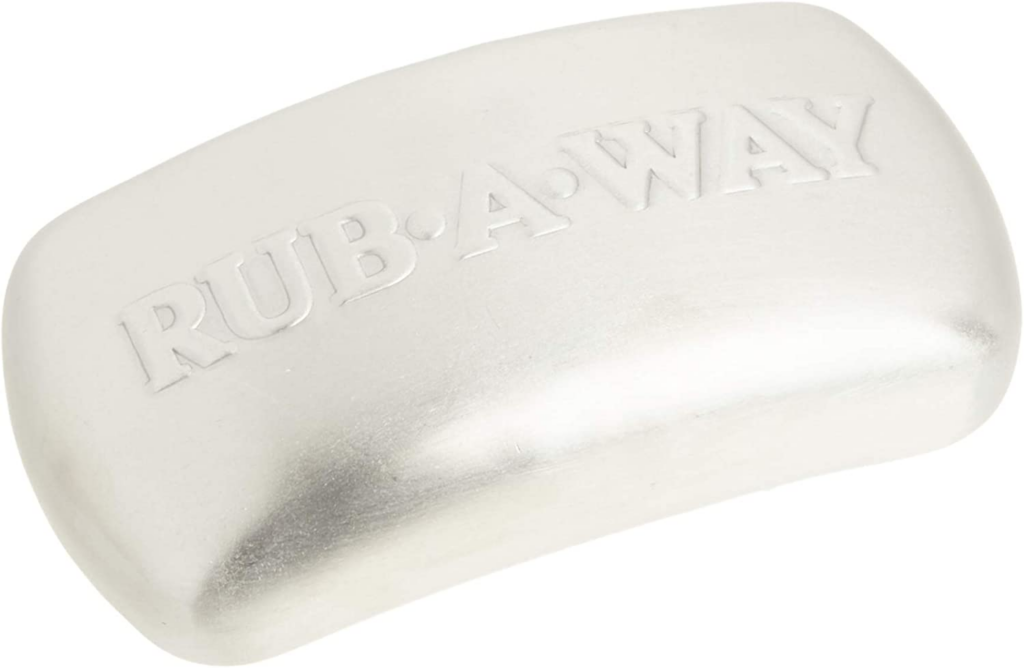 When working with fish or other smelly meals, even washing your hands thoroughly with soap and water won't get rid of the lingering smell. Amco's Rub-A-Way Bar, however, could be the solution to permanently removing the unpleasant odors of cooked foods from your hands.
Lightweight stainless steel is used in the construction of the Rub-a-Way Bar, which bonds with sulfur molecules on your hands to draw them into the metal and neutralize the stench.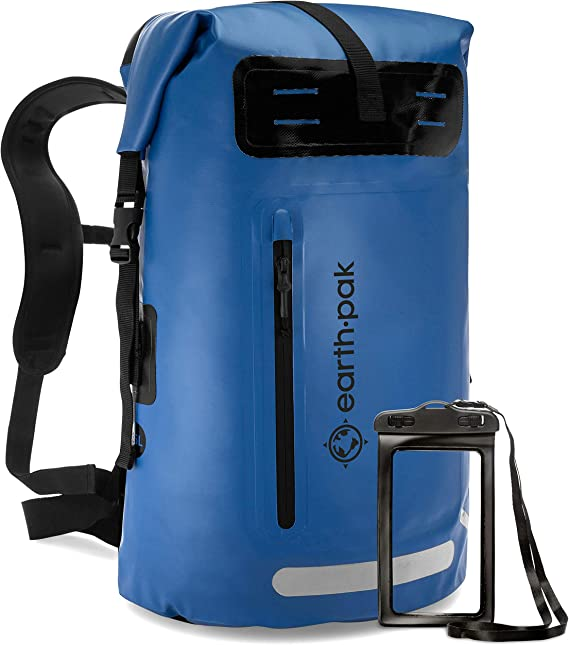 No other dry bags compare to the Earth Pak. Great option. These dry bags are built to survive for years, protecting their owners from water damage no matter how rough they get. Keep the elements at bay and avoid damage to priceless things. It's the perfect size for keeping your phone, wallet, sunglasses, camera, toiletries, small towel, and water bottles dry and safe from the weather.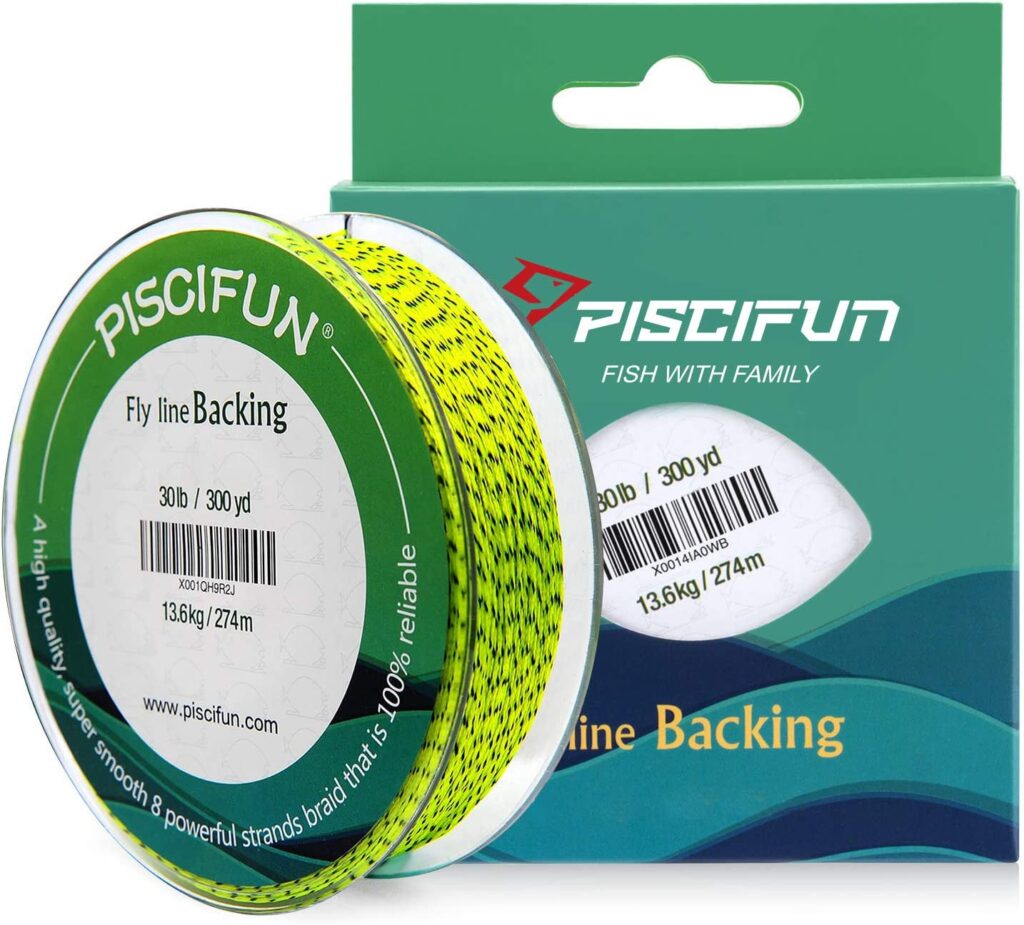 A satisfactory compromise between thinness and the capacity to form blind splice loops. This material has an extremely low coefficient of friction, will not harm your fly rod guides, and keeps 100 percent of its strength in water. It is simpler to tie than other brands that are very thin yet have a weave that is too dense for a blind splice loop.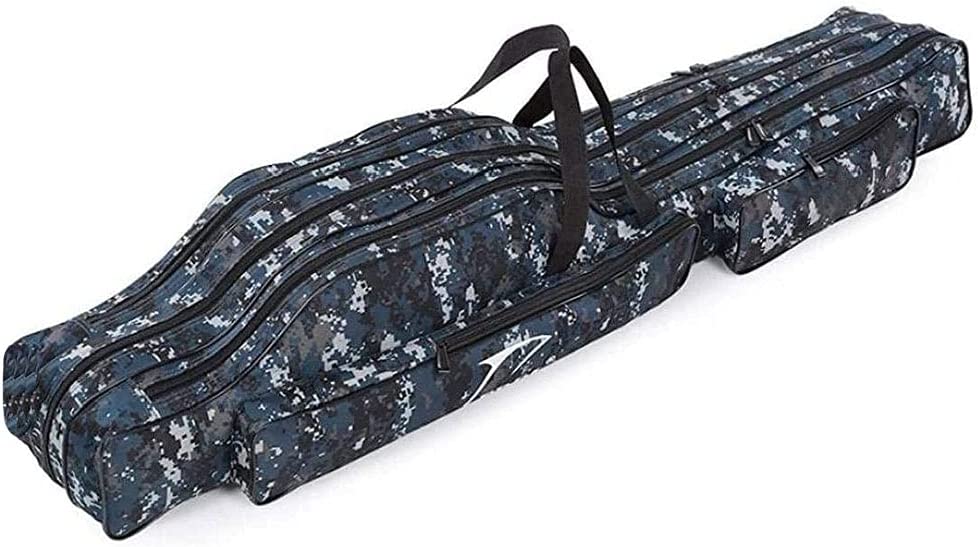 Grab this practical and portable tackle-carrying bag with a huge capacity and adjustable straps. A fishing bag with three main compartments and side pockets are sufficient for travel and fishing. The 3-layer construction of the portable fishing bag makes it easier to store and access various fishing gear. The hand strap also makes it simple to transport the fishing travel case.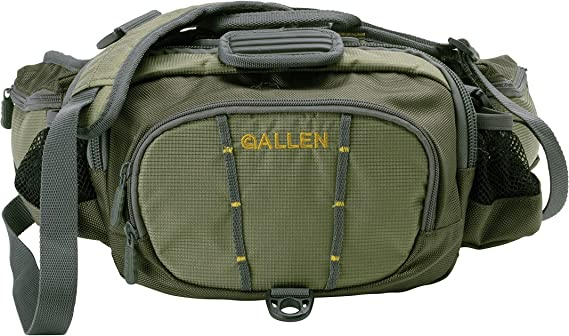 Looking for something to carry all of the essentials when fishing? If so, the fishing hip pack is a must-have item. Fishing gear and other necessities may be stored comfortably in a hip or waist bag without being in the way. If you're wearing a sling pack, you may simply flip it around to the front for instant access to your fishing gear. A fishing hip pack is a great present for any angler who enjoys wading or walking while casting a line.

Although there are other excellent dry fly floatants available today, Gehrke's Gink has been keeping flies afloat for decades. It's a tried-and-true powerhouse that never fails to wow.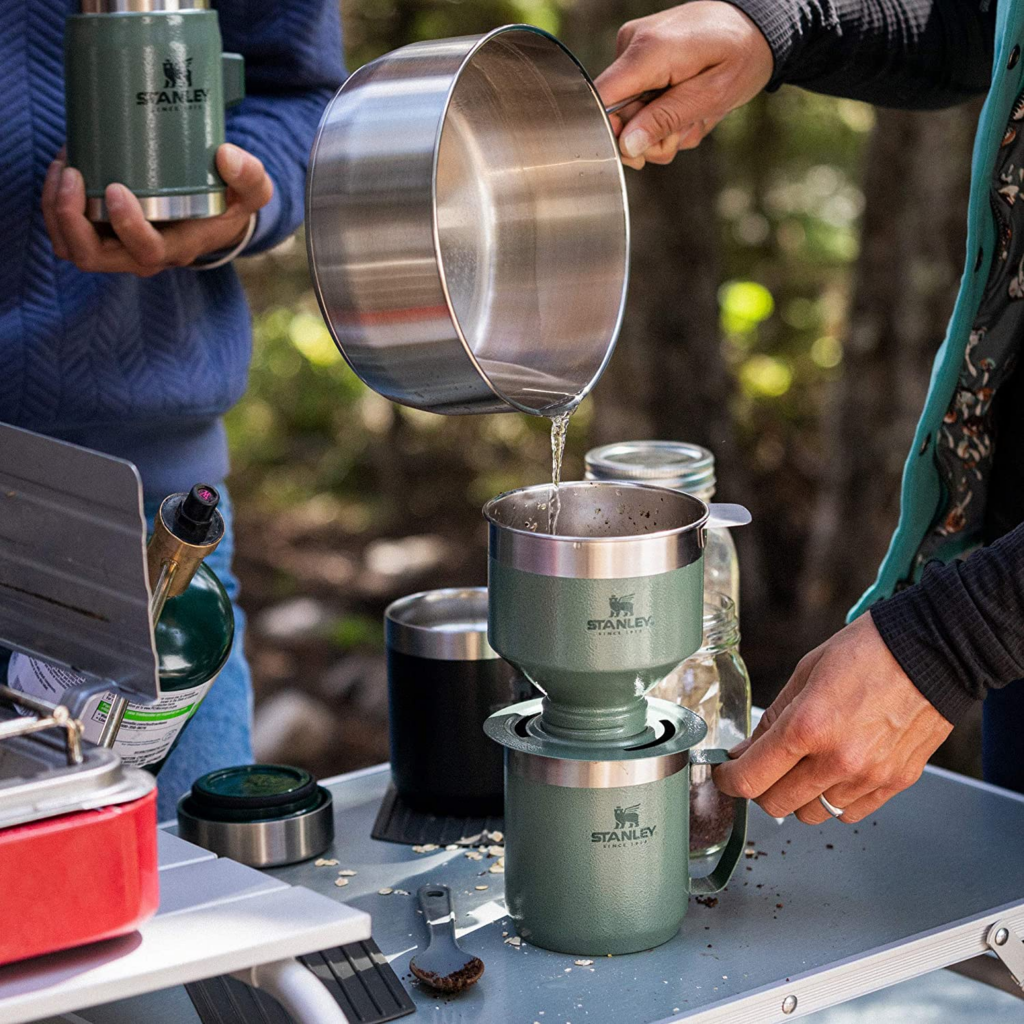 This pour-over coffee set is the perfect gift for the fisherman who loves a good cup of coffee while out on the water. It's so easy to use. Just pour the desired amount of coffee into the filter, place it on top of a coffee mug, and slowly pour in the hot water.
The stainless steel filter ensures that our fisherman will have the perfect cup of coffee every time. Bring this pour-over coffee set on the fishing trip and Dad will be the envy of all his buddies with his on-the-spot brewed coffee.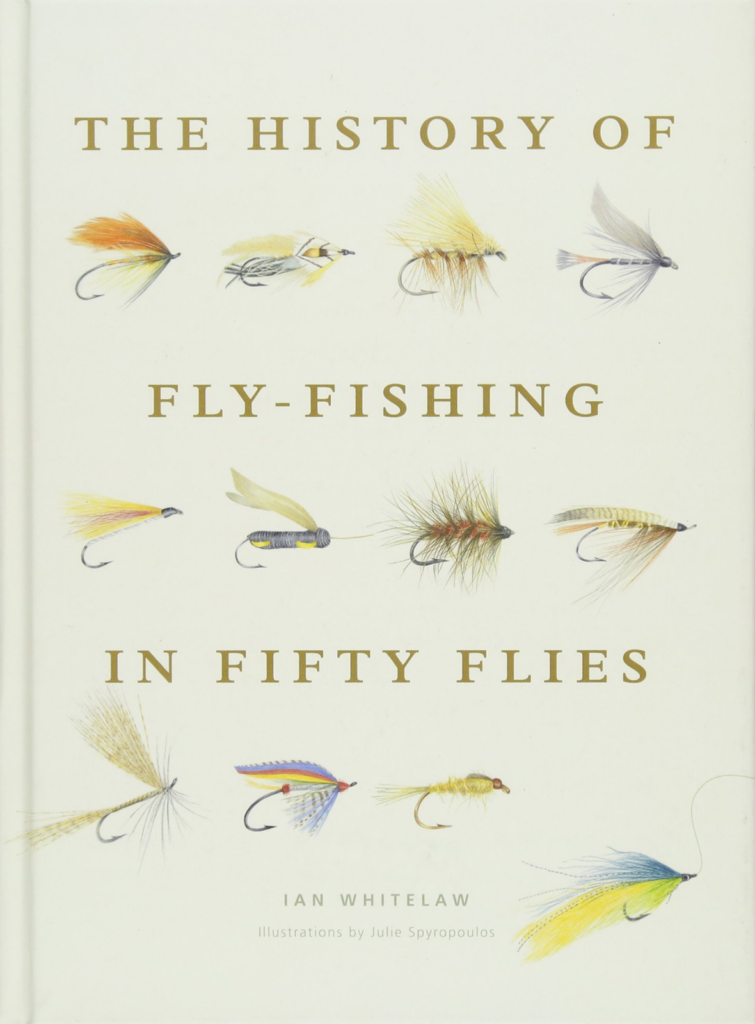 He can always read about fishing on the days he can't go out on the water. This book is a great gift for the fisherman who loves to learn about the history of his favorite pastime. It's a great way to pass the time on those rainy days he isn't able to go out on the water and is waiting for the sun to come out again.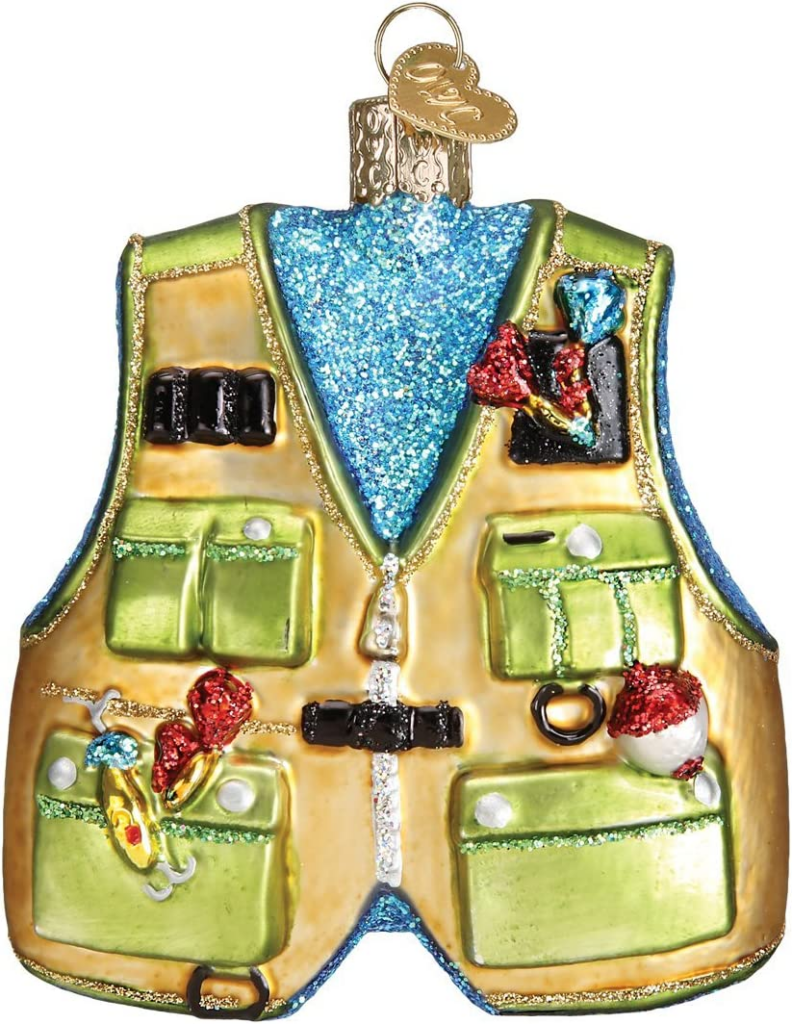 The fishermen on your gift list deserve their own special ornamental on the Christmas tree. Complete with dazzling baubles, the other ornaments on the tree won't seem out of place next to this blown glass one.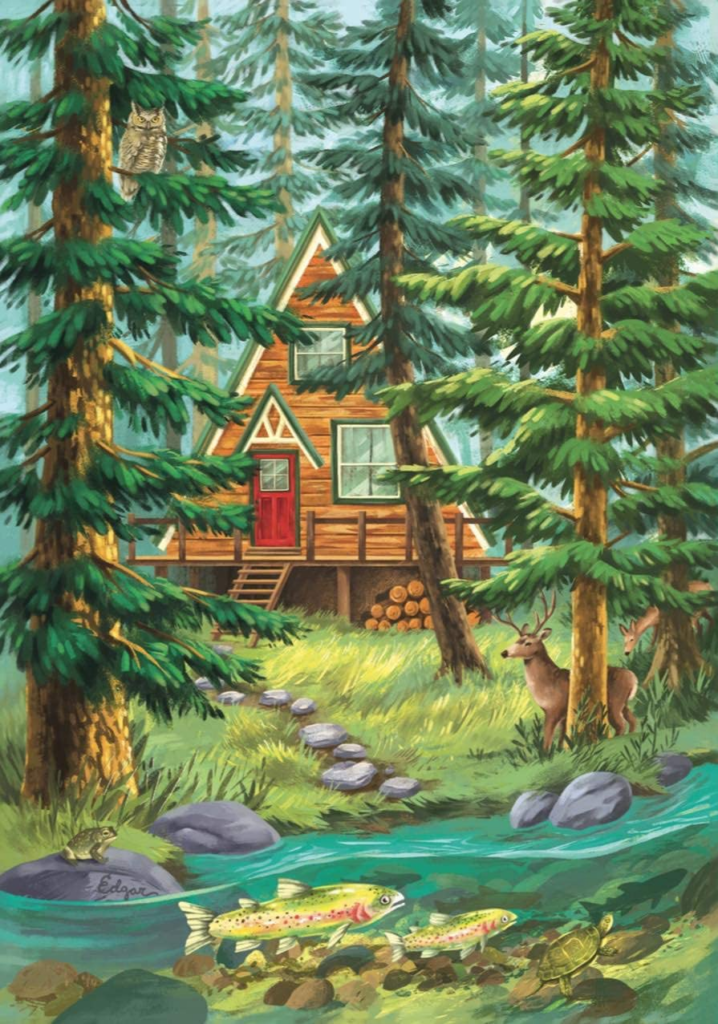 If he needs something to do in between fishing expeditions, he can put together this puzzle. It's a picture of a lovely A-frame cottage that sits at the end of a stone road in the forest, not far from a stream filled with trout.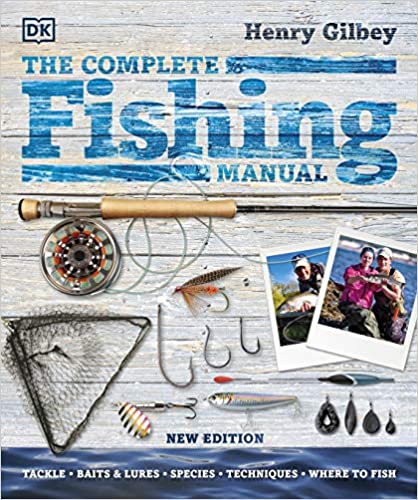 Whether he's a seasoned fisherman or has never picked up a rod before, this is an important fishing reference book. The Complete Fishing Manual is a comprehensive reference to all aspects of fishing, from tactics and methods to bait, gear, and equipment. This guidebook will guide your fisherman through every stage, making it the best thing you can give him this Christmas.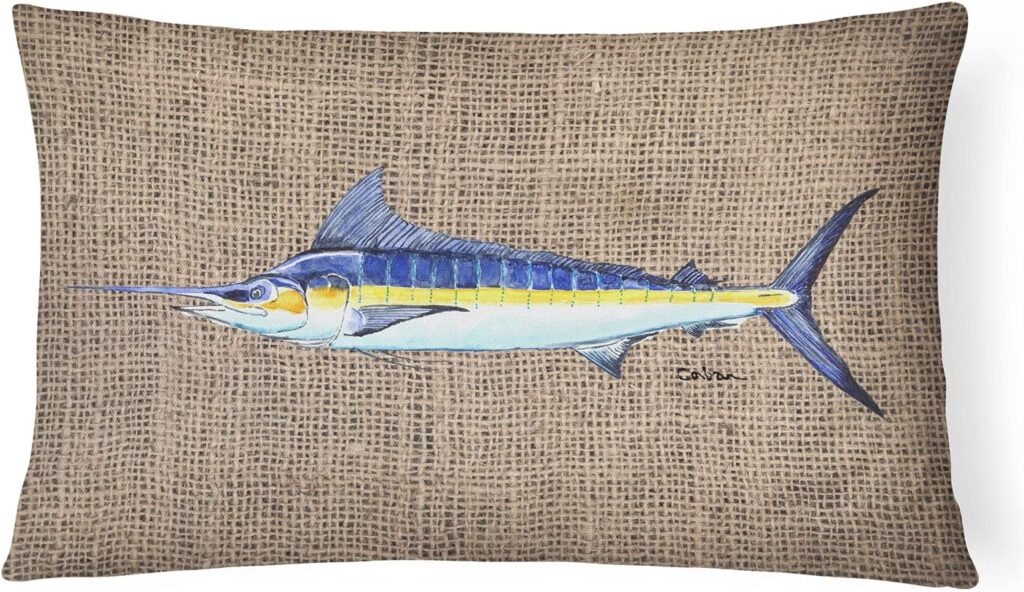 Caroline's Treasures designs and manufactures these outdoor cushions for chairs, benches, and throws right here in the USA. A set of outdoor pillow cushions will your fishing enthusiast's space a nice touch of color. Soft to the touch and resistant to water makes this one of the most amazing fishing gifts you can give your fisherman this Christmas.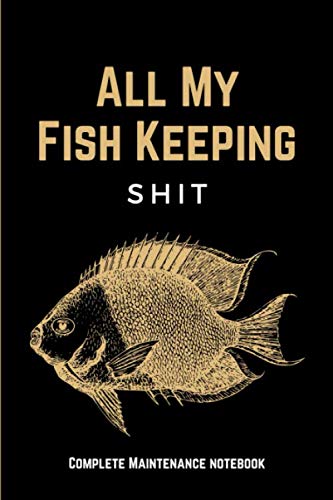 In this Aquarium Log Book, you may record all tank care and maintenance, including pH level, water testing, fish behavior, and equipment inspections. This Home Aquarium Maintenance Notebook is intended to help you remember all elements of aquarium care, allowing you to adhere to parameters and maintain your tank in optimal condition at all times, hence preventing fish loss due to growing ammonia and nitrate levels.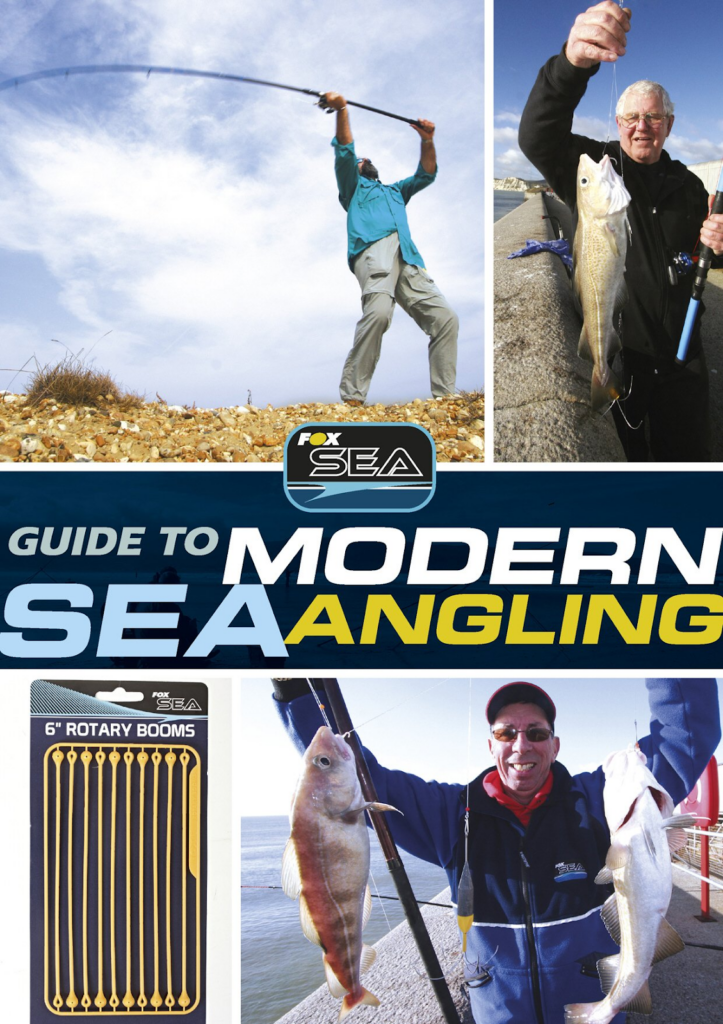 Authored by world-renowned sea fisherman Alan Yates and a team from Fox International, this instructional book covers all the bases when it comes to today's best practices in marine fishing. This book is a great resource for sea anglers of all skill levels since it includes the latest research as well as easily digestible advice and information.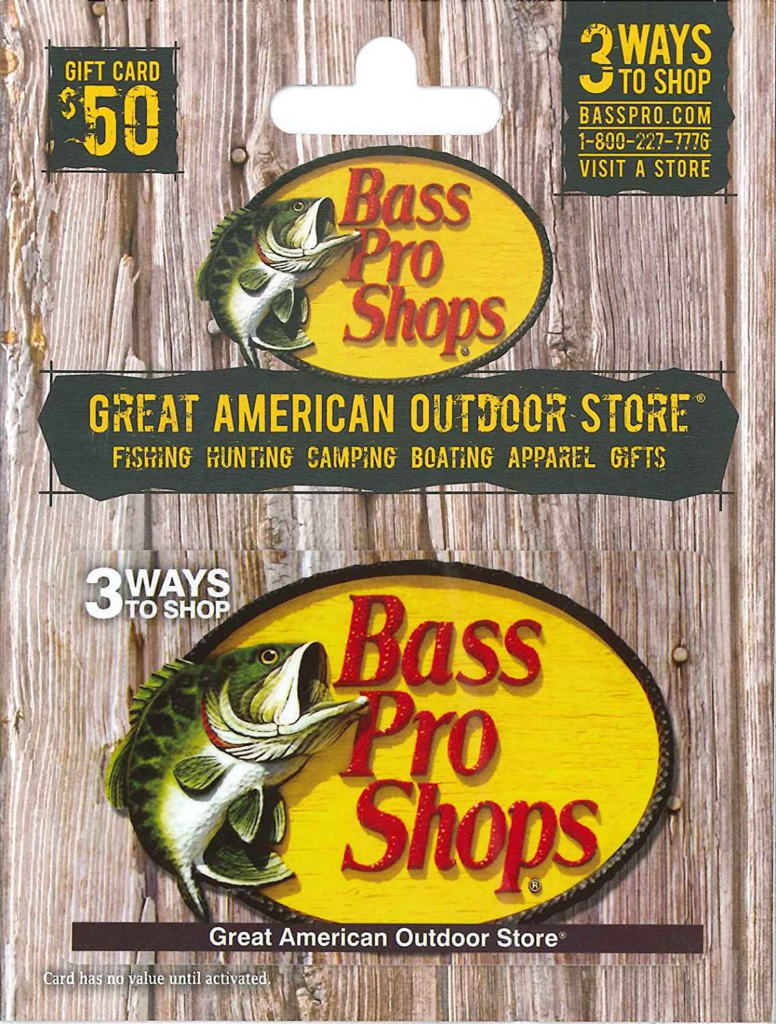 This gift card is the ideal present for a fishing enthusiast, any time of the year whether it's for Christmas or even Father's Day. Gift Cards may be used for any purchase at any Bass Pro Shops location as well as online and in the catalog. You may use the card at Big Cedar Lodge and Islamorada Fish Company, too. Gift certificates are nonrefundable and nonreturnable.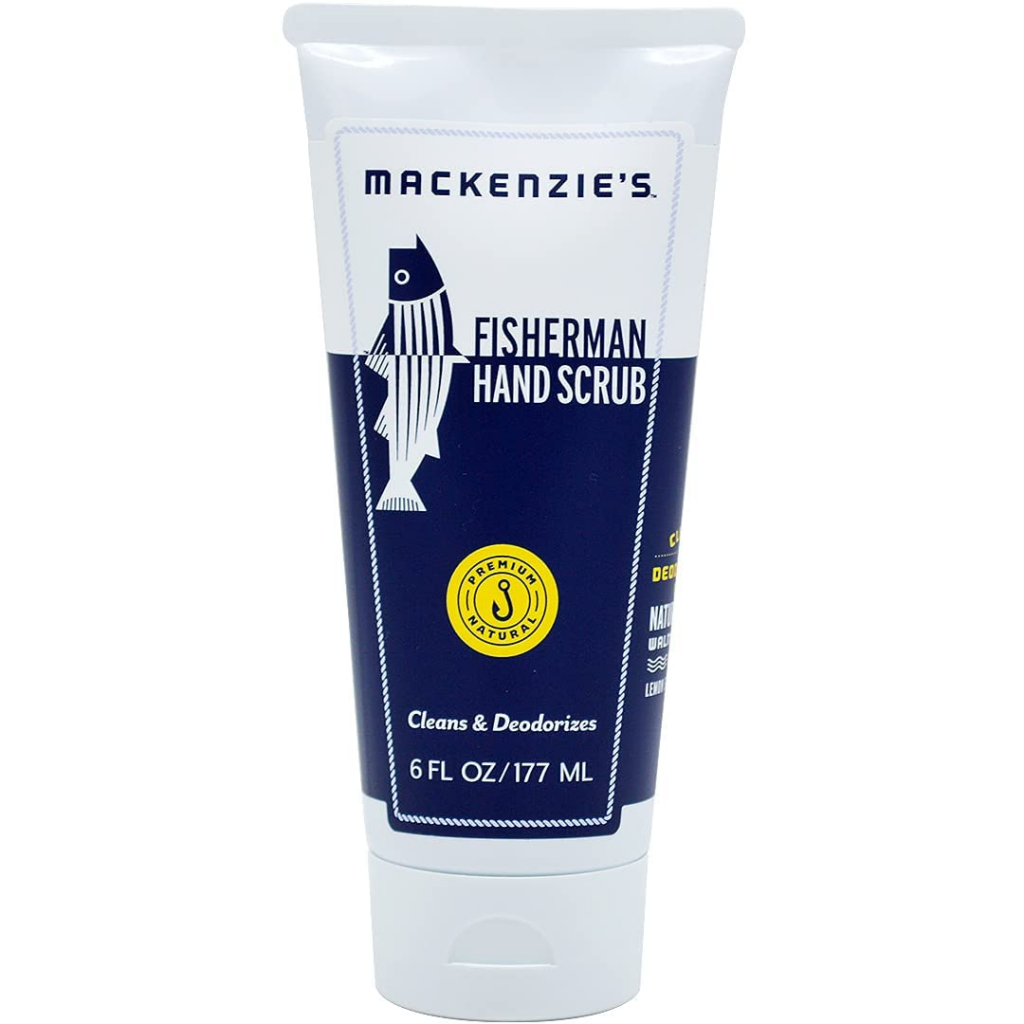 Whether you're on the water, in the kitchen, or simply coming in from the garden, this scrub will leave your hands feeling soft and clean. This hand scrub is a mildly fragrant natural soap formulated with walnut husk and a hint of lemon essential oil.
This soap uses nothing but 100% biodegradable materials so it's safe for rivers—it doesn't contain any parabens, phthalates, metals, and artificial colors. This hand scrub is strong enough to get rid of the most stubborn stains and fish smell on your hands and is definitely one of the must-have items for any fisherman.

Each ornament goes through a painstaking process of hand-painting and glitter to make it shine. These Christmas ornaments are made by hand and with themes such as fly fishing for Santa. This a labor of love made using methods developed in the early nineteenth century—glass is blown by hand into intricately sculpted molds. I think this is the right gift for any fisherman.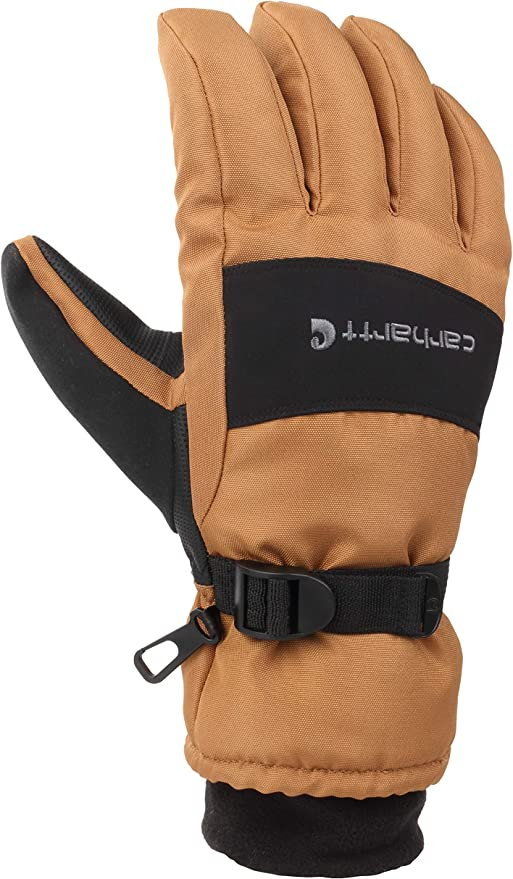 The Carhartt Men's WP Waterproof Insulated Glove is perfect for keeping your hands warm and dry while fishing. The glove features a waterproof and breathable membrane to keep moisture out, and the insulation will help keep your hands warm.
The polytex shell of these gloves is tough and versatile. FastDry technology lining wicks away perspiration and the digital-grip palm and stick-grip fingers and thumb provide superior control. These gloves come in different colors and different sizes for you to choose from.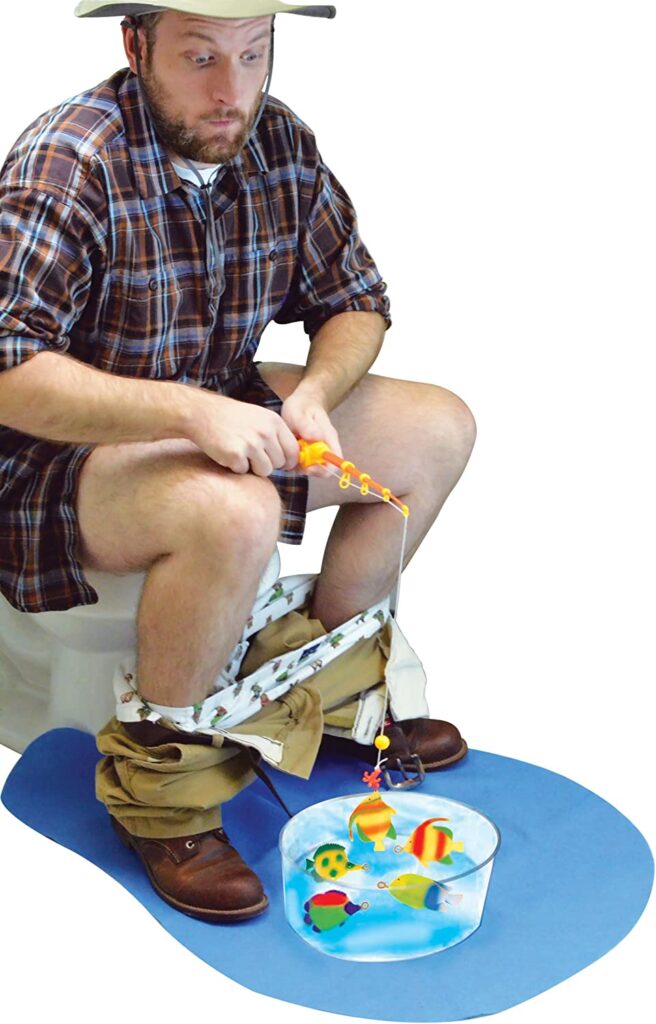 Now your fisherman can fish anywhere—even while using the bathroom. This funny game makes a great gag gift for those who love to fish.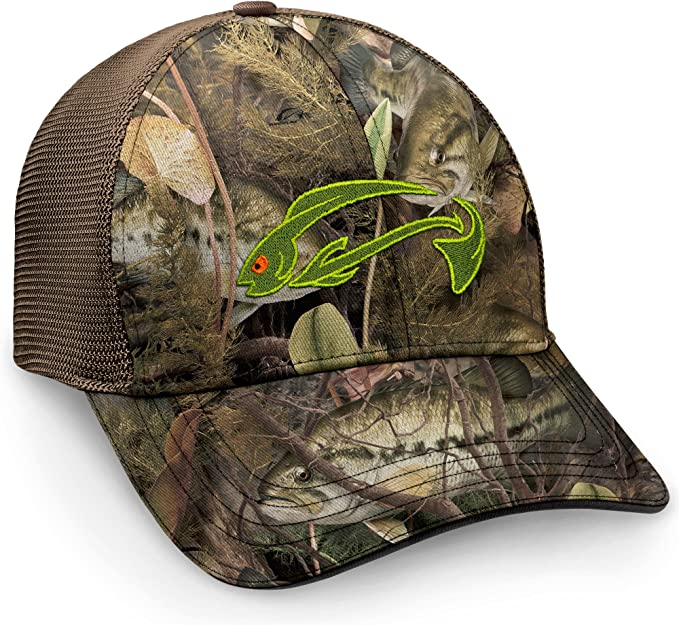 You can never have too many caps, and this fish-patterned bass fishing cap is a great addition to any fisherman's wardrobe. This camouflage cap has a mesh back to assist keep your fisherman cool when they're out in the sun for long periods of time. Additionally, the headband's moisture-absorbing properties will assist keep their head dry. It can be washed in the washing machine, making it convenient to clean after a day in the great outdoors.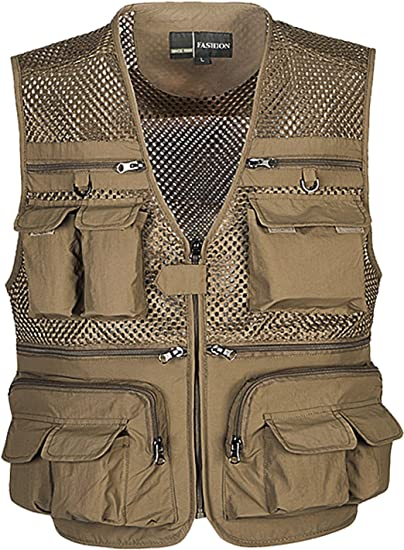 This vest is perfect for the summertime fishing trips that the fisherman in your life enjoys. It's easy to carry about and provides some waterproofing.
It's perfect for use in a mist or on a drizzly day. It's constructed from mesh, a lightweight material that allows air to circulate. This sturdy vest has plenty of airflow, is designed to dry fast, and won't break the bank. The fisherman in your life can store all of their necessary items in the many pockets which vary in size. To ensure the security of the contents, several of the pockets have zippers.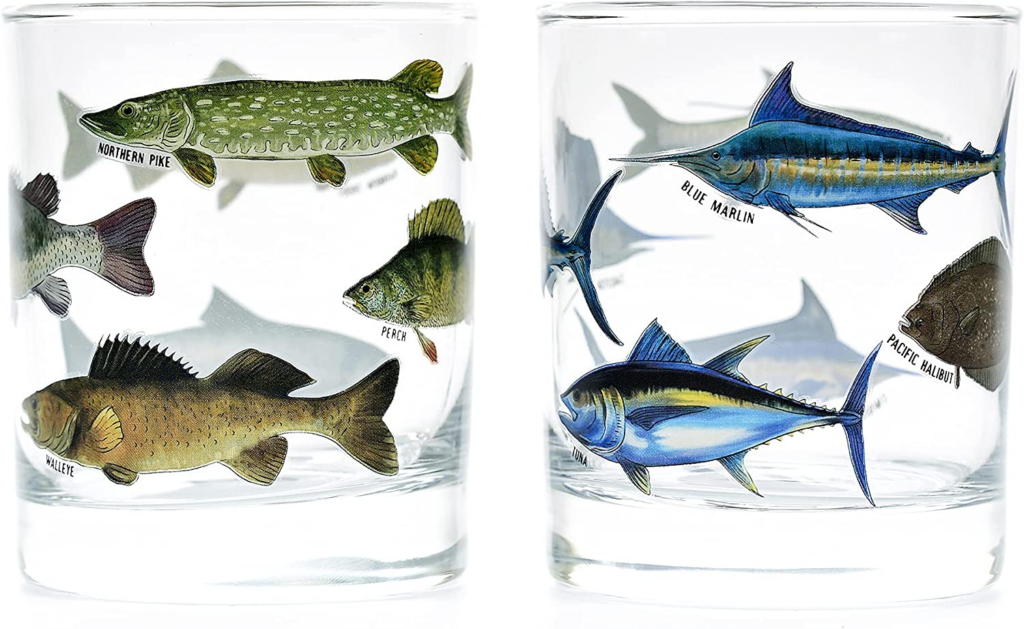 Who wouldn't desire a cool pair of glasses that represents their passions? Consider giving these two whiskey glasses to your favorite fisherman. These are perfect for displaying or using with whiskey or any other alcoholic beverage. They will appreciate the thoughtfulness behind such a unique gift.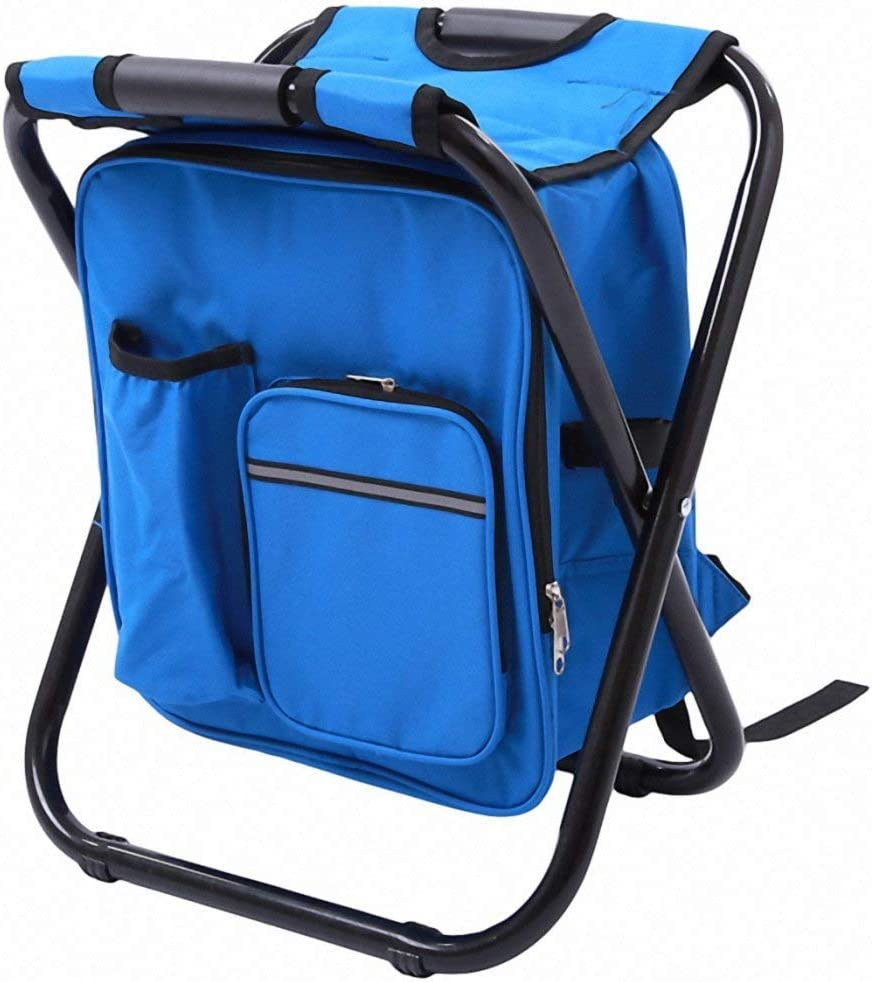 Your fishing buddy may bring everything they need in addition to their chair thanks to this chair's ability to convert it into a backpack. With this unique gift, he won't need to bring two different things. They may store food, beverages, and other necessities in this backpack. It also has a drink-cooling insulated compartment.
The maximum weight capacity of this chair is 300 pounds. When fishing from dry ground, they may open up this backpack chair and take it easy for a while.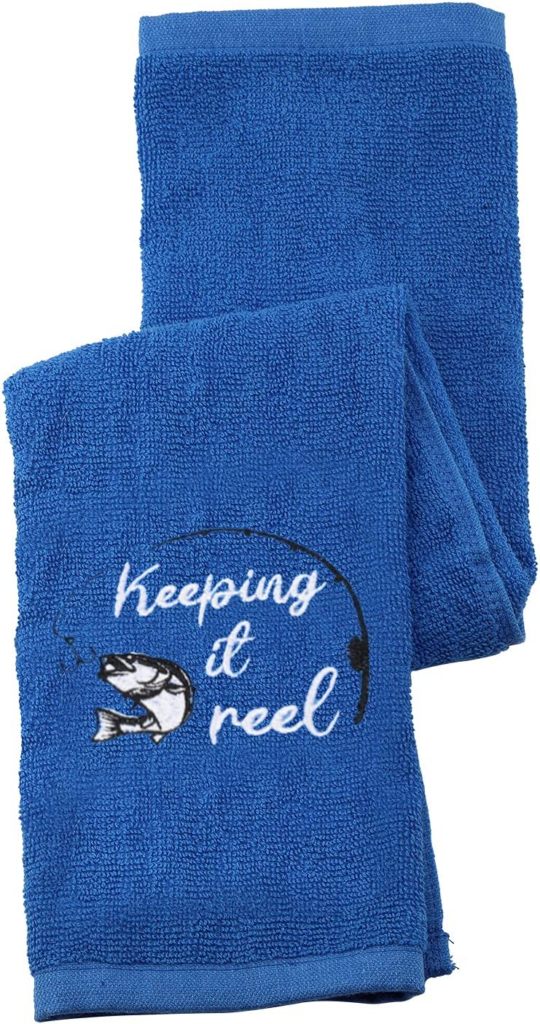 This is a thoughtful present for anglers since it may be used in or out of the house. On this towel, the words "keeping it reel" appear. This towel has an included clip, so you can easily connect this to your fishing gear.
This is perfect for cleaning up after yourself or other surfaces while on the road. It's multipurpose, so your fisherman may use it in the bathroom or kitchen at home as well. In any case, it's an excellent and entertaining choice for a present.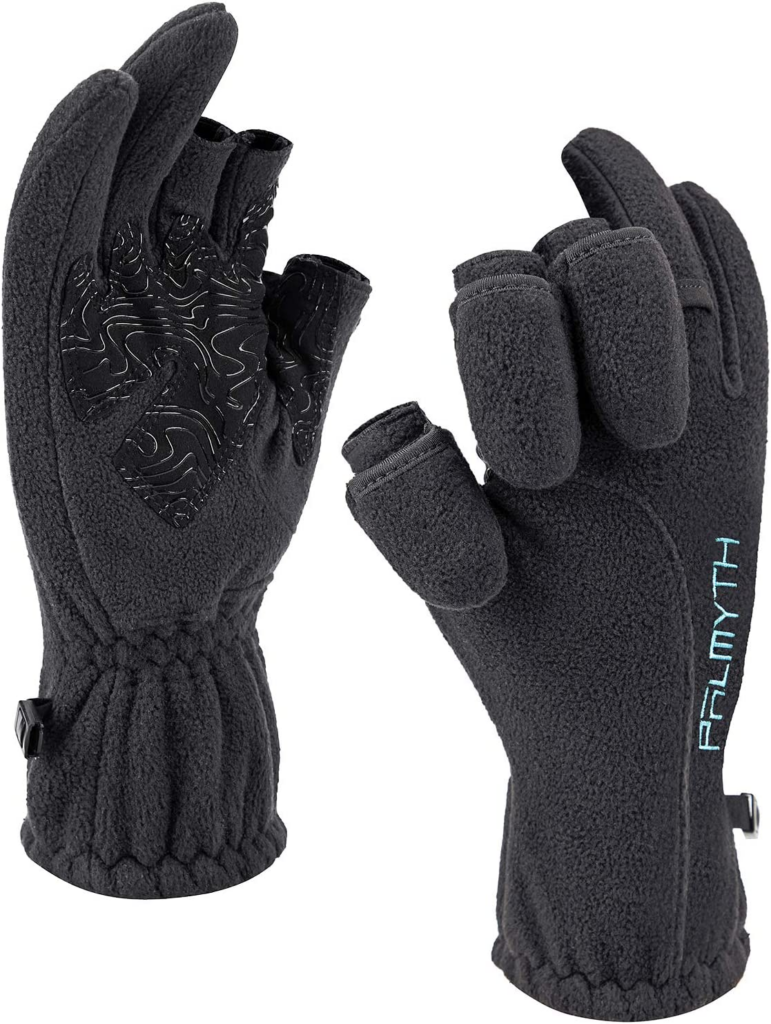 For anglers that insist on fishing come rain or shine, the above gift suggestion is a must-have. Those who like fishing on the ice or in cooler temperatures will find it indispensable.
These gloves have a typical appearance at first, but they can be changed such that the tips of three fingers are revealed. Its 12 magnet parts make the switch far less of a hassle than if the gloves used velcro instead. In addition, these gloves have anti-slip silicone construction for improved grip.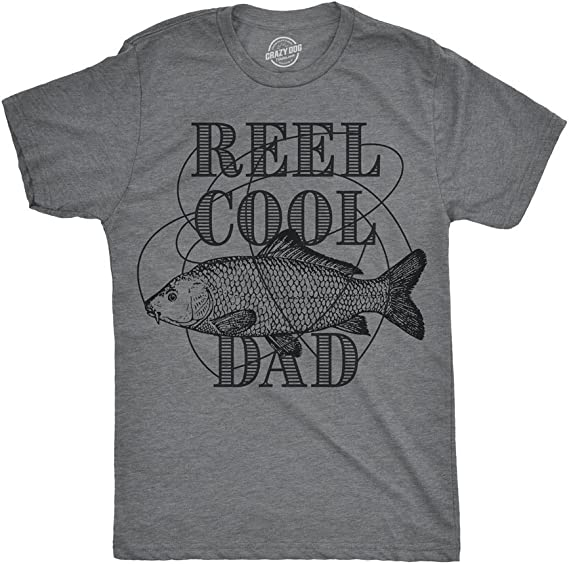 There is no better present for a father who enjoys fishing than a shirt with a fishing pun. If your dad like puns, he'll really dig this shirt. An illustration of a fish and some fishing lines accompany the phrase "REEL COOL DAD" on this tee. Your fisherman dad can use this very soft and lightweight shirt even while fishing.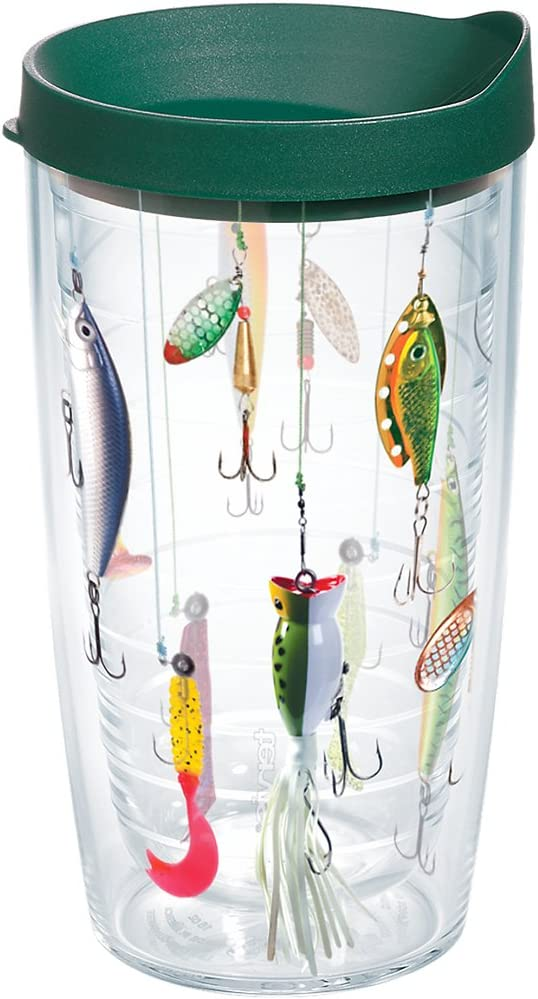 This awesome thoughtful gift is ideal for the busy fisher. This Tervis Tumbler with fishing lures on it is perfect for when he's on the run. Your fisherman can bring along a cup of coffee, a bottle of water, or whatever else he likes to drink. This gift is practical, and it highlights his hobby of choice.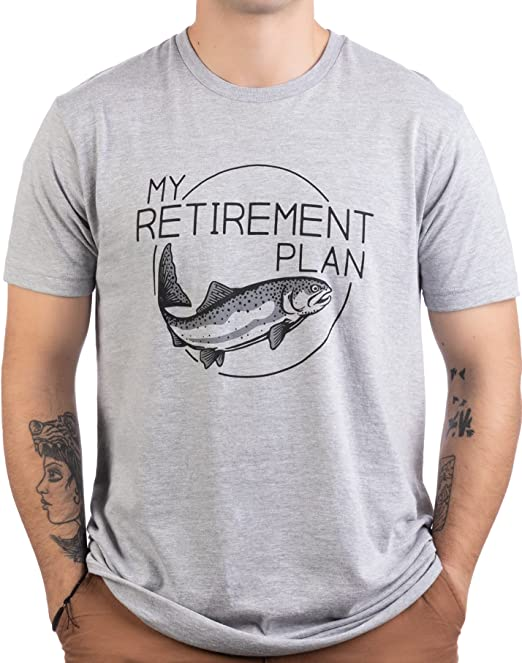 This is a wonderful option for a present if your fisherman has just retired or is getting close to retirement age. It's a tee shirt that reads, "my retirement plan," and has a cartoon fish within a circle. Since he is now retired, he can devote his time entirely to fishing, which is fantastic news since he enjoys the sport.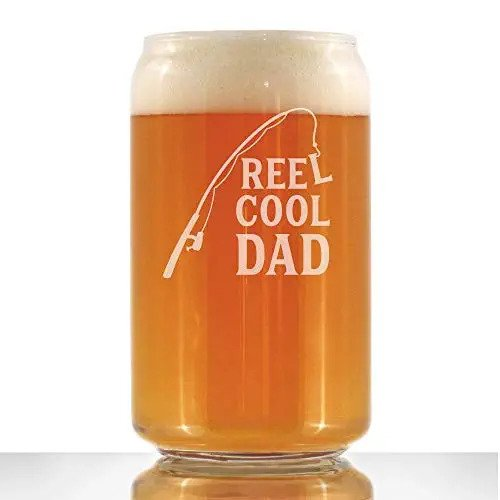 We are continuing with the concept of "reel cool dad" with our following present suggestion. A fishing rod is shown as though it had just reeled in a fish, pulling up the "L" in reel on this beer pint glass. If your dad is the kind of person who enjoys both fishing and beer, this is a fantastic gift choice. After a day of fishing, all he needs to unwind is a cold one.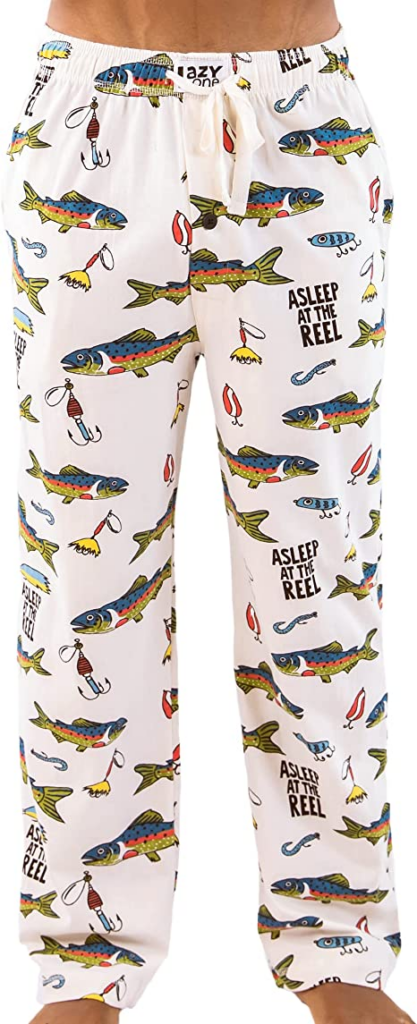 Your dad or fishing buddy will adore these cozy jammies. The pajama bottoms you're looking at are covered with fish and other marine life. He can continue to share his passion for fishing even while he's preparing for bed. These pajama pants are more of a gag gift, but they're perfect for Dad if he loves to fish and enjoys lounging in pajamas. They're also quite soft and cozy since they're made of 100% cotton.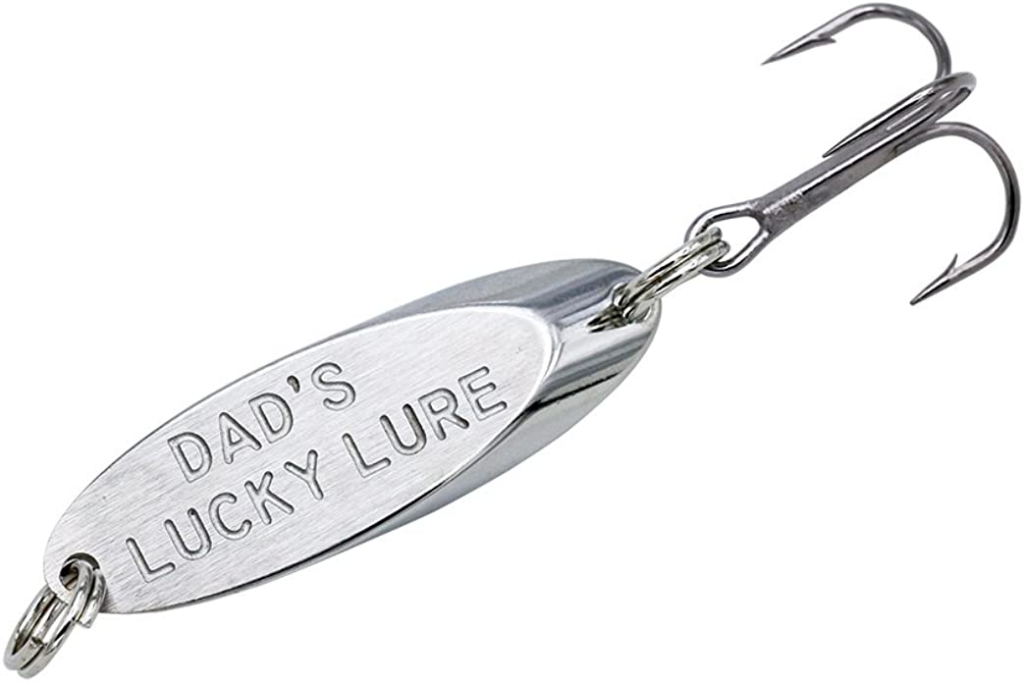 Your dad will love this heartfelt gift, which shows that you appreciate his passion for fishing. This fishing lure is inscribed and reads, "Dad's Lucky Lure." If he goes fishing with the item you gave him, he'll think of you every time he reels in a fish. He'll be able to enjoy his favorite pastime while thinking about a special someone.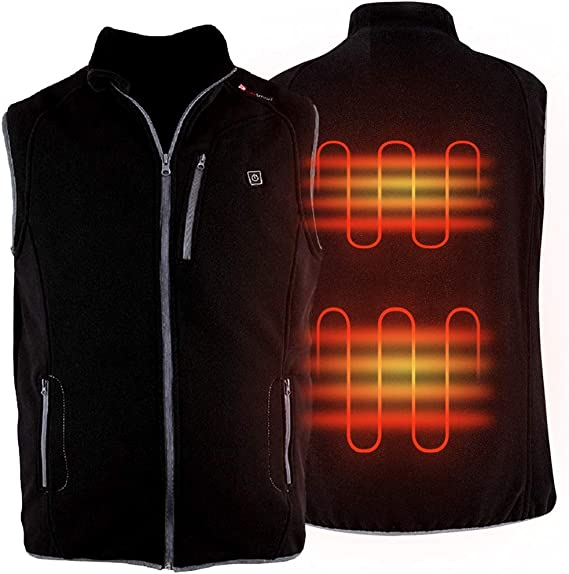 It's never enjoyable to go fishing when you're freezing. Being cold is bothersome and uncomfortable, and attempting to stay warm can be a hassle. For this reason, a heated vest would be a great present for your fishing enthusiasts. These vests come with a button that lets you choose between three different heating settings. In order to get his desired degree of comfort, he may adjust the thermostat accordingly.
As an added bonus, it's easy to clean and can be washed in the washing machine after each use. When the weather condition becomes chilly, this will be perfect. He will appreciate this present much on chilly days since he will not have to pile on as many garments to be warm.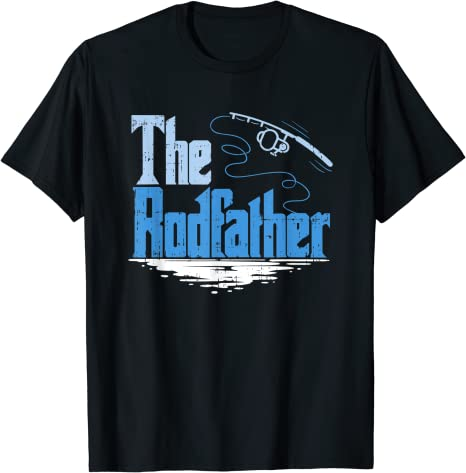 Another humorous t-shirt that may be a great present for fishing family members. Reference has been made to the classic film The Godfather. This shirt has the phrase "The Rodfather," an image of a fishing rod, and a water outline. You get even more cool points for this present if he likes The Godfather. It combines two of his passions: fishing and one of his favorite films.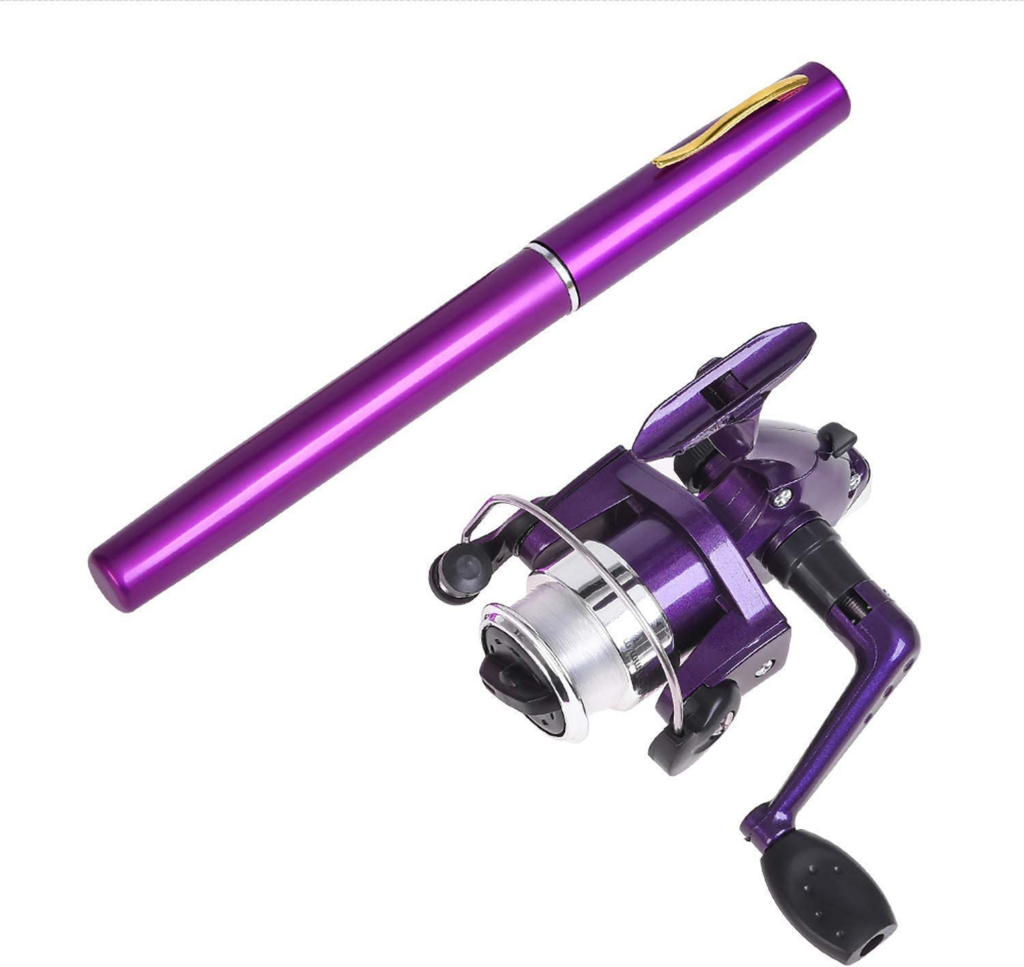 This is the world's smallest fishing pole. This pen-sized fishing rod is extendable and perfect for situations where full-size fishing gear is inconvenient. Use this ingenious fishing line pen that's lightweight, portable, and easy to handle. This is an awesome gift for any fishing enthusiast or collector.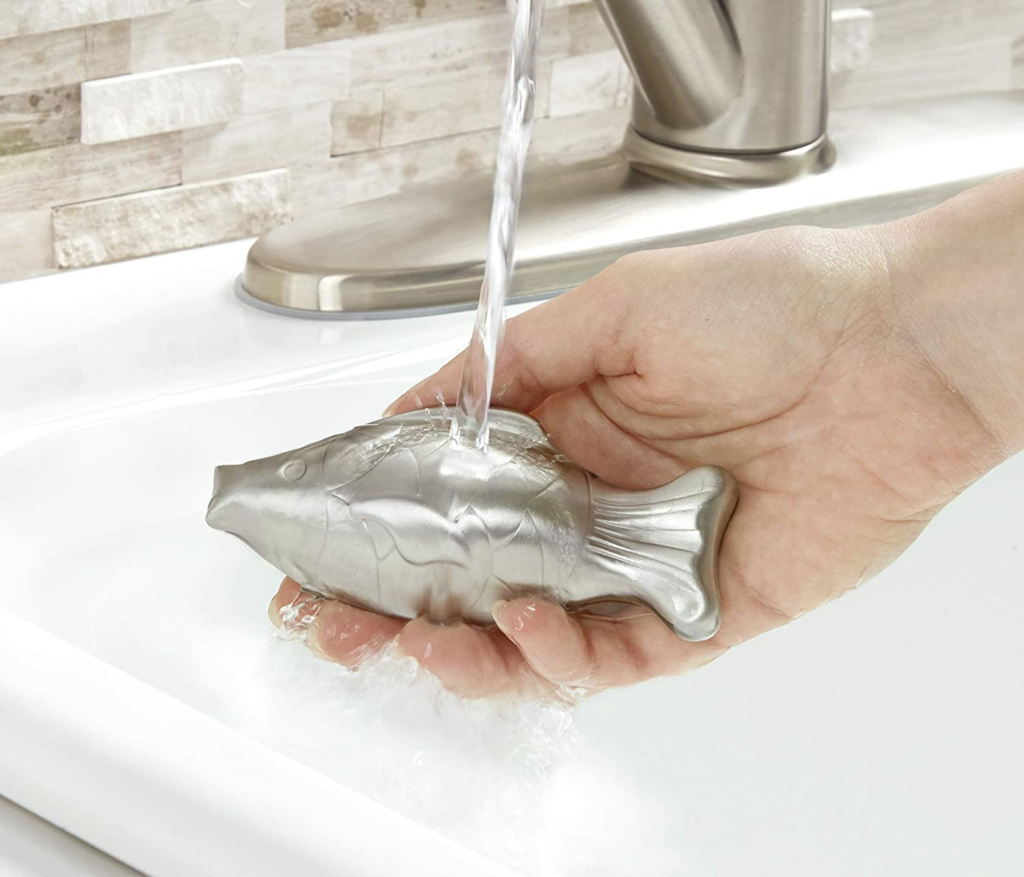 Since your hands are without scales, they shouldn't smell like fish even after being submerged in them for hours. This stainless steel miracle works better than any soap at eliminating smells, and all it takes is a quick rinse.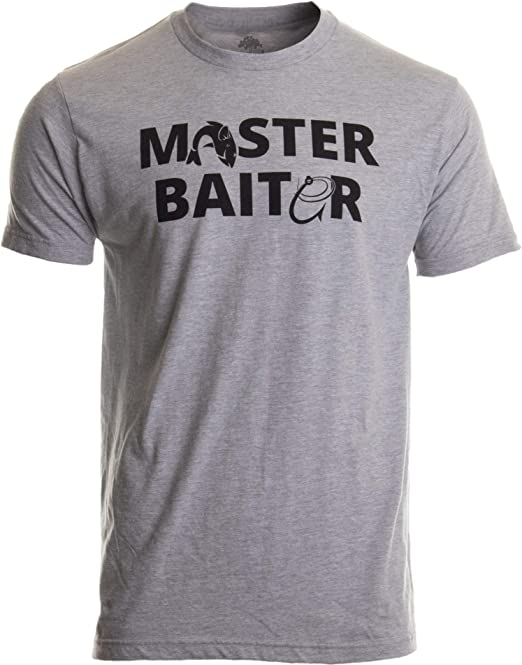 This shirt is the perfect gift for your dad or fishing buddy who loves to fish and has a dirty sense of humor. The caption reads "Master Baiter" which will make him chuckle. It will also remind him of you every time he goes fishing. Put it in a prank package and use it to have a good laugh.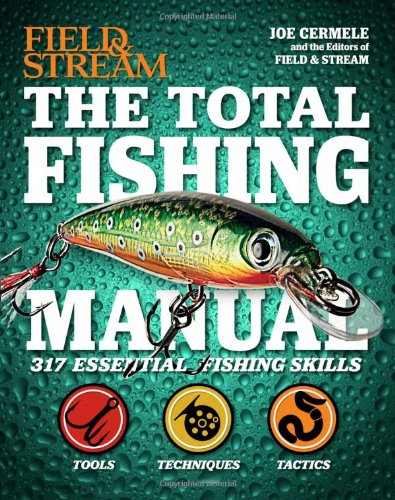 You may help someone you know who is just getting into fishing by giving them a copy of the Total Fish Manual. The book's abundance of information is the result of extensive research conducted both locally and nationally, with the assistance of specialists whose work is featured throughout. This gift is perfect for the beginner fisherman.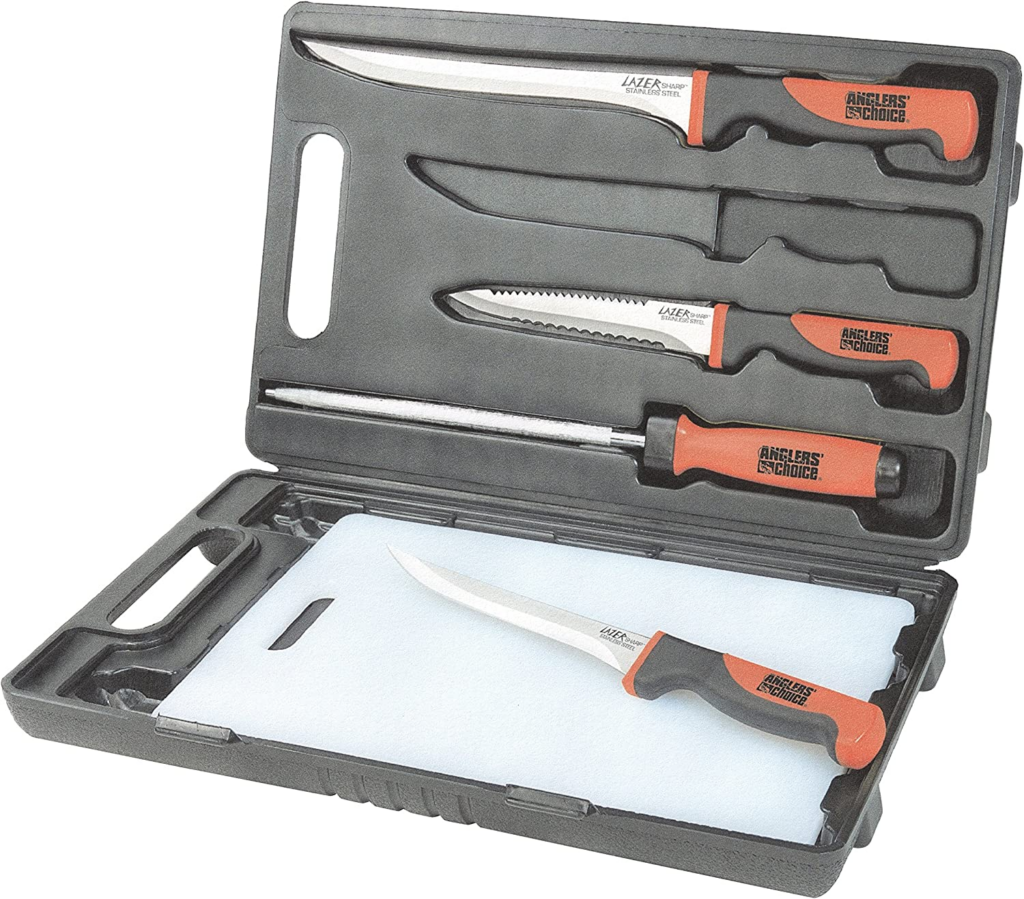 Every competent chef needs their own set of knives, and the same should be true for fishers. This kit has boning knives, a honing rod, and a portable cutting board for use while on the road. Help your fisherman fillet his catch of the day.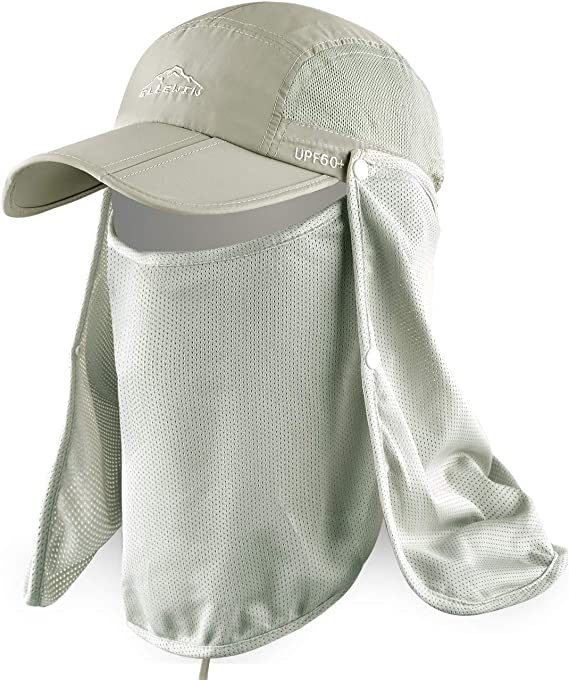 This lightweight baseball cap will shield your face, neck, and head from the sun. This fabric is both breathable and UV-blocking, so your fisherman can enjoy his time outside without worrying about burning.

This is definitely one of the cool gifts any fisherman could use. Get him a sturdy brass fish scaler to quickly remove the scales from his catch of the day. It's made of solid brass for easy cleanup and is shaped so that the scales don't fly up at you when you use it.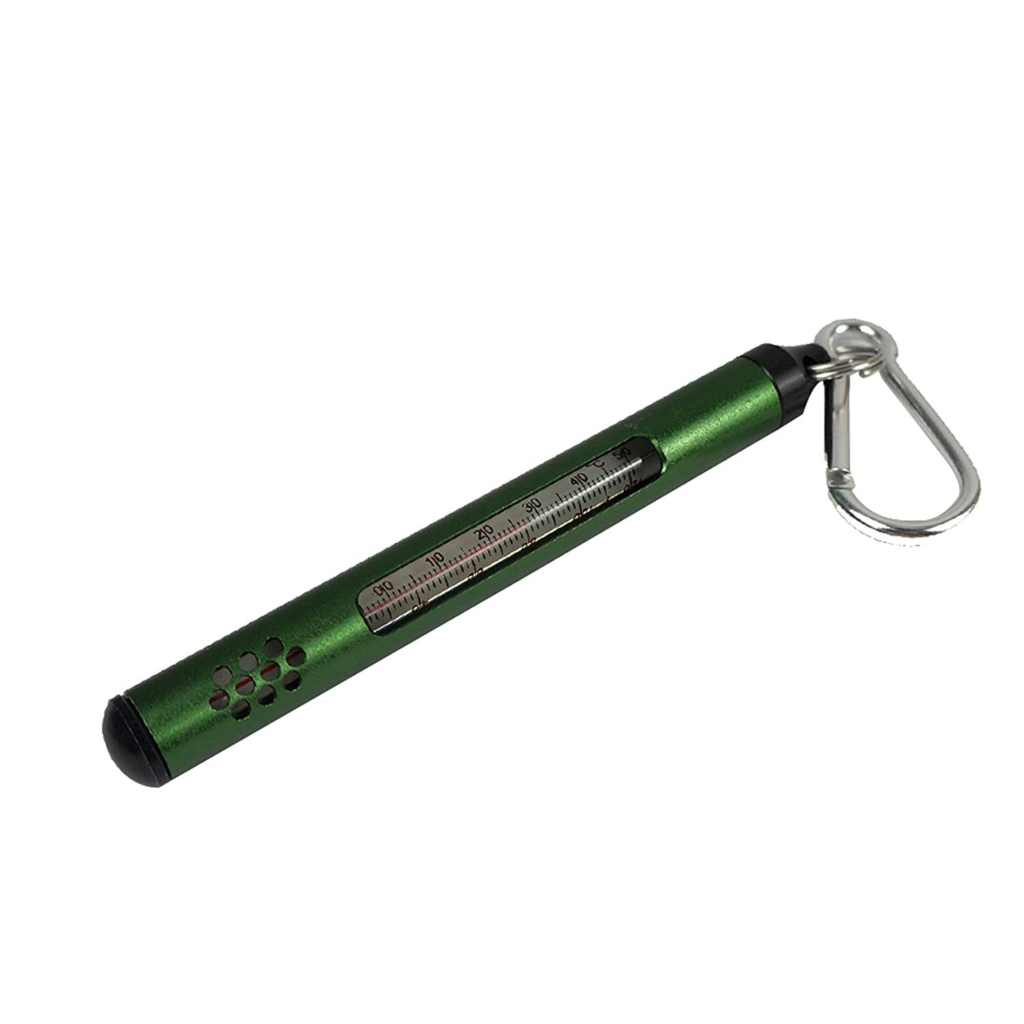 Understanding and tracking water temperature allows fly fishers to both find the spots where the fish are most actively feeding as well as anticipate the next hatch. Understanding and tracking water temperature allows fly fishers to both find the spots where the fish are most actively feeding as well as anticipate the next hatch. This fishing thermometer will help the fly fisherman in your life catch even more fish making it one of the best fly fishing gifts you can give this Christmas.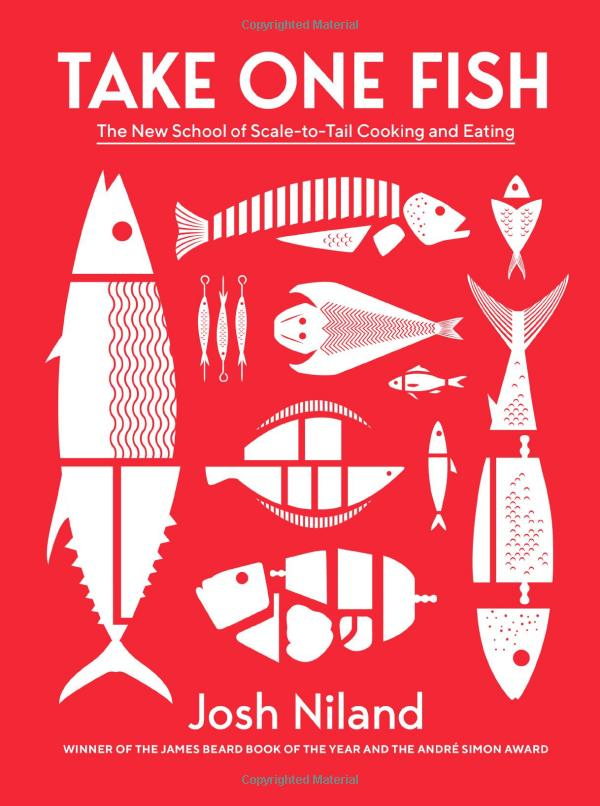 This book is a wonderful companion if you want to eat your catch of the day. It will make you a better cook and make you appreciate the fish you catch more. Finding new and interesting ways to prepare fish might be challenging, but this book is here to help.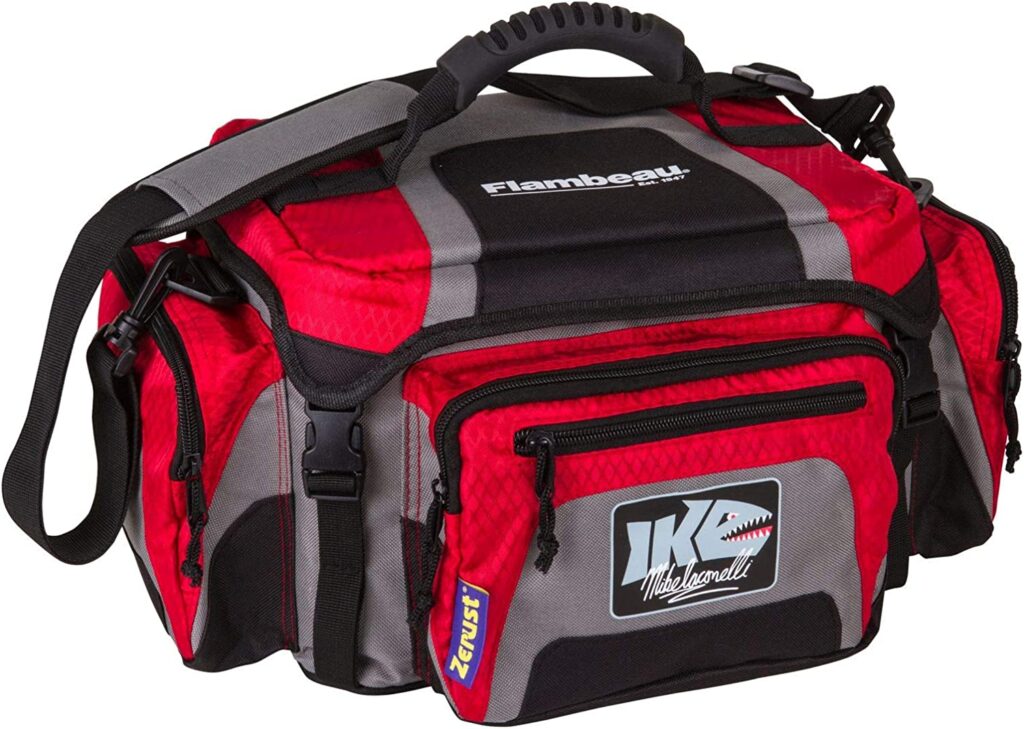 The elements may be rough on fishing gear, but IKE's duffle-style tackle bag has you covered. IKE's duffle-style tackle bag is built to safeguard your gear from the elements with a padded, adjustable shoulder strap and a rain flap with adjustable buckle straps. This is a great Christmas gift for both beginner and experienced anglers.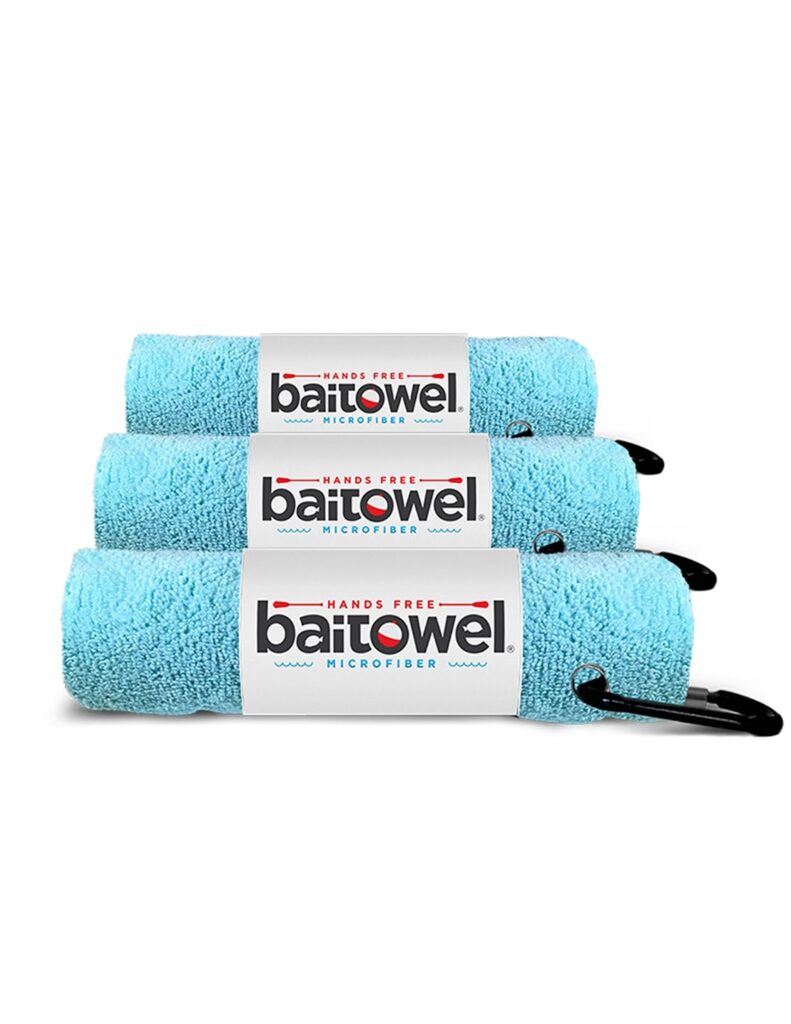 Large, cumbersome fishing towels are inconvenient, but the Bait Towels microfiber towel has a carabiner clip so you can keep it close at all times. Take a Bait Towel with you on the boat or to the shore. It's the perfect size and comes in a whole lot of different colors.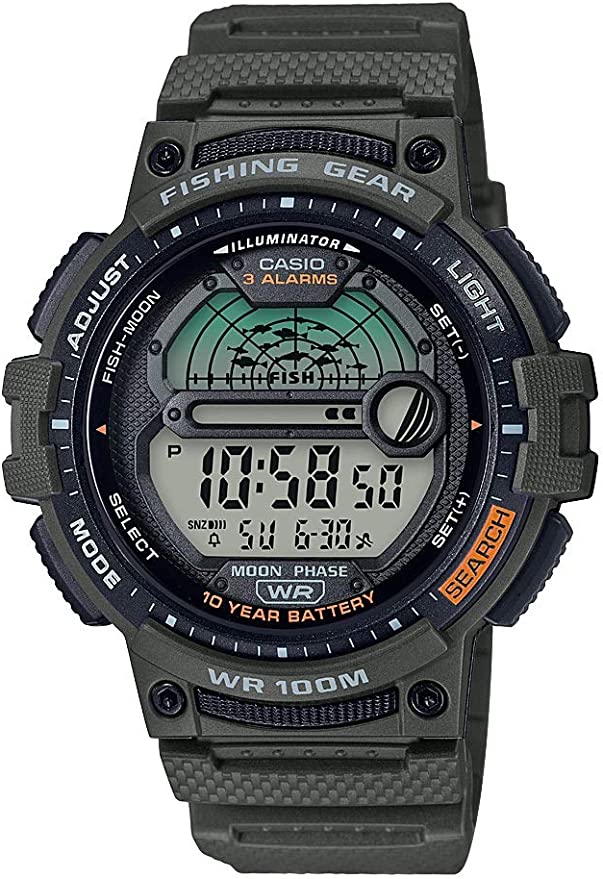 This water-resistant Casio "fishing gear" Model, featuring "fishing mode" has the ability to assist in determining the best time of day to fish. Plus the great thing about this watch it has a built in 10 year battery, which will provide a decade of use without the hassle of changing batteries. How cool is that?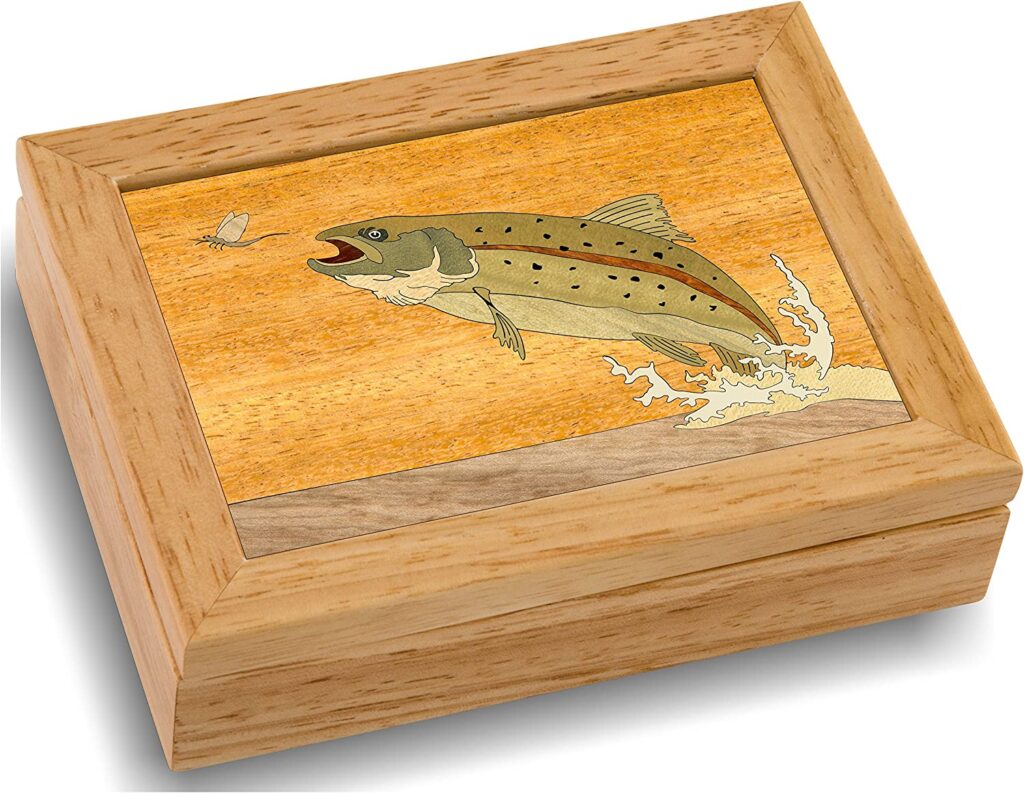 Unlike cheap jewelry boxes imported from elsewhere, this one was constructed with care and won't come with any dings, dents, or chemical fumes. This wooden container is so beautifully made, and it's one of a kind. With its refined smooth surface, wood resists the accumulation of fingerprints and other blemishes, maintaining its pristine appearance. It's well-built, so you don't have to worry about it breaking.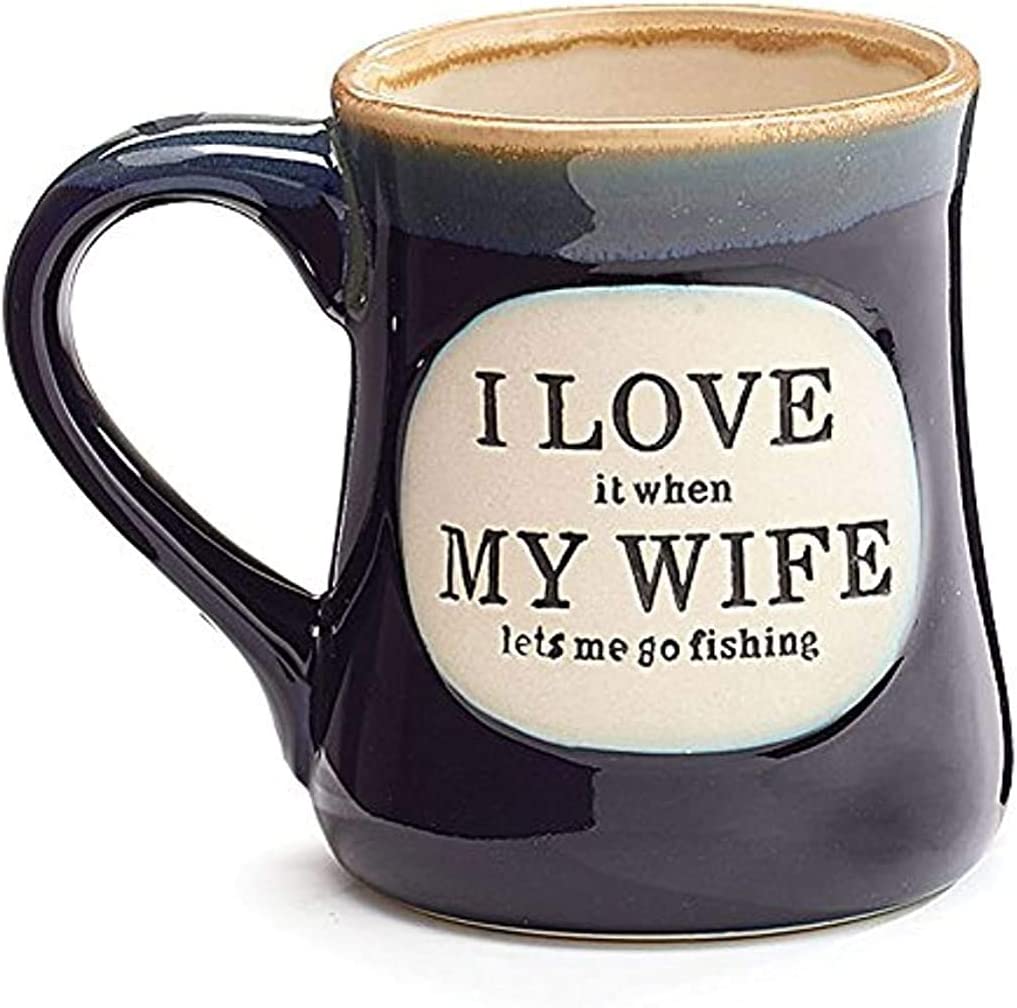 Enjoy the beauty of having a wife who always allows you to go fishing with anticipation of bringing something to grill for the whole family. And this amazing cup will always remind him of you and give him a good laugh.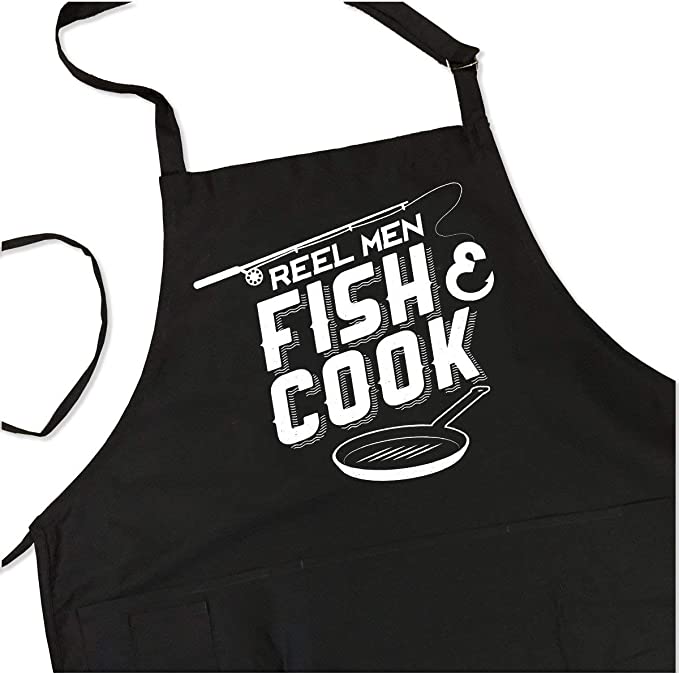 Nothing beats this perfect present as it encourages him to cook for the whole family, especially after the big catch. This Reel Men Fish and Cook Apron will make him proud to be in charge of the cooking. A perfect gift for a fisherman that also likes to cook.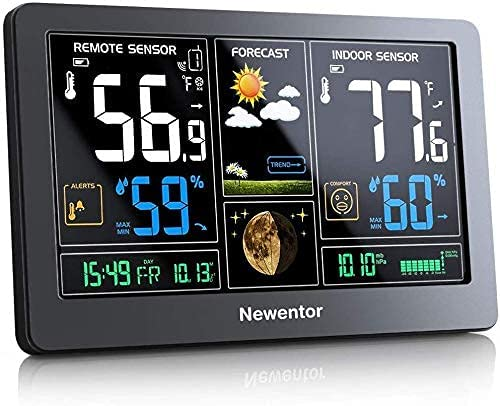 This weather-resistant Forecast Station gives you real-time information on temperature, humidity, barometric pressure, weather forecast(next 8-24h weather), and moon phases so you can adjust your fishing plan accordingly. It also features an alarm clock, calendar, and snooze button.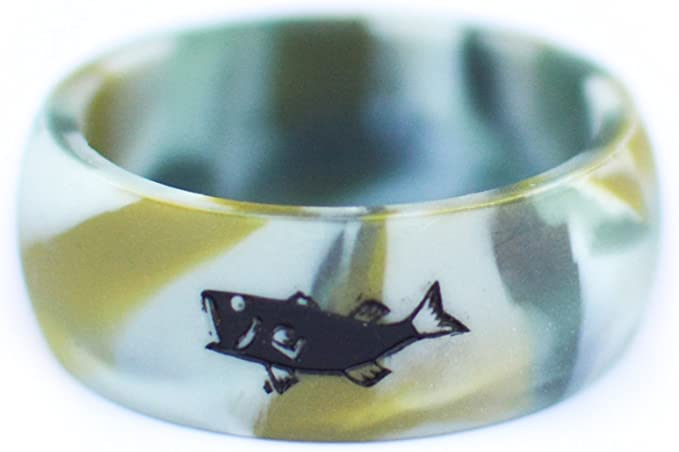 INSTYNCT silicone wedding bands are debossed with the iconic largemouth bass. They are extremely comfortable and lightweight. They make an excellent alternate ring when conditions (like fishing, hunting, exercise, or the outdoors) don't support a traditional metal wedding band well. Get a ring that represents your man's interest in fishing which is also a great gift that will last him a lifetime.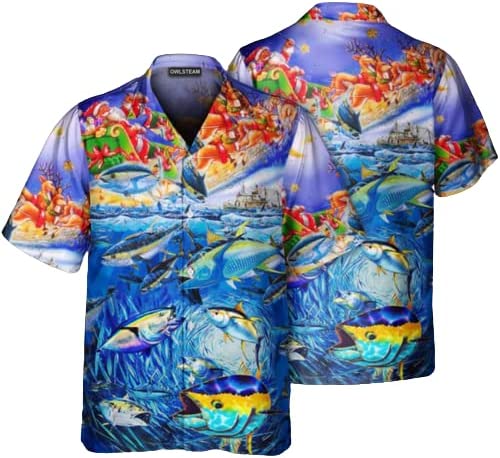 The Santa Claus Fishing Shirt will bring a smile to any fisherman's face. This comfortable and stylish shirt is perfect for a day out on the water, and it's sure to keep the fisherman in your life looking sharp. Give him these custom-made-to-order Hawaiian shirts that are created to the finest quality standards. It's the perfect shirt that ties Christmas together with his favorite past-time.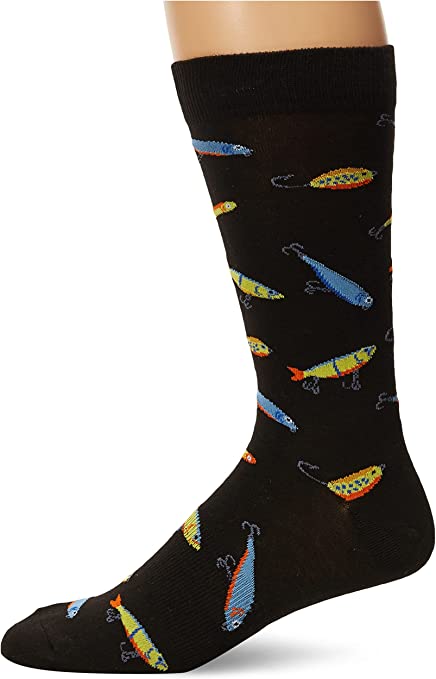 Whether he wears them with a suit to the office or as a more casual weekend look with shoes, he will love these unique crew socks from K. Bell. The unique pattern on these socks will make him look great and help him get noticed. When he puts on these crew socks, he won't want to wear anything else. The premium construction of K. Bell socks ensures that they will provide years of cozy use that will last him a long time.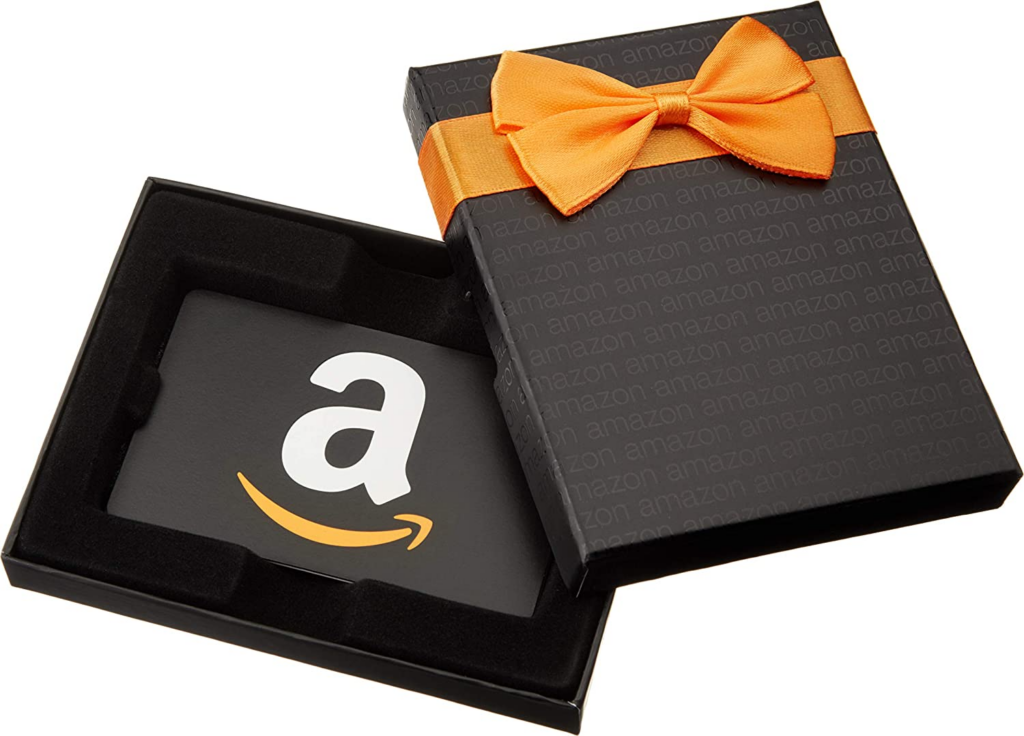 If all fails, and you're still not sure what's the best Christmas gift for fishermen after going through this gift guide, consider giving him an Amazon gift card. A gift card is always a great option because he can choose what she wants. Whether he's looking for a fishing pole, depth finder, or anything else, she can find it on Amazon. 
Summary
Christmas is just around the corner, and if you're still struggling to find the best gift for the fisherman in your life, don't worry. I've got you covered. This comprehensive gift guide has everything from fishing socks to Hawaiian shirts to a Forecast Station. So no matter what his interests are, there's something for him.
Related Articles: