(This page may contain some affiliate links. Please see my disclaimer for more information.)
Last Updated October 24, 2022
Christmas is a favorite time of year for many people because it brings them happiness and cheer. It is also a time when people exchange gifts with family and friends. If you are looking for the best Christmas gifts for an 18-year-old girl, you are in the right spot. Here are some of the best gifts for 18-year-old girls that won't break your Christmas budget and will surely make her smile.

Before we get started, I have a tip that can help you save money on this gift guide and other online shopping you might do—sign up for Rakuten. Rakuten is a free cashback and coupon site that gives you up to 40% cash back at over 3,500 stores. Plus, they always have offers for new members. For example, right now, you can get $40 when you sign up with my link and spend $40—that means you could possibly get your Christmas gift for FREE!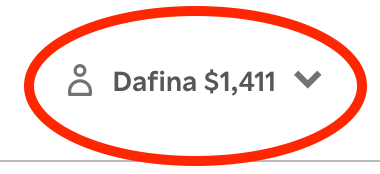 Best of all, it's free to join and only takes a few seconds. I've saved over $1,400 using Rakuten. This is one of the BEST bonuses they do all year and it's FREE money…so NOW is the time to get started.
Looking for a great gift idea for 18 year olds? Gift the teen girl in your life a TYMO Ring Pink Hair Straightener Brush—she will love it. The fantastic ring design of TYMO helps her to reach the roots of their hair without the fear of scalding. This brush is an easy-to-use gadget she can use to straighten and style her hair.
Many girls have an endless passion for nail art. So, this Christmas, gift her this pack of 12 sheets of nail art stickers. She can make her favorite nail art designs with these stickers and show off her style.
If the 18 year old girl you know loves spending time outdoors, she will love this hammock chair. It is a great gift made up of a handwoven rope of cotton and polyester. This hammock chair is perfect for her to enjoy a book, take a nap or simply relax outdoors.
If you are looking for a Christmas gift that is both practical and luxurious, consider the Burt's Bees Gift Set for your teenage girl. This travel-size kit includes the five essential products of skincare. They include body lotion, hand salve, deep cleansing cream, foot cream, and lip gloss.
This Christmas, try giving this beautiful Vlando Princess Style Medium Size Jewelry Box to your young adult. She will surely use it to organize her favorite jewelry. It comes with a handle which is perfect for taking her jewelry on the go. This beautiful box is sure to make her smile.
This lovely tree of life leather bracelet would make the perfect Christmas gift for any teen girl. This multi-layered leather bracelet is made of high-quality materials and features an inspirational quote. The bracelet is also adjustable, making it the perfect fit for any wrist size.
Is your teenager a music lover? If yes, this night light Bluetooth speaker would be the best Christmas present for her. This speaker can also serve as a night lamp that is multi-color and dimmable. Besides using this bluetooth speaker to listen to her favorite music, she can also use it as an alarm clock in her dorm room.
This is an exquisite and timeless piece that would make a great Christmas gift for any 18 year old girl. The Anne Klein Women's Genuine Diamond Dial Bangle Watch is a classic and sophisticated timepiece that she can wear for any occasion. This watch features a genuine diamond-accented dial and is available in a wide range of colors, making it one of the best gift ideas.
If your teenager is in need of some relaxation, these shower steamers are the perfect Christmas gift. These aromatherapy shower bombs are made with essential oils and eucalyptus, which will help her to relax and feel refreshed. This pack of 6 includes a variety of scents. There are also other scents available, so you can choose the one that she will love the most.
This is a beautiful and dainty necklace that would make a great Christmas gift for any 18 year old girl. The TOUPOP Tree of Life Necklace is made of sterling silver with 14k white gold plated and features a tree of life pendant. Its stunning style and chic look make it perfect to wear for special occasions or for everyday wear.
This Deweisn Trifold Lighted Vanity Makeup Mirror is a must-have vanity item for any girl that does makeup. With its built-in LED lights, it simulates natural light so your teen can easily see and do her makeup perfectly. It also has 3 magnifications (1x, 2x, and 3x) so she can see every detail while she's doing her makeup.
Gifts that are personalized show that you put more time and effort into them, making them more appreciated. These bracelets for teen girls are made of high-quality materials and features an inspirational message. This would be the perfect gift for any occasion, including Christmas.
This is a must-have for any 18 year old girl. The WOFALA Blanket Hoodie is a wearable blanket that she can take anywhere. It is perfect for lounging around at home or taking with her on road trips. This oversized WOFALA Blanket Hoodie is a warm, wearable, soft, velour blanket that can help her stay cozy all winter long.
Teenage girls usually love to decorate their room to match their personal style. These photo clip string lights are the perfect way for her to express herself and display her favorite memories. She can hang photos of her and her best friend, her favorite high school memory, or anything else that is special to her. These string lights are also great for decorating her dorm room and will allow her to feel close to home with her favorite photos of loved ones.
If your girl loves fragrances, why not try Vera Wang Princess Eau de Toilette Spray? The stunning spray bottle with an appealing fragrance is a suitable gift for your teenanger. She can use it in her everyday routine to feel more confident about herself.
18 is an ideal age to teach your daughter various life lessons. So, consider gifting her a book, "Grown-Up Stuff," that explains 75 topics that a teenage girl must know. Not only will she love it, but she will also enjoy learning a lot from it.
While thinking of a suitable Christmas gift for your 18 year old, you can consider gifting her a key chain. This stainless Steel Key Chain Ring has inspirational words that will help her stay inspired and motivated. So consider gifting your teen this thoughtful gift.
The UNO Electronic Handheld Game is perfect for any 18 year old girl who loves to play games. This handheld game is easy to use and can be played with up to 3 virtual players. This electronic UNO plays just like the card game UNO! Wild, Draw Two, Reverse, Skip, Wild Draw Four—it's all there! Your teen will love playing this game with her friends and family.
This is a must-have for any 18 year old girl. The SweatyRocks Women's Long Sleeve Hoodie Sweatshirt is a comfortable and stylish piece of clothing that she can wear on any casual occasion. It is made of high-quality materials (95% cotton and 5% spandex) and comes in a variety of colors. This would be the perfect Christmas gift for your teen daughter. 
Do you want to gift a spiritual item this Christmas? If so, you can give a Bible Verse Stainless Steel Necklace. This beautiful and meaningful necklace is made of high-quality stainless steel and is engraved with the Philippians 4:13 verse, "I can do all things through Christ who gives me strength." This would be a perfect gift for your daughter who is going through a tough time.
Kodak Printomatic is a great gift for your daughter if she loves photography. This instant print camera produces high-quality prints that are water-resistant and tear-resistant. Think of this gift as the modern polaroid camera. The prints are also sticky-backed, so she can easily stick them on her scrapbook or photo album. This is one of these cool gifts that would be a great for your daughter who loves to capture memories.
Facial Sheet Masks are a great way for your teen nto relax and pamper herself. This set of 12 sheet face masks includes different types of masks that target different skin concerns. The set includes a refreshing mask, a hydrating mask, and a soothing mask (just to name a few). This would be a perfect gift idea for your daughter who loves to take care of her skin.
These Acrylic Tumblers is a great Christmas stocking stuffer and can also work as 18th birthday gifts. This set of 4 tumblers is made of durable acrylic and says "18 & Fabulous." This tumbler has two layers so that your drink will stay cold or hot as you please, and you won't have to worry about condensation or burned hands.
This MRCOOL Night Light Bluetooth Speaker is a great gift for your 18 year old girl. This speaker has a built-in night light that changes colors, so it's perfect for her to use while she's studying or relaxing in her room. The speaker also has an FM radio and Bluetooth capabilities so she can play her favorite music wirelessly.
Throw Burrito is a fun and fast-paced card game that's perfect for your family. The goal of the game is to collect as many points as possible. The cards you collect earn you points, but you lose points when you get hit by a squishy burrito. This would be a good gift for your daughter who loves to play games.
The Flipside Game is an electronic handheld game that's a cool Christmas gift and a lot of fun. This game is a fast-paced and addictive puzzle game of skill! Try giving this unique gift to the young woman in your life.
This ModernMade Glow in the Dark Blanket is a great gift for your 18 year old girl. This blanket is made of fleece and is soft and cozy. The best part about this blanket is that it glows in the dark, so it will glow all night long not leaving her in total darkness. Not only is this blanket comfortable, but it also gives the room a stylish feel. This is the perfect present for your teen girl (or teen boy).
Pooqla's Colorful LED Marquee Letter Lights are a great way to add some light and style to your daughter's room. The best part about these lights is that they are remote controlled, so your daughter can easily turn them on and off, change the color of light that you want with 4 light flashing modes, and even control the speed of the light flashing. You can choose any letter out of the alphabet, or buy multiple letters to spell out your daughter's favorite word. The is not only a great Christmas gift, but can also be used for special occasions (such as a birthday party, baby shower, etc.).
Nothing can beat the jewelry option when it comes to buying gifts for teenage girls. You can find the perfect piece of jewelry for any occasion because there is such a wide variety to choose from. Try this Yoosteel layered initial necklace that is 14K gold plated. This item is high-polished, hypoallergenic, keeps a long time, is lead and nickel free, and provides no harm to the skin. 
If your girl loves doing her makeup, you can buy her this sassy and classic makeup kit. This handy kit contains all the essential products you need for your makeover in one packaging. It comes with 24 eye shadow shades, 18 lip glosses, 2 colors for blush, and one bronzer. Its retractable compartments, portable size, and a wide array of rich colors make it perfect for travel and on-the-go use.
These Tuiyata Cute Animal Slippers is stunning footwear that is not only stylish but a comfy option to go with. Various age groups equally love these slippers. This shoe features delicate embroidery, exquisite craftsmanship, ingenuity, and a simple design. These slippers come in many different sizes from 4.5-11.5 women.
Consider gifting your 18 year old girl (or even your teenage boy) this PRO-SPIN All-in-One Portable Ping Pong Paddles Set to have fun at home when it's too cold to play outside. Just set up this game on the tabletop, expand the net, and attach it to the table—then you are all set to play.
This 60″x50″ throw blanket is one of Amazon's best-selling items that makes a great Christmas gift for your niece or granddaughter. There are meaningful words printed on the blanket, such as "I cherish those precious moments that you were there." The blanket is made of 100% micro plush polyester which is very soft, comfortable, and warm. It's a practical gift that she can use all year round.
These Celestial Moon & Star Drop Earrings are a stunning option this Christmas. Colorful studs on these earrings make them more appealing. These earrings are made from Gold-tone metal with glass stones. The best thing is that they are lightweight and comfortable to wear.
The BRIGHTWORLD Moon Lamp Galaxy Lamp is a 3D-printed lamp that comes with a wooden stand. This lamp produces soft and warm light that creates a romantic ambiance. It has two different shades (16 colors) and is dimmable so you can adjust the brightness levels. This stunning moon lamp lies on a beautiful woody stand, making it a more stylish piece. So, try this BRIGHTWORLD Moon Lamp Galaxy Lamp this Christmas, it's one of the coolest gifts you can give your teen.
These clear cosmetic storage organizer can store all of your 18 year old's makeup products, such as lipsticks, eyeshadows, foundations, and more. It's a great way to organize her vanity table and keep everything in one place. This organizer is made of high-quality acrylic that is durable and easy to clean. Plus, not only does it organizes her products but looks beautiful in the room because it is made of clear acrylic.
Words of encouragement can be the most valuable thing you give to someone. So, this time change your plans of giving a typical Christmas gift and buy this Engraved Moon Lamp Night Light. Not only is this night light beautiful but also heart-warming.
The bucket list journal is a good idea for those who like to try and explore new things in life. It comes with 100 items where your 18 year old girl can write down her bucket list and memories after completing them. This journal is bound with a beautiful hardcover that makes it more attractive.
A backpack is a thing that everyone uses daily while going to school or taking a trip. So, this ECOSUSI mini backpack can be the best gift for your 18 year old girl. It is made of leather and has multiple compartments where she can store her books, laptops, and other necessary things. Besides, it comes with an adorable bowknot and tassel charm, making it more stylish.
Artistic minds always fall for colors and art pieces. If your girl loves to color, gift her this coloring book. It has a dual advantage—it relieves stress levels while coloring and inspires you because of its sensational quotes. This is definitely a cute gift idea for your teen.
Wearing socks becomes a necessity in winter when the temperature starts to drop. So why not consider buying socks for your teen girl? This gift is cute and will also keep her warm. They are made of thick and soft material that helps keep moisture out.
Teens love minimal and unique jewelry because it's easy to style and can be worn every day. This necklace is waterproof, nickel-free, and lead-free. It will never turn skin green, rust, fade, or stain. Also, it has a beautiful butterfly design that you can customize with your teen's first name initial.
Who does not love listening to music? But what if you receive a beautiful beanie hat that also has built-in wireless headphones? This Tenergy Wireless Bluetooth Beanie Pom Pom is a stylish combo of accessories with technology. The hat has a soft and comfortable fleece lining that helps keep your head warm in the winter. It also has a built-in MIC system that turns this wireless musical bluetooth hat into a hands free calling headset as you can quickly answer calls on the go! It's definitely a gift any teenager will love!
Hoodies are always fantastic, but 3D prints make them more and more enchanting. This hoodie is made of polyester and spandex and feels great on your body. It is machine washable without ever cracking, but hand wash is recommended.
These earbuds are designed to fit snugly and securely in your ear. They are waterproof and can be used for sweating it out at the gym or running in the rain. The charging case is capable of wireless charging and is also compact and easy to carry, so your girl can take it with her wherever she goes. The design of these earbuds is simple and similar to pair of AirPods but—MUCH more affordable.
This beautiful block glass rose is a unique and beautiful gift for your 18 year old girl. It comes in a glass case with LED lights that make it look even more stunnning. The roses in the glass cover will produce different colors with the angle of light. It is a perfect gift for Christmas, Valentine's Day, Birthdays, Anniversaries, or any other special occasion.
A stainless steel insulated travel mug is a great gift for any occasion. This one is double-walled and insulated to keep drinks hot or cold for hours. This travel mug is perfect for when your teen is on the go because it retains heat up to 3 hours and stays cold for up to 6 hours. It's a great gift for your 18 year old daughter that she can use every day.
No one likes to wake up to the noise of an annoying sound. This sunrise alarm clock is a great gift for your teenage daughter. The clock has a gradually increasing light that simulates the sunrise, so your teen can wake up feeling refreshed and well-rested. The light also has an adjustable brightness (12 different colors and 20 brightness settings), so your teen can customize it to her needs. This clock also comes with an FM radio and 12 different nature sound options, so your teen can wake up to her favorite music or the sound of nature.
The selfie ring light is the perfect gift for any 18 year old girl who Is a content creator (YouTube channel, Instagram, TikTok, etc.) or loves to take selfies. The light is small and compact, so it is easy to carry with you wherever you go. It has 10 brightness levels and three different light colors, so you can choose the perfect setting for your photo. It comes with a wireless remote control, so you can take selfies without having to hold the light. This ring light can also serve the dual purpose of a makeup light.
A lot of girls like charm bracelets. The initial heart is made of stainless steel and 18K gold plated. It is durable, nickel-free, lead-free, and AZO-free. In addition, their sturdy Korean wax rope is difficult to break.
If your teenage girl loves makeup then the best Christmas gift you can give an 18 year old girl is makeup brushes. This Docolor Professional Makeup Brush Set is a premium gift option for your girl because the brush hairs are dense, very soft, and smooth—making her makeup application easy. This set comes with 28 brushes so she will have the right brush for all of her makeup needs.
If your girl is into podcasting or even learning online (where she has online meetings), a USB microphone can be a great gift for her. This microphone is perfect for recording and it can focus on your voice while ensuring that background noises like typing and mouse clicks don't get picked up. 
If your teen is into drawing, she will appreciate this step-by-step guide that takes her from the basics to more advanced techniques. This book covers a variety of topics, including perspective, shading, and negative space. With over 50 illustrations, this book is perfect for any budding artist.
Eighteen is the age at which your teen is transitioning from a child to an adult. This guide can help those about to start adulthood. It will help your teen learn how to clean, cook, find a job, manage your money, and live away from home—all things they don't teach in school.
Games have always been known to relieve stress and this one is no exception. The Flashing Cube Electronic Memory & Brain Game can help improve your teen's memory and cognitive skills. This game is perfect for road trips or rainy days spent indoors.
If your girl is curious about exploring new and exciting things then you need to try this gift. Interesting Facts For Curious Minds is a book that gives mindblowing facts about pop culture, history, and science.
MEVECCO Gold Tiny Pearl Bracelet is a beaded freshwater cultured pearl. This is a multilayered bracelet that makes it more unique and versatile. It is made up of brass that is 14K Gold plated. This piece is lead and nickel accessible, meaning it won't cause an allergic reaction, and the color won't fade over time.
Does your 18 year old like to do her nails? This nail art design book might be the perfect gift for your girl. It is a compilation of 75 different nail art designs that she can recreate with ease. The designs are simple and easy to follow, and she will love having a new look for her nails every day.
NIKE is a globally renowned shoe brand that has a variety of shoes to fit any style. You can wear them while going to school, having a trip to your favorite spot, or hiking. This white basketball shoe features rippled leather edges for a cleaner, slimmer line, and more refined details. I'm sure your teen will love it and it will be one of the top gifts she receives this Christmas.
The 2-in-1 Hair Straightener and Curler Flat Iron is perfect for the girl who loves to do her hair. This iron is made with a ceramic tourmaline barrel that seals in the hair's natural oils and prevents frizz. Plus, it has multiple heat settings so she can find the perfect temperature for her hair type. This iron also comes with silicone 2-side anti-scald gloves so she won't burn her hands while styling her hair. Whether she likes to wear her hair straight or curly, this iron will help her achieve the look she wants.
This initial bracelet is one of the best finds for Christmas you can offer to your 18 year old daughter, niece, or friend. This bracelet has so many customization options (such as an angel, crystal, or heart charm), plus you can get her first name initial to make it more personalized. This gift is a great addition to your daughter's jewelry box.
This shimmery glitter bronzer makeup palette is a premium product for girls that love makeup. The bronzer is made with high quality ingredients and has a unique shimmer that will help give her a luminous glow. There are 4 colors you can choose from, and the palette comes with a mirror for easy application.
Is your teen a cat lover? If so, this 64HYDRO Blanket Hoodie is the best idea for a good Christmas present. It is a super soft and fluffy throw blanket that comes with an adorable hoodie is is covered with cute cat patterns. It comes in different cat designs and is also machine washable, making it easy to care for.
This 4×6 Best Friend Picture Frame is the perfect gift for your teen girl. It is made of high-quality materials and has a stylish design that will look great in any room. The frame can hold one 4×6 photo, and the glass front protects your photos from dust and scratches. Print out a favorite memory you share with your girl, or have her choose which photo she wants to put in the frame.
This is a great gift she can take with her to decorate her doorm room while away at college. Not only is the design beautiful, but it has a special message to help you express your love for her. This gift is a great reminder that although you may be seperated by distance, you are always close to each other's hearts. 
This LED beanie hat is perfect for the winter months. It's a trio of technology, style, and effectiveness. This hat is perfect to use while doing tasks where you can't hold a flashlight.
This Sterling Silver Bar Necklace is a minimalist necklace for teenage girls. She can use it in styling her casual and elegant looks. This necklace is a good option because it can go with many looks and outfits. It's also lead and nickel free, and will never fade.
This product is a great Christmas gift for makeup lovers. Your 18-year-old can use it to perfect her eyebrow. This waterproof brow pencils, making shaping and styling her eye brows effortless and quick. It is available in 4 natural-looking shades to match any hair color.
A tote bag is a versatile and practical gift that your girl can use for a variety of purposes. The personalized tote bag can be customized with the initial of her first name. The bag is made of 100% cotton making it light-weight and easy to clean. It's perfect for carrying her essentials when she's on the go, and it also makes a great beach bag or travel bag. Whether she needs it for work, school, or travel, a tote bag is a great option that she can use every day.
A hairbrush is a thing that everyone uses daily. If your daughter has curly hair that gets tangled and is painful to brush, you can say goodbye to that problem. This detangler can help her get smooth, knot-free hair because it softly separates knots and tangles instead of tugging and pulling. It also minimizes hair loss and damage. This is a pain-free hairbrush makes a great gift for girls with curly hair. 
Does your daughter love a nice gel manicure? If so, she will love this UV LED Nail Lamp. This lamp is fast and efficient, curing nails in seconds. It has 2 timer settings (30 seconds and 60 seconds) and is compact and lightweight, making it easy to take with you on the go. This is the perfect gift for your teen that loves to do her nails.
Yoosteel is a brand that always comes up with trendy, minimalist jewelry that girls love. So, this Christmas, you can try this 14K gold plated layering chain necklace with her initial. This multi-layered necklace is lead and nickel free and never fades.
This Bluetooth speaker is perfect for any music lover. The ART+SOUND Vortex Tornado TWS Bluetooth Speaker is a portable and wireless speaker that she can take anywhere. It has great sound quality for the price. Just add water and be taken away by stunning water tornado visuals. 
If your teen loves makeup, this makeup kit is a great option because she doesn't have to carry around a lot of different products. The kit comes with everything she could possibly need. It comes with 40 eye shadow colors, 8 lip balms, 2 blushes, 2 highlighters, 2 lip glosses, 4 lipsticks, 3 concealers, 3 eyebrow powder, 6 brushes, 2 lip pencils, 2 eye pencils and 1 sharpener. Plus, it's packaged in a trendy reusable makeup box making it super easy to store and transport her makeup.
An essential oil diffuser is a great gift for any girl who loves to relax. The diffuser disperses the essential oils into the air, creating a relaxing and calming atmosphere. It also helps to improve concentration, focus, and energy levels. This diffuser features a large and easy to clean 500ml water tank, 7 LED light colors, multiple mist nebulizer modes and remote control, as well as a safety auto-switch that prevents it from overheating in case it runs out of water. This Christmas, give your daughter the gift of relaxation with an essential oil diffuser.
If all fails, and you're still not sure what's the best Chirstmas gift for your 18-year-old girl after going through this gift guide, consider giving her an Amazon gift card. A gift card is always a great option because she can choose what she wants. Whether she's looking for clothes, shoes, makeup, or anything else, she can find it on Amazon. 

Summary
The gifts listed in this article are all top gift ideas for any 18-year-old girl. Whether she loves to do her nails, listen to music, or relax with essential oils, there is something for her here. So, if you are still looking for the perfect Christmas gift for your daughter, these ideas are a great place to start.
Related Articles: