(This page may contain some affiliate links. Please see my disclaimer for more information.)
Last Updated November 13, 2022
The term "consumable" refers to a present that can be used in one way or another. You can't go wrong with these for the minimalist, environmentalist, or "hard to buy for" person in your life. When you give someone a consumable present, whether it's to satisfy their sweet tooth or because you want to give clutter-free gifts, you're not only sharing an experience with them but also reducing waste. In this article, I'm going to share some of the best consumable Christmas gifts your family will love.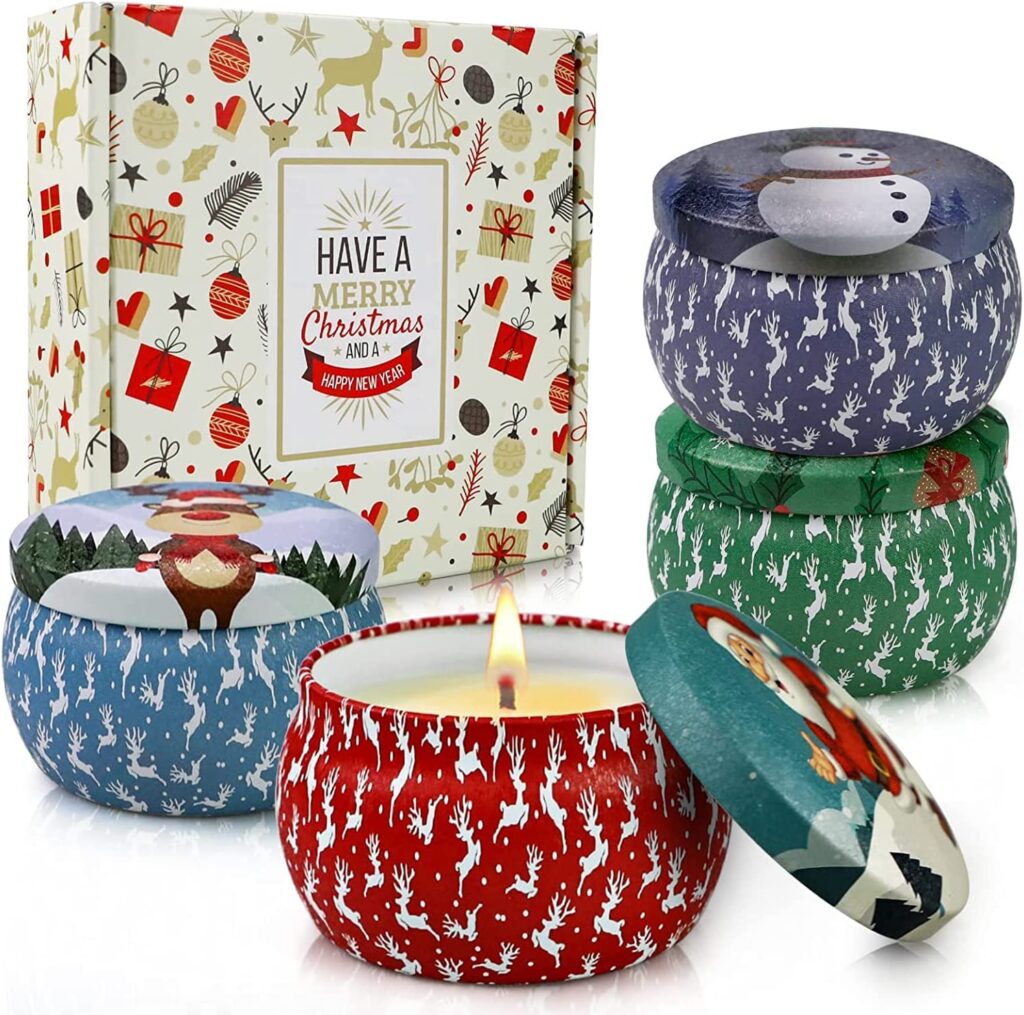 This candle set is a great option for a consumable gift. It's pure, rich, vibrantly colored food-grade paraffin wax scented with the world's finest scented oils, perfect for ringing in the holiday season with the aromatherapy for meditation, yoga, relaxation, bath, and SPA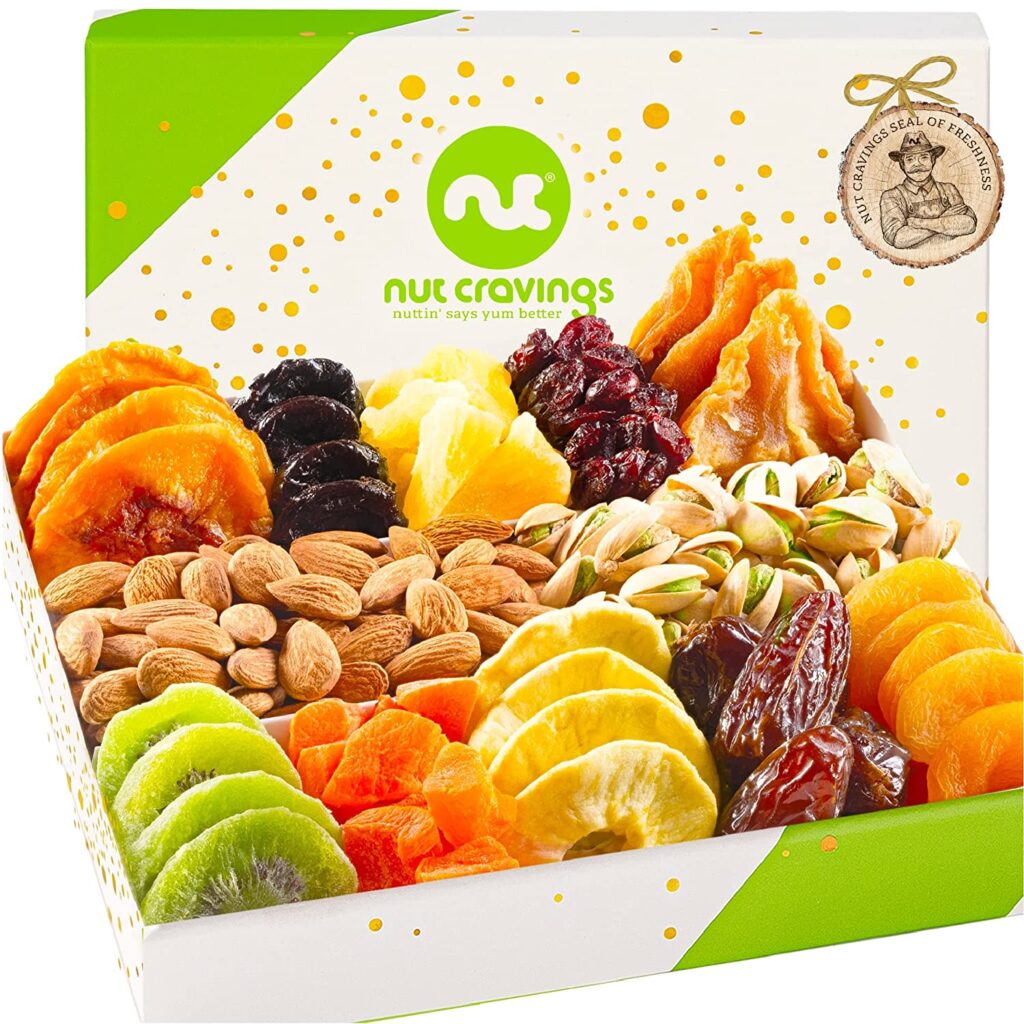 Dried fruits and nuts gift basket is a perfect consumable Christmas gift for the health-conscious people in your life. This gourmet food basket is filled with an assortment of delicious, all-natural dried fruits and nuts, including apricots, dates, pineapple, and almonds. Plus, this thoughtful packaging is sure to be appreciated.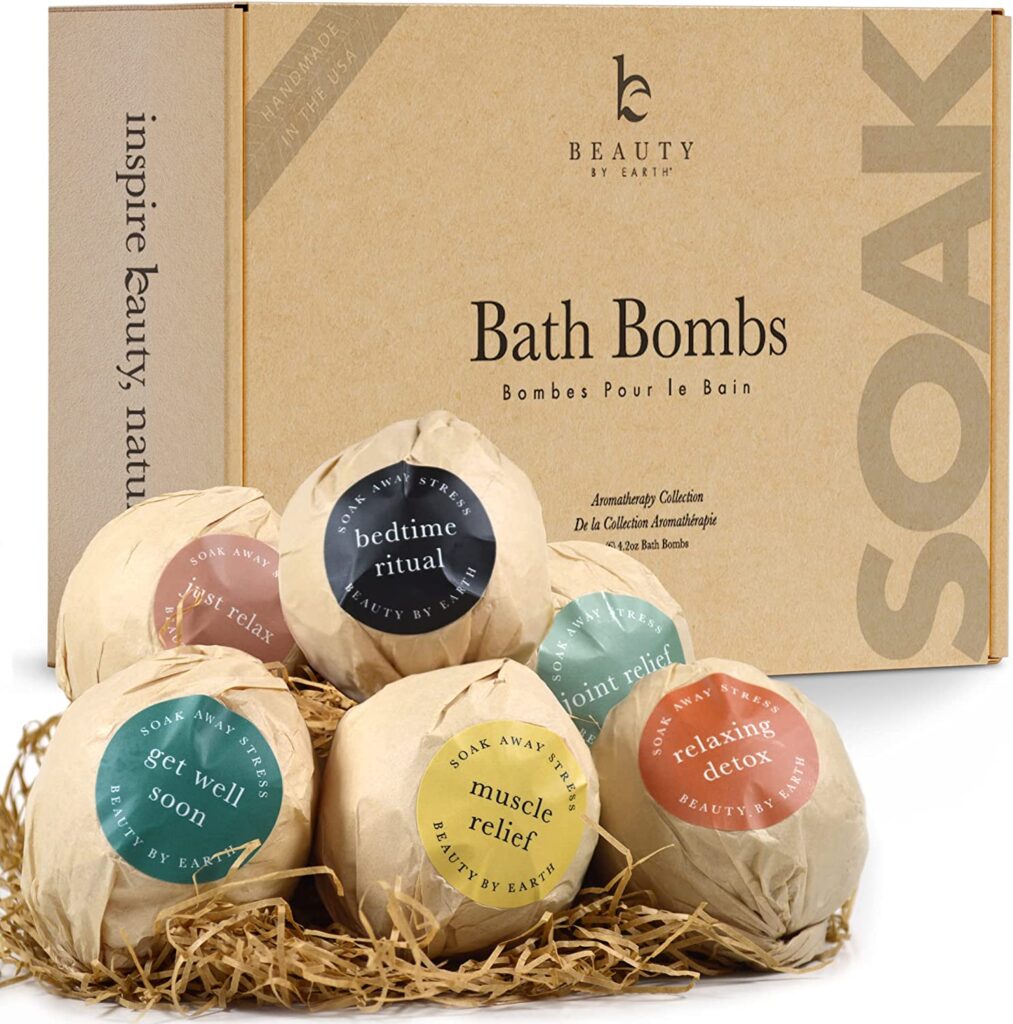 These Bath Bombs are an excellent gift for her so she can immerse herself in the aromatic and opulent bubbles, which also feature enticing scents. This luxurious bath bomb set is a great idea and perfect for her as a self-care present.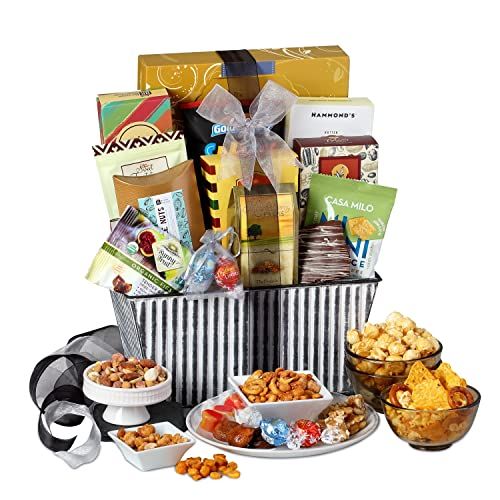 This Broadway Basketeers Gift Snack is a great consumable gift idea. It comes with a variety of snacks that are perfect for any occasion. The presentation is also very elegant, making it the perfect choice for any gift-giving occasion. This gift basket is perfect for family movie nights or as a snack at holiday parties.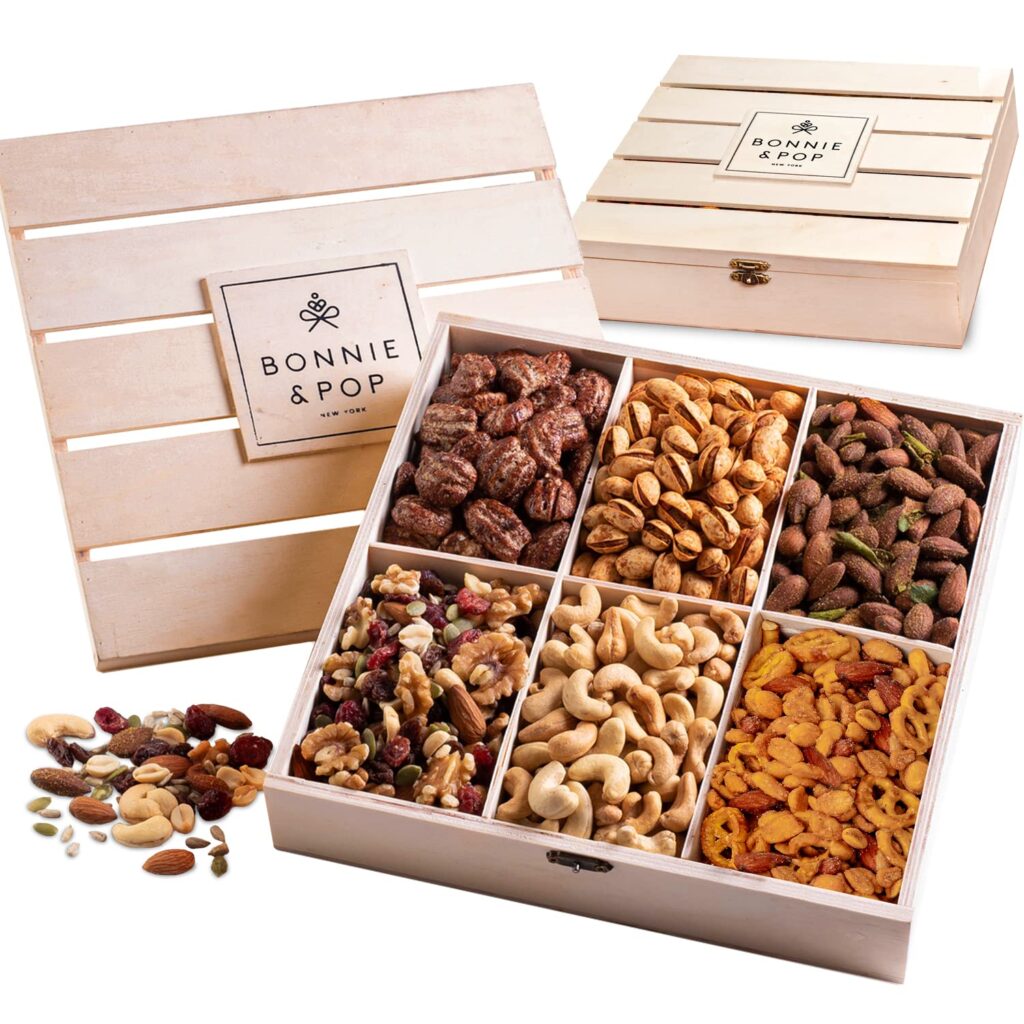 This nut gift basket is one of the best consumable gifts you can give this holiday season. It comes with unique flavors and it's a perfect Christmas gift for someone who cannot eat sweets. This is so well packaged in a lovely wooden box and has a great selection of addictive snacks.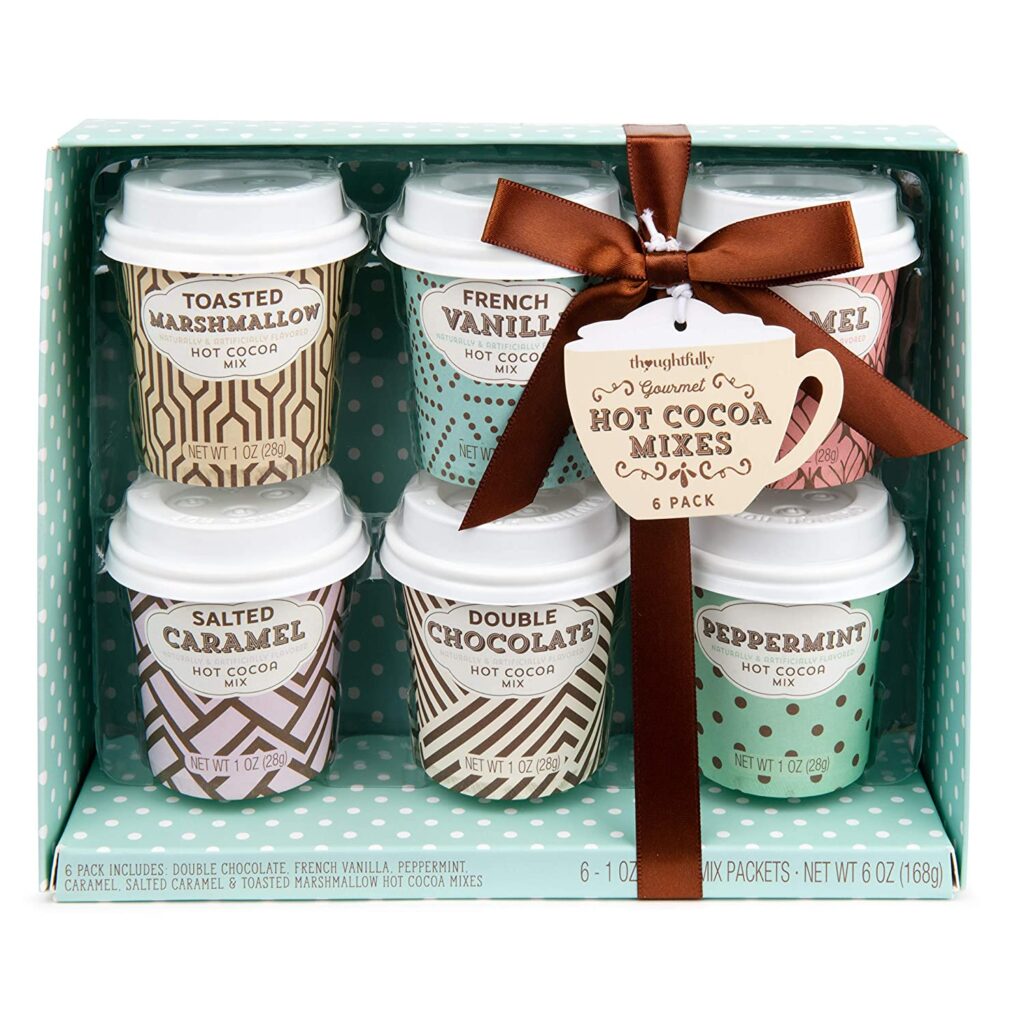 This Hot Chocolate mixes come in mini cup packaging and they're ready for your loved one to enjoy the yummy flavors. This hot chocolate combo is one of the best gifts your loved one will receive this Christmas. They can skip the coffee shop and enjoy some hot cocoa instead.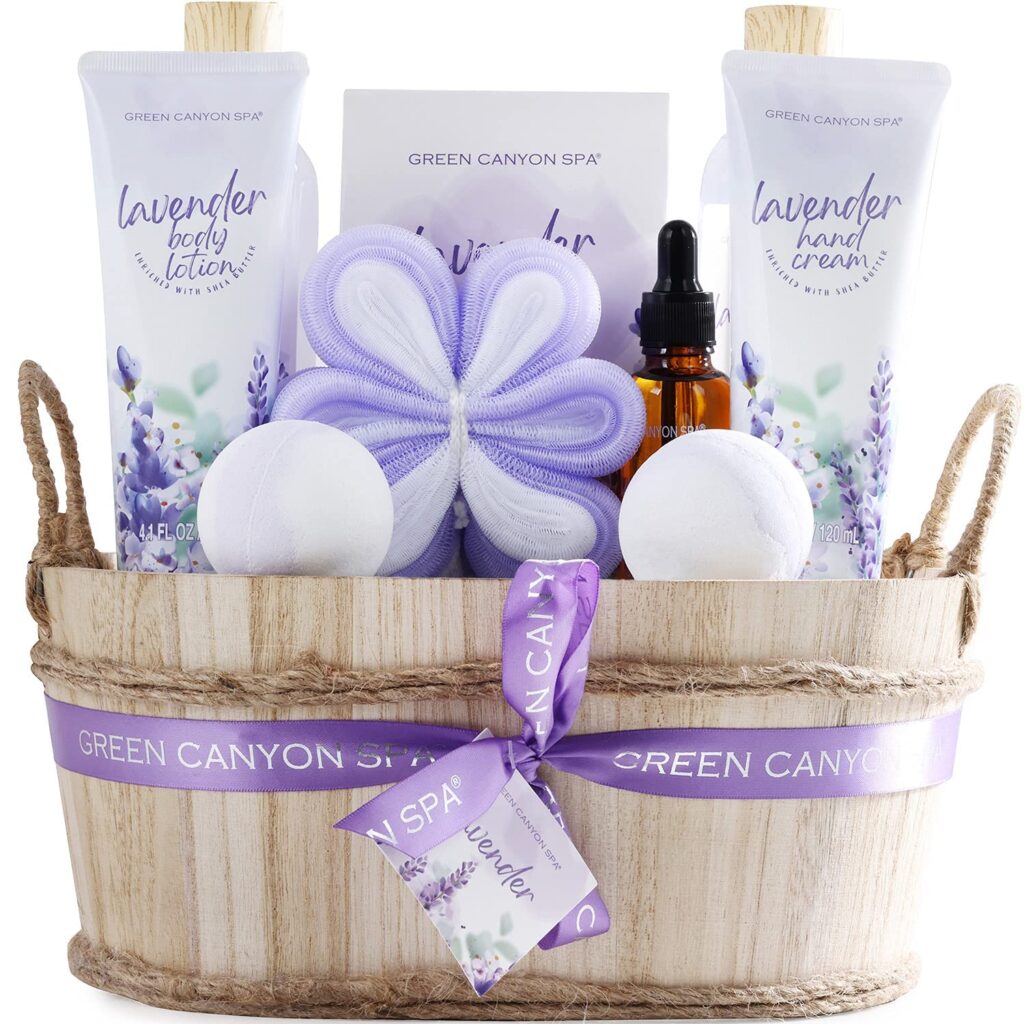 Spa gift baskets are becoming increasingly popular as people become more aware of the importance of self-care. This particular basket includes a variety of high-quality products, like lavender body lotion and essential oils, that will help the recipient relax and rejuvenate. Having a spa day at home can be just as relaxing as a day at the spa.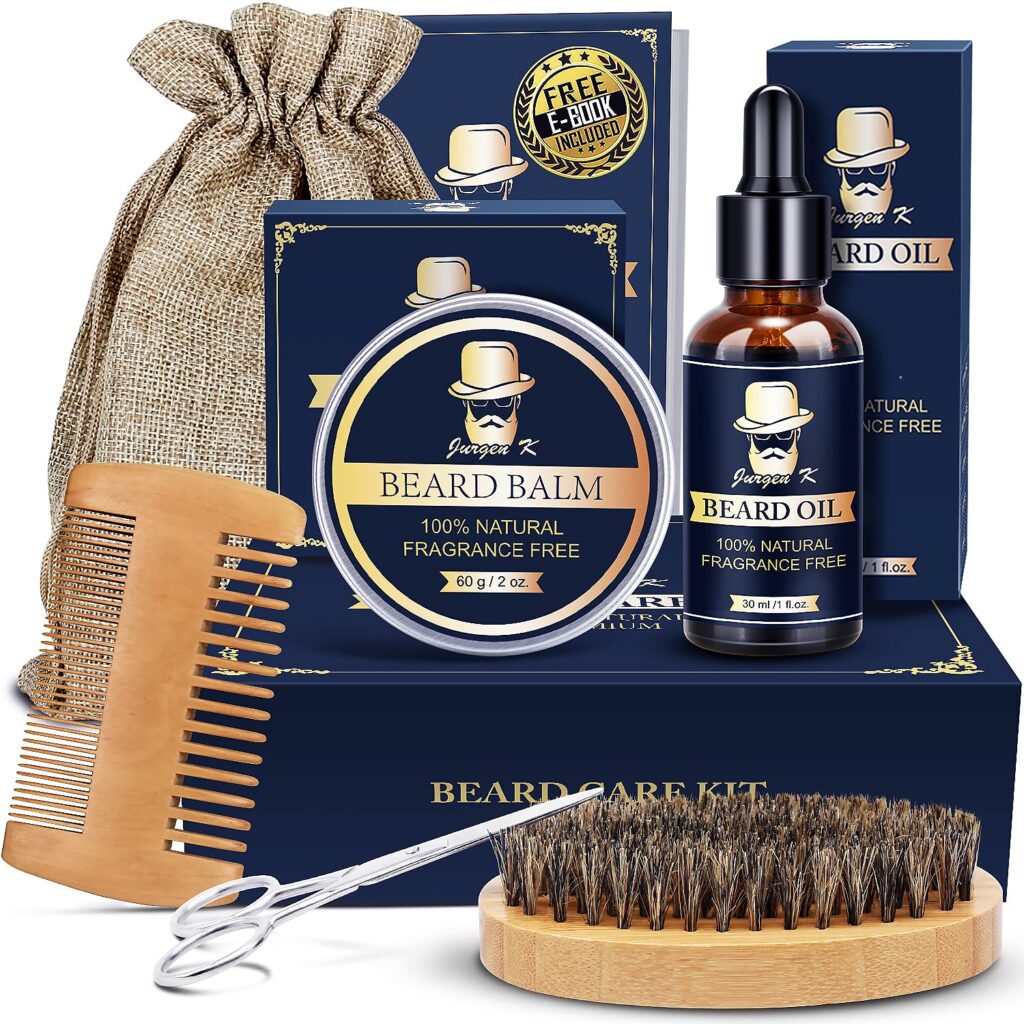 This is the perfect gift idea for the man in your life with a beard. This set includes everything he needs to take care of his beard, including a wooden comb, scissors, and aBeard Oil that conditions and softens facial hair. This beard kit has 100% organic ingredients and the reviews on this product are amazing. It works well on any sort of beard, making it a great Christmas present for bearded guys.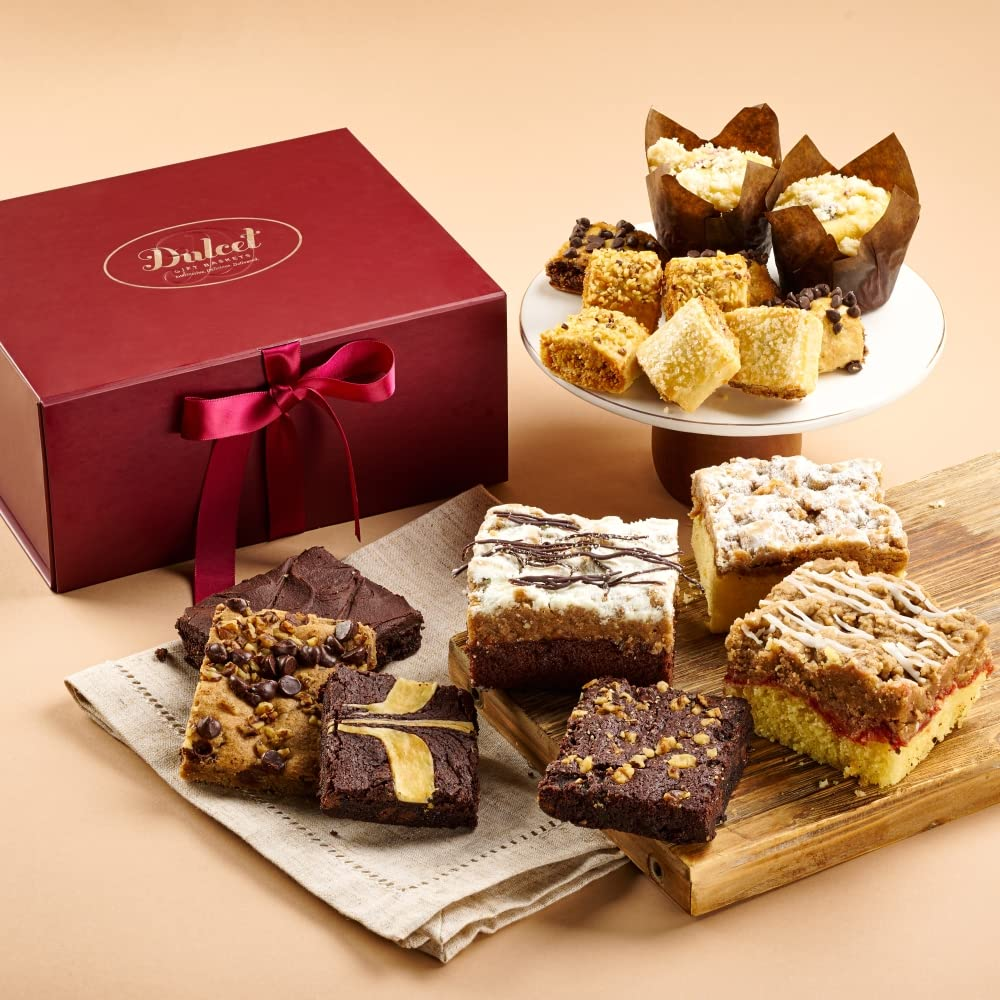 This food gift basket has so much stuff to choose from that you just can't go wrong with it. Not only does it look beautiful, but the food is also delicious as well. Your family member can enjoy a delicious treat with their morning coffee.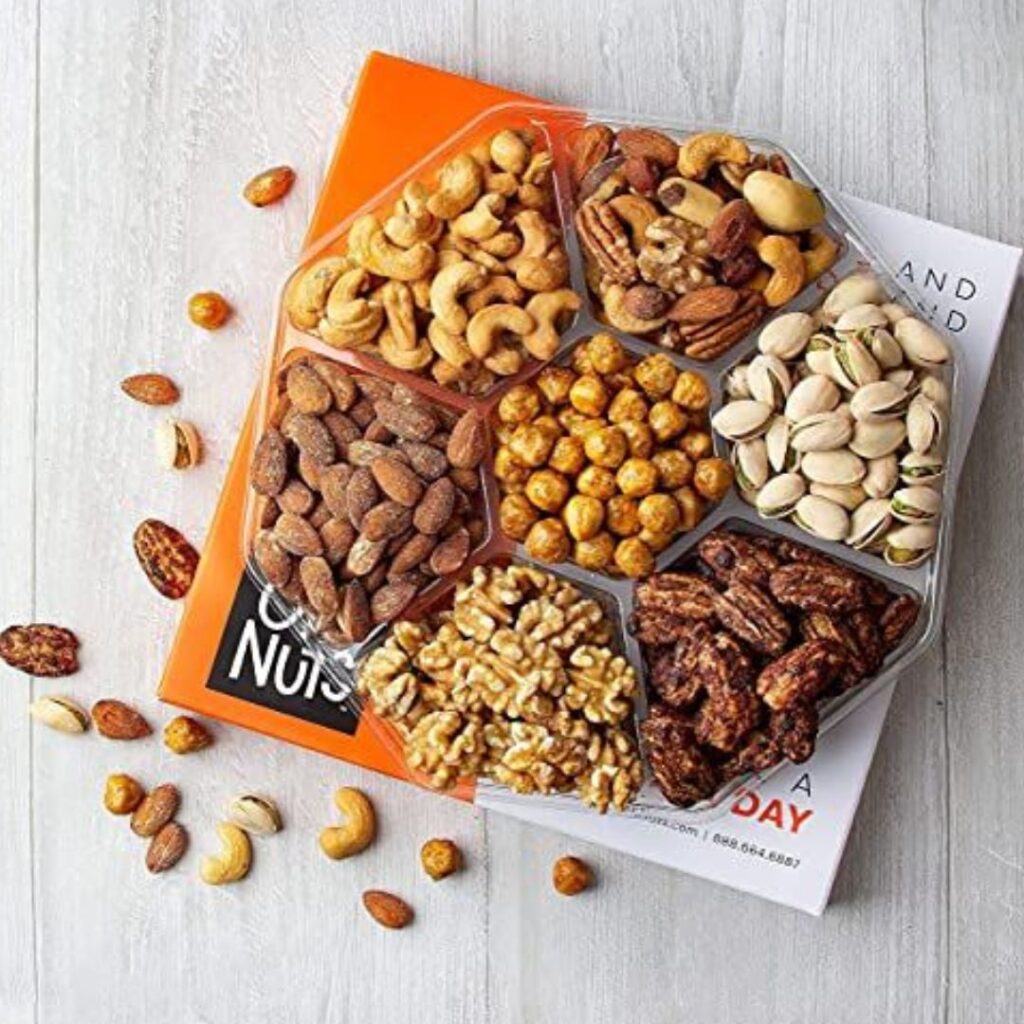 This roasted nuts gift basket is a great clutter-free gift idea because your loved one will consume it in no time. This wholesome nut assortment has seven unique nuts they can choose from. They'll go crazy for the honey pecans, pistachios, and jumbo cashews.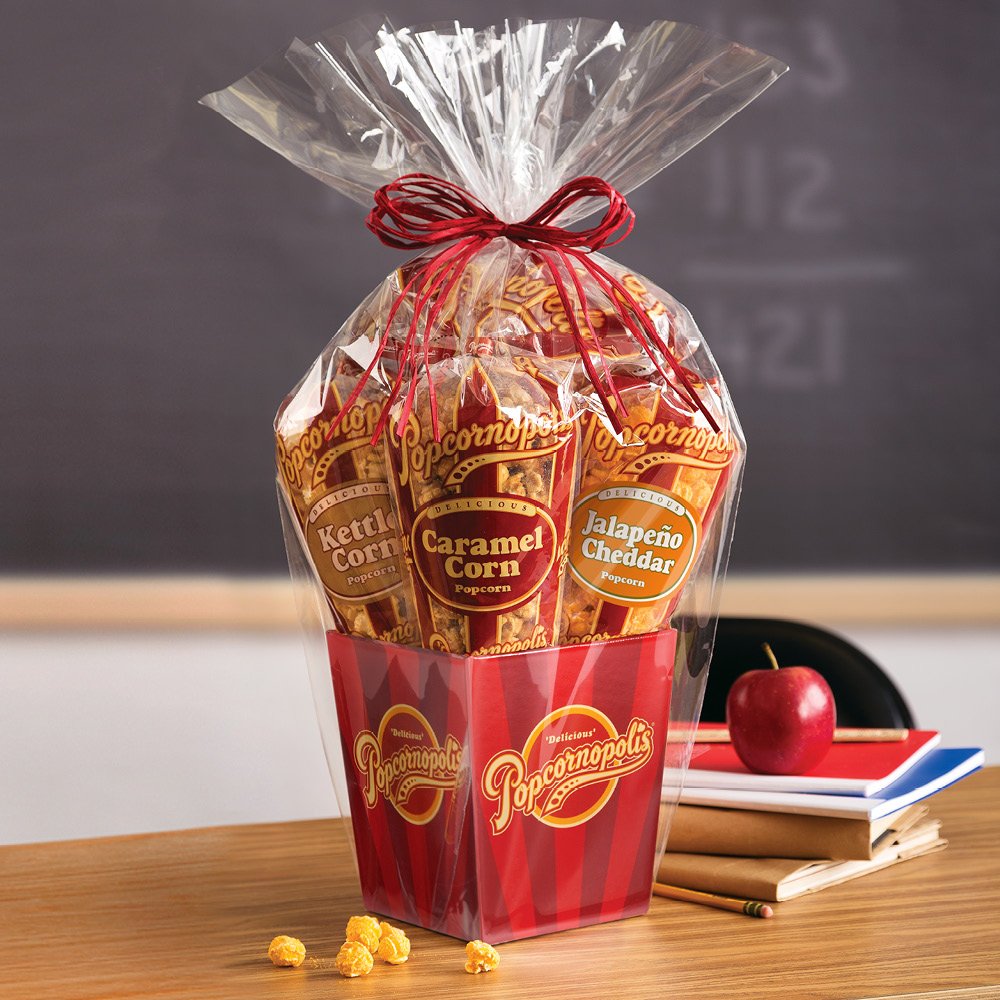 Skip the movie theater and enjoy this popcorn gift basket at home. This assortment has every kind of popcorn flavor that's ever been a hit. These movie night snacks are so delicious! There are so many flavors to choose from, from corn and cheddar cheese to white cheddar, jalapeno, and kettle corn.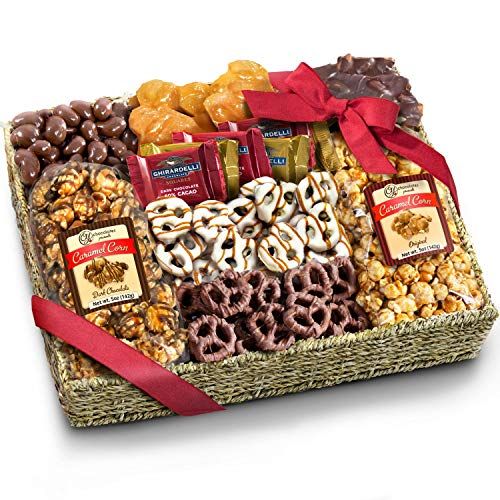 Looking for some good gifts to give your staff or coworkers? This is the perfect consumable gift. This gift basket comes in a high-quality, keepsake seagrass basket where you will find two types of homemade chewy caramel corn. It includes Caramel corn and chocolates created by hand. The fresh popcorn is then drenched in a thick and decadent mixture of melted Challenge butter and caramel.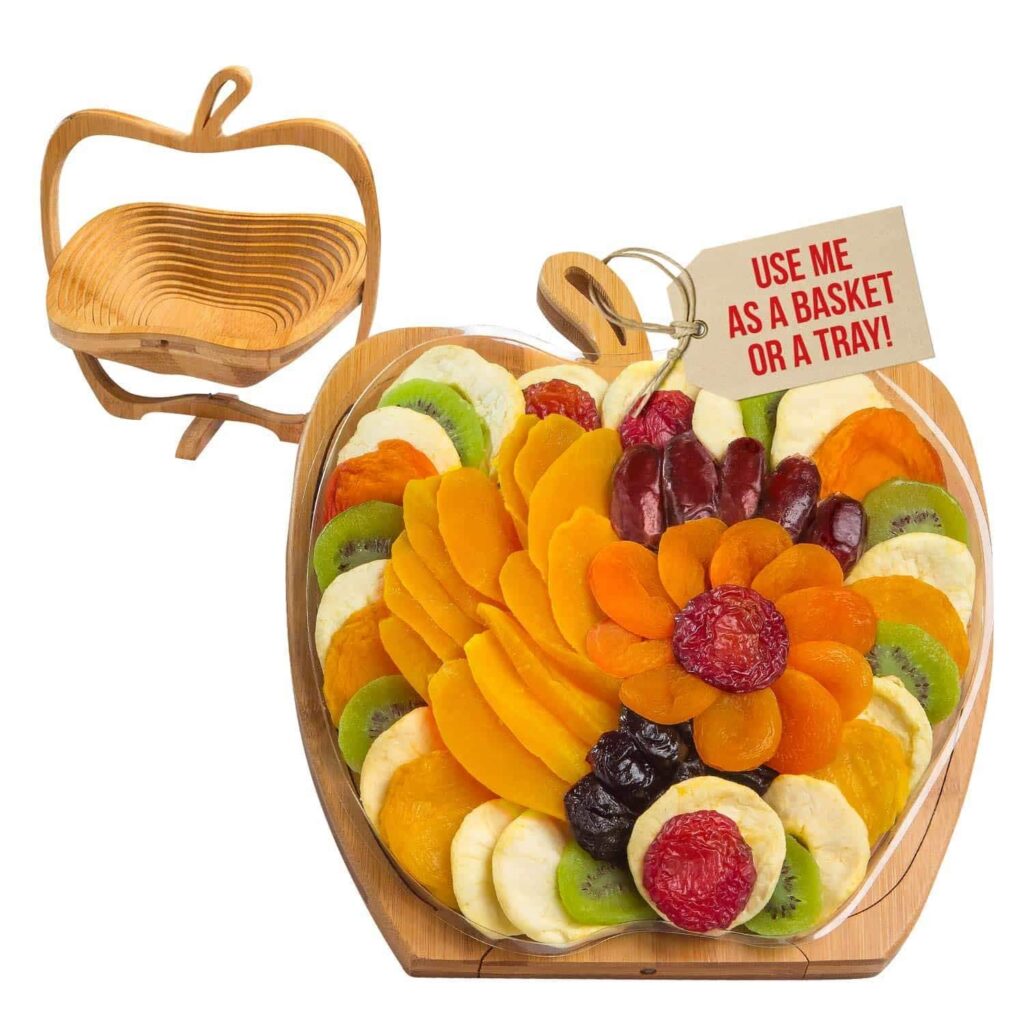 This Dried Food Gift Basket comes in a foldable wooden fruit bowl. It holds a variety of exotic mango slices, Mediterranean apricots, luscious California fruit, a wooden tray, and a wooden trivet that converts into a basket—three thoughtful presents in one!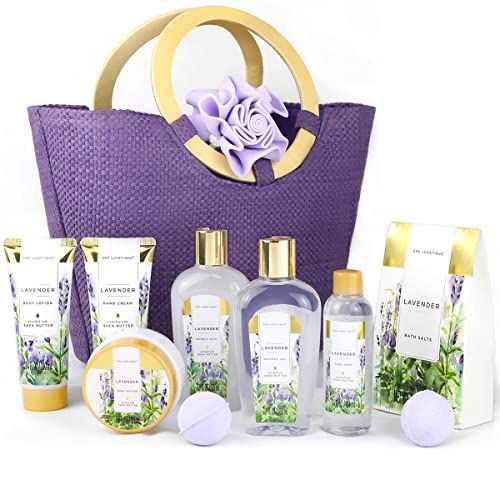 This Spa Luxetique Gift Basket is the type of gift most women would love. It's filled with a lavender smell that is relaxing, flowery, fragrant, long-lasting, and excellent for reviving her mind and spirit. She can also use this bag in many different ways: at the beach, running errands, going shopping, or just on a day out.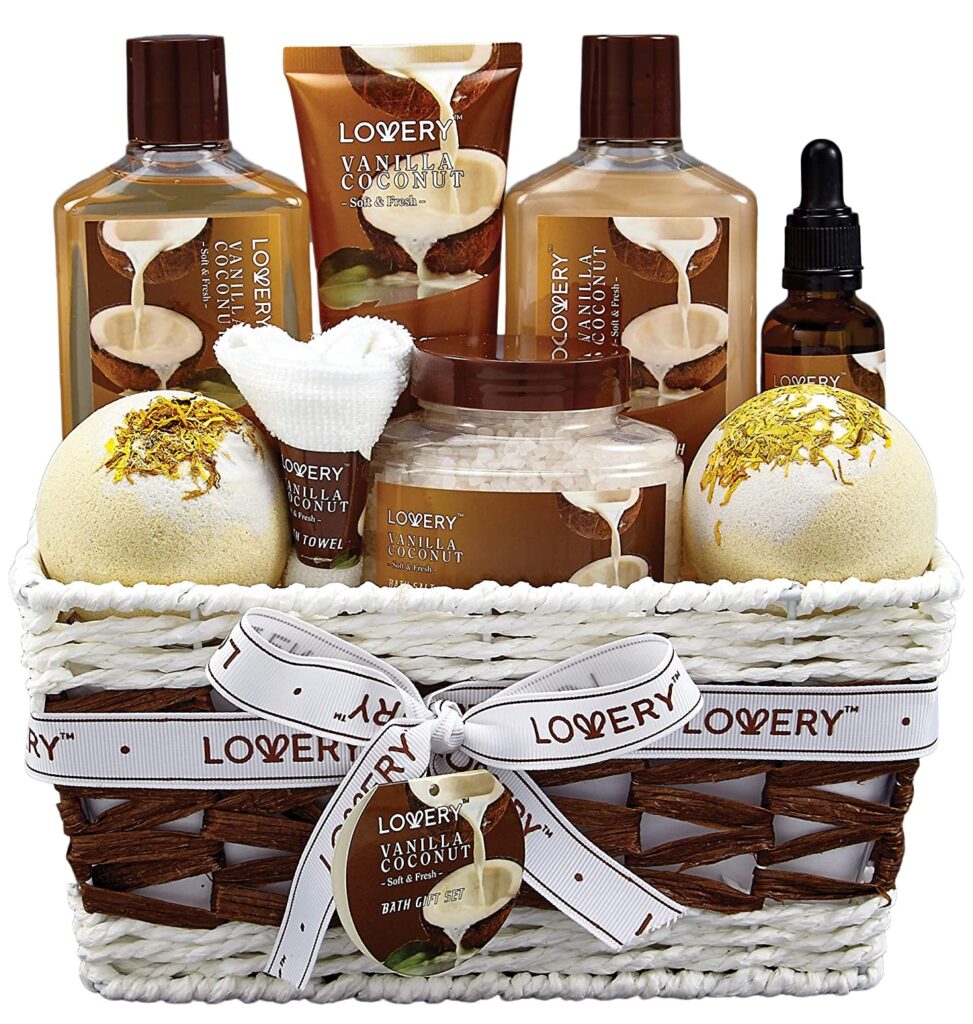 This pampering basket has everything a lady could want, including the essentials for a spa day at home. This luxurious set has everything you need for a relaxing bath, including a fluffy towel, shower gel, bubble bath, body scrub, body oil, bath salt, and two extra-large bath bombs. It comes in a gorgeous hand-woven basket with a gift card for customization.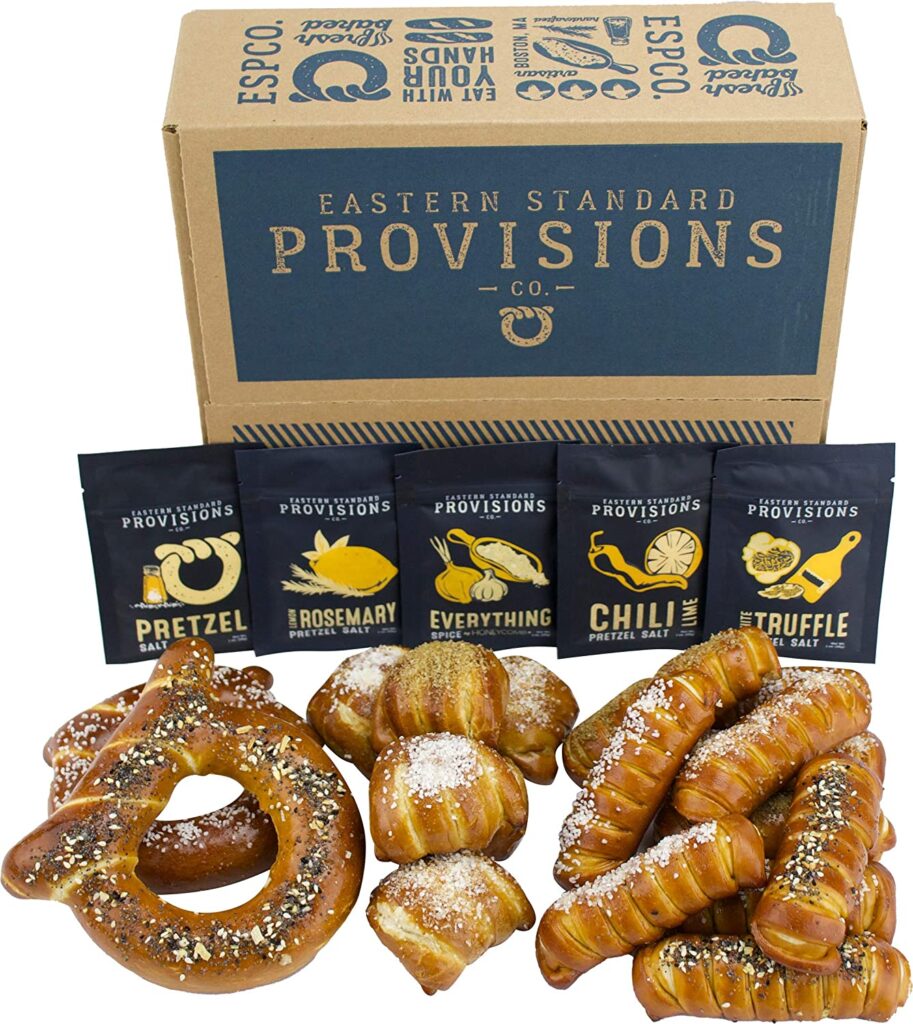 You may either send this Soft Pretzel Gift Box as a wonderful present or treat yourself to it. Oprah Winfrey named this assortment of soft pretzels, soft pretzel buns, and savory salts one of her Oprah's Favorite Things for 2019. Say goodbye to boring snacks like chips, sweets, and popcorn, and upgrade to this gourmet pretzel variety snack pack.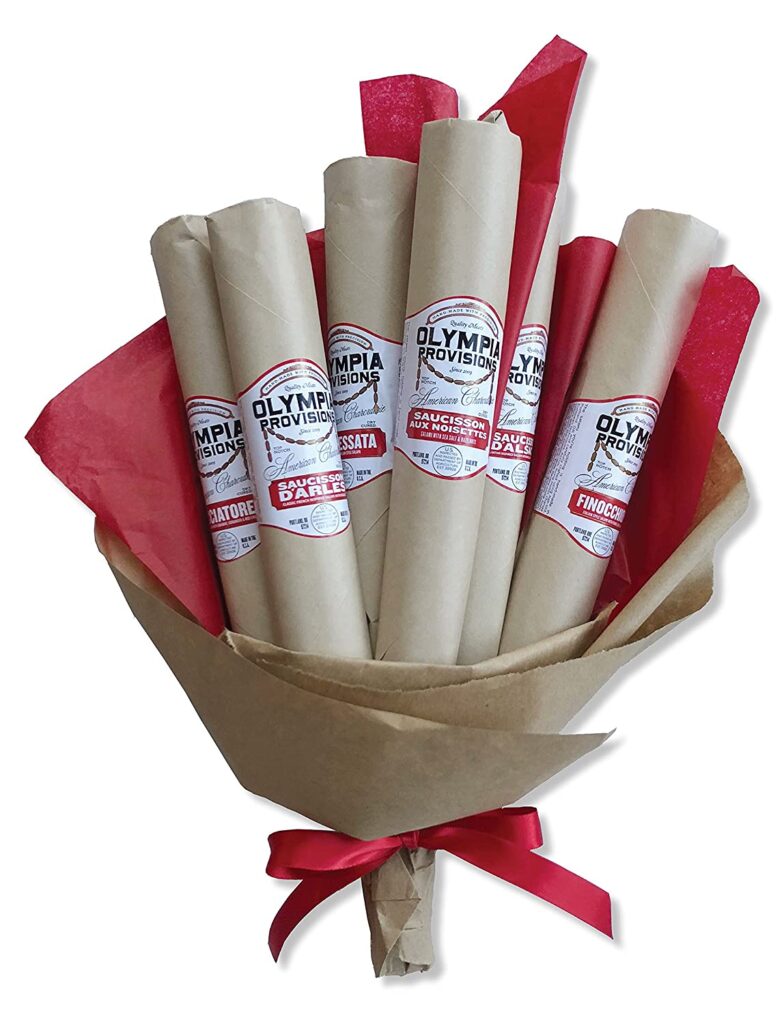 Looking for unique food gifts? Consider gifting this salami bouquet to your family or family friends. Anyone who enjoys meat or charcuterie will appreciate these freshly produced salami meats from Oregon. This assortment of six different salami is sure to please any palate.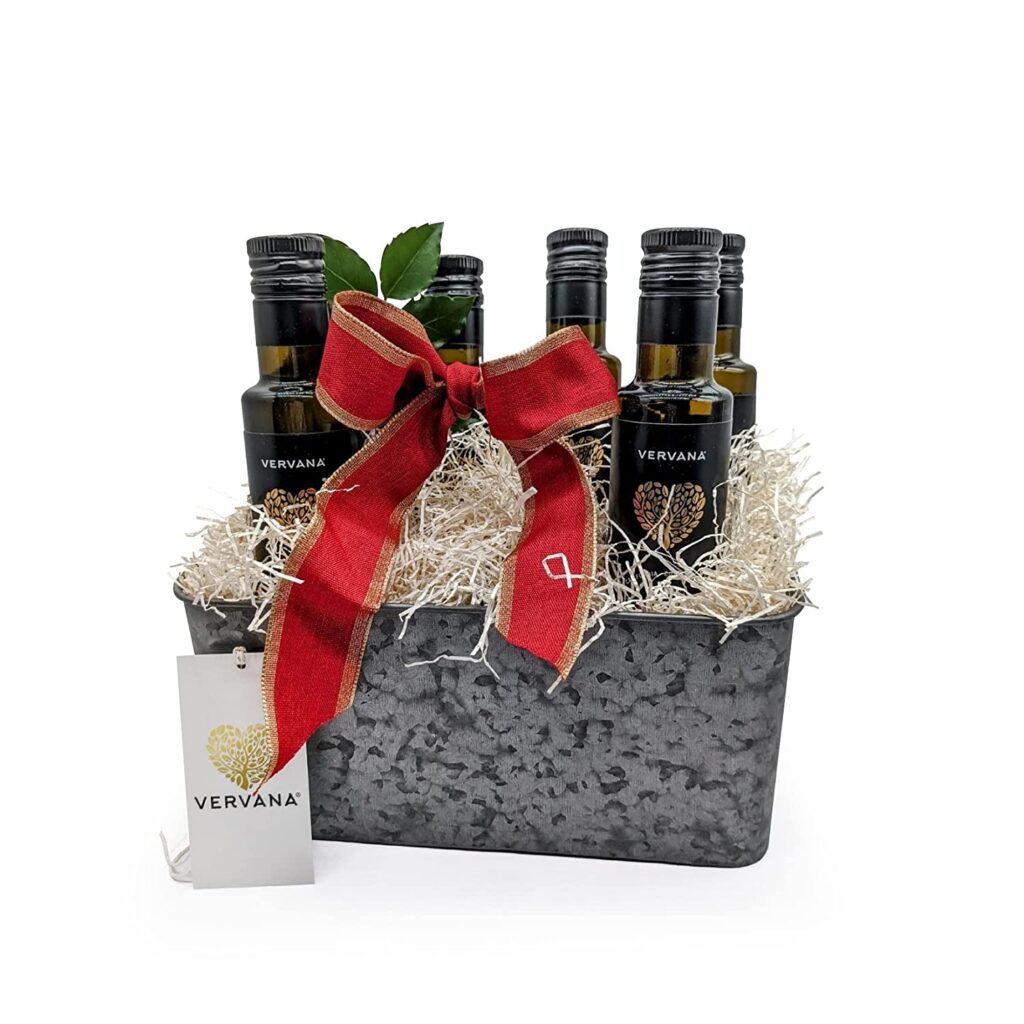 The Vervana Crushed Flavored Olive Oils accomplish the trifecta of delicious taste, user-friendliness, and high quality. It improves the flavor and healthiness of everyday cooking. These olive oils work great with pasta, sauces, spice blends, vinegars, and more in the cooking process. These oils will change your loved one's cooking to a whole new level.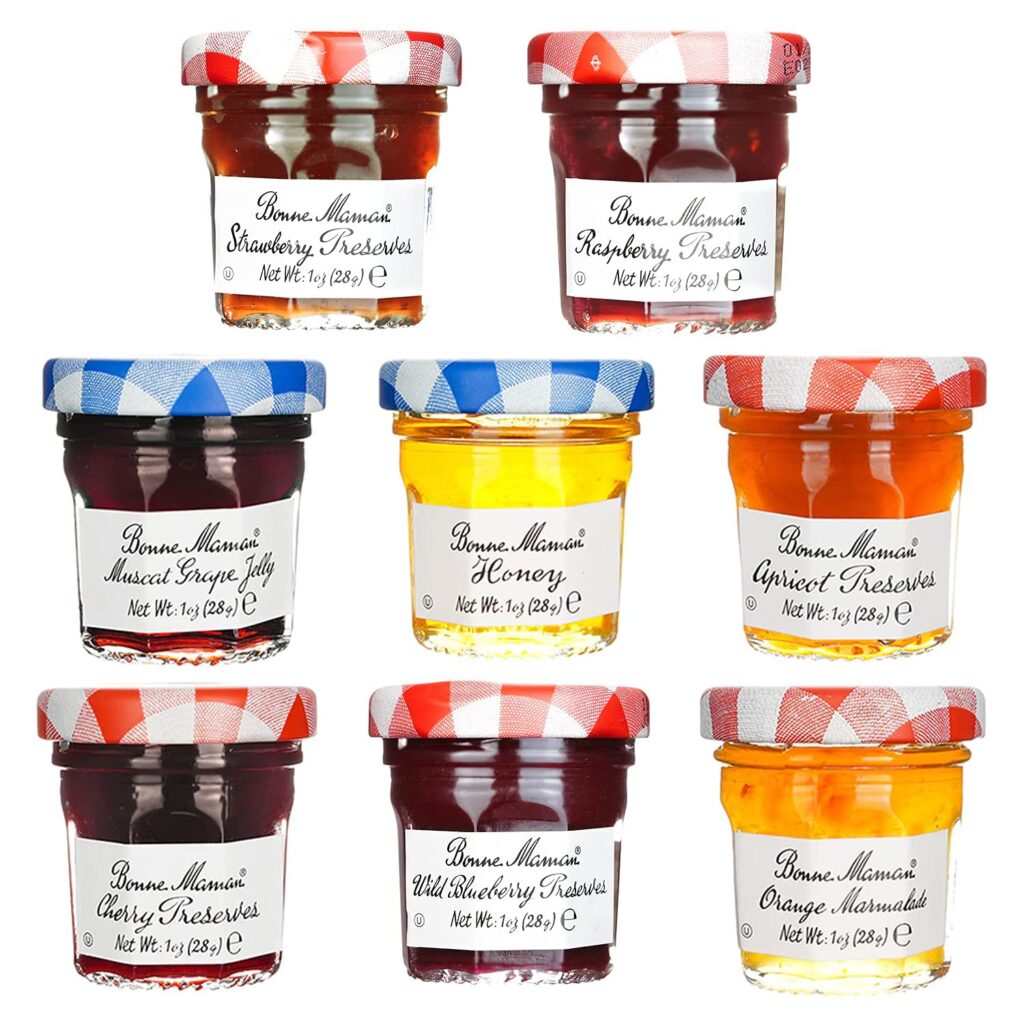 All of Bonne Maman Preserves and Jellies are delicious whether you use them to top your morning toast or your waffles, or just take a spoonful out of the jar and enjoy them on their own.
There is no high fructose corn syrup, additives, or preservatives in Bonne Maman Preserves, just pure, simple ingredients and entire chunks of fine fruit for that delightful, handcrafted flavor you love. This delicious gift is prepared using tried-and-true family recipes that will surely please your loved ones.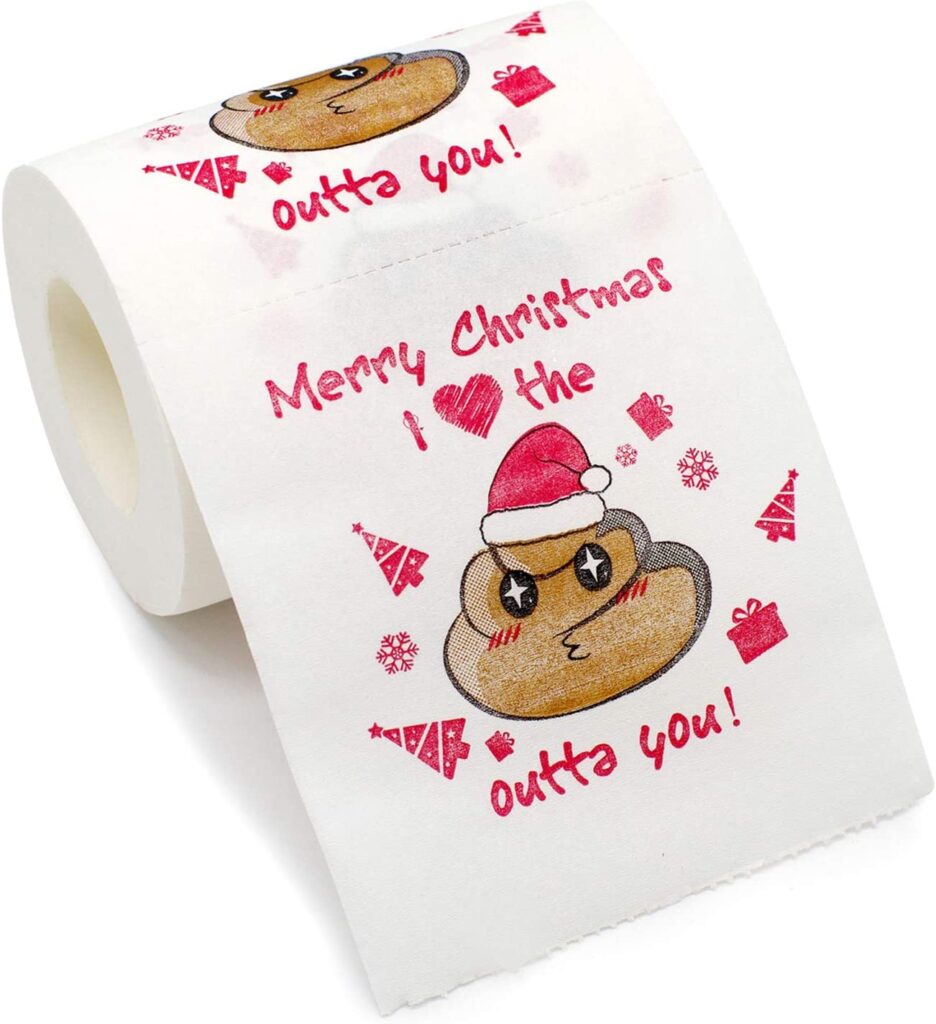 This Merry Christmas toilet paper is a perfect gag gift for Christmas time. Not only is it funny, but it's also functional. It has a diamond weave texture and cleans more effectively than the leading bargain brand. This special gift is definitely something you can't find at your local grocery store. Try giving this unique clutter-free Christmas gift that your loved one can use every day.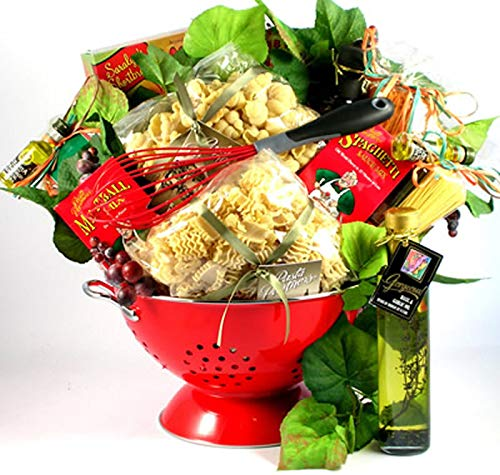 Know someone who loves good Italian cooking? This is a great gift for anyone who loves to cook or eat Italian food. Inside you'll find things such as an assortment of pastas, sauces, and meatball mix. Plus it comes with a beautiful heavy-duty 5 QT Colander and a large whisk that will remind them of this gift for years to come.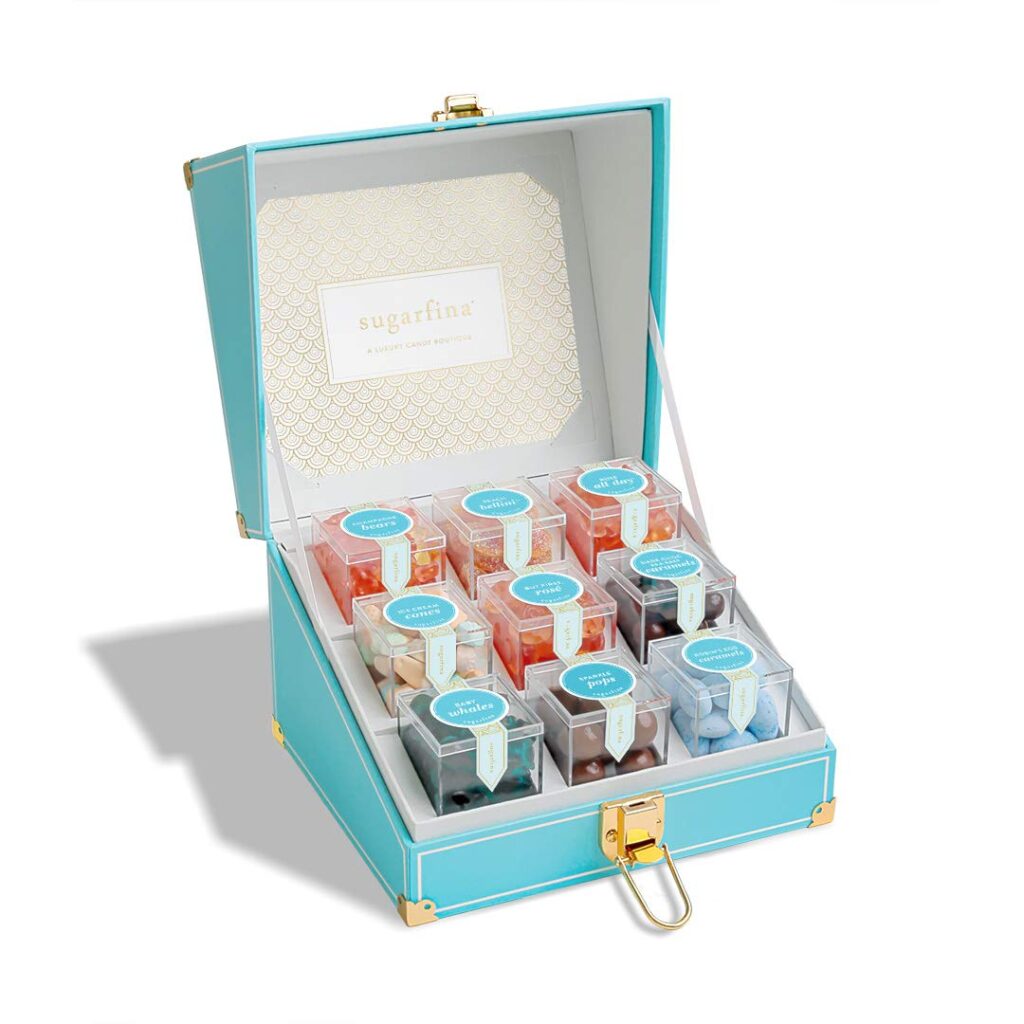 Know someone who has a sweet tooth? There's something for every candy lover here, from sour candies to birthday cake cookie pieces to gummy bears infused with genuine rosé wine to, of course, Sugarfina's beloved gummy ice cream cones.
This gift has nine of Sugarfina's renowned cubes, each bursting with a different assortment of the company's best-selling sweets. Make a lasting impression with our swoon-worthy Sugarfina Candy Trunk.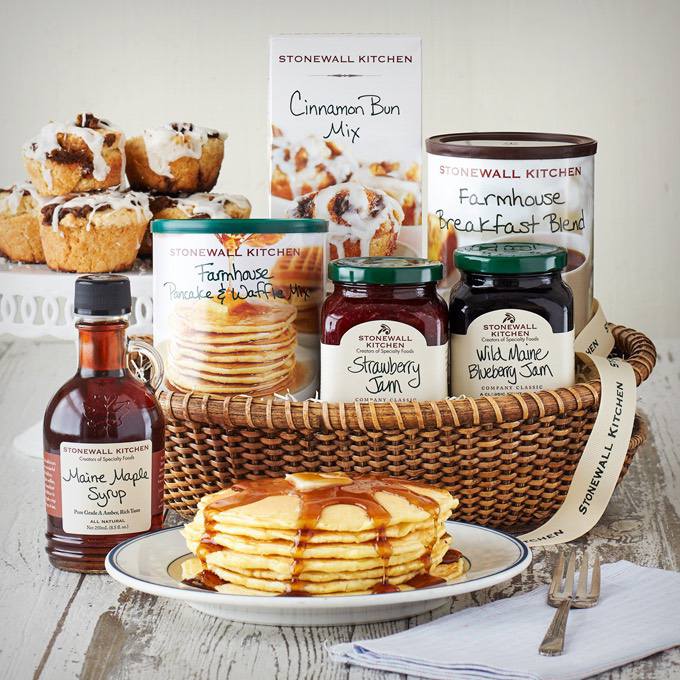 This breakfast gift basket has consumable items your loved one can use on a daily basis. Even ravenous eaters will be satisfied by this traditional New England breakfast.
You can make pancakes, waffles, and cinnamon buns (made from a mix) that will be cooked fresh. Then top with strawberry jam, blueberry jam, or maple syrup. This delicious gift also comes with Stonewall farmhouse breakfast blend coffee and is displayed in a charming basket. This is an excellent gift for the breakfast lover in your family.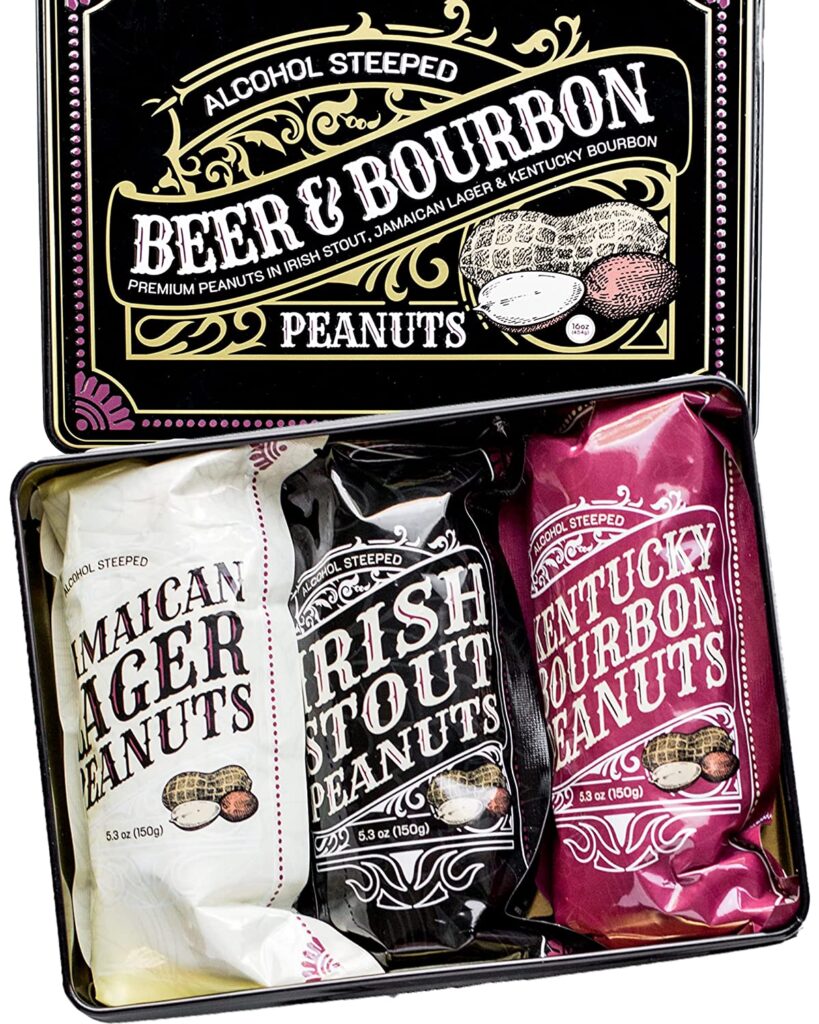 This gift set is not an ordinary consumable gift of beer nuts or bar mix that you've tasted before. This quality nut mix, filled with delicious flavors, is gluten-free and you can rest assured that your recipient will have a delicious and nutritious snack. These nut gift baskets are the ideal healthy snack gift for special men in your life.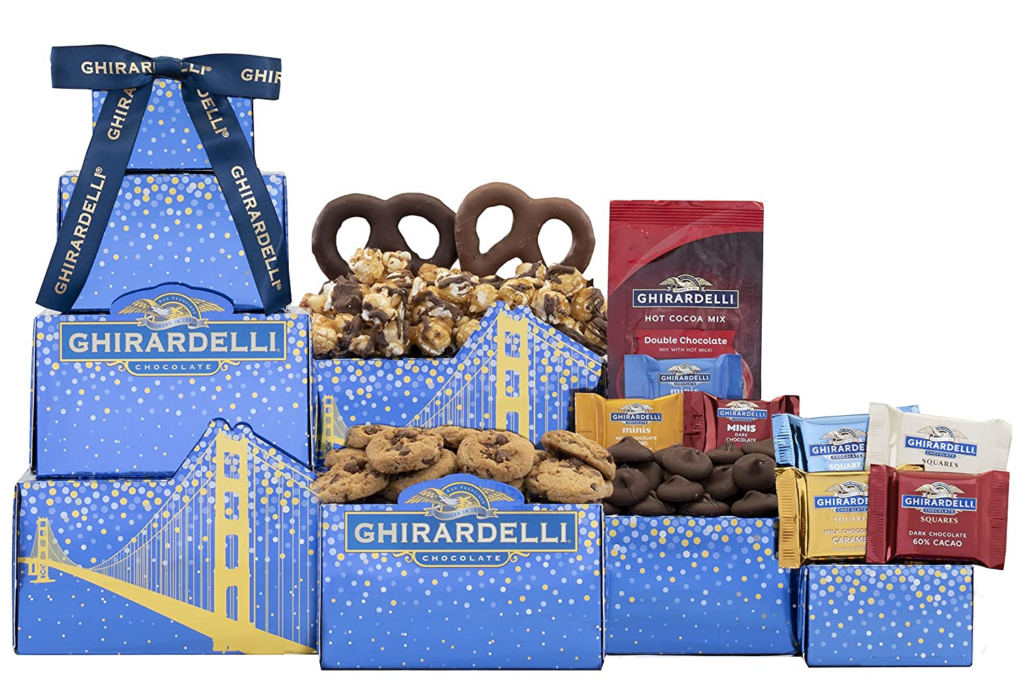 Sending someone a bunch of Ghirardelli chocolates is the sweetest thing you can do this Christmas. Gourmet chocolate gift baskets from Ghirardelli may brighten anyone's day and fill them with genuine delight with every mouthful. This is a wonderful gift to offer a loved one who has a sweet tooth.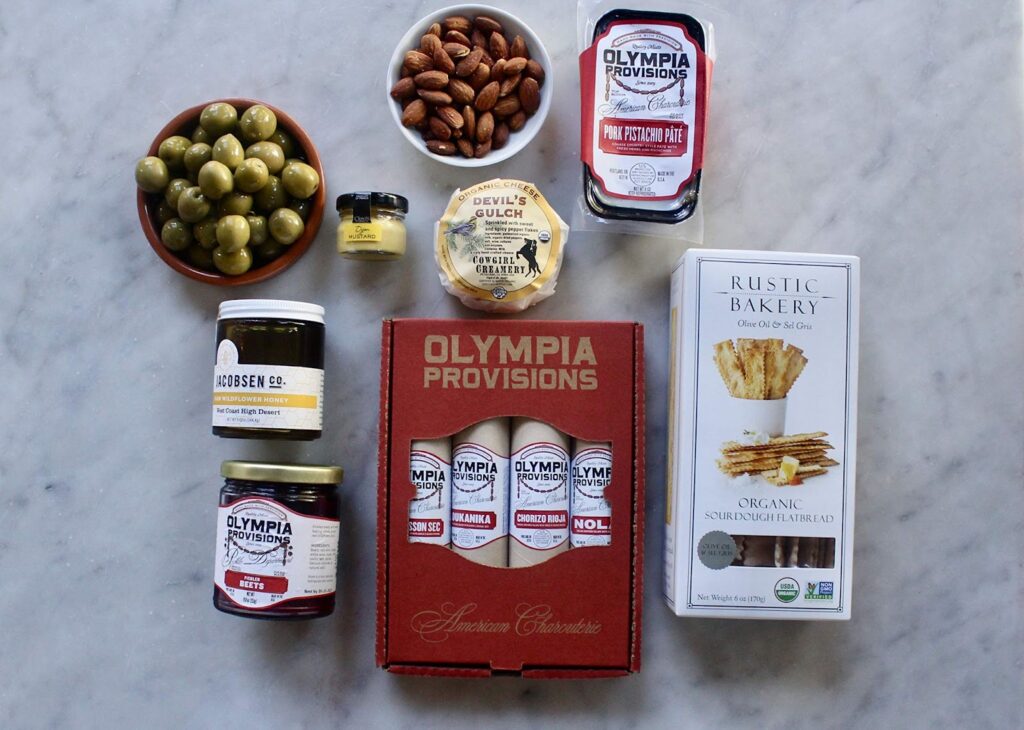 This package is perfect for the host who wants to impress their guests with a stunning charcuterie board, or as a gift for the meat-lover in your life. It contains four aromatic dry sausages, pâté, cheese, olives, crackers, almonds, and condiments all come together in the Olympia Provisions Euro Charcuterie Box. All the items in this basket were carefully selected and are perfect for special occasions.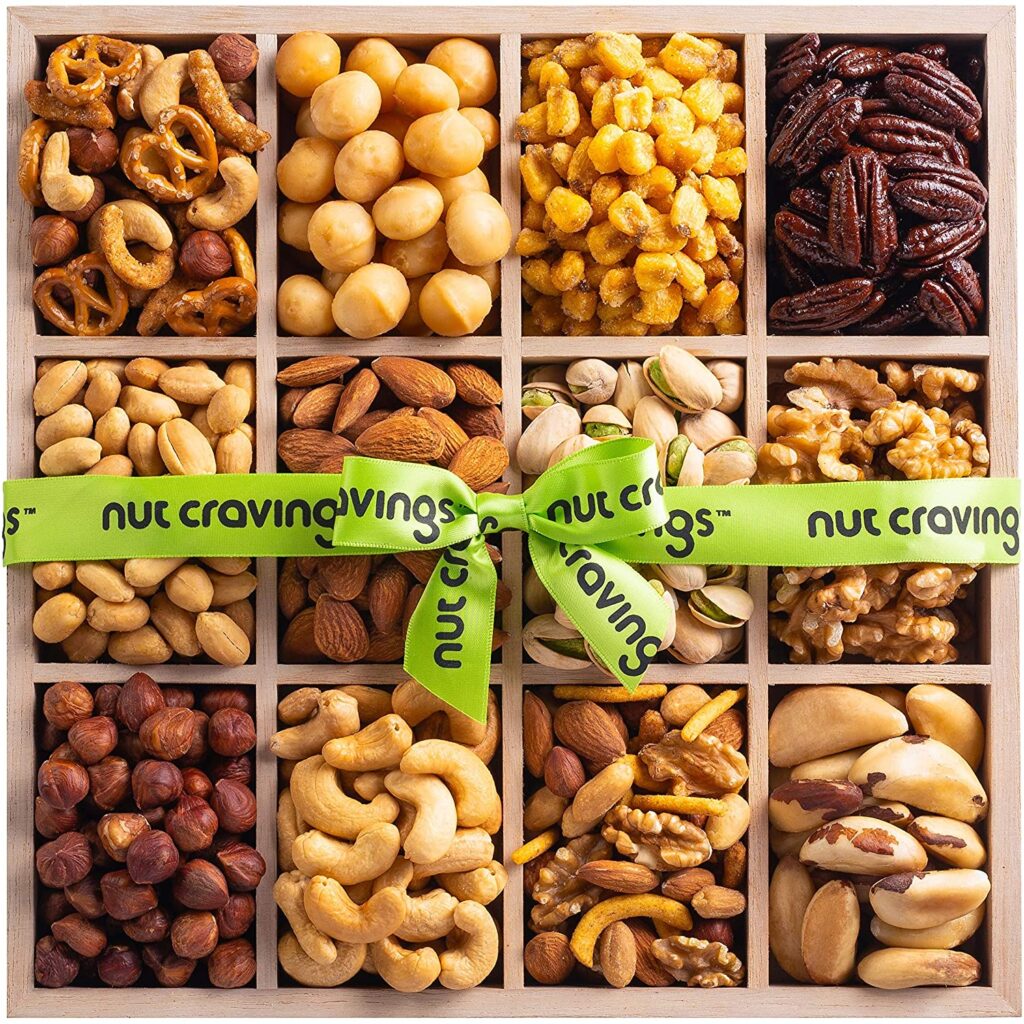 Is it possible for snacks to satisfy cravings while also being good for you? The answer is yes. These tasty treats also happen to be packed with nutrients like protein, antioxidants, fiber, enzymes, and vitamins that strengthen the immune system. These nuts are served in an elegant wooden tray, perfect for passing around the table with your closest friends and family.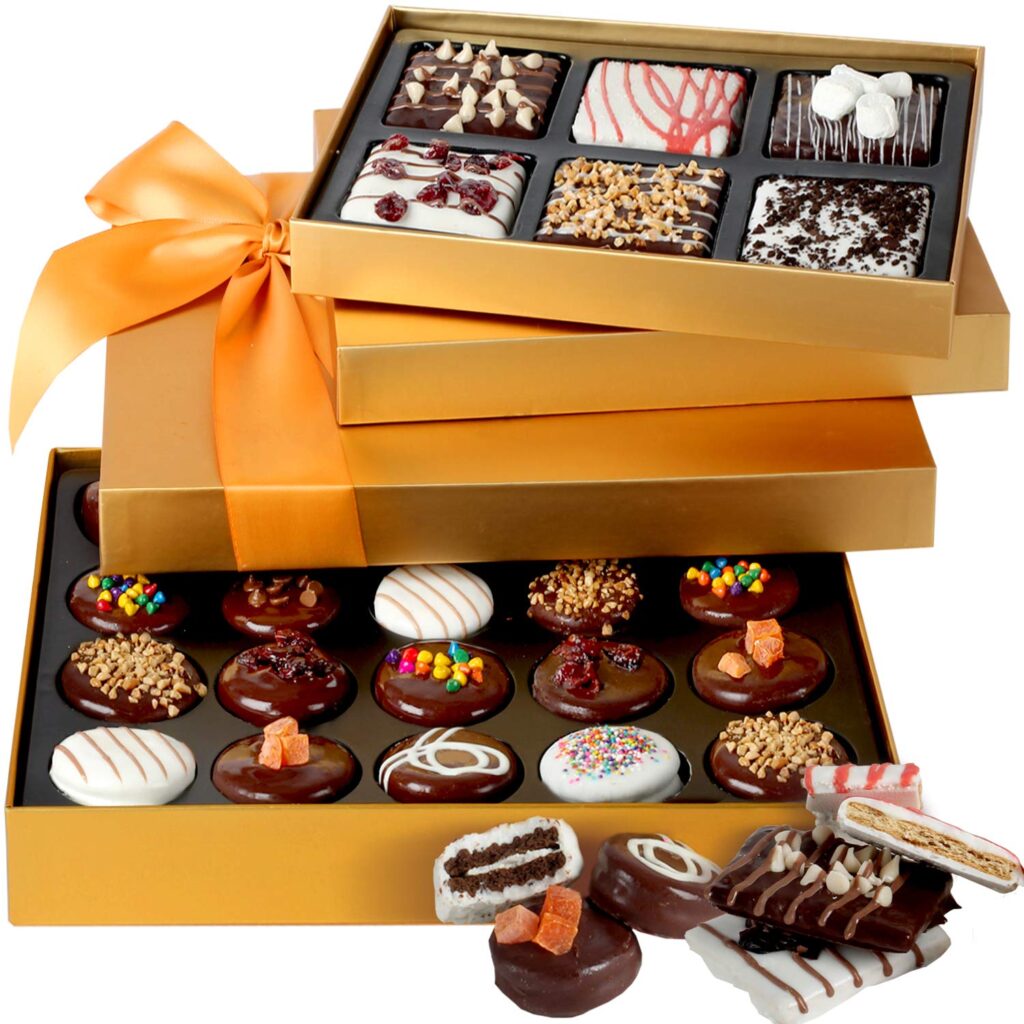 This tower of chocolate-covered cookie and graham cracker gift boxes is sure to impress any recipient. Each cookie is drenched in rich dark chocolate and topped with delectable toppings. This delicious gift will be a hit for the chocolate lover in your life.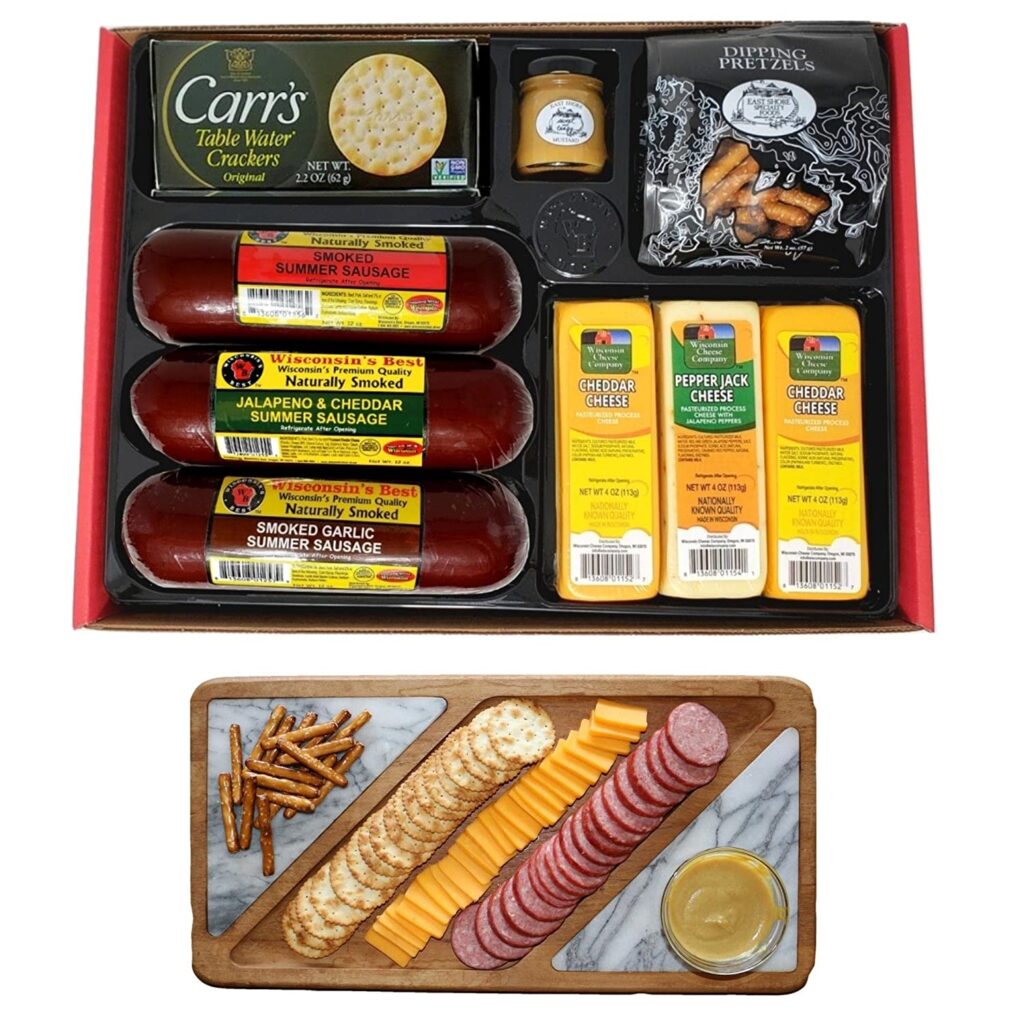 This gift basket brimming with summer sausage, cheese, crackers, pretzels, and mustard is a consumable gift that would be appreciated by anyone. This gift is fabulous for parties and pairs great with a bottle of wine.
Here's a great consumable gift I'm sure your loved one has never seen. This gift box is stuffed with an assortment of delicious Japanese sweets. Try gifting this unique gift to your loved one this Christmas.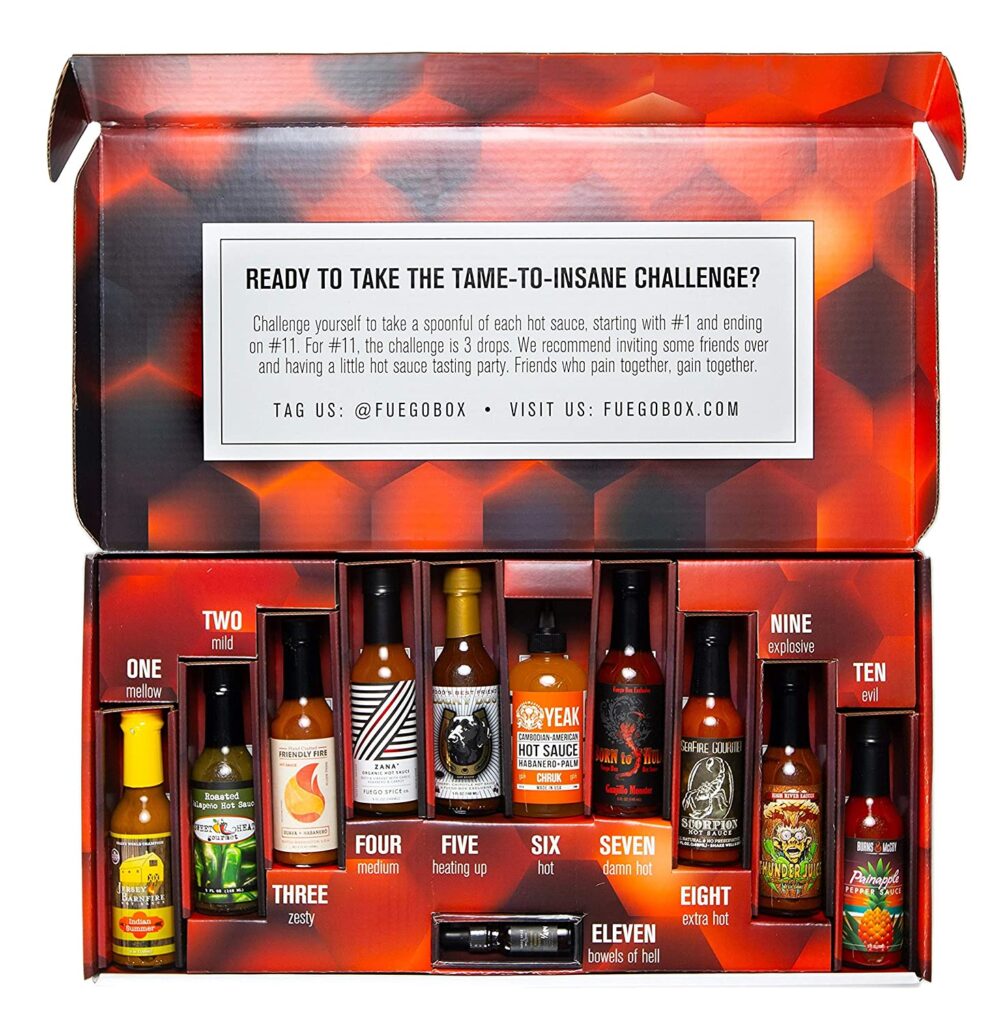 Know someone that loves spicey food? Gift them this box of hot sauces and challenge them to take a spoonful of each hot sauce. Starting with #1 and ending with #11. For #11, the challenge is 3 drops. They can even invite friends over and have a little hot sauce-tasting party for fun indulgences.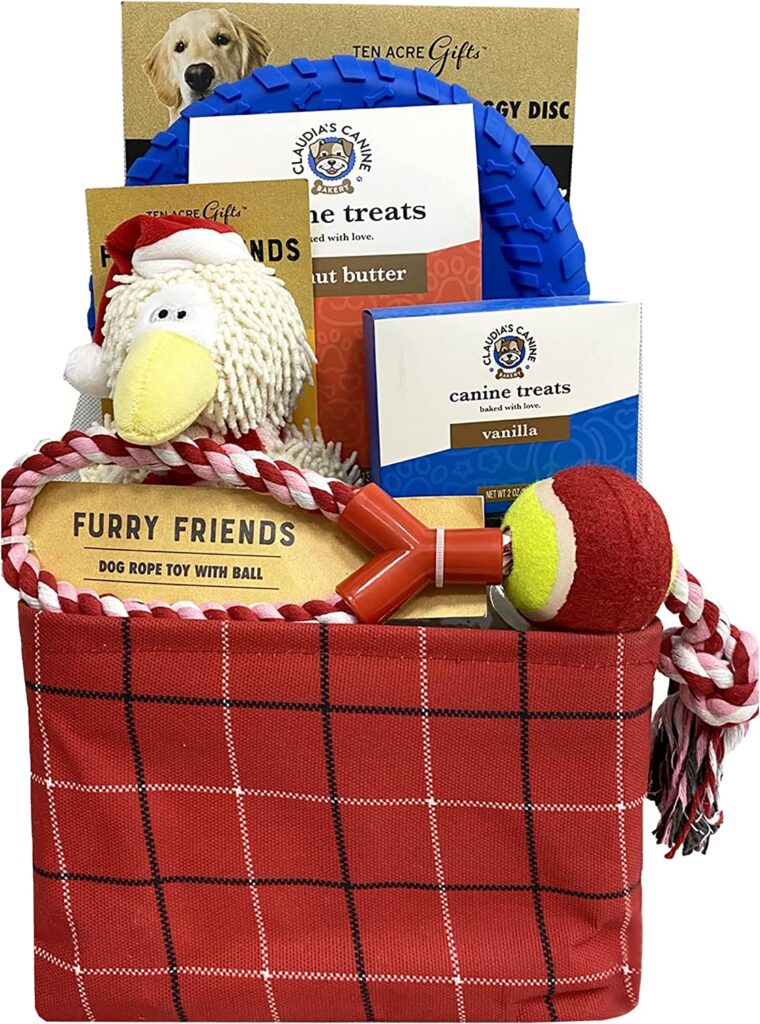 Here's a great consumable gift for your dog. They'll be sniffing about with their noses out and their tails wagging when they see this gift. Your dog will go crazy when they see this festive goodie basket arriving at its front door! This gets an unequivocal "five paws up" from us! Reward your dog with delectable Claudia's Canine's Bakery treats in the flavors of vanilla and peanut butter.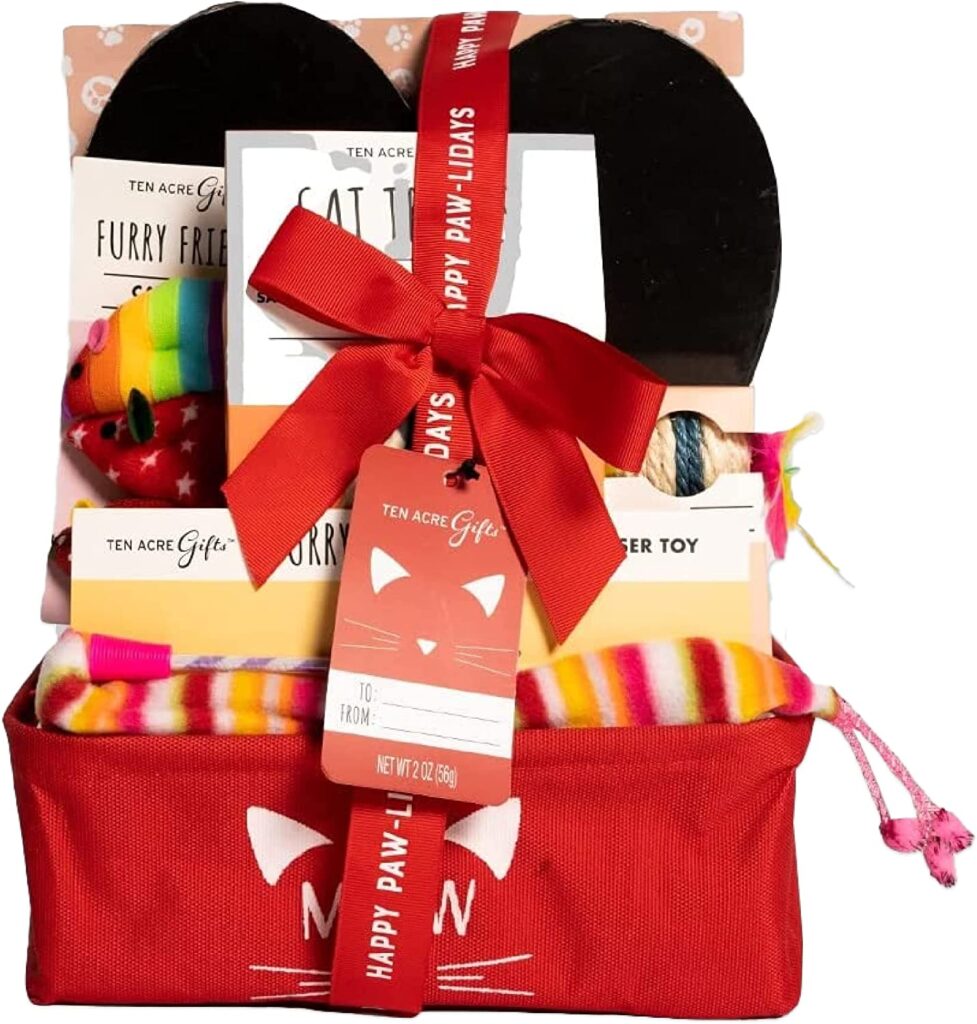 We can't forget consumable gifts for the cat owners. Cat owners can rest assured that their feline companions will be well taken care of with the help of this holiday gift basket featuring salmon-flavored goodies, yarn balls, a teaser toy, toy mice, and a solid black heart-shaped scratchboard.
Think of all the fun you could have with your family this holiday season if you let your cats play with yarn balls and your kitten play with the teaser toy.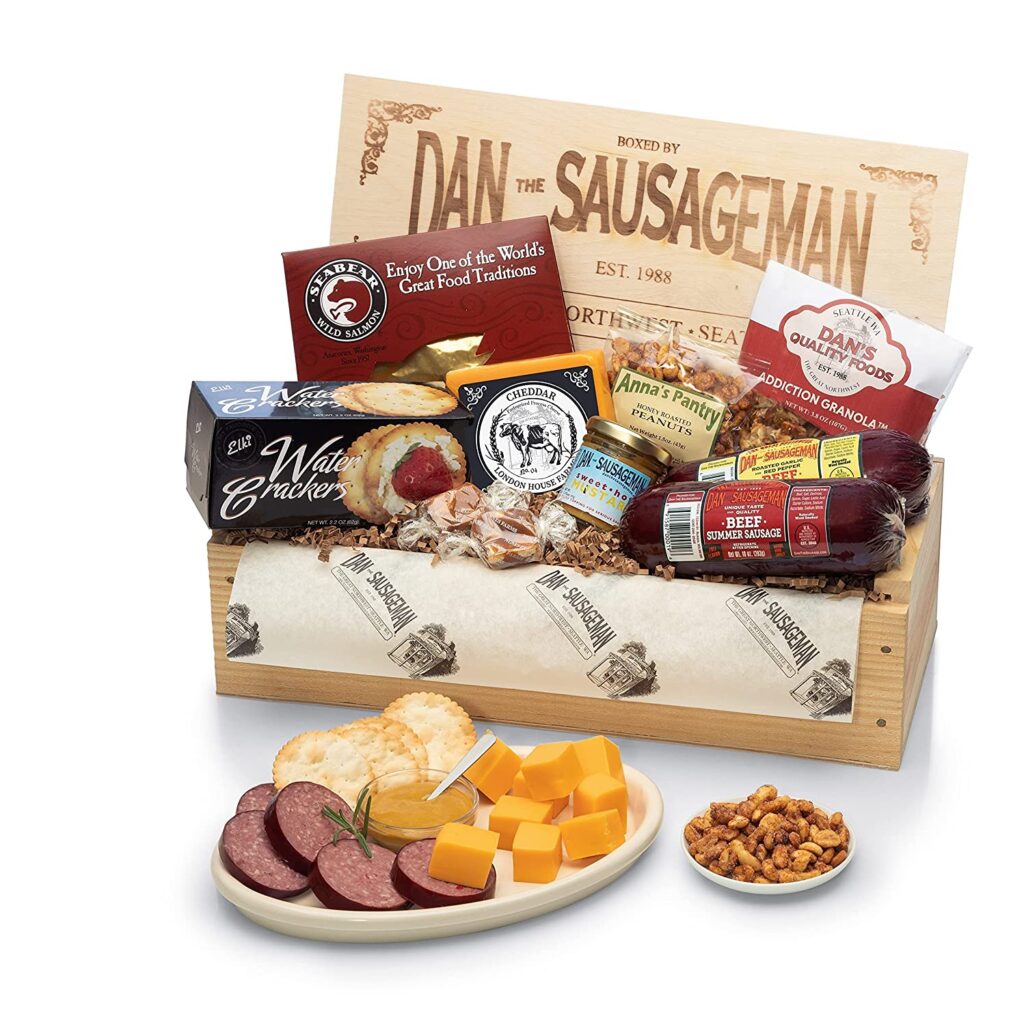 Dan's favorite foods and insider knowledge on where to find the best snacks in the Pacific Northwest are included in this thoughtful gift.
Smoked summer sausage, savory sea bear salmon, Wisconsin cheese, sweet hot mustard, and a repurposed pine crate—what more could you want on Christmas morning? It's the best way to bring joy to their Christmas!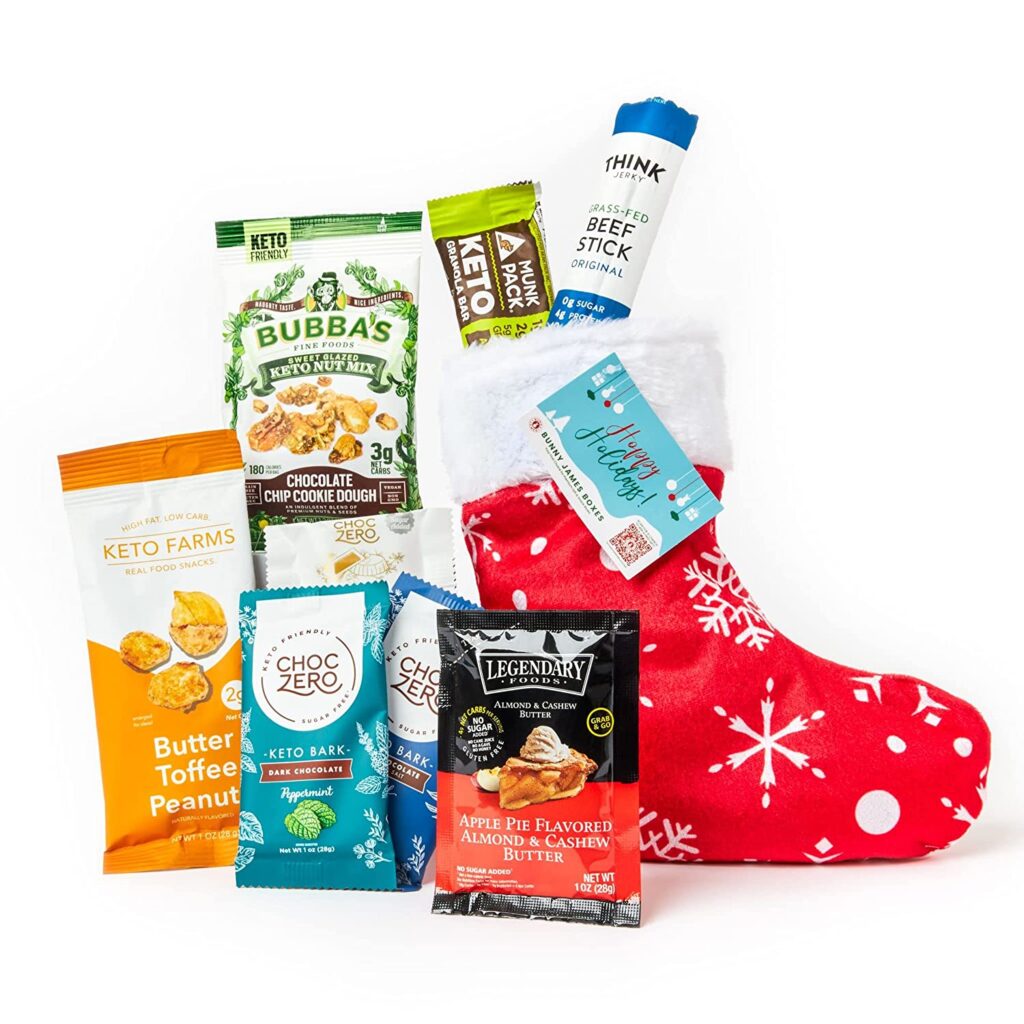 This here is a perfect Christmas keto gift for anyone you know who is on keto. They'll love all these fantastic seasonal flavors and sweets, from almond butter flavored like a cinnamon bun to chocolate bark with a hint of sea salt and coconut cookies. Everyone on your list, from family to friends to colleagues, will be blown away by this holiday present.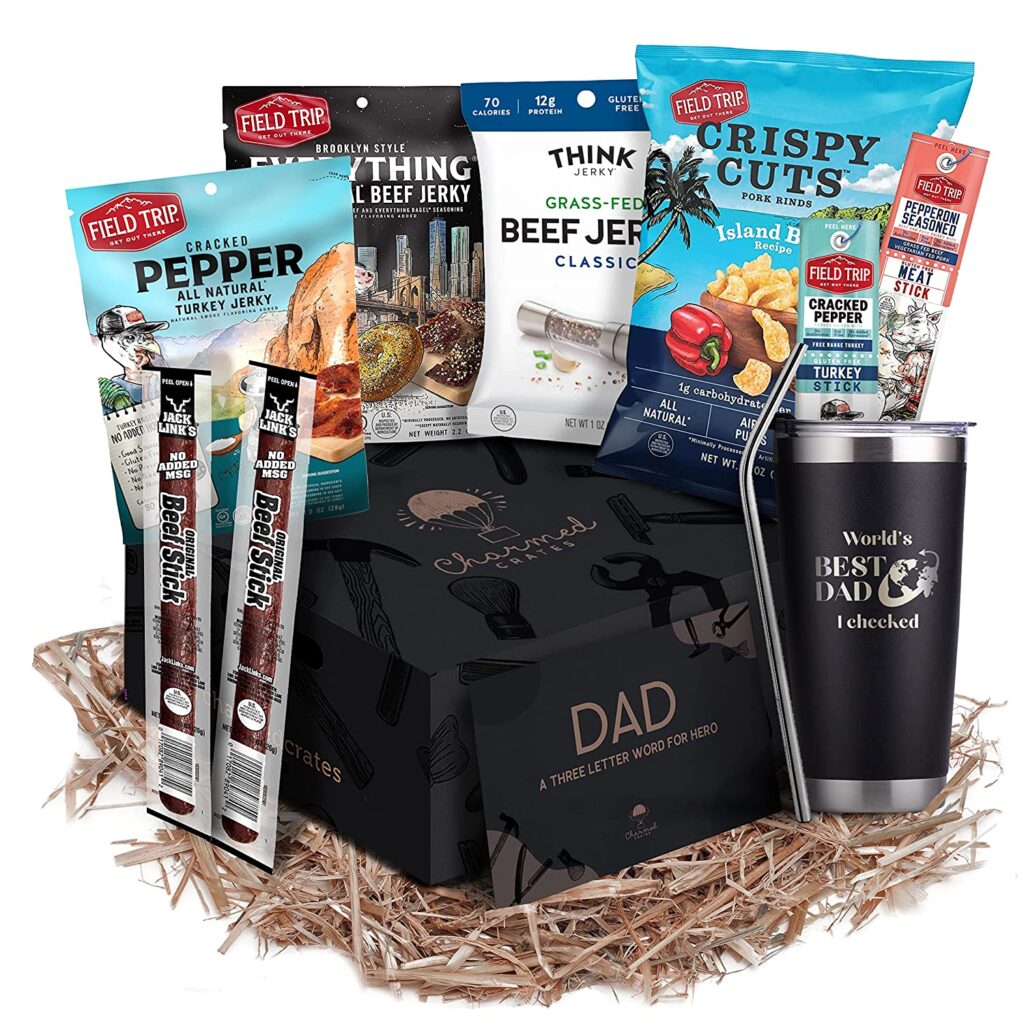 This great black box comes stuffed to the brim with his favorite types of delicious bite-sized meats, an enduring dad mug, and a beautifully crafted emotional message to make him feel loved. Even the most discerning fathers will be blown away by its high quality and beautiful packaging. He'll be grinning from ear to ear after taking a bite out of these delicious flavors.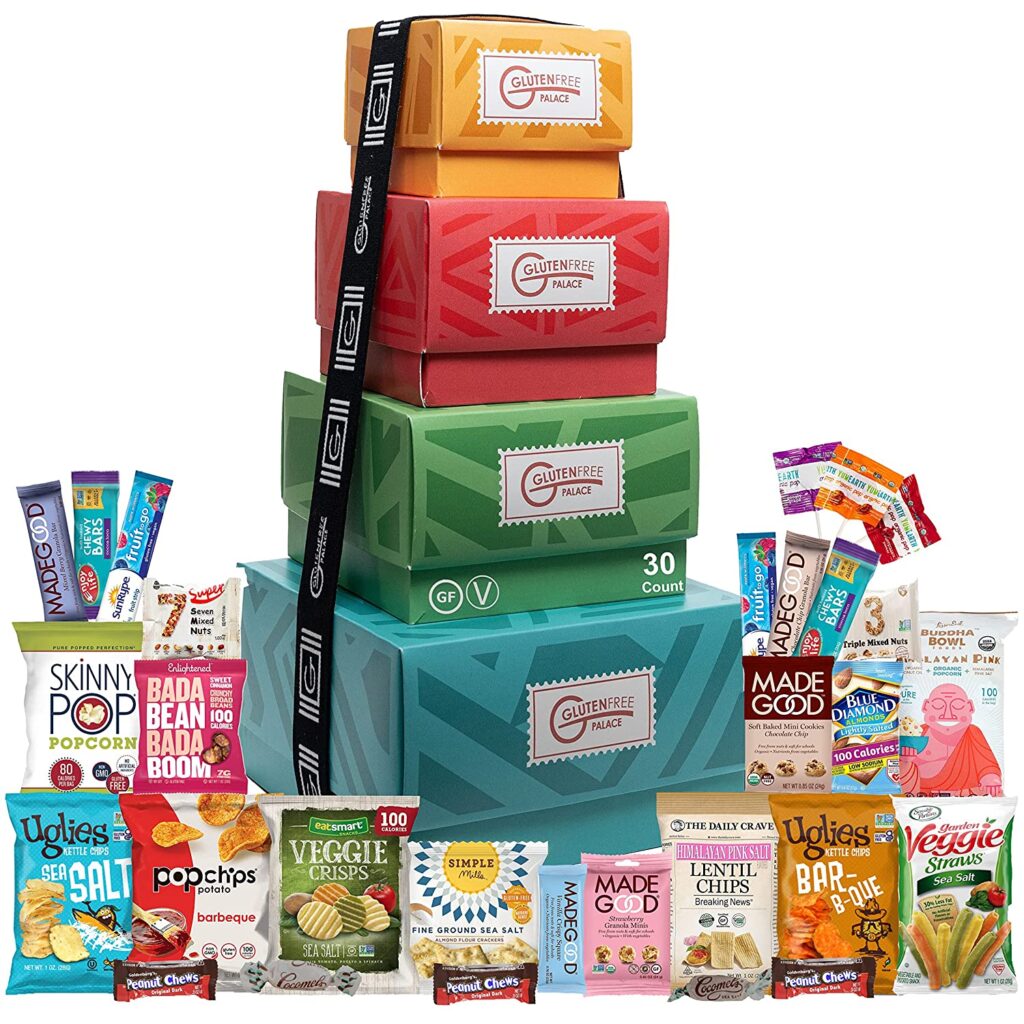 Have anyone in your family who's gluten-free? This fantastic gift basket is stuffed with some of the best gluten-free goodies you've ever tasted. It's a towering pile of gluten-free cookies, brownies, and other baked goods. This gift basket offers everything you might want to satisfy your snacking needs, including chips, popcorn, gluten-free granola, almonds, and candy.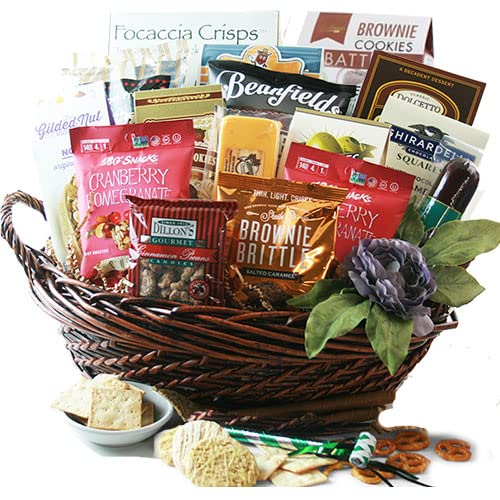 Sending someone your sincerest appreciation in the form of a delicious assortment of crackers, almonds, cookies, and jerky is a great way to show your appreciation. This gift comes in a basket that can be saved for a memento and is expertly wrapped with a matching bow. It's the best present ever for anyone on your list, whether they're close relatives, acquaintances, or clients.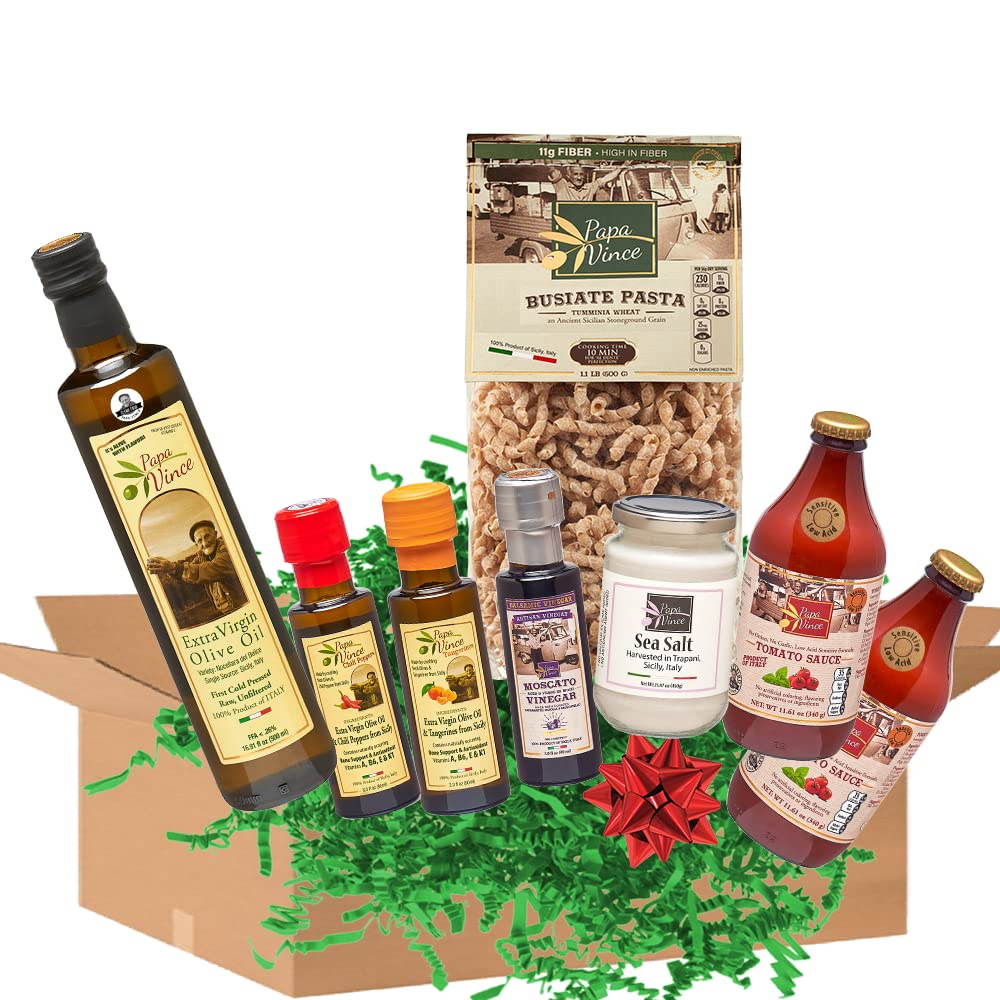 Do you know someone who loves to cook Italian food? This gift basket is an excellent choice because it's filled with healthy options instead of a bunch of junk food. This gift has clean eating ingredients with no added pesticides, herbicides, insecticides, additives, coloring, or chemicals you can't even pronounce.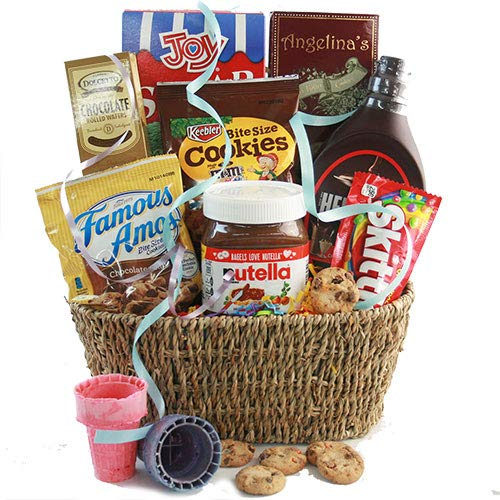 This irresistible dessert gift basket includes sugar cones, chocolate sprinkles, biscuits, and, of course, Nutella. Your loved one would literally be spoilt for choice on which one to start with. This is a great gift for the ice cream lover in your family.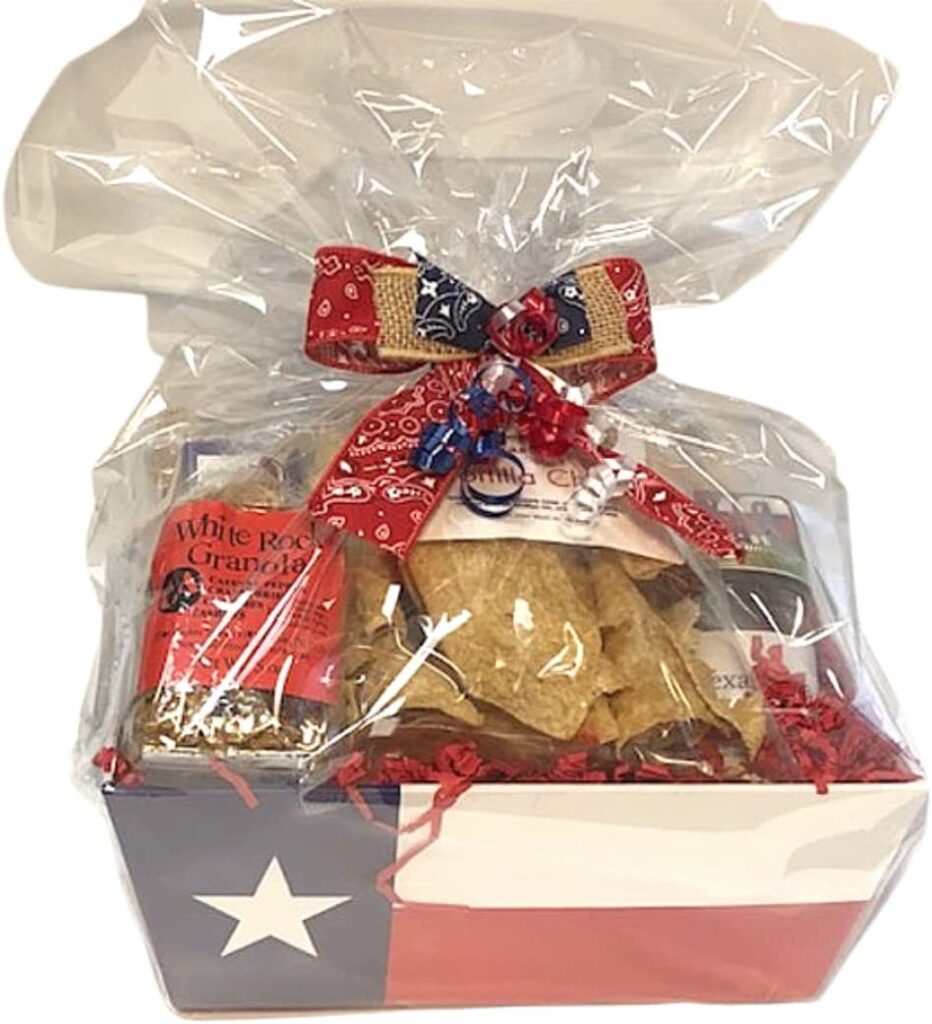 This gift basket has compiled a collection of the best Texas-sized snacks in the state, so they'd better loosen their belts. This holiday season, amaze a loved one who enjoys Texas sweets or is curious to find out what all the fuss is about with this thoughtful gift basket. The togetherness of friends and family, coupled with laughter and this super gift will make Christmas special.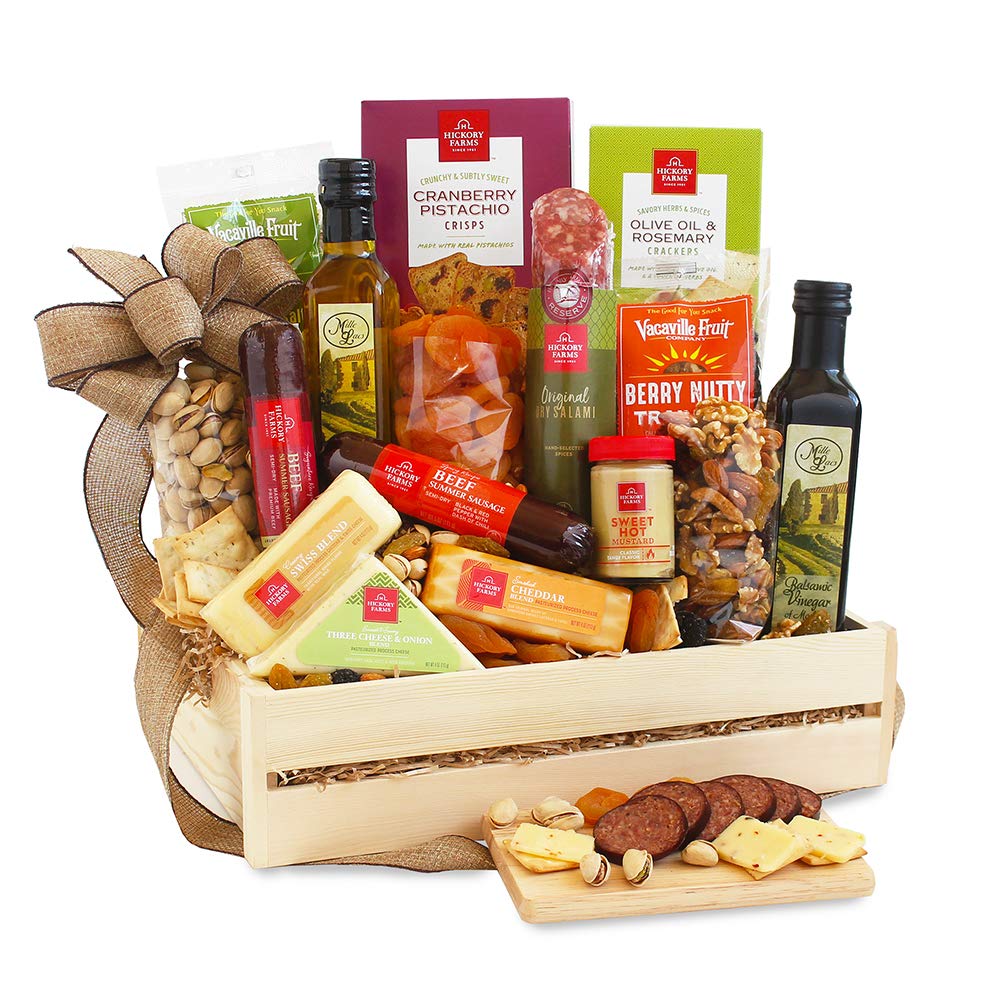 When this wonderful gift arrives, spread a blanket and imagine being wrapped in the sunshine of California. This gift contains California nuts, sweet dried fruit, bottles of balsamic vinegar, extra virgin olive oil, and three different types of cheese—all packed inside a wooden crate and ready to be appreciated. Your loved one will most definitely enjoy and appreciate this assortment, especially those who love meat and cheese.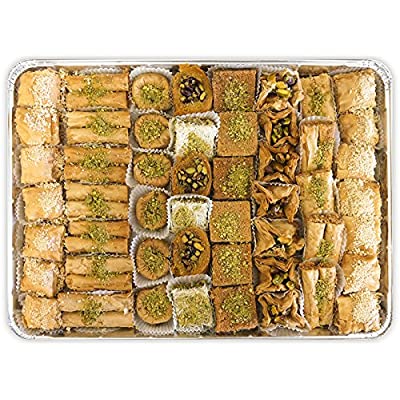 Baklava is a popular Turkish, Greek, and Middle Eastern desert. This whole tray of the best baklava pieces, artfully prepared for your dining pleasure has an all-natural, freshly prepared, and very satisfying assortment. For those on a strict no-cholesterol, no-coloring, no-preservatives, no-artificial-flavor diet, this is a wonderful present.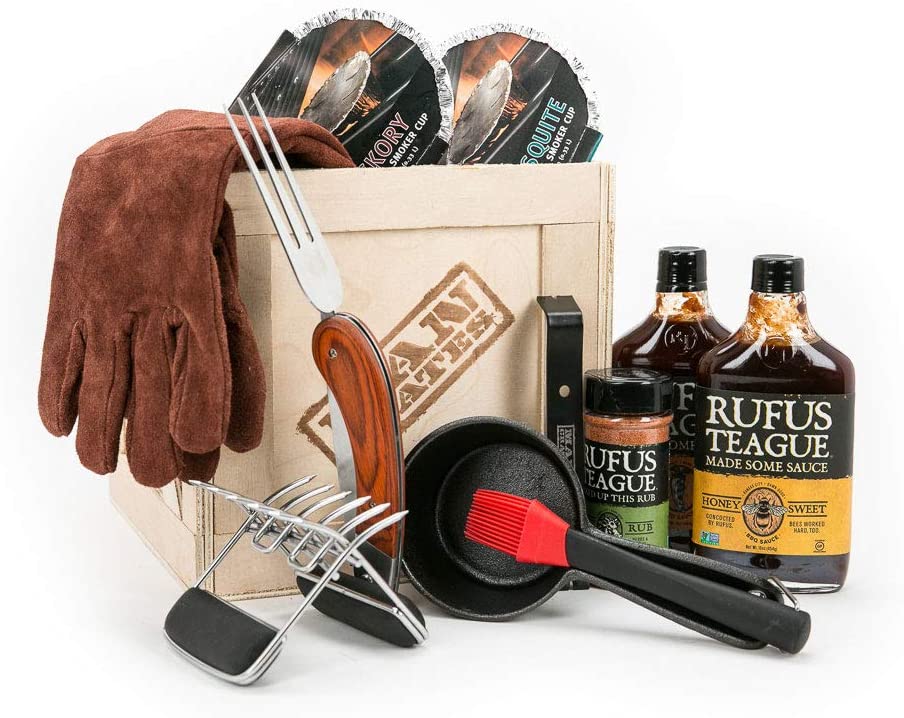 Is your dad a natural behind the grill, and does he take great delight in his secret sauce for tender, juicy ribs that practically fall off the bone? Grabbing this ingenious gift of BBQ necessities will put an end to your search for present ideas. It will give him the thrill to use the included crowbar to pry open the package. He'll be so thrilled to receive it.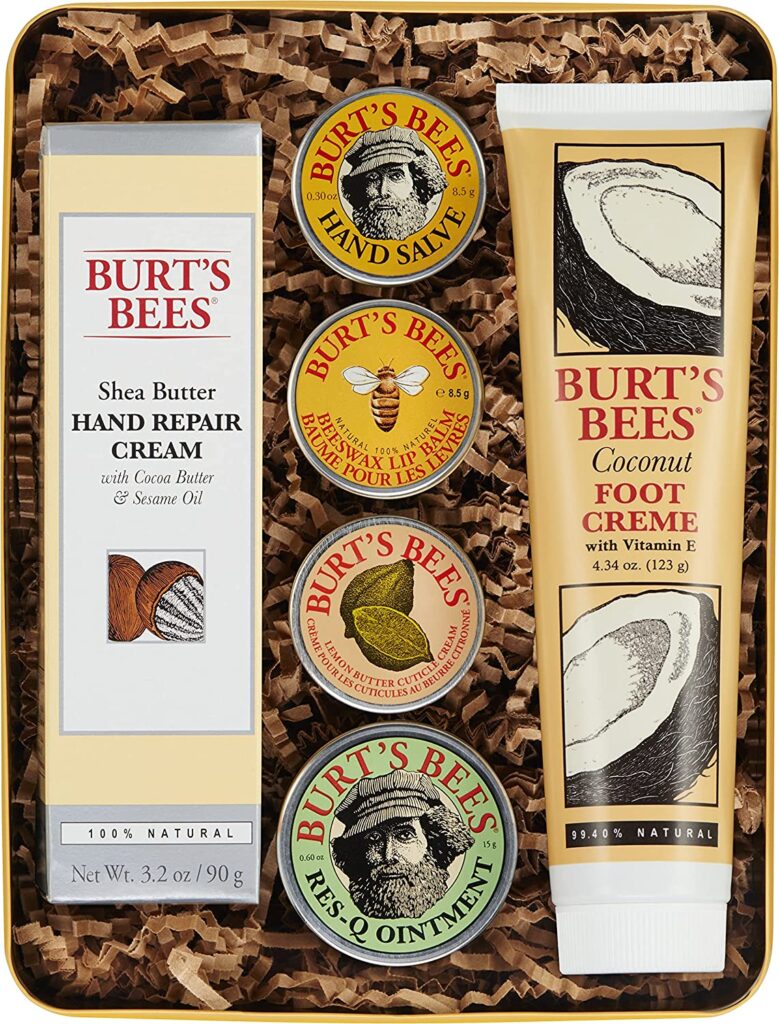 These Burt's Bees gift set makes a great gift for anyone from your brother's girlfriend to your brother's workplace. Lemon Butter Cuticle Cream, Original Beeswax Lip Balm, Hand Salve, Res-Q Ointment (a multifunctional balm that will cure bumps or kitchen burns), Shea Butter Hand Repair Cream, and Coconut Foot Cream are all included in this all-natural set. It's perfect for those who must brave the cold during the winter.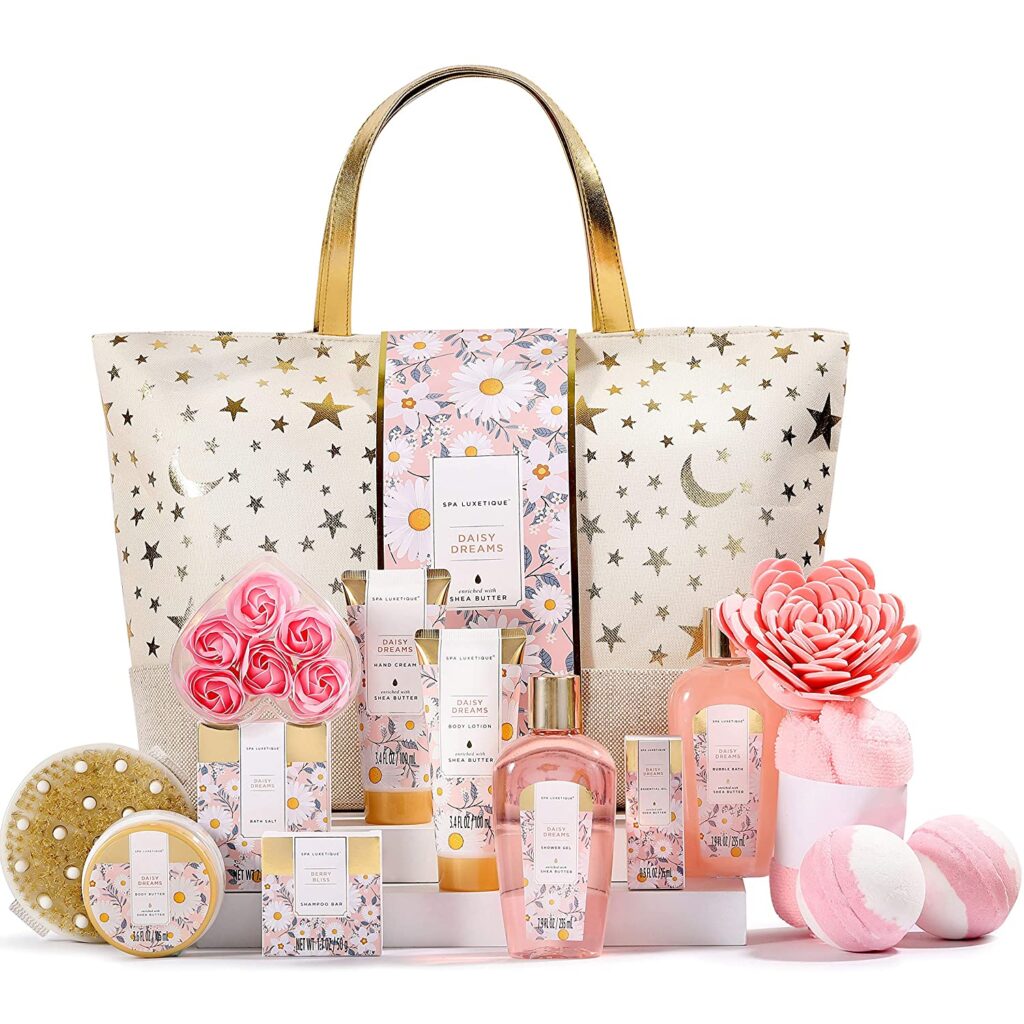 There is a good chance that you work with someone who constantly pushes herself to her limits and refuses to take any vacation time. This spa-themed gift basket will allow her to indulge in some much-needed self-care.
This little bag is stocked to the brim with luxurious self-care items, from bath bombs and salts to body lotions and creams, so she can indulge in a day of pampering all for herself. Every order is accompanied by a free, hand-made tote bag, which is a nice touch.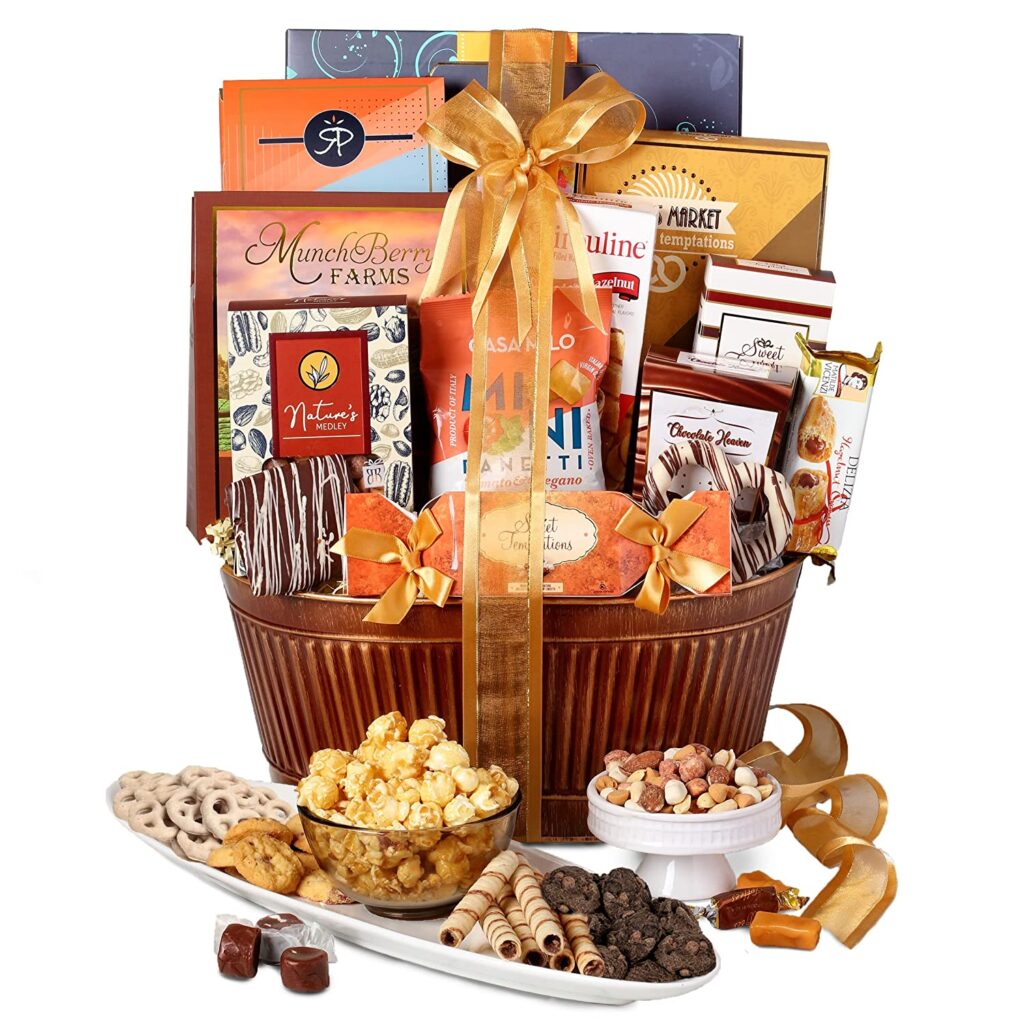 Skip the movie tickets and have a movie night at home. This snack-oriented basket is stocked to the brim with a wide variety of crunchy delights, including pretzels, popcorn, crispy chocolate wafers, and so much more, to stave off most of those late-night cravings. Whoever receives this gift will have an outstanding experience of a perfect blend of sweet and savory.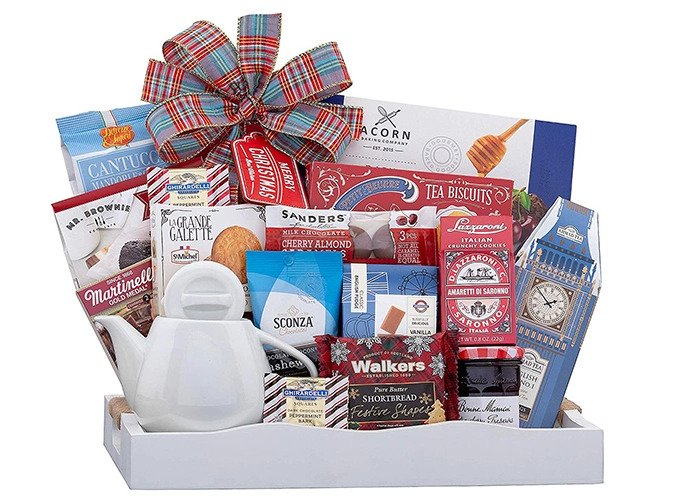 Take gift-giving to a completely new level with this tea-time gift. Rest and relaxation are in order after the hectic holiday season, and what better way to encourage it than with a white ceramic teapot, cookies, sweets, and spreads? This will be a memory for a loved one since the breakfast tray is reusable.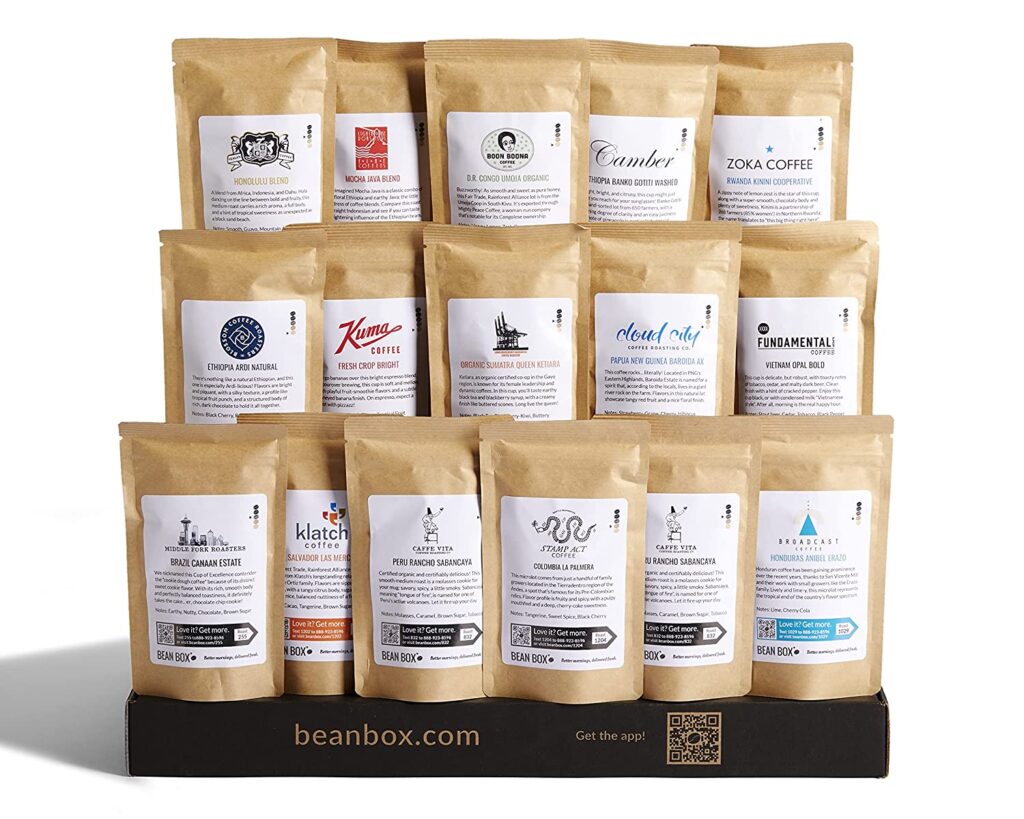 Know someone that loves coffee? Don't just gift your coffee-loving friend a gift card to their favorite cafe, since that would be doing the bare minimum. Better yet, impress them with a gift basket that will make them giddy with delight.
You can get a small taste of what people in different nations drink in the morning by trying out this variety of coffee beans that have been gathered from all around the world. Your loved one will experience love at every sip of this cool variety.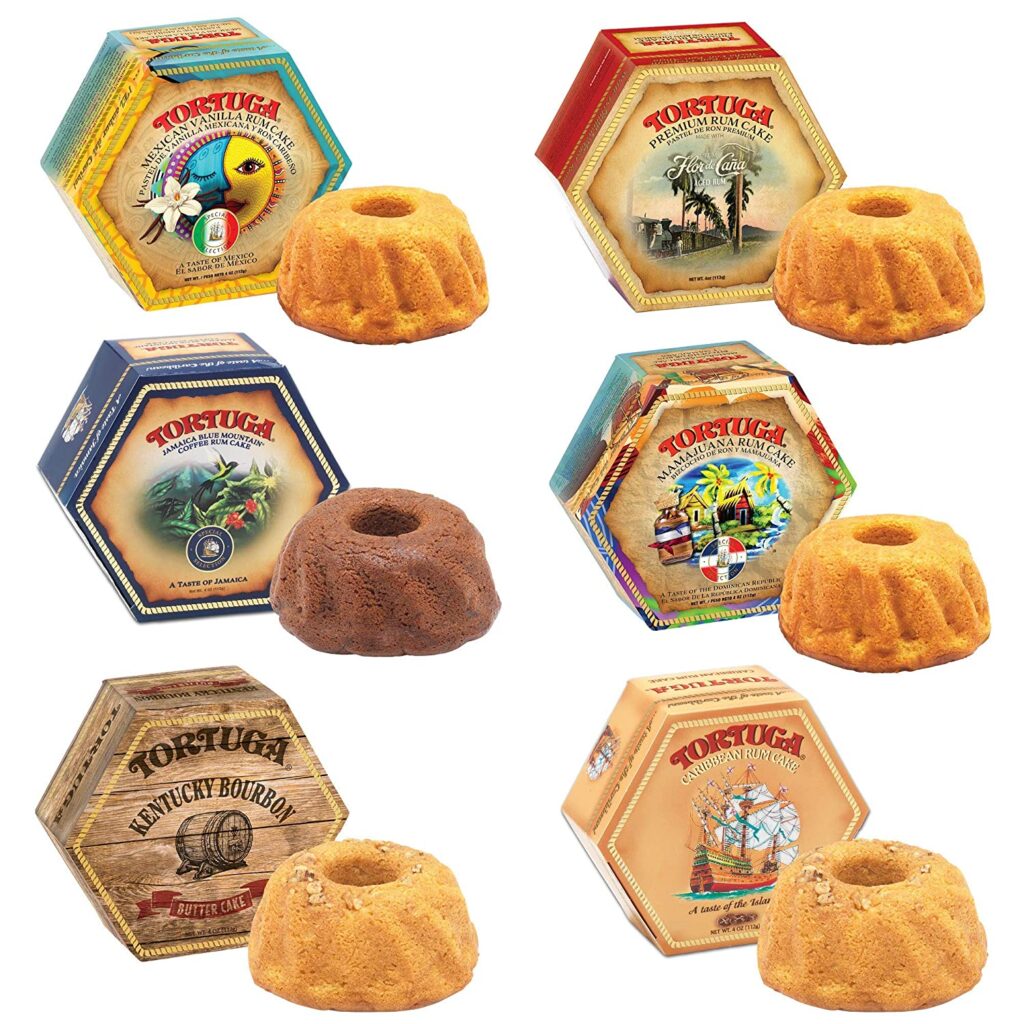 You may never need to try another rum cake again after receiving this as a gift because it is of such high quality. Baked fresh daily with just the highest quality ingredients, this holiday treat is the ideal gourmet gift. The novelty and allure of The Tortuga Rum Cake Assortment will win over the heart of your loved one.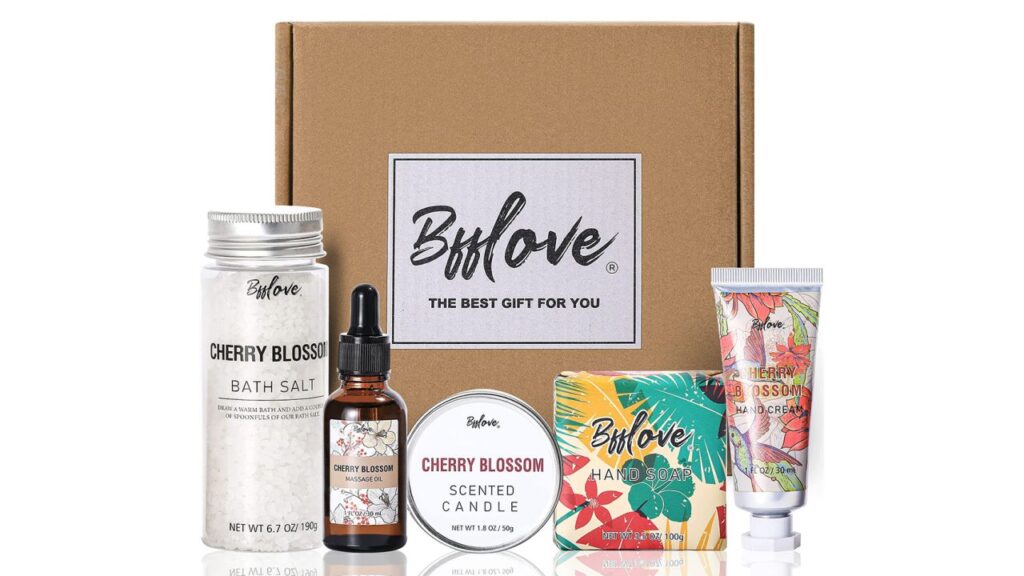 Looking for a fantastic gift for your best friend? This delightful set of five-party favors ought to do the trick. The cherry blossom scented candle, bath salts, massage oil, and moisturizing hand soap and hand lotion are all top sellers.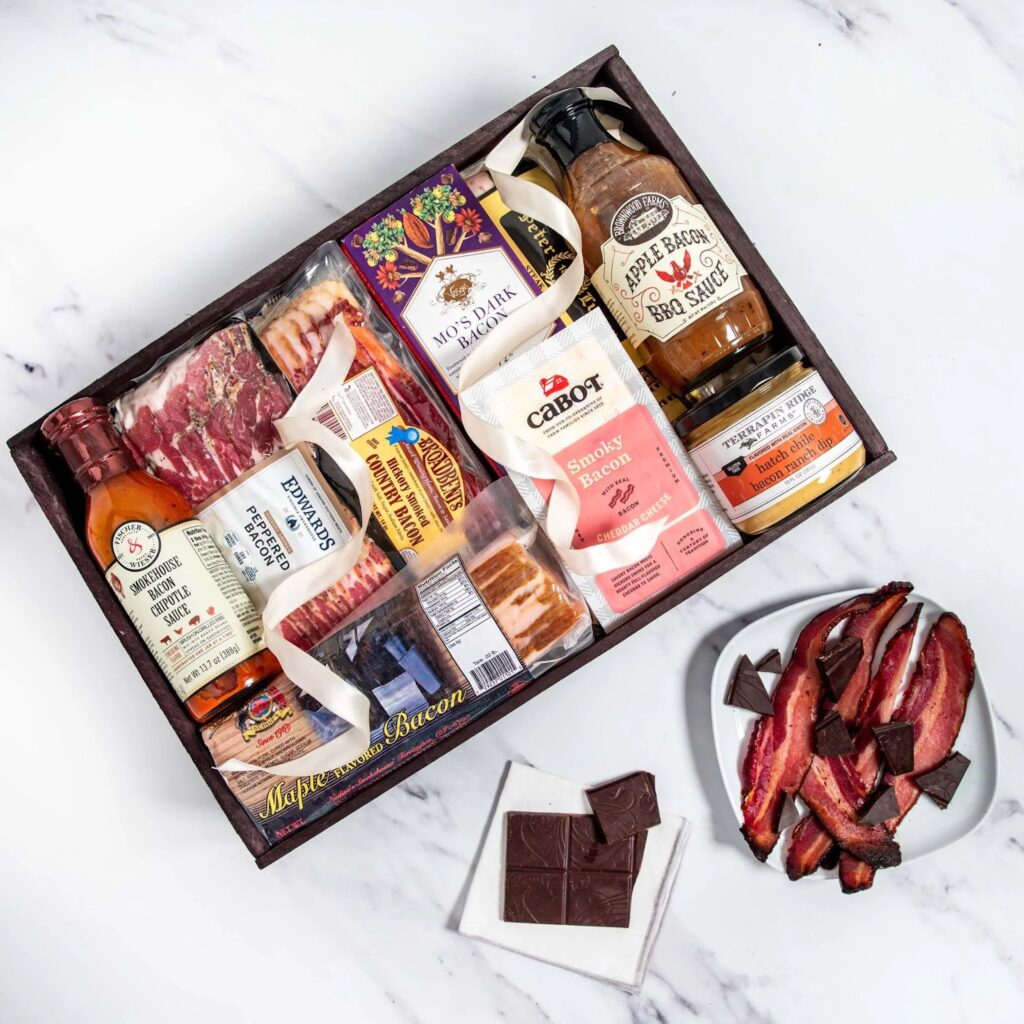 You can be confident that the contents of this igourmet Gift Basket are of the highest quality. They have been producing this traditional style gift crate in the same way for the past century.
In their smokehouse in Kentucky, they rub each slab by hand with dry cure ingredients before slowly smoking it. Your loved one will be able to savor the wonderful, smoky flavor of bacon for weeks thanks to this generous gift.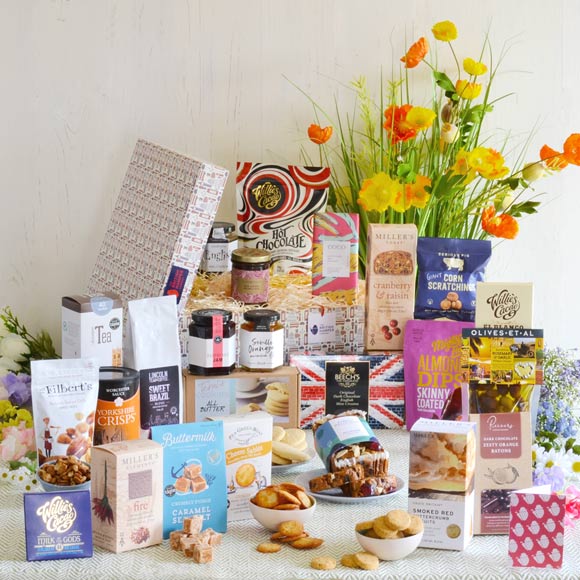 This gift basket is perfect for any holiday or celebration and may be enjoyed by many. Chocolate fans can find a variety of treats, including dark chocolate covered almonds that were dipped by hand, salted caramel milk chocolate from Coco, and chocolate mint creams that taste like heaven from Beech's the chocolatier.
Gift your loved one with this lavish luxury food hamper stocked to the brim with the finest foods Britain has to offer. The best part is it includes a handwritten note in the package.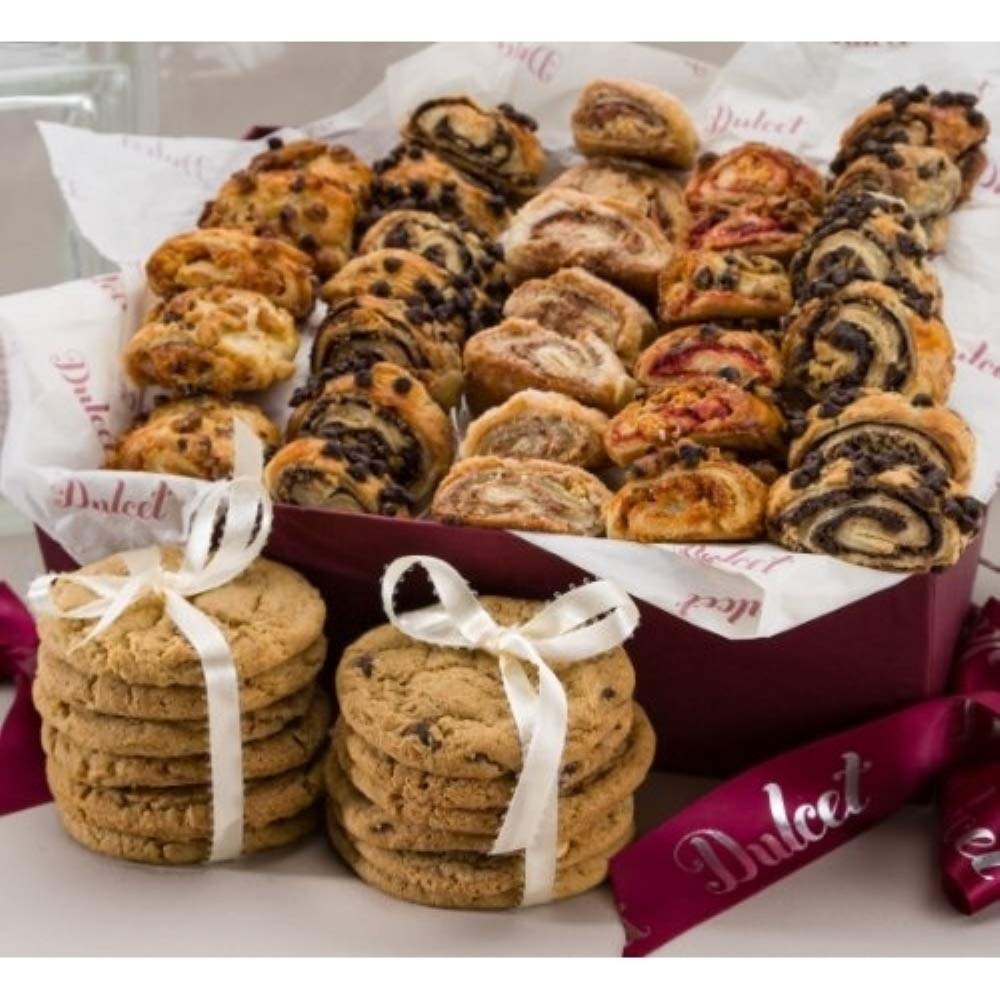 These delicious treats are the icing on the cake at any meal or party. These freshly baked pastries' are a hit for a lot of people. Whether it's for Mother's Day, Father's Day, Thanksgiving, Christmas, or any other holiday or special occasion, this delicious gift basket is perfect. The recipient of this gift will not only enjoy these but also not forget how delicious they are.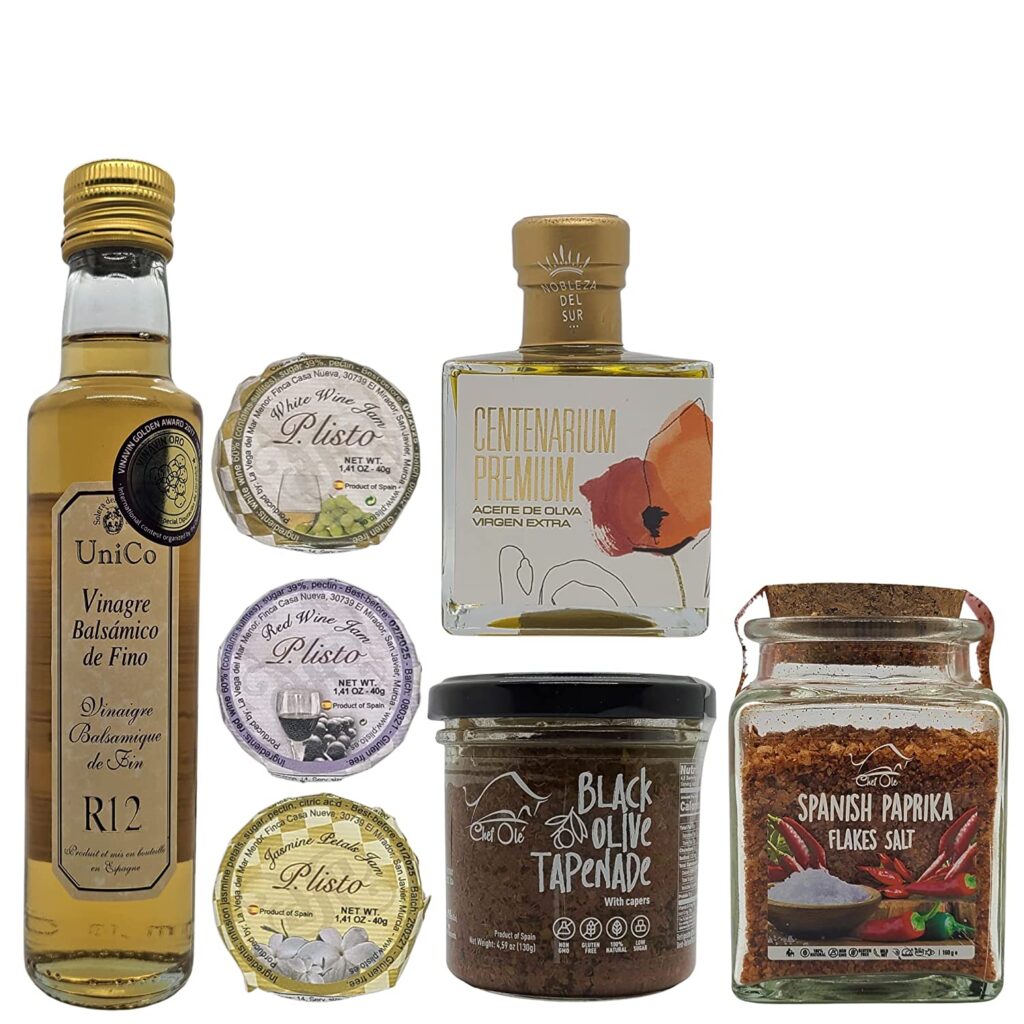 These are genuine gifts from Spain that never fail to delight. For someone who loves to cook, this would be a pleasant surprise gift. If your family member loves trying new dishes, this is for them.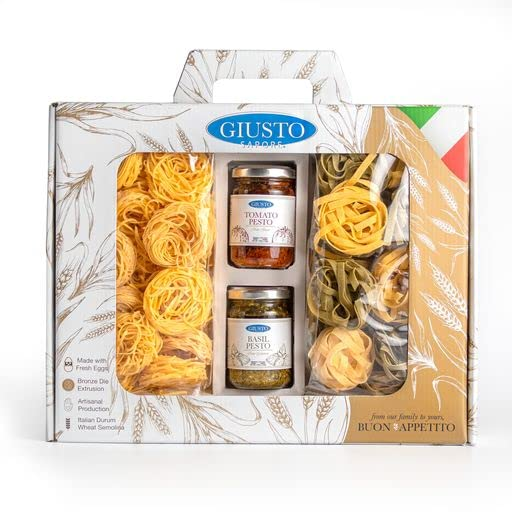 This is the perfect present for any home with a foodie in it. These exquisite Italian egg pastas and pestos is the perfect gift for the hostess with the mostess. This is an excellent gift for any occasion that calls for a taste of Italy.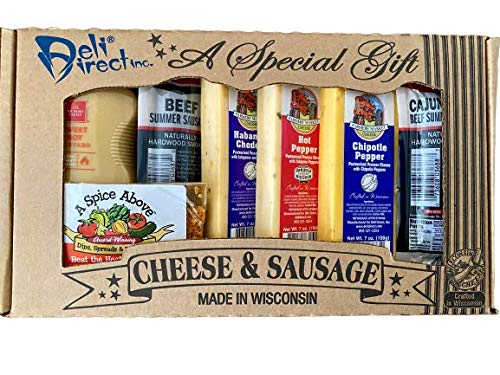 This is a special gift from Deli Direct and is perfect if your loved one is a fan of hot sausage and cheese. This charcuterie tray is low-carb, high-protein, Keto-friendly, and gluten-free. Those who enjoy a little heat with their sausage and cheese will appreciate this party pack.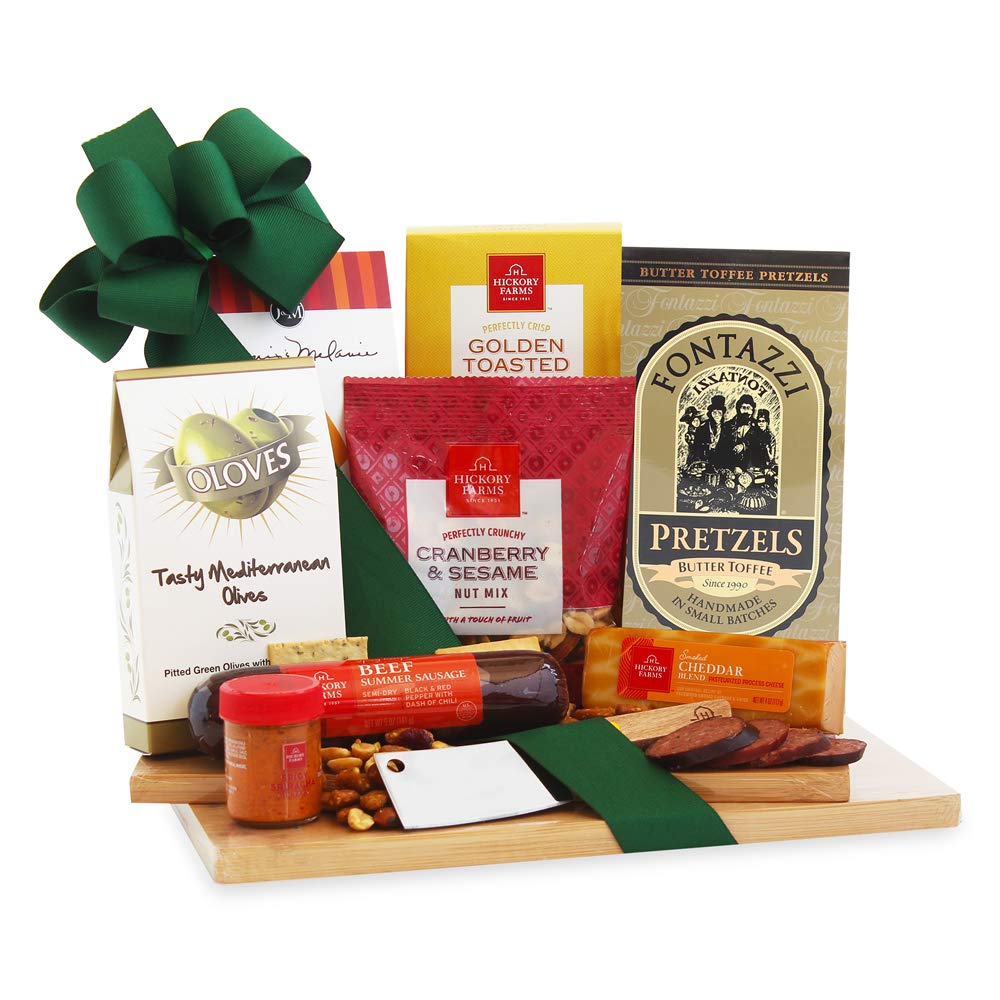 An ideal present for a birthday, Christmas, or a new place. Cheese and crackers, savory sausage, and sweet chocolates are just some of the Hors d'oeuvres that arrive on a souvenir cutting board. It's so obvious the recipient will fall in love with this delicious assortment of meats, cheeses, and sweets, as well as a cheese knife and cutting board as a keepsake.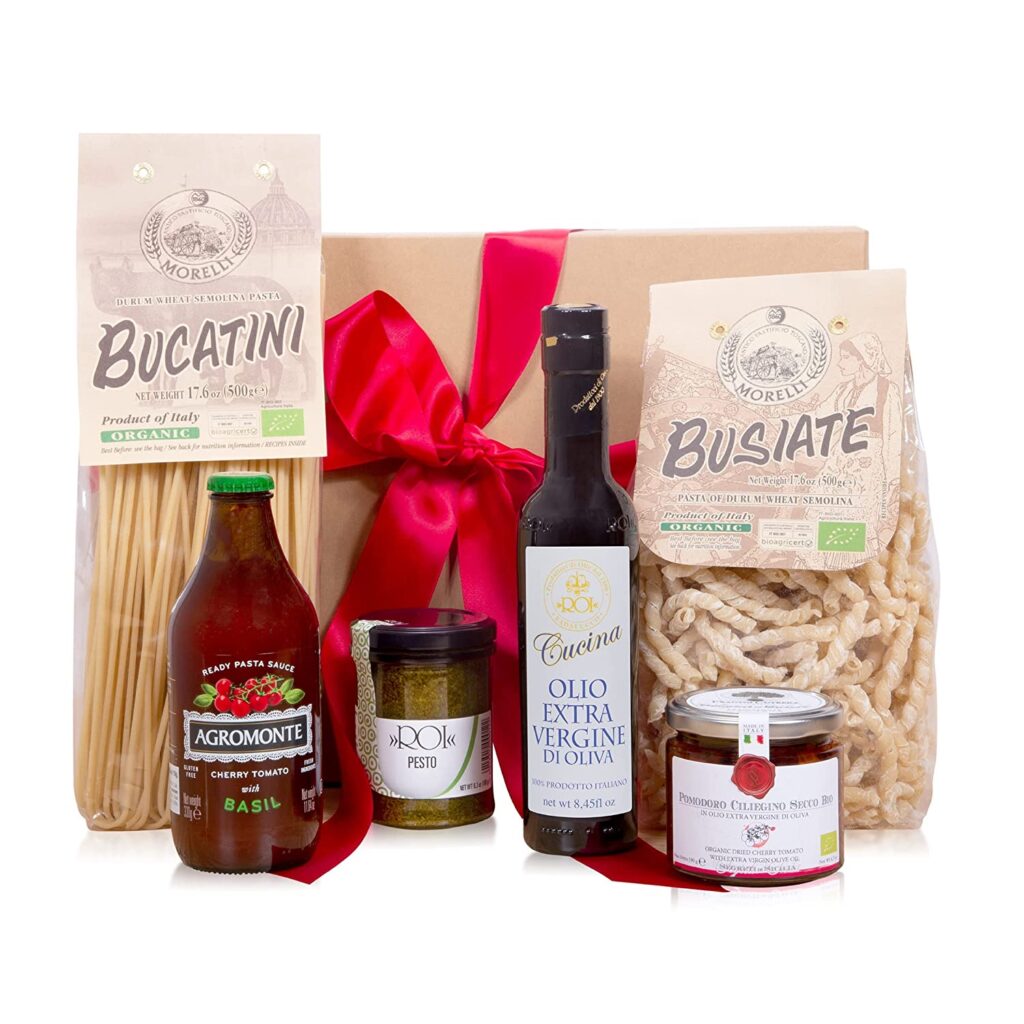 This gift basket has everything you need to make an authentic, healthy Italian lunch. The lucky recipient of this Italian gift basket will feel so confident in preparing a delicious feast with this gift basket. What a wonderful way to show your love this Christmas.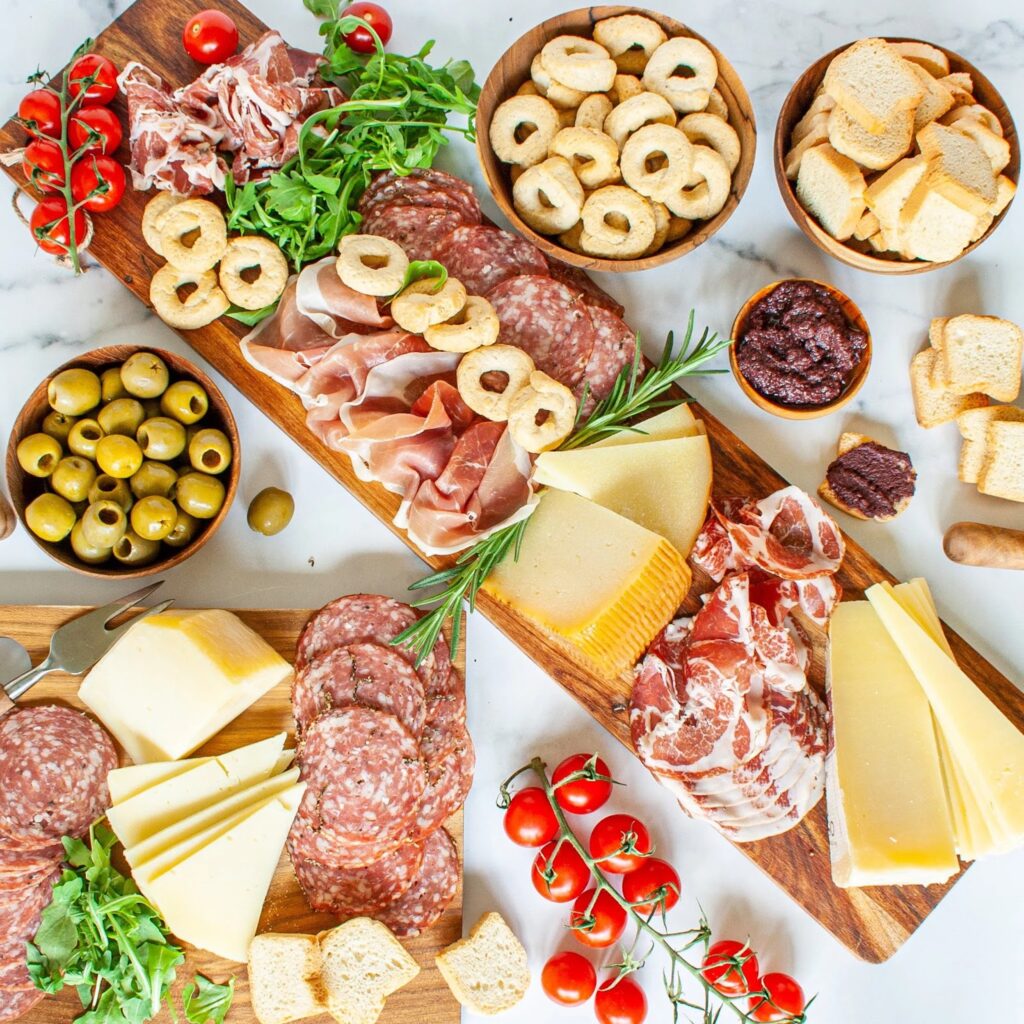 This generous offering of savory meats and cheeses is sure to please any foodie. This is an ideal solution for entertaining guests, both expected and unanticipated.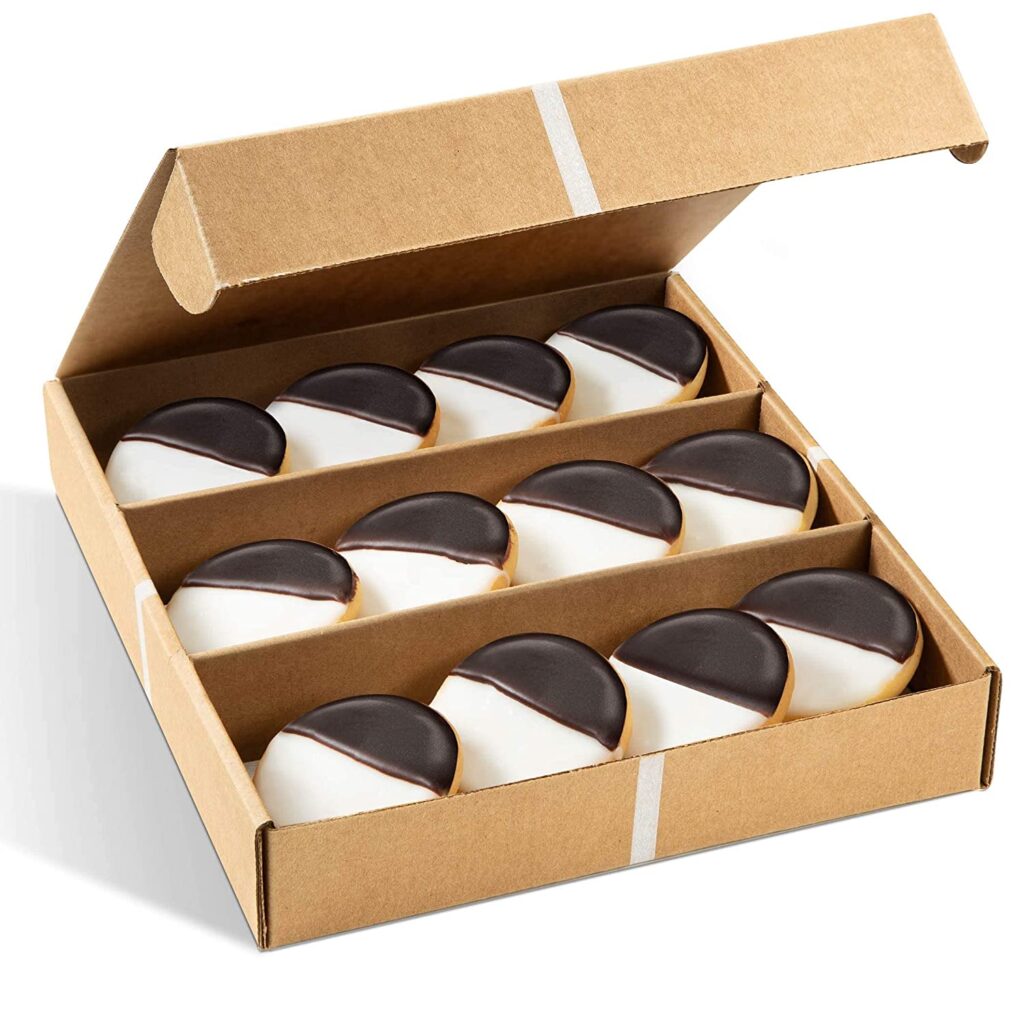 Give the gift of sophistication with this elegant gift box of gourmet cookies. These mouthwatering twelve small, black-and-white cookies, are each neatly wrapped. Chocolate and vanilla icing are the icing on top of these perfectly baked cookies. These cookies are definitely something your loved one will always cherish!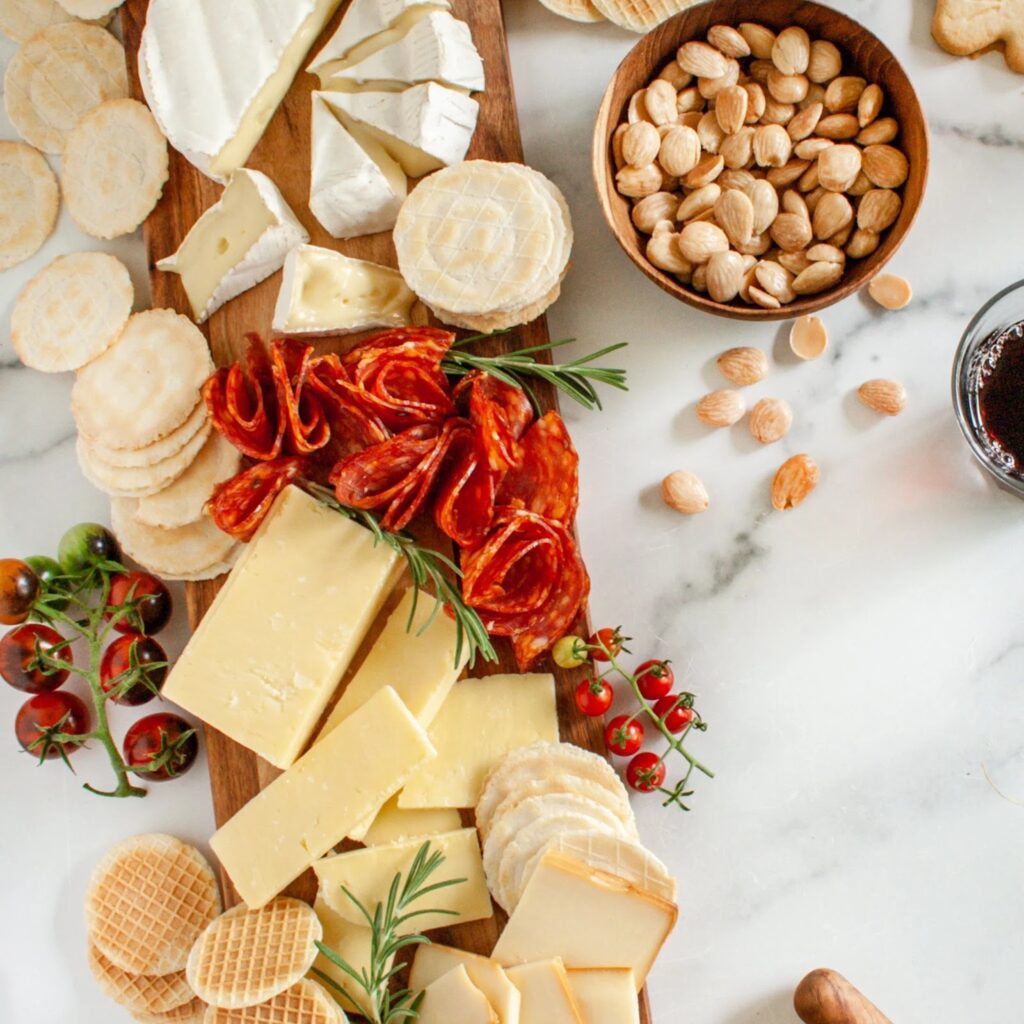 This consumable gift carries ingredients that came from the highest quality sources all over the world. The greatest dry-cured salami from Italy, the finest British, German, and French cheeses, gourmet crackers from Australia, and the peculiar French Waffle Crackers from the legendary Tresors Gourmands, delicious Spanish almonds, and crisp Irish cookies. The luckiest recipient must be someone who likes tasting international foods.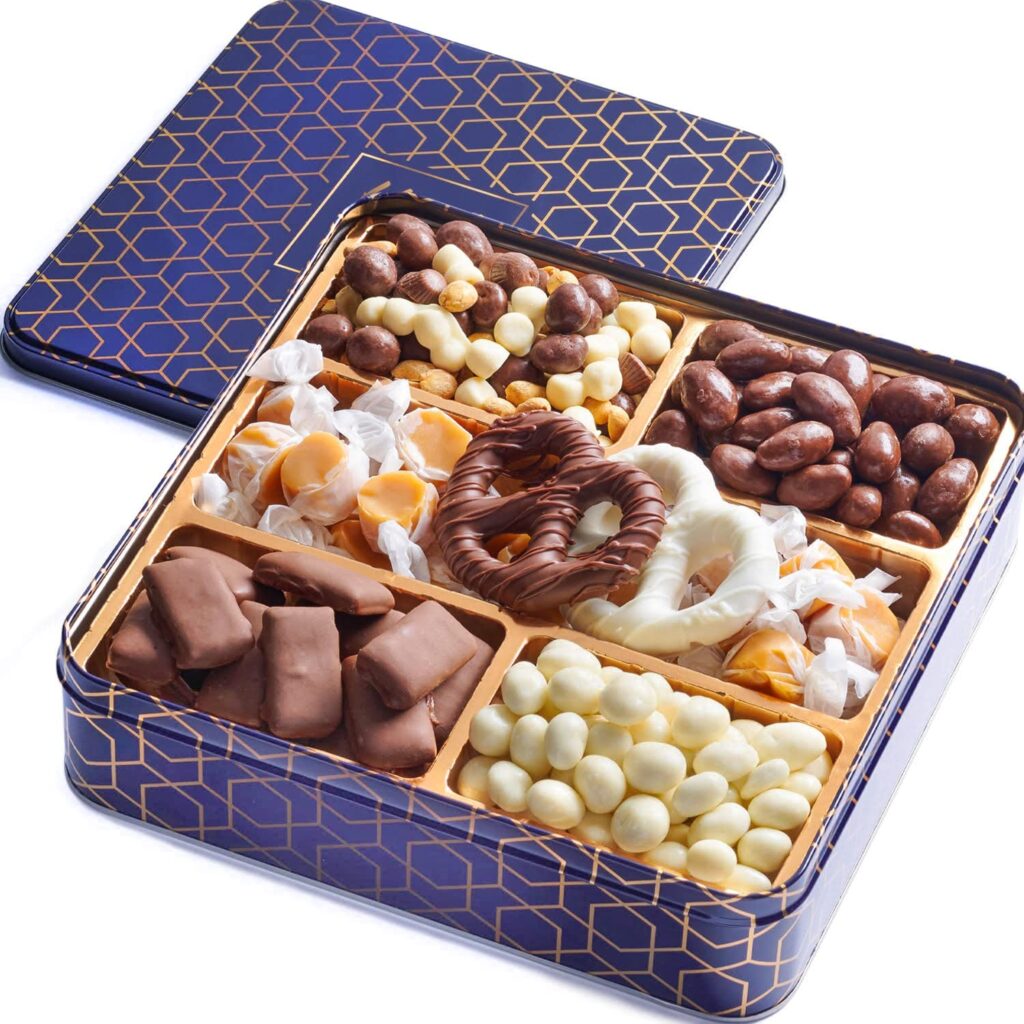 This stunning, eye-catching chocolate selection tin is the perfect present for any occasion. The contrasting flavors and creamy center of hazelnut and creme chocolate are a match made in heaven. A box of delicious chocolates is the perfect gesture of gratitude.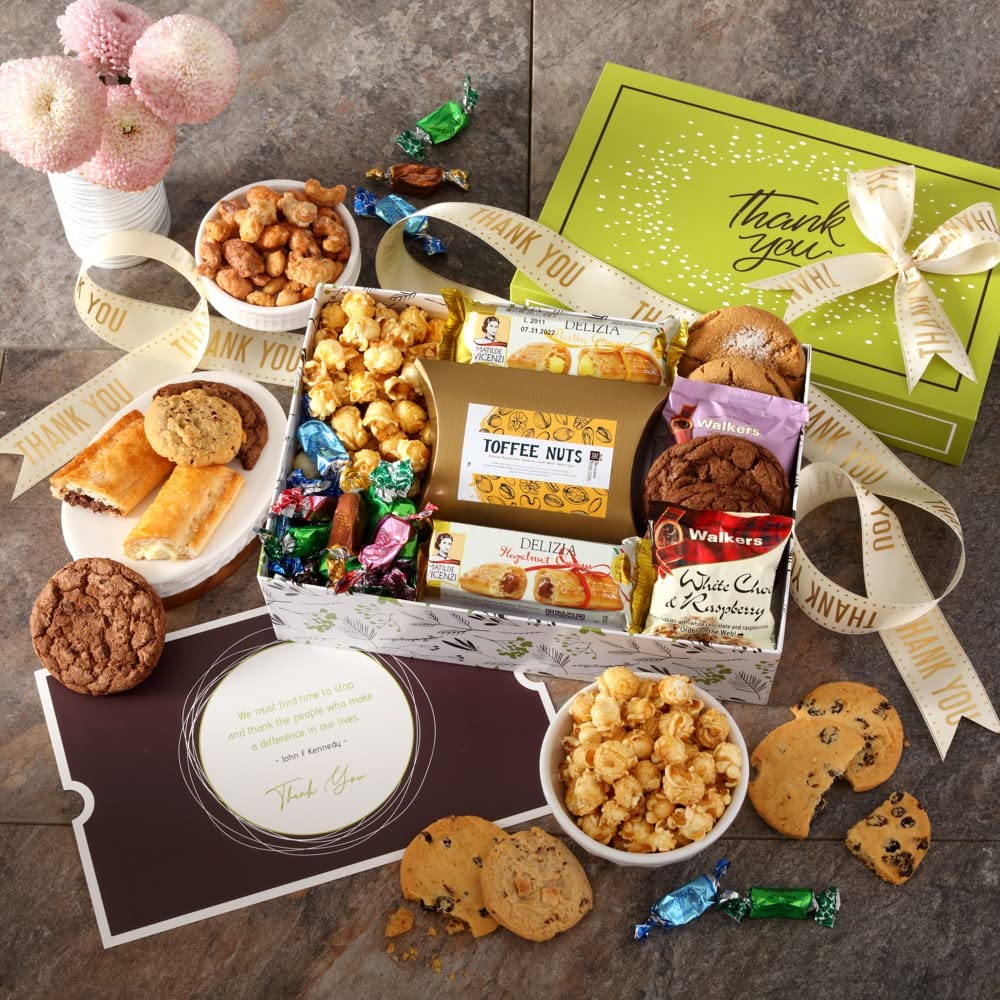 This Gourmet gift basket is one of the best consumable Christmas gifts you could give this year. The baked goods, soft cookies, and snacks in this thoughtful gift collection are sure to be a hit with anyone you're showing your appreciation to. It's the perfect present for anyone on your list, easy to send, and looks wonderful.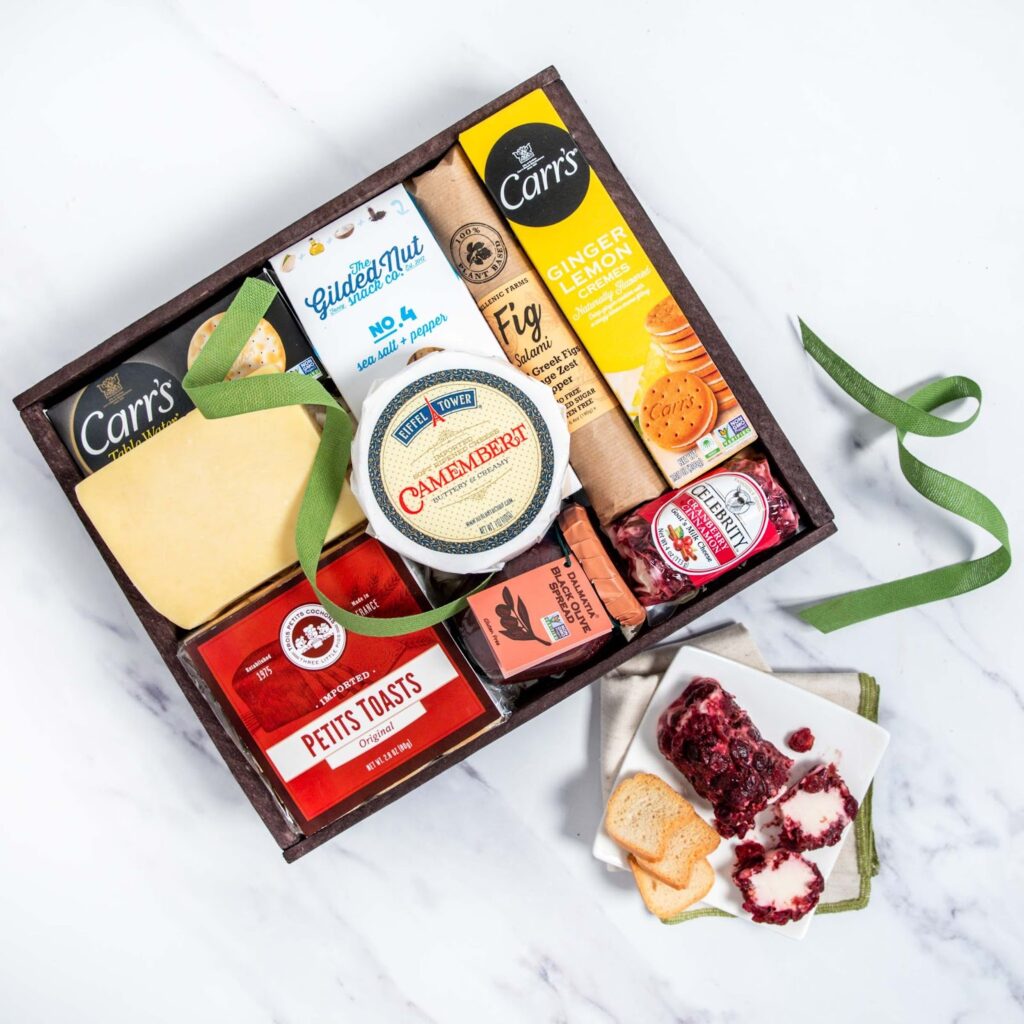 Looking for the best consumable Christmas gifts for vegetarians in your life? This gift is a unique basket full of tasty treats just for vegetarians. All across the world, farmers, ranchers, bakers, cheesemakers, and other artisans have worked tirelessly to provide the finest vegetarian products money can buy.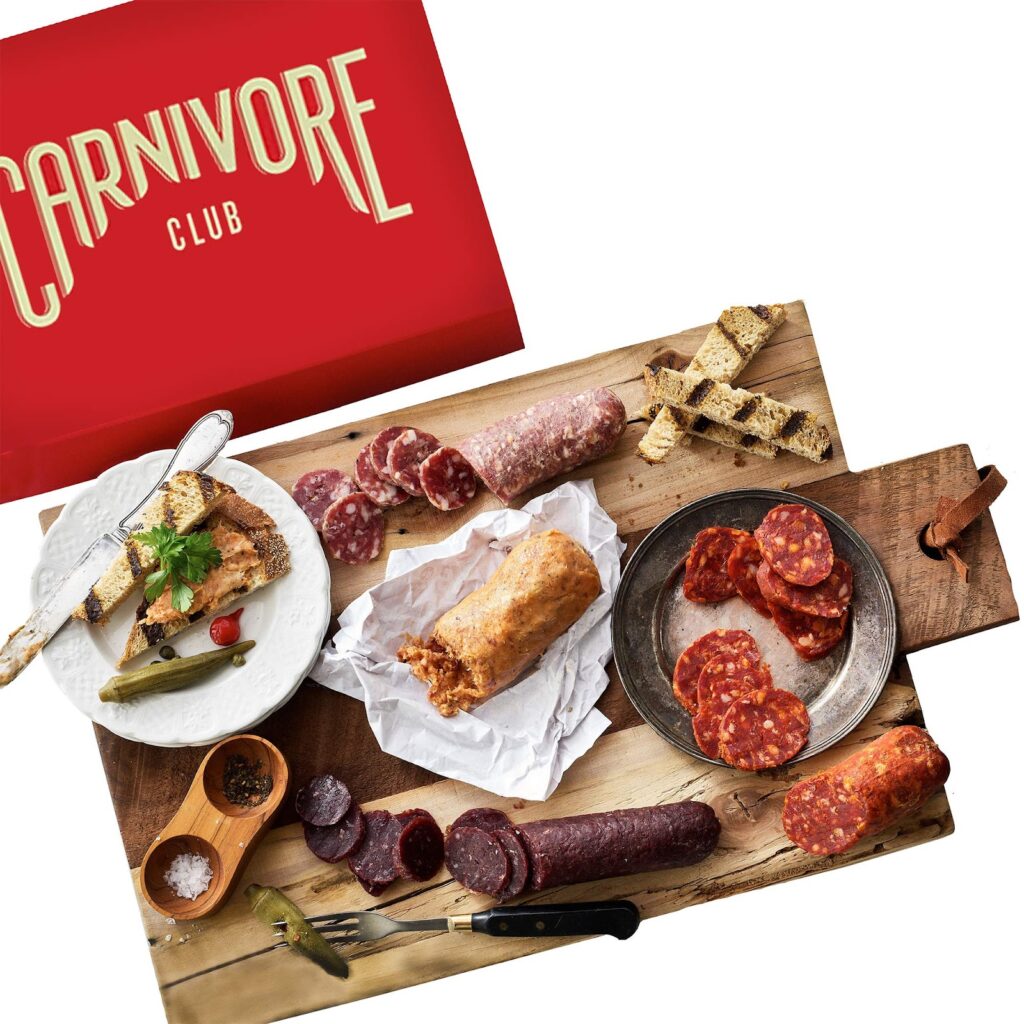 Our last gift was for vegetarians, but what about the meat lover in your life? Consider giving this Carnivore Club Gift Box this holiday season. Because everything is both shelf stable and ready to eat, this basket gift is ideal for giving at any time of year.
The meats in the Carnivore Club Gift Box are of the highest quality, and many of them are obtained from nearby farms. Also included are the finest spices, herbs, and seasonal blends to bring out the meats' naturally complex and nuanced flavors. This is strictly for meat lovers.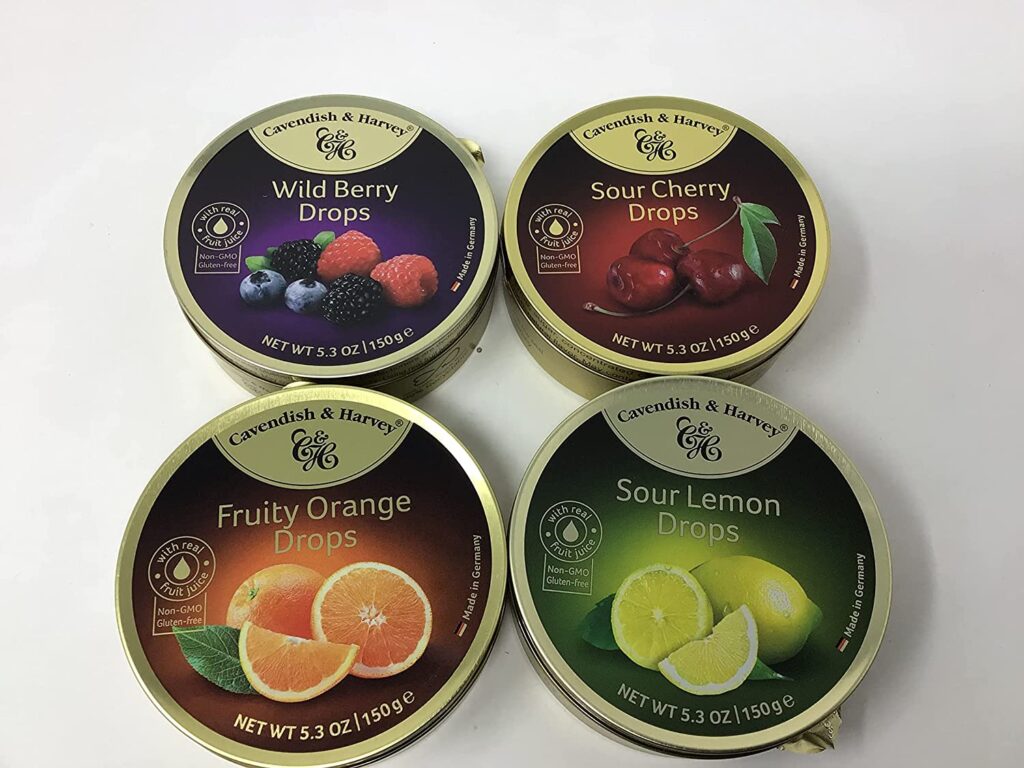 These gifts are luxury candy drops sprinkled with icing sugar and packed airtight to preserve quality and freshness. If you know someone who enjoys gourmet candies, especially those with a unique or exotic flavor profile, this is the ultimate gift!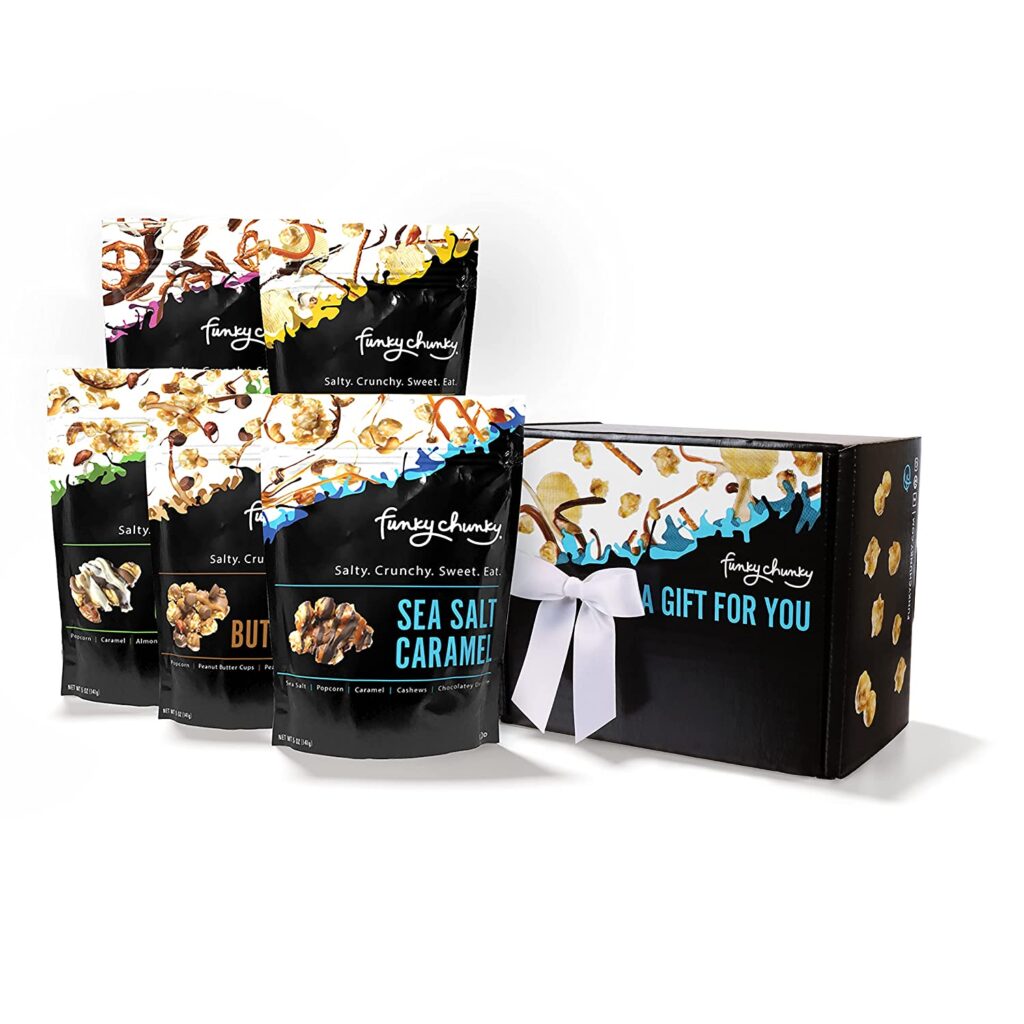 Gifts of gourmet and confectionery popcorn from FUNKY CHUNKY offer bits of caramel, chocolate, and nutty goodness that are just the right size for snacking. These sweet and salty snacks are made in the midwest in small amounts and are excellent for snack lovers. This is for someone who loves watching movies late at night.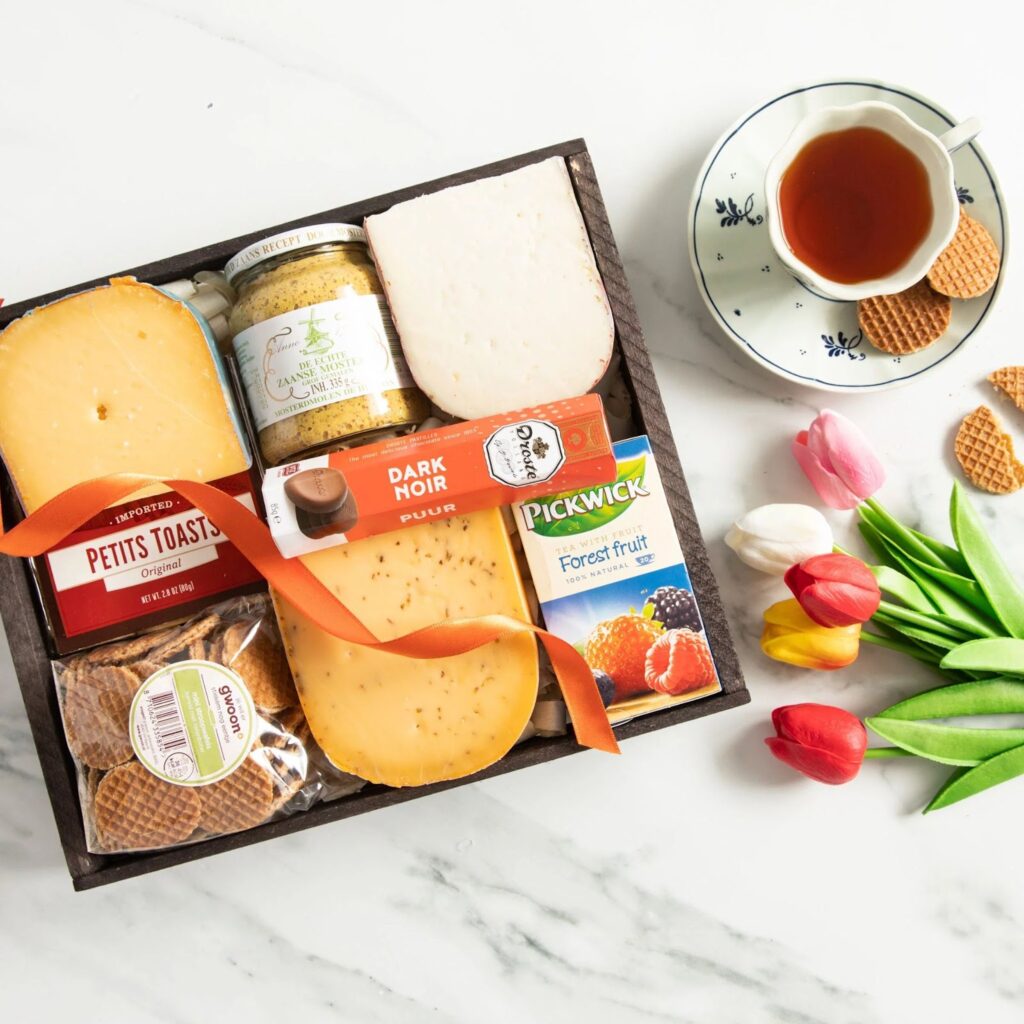 This gift basket from Holland is full of tasty treats that your friends and family will love. The gourmet globetrotter in your life will adore this globe-themed gift basket. If you have any loved one who is into Dutch cheese, then gift them this and they'll love you for that.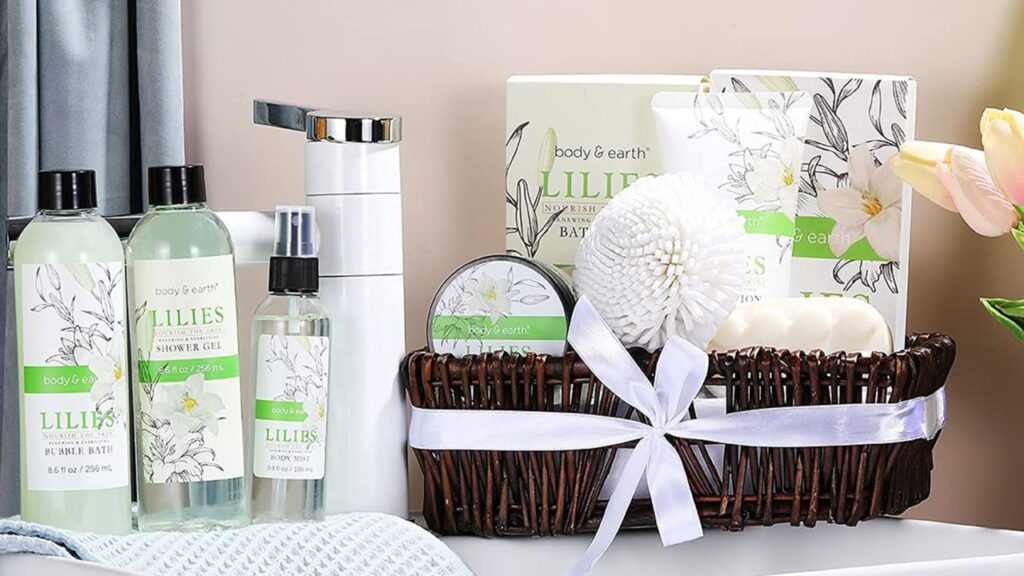 Give the gift of tranquility with this 10-piece set. It features a flower pouf and a reusable wicker basket in addition to a bubble bath, shower gel, body scrub, potpourri, body lotion, body mist, bath salts, and soap with a lily smell. It's just the right size to make your loved one feel like they've been treated like royalty.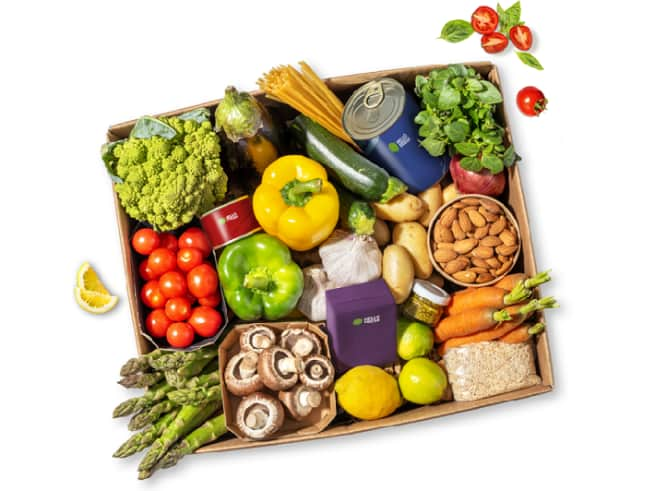 If you know someone who loves to cook, but sometimes doesn't have the time or energy to go grocery shopping and meal planning, a HelloFresh subscription would make an excellent Christmas gift.
With HelloFresh, they'll get everything they need to make delicious, healthy meals delivered right to their door, including pre-measured ingredients and step-by-step recipes. Plus, there's no commitment required so they can cancel anytime.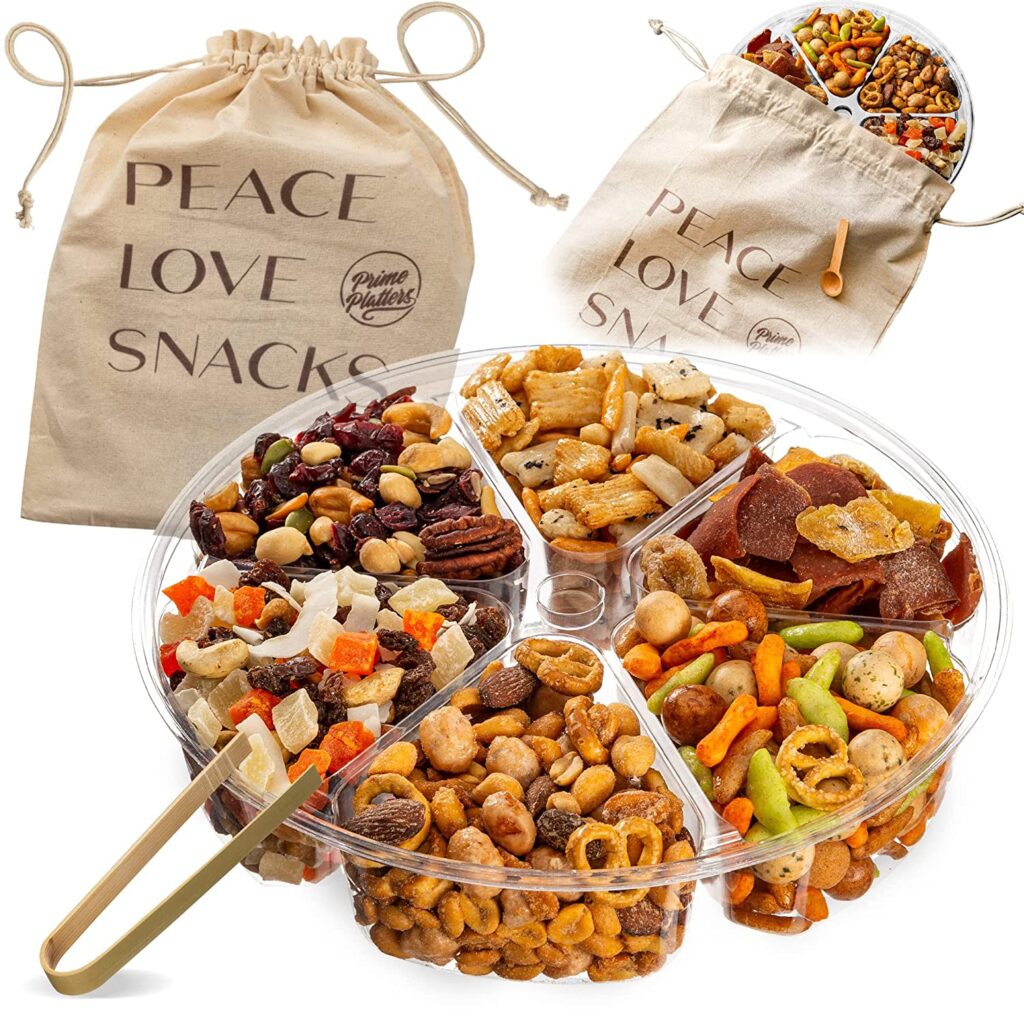 This beautiful gourmet food gift basket is the perfect addition to any holiday or special occasion, and it would be a wonderful treat for yourself, a family member, or a friend. Nuts are a nutritious choice for a quick bite on the go since they contain dietary fiber, protein, healthy fats, and a variety of critical vitamins and minerals.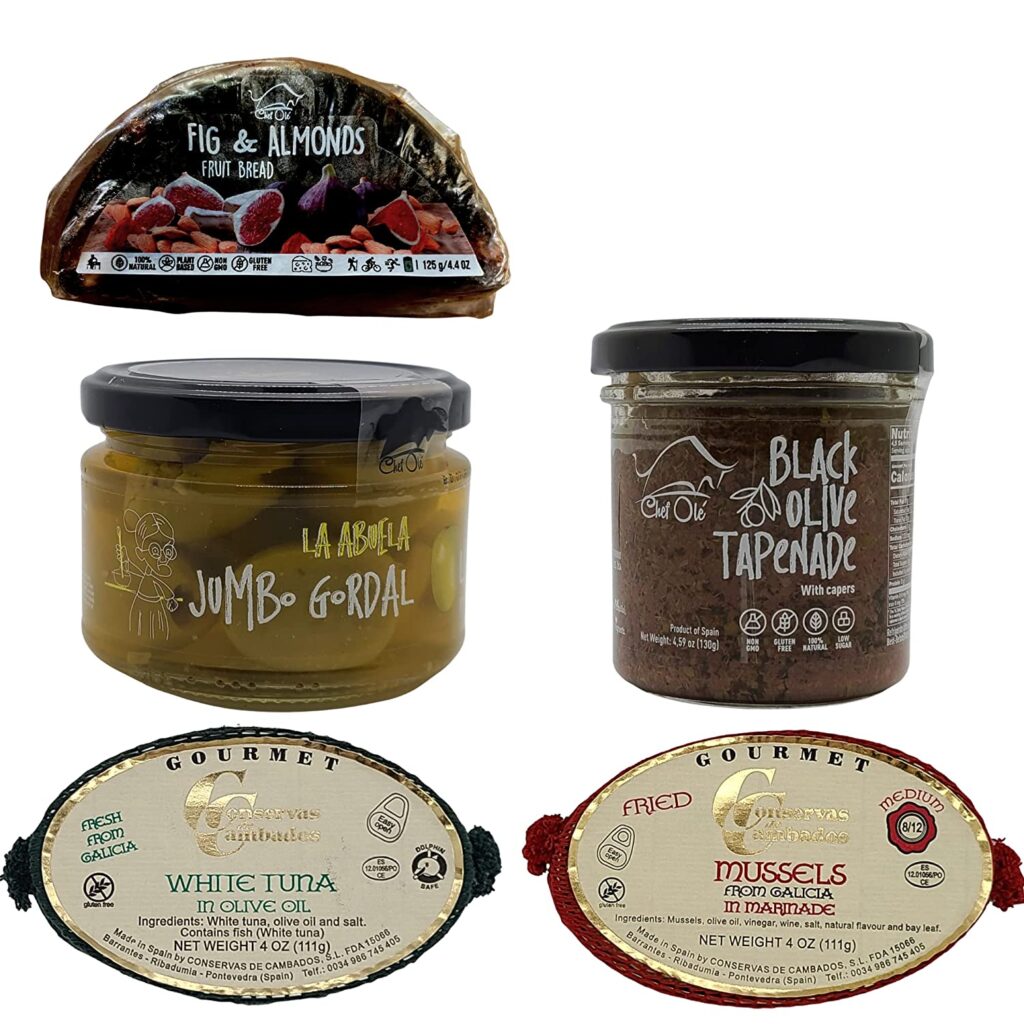 This carefully selected authentic gift comprises only the finest gourmet foods from the Mediterranean. No tacky souvenir shops or fast food here! Nothing fancy, just good old-fashioned fare prepared by skilled hands. Getting this for someone shows how much they mean to you.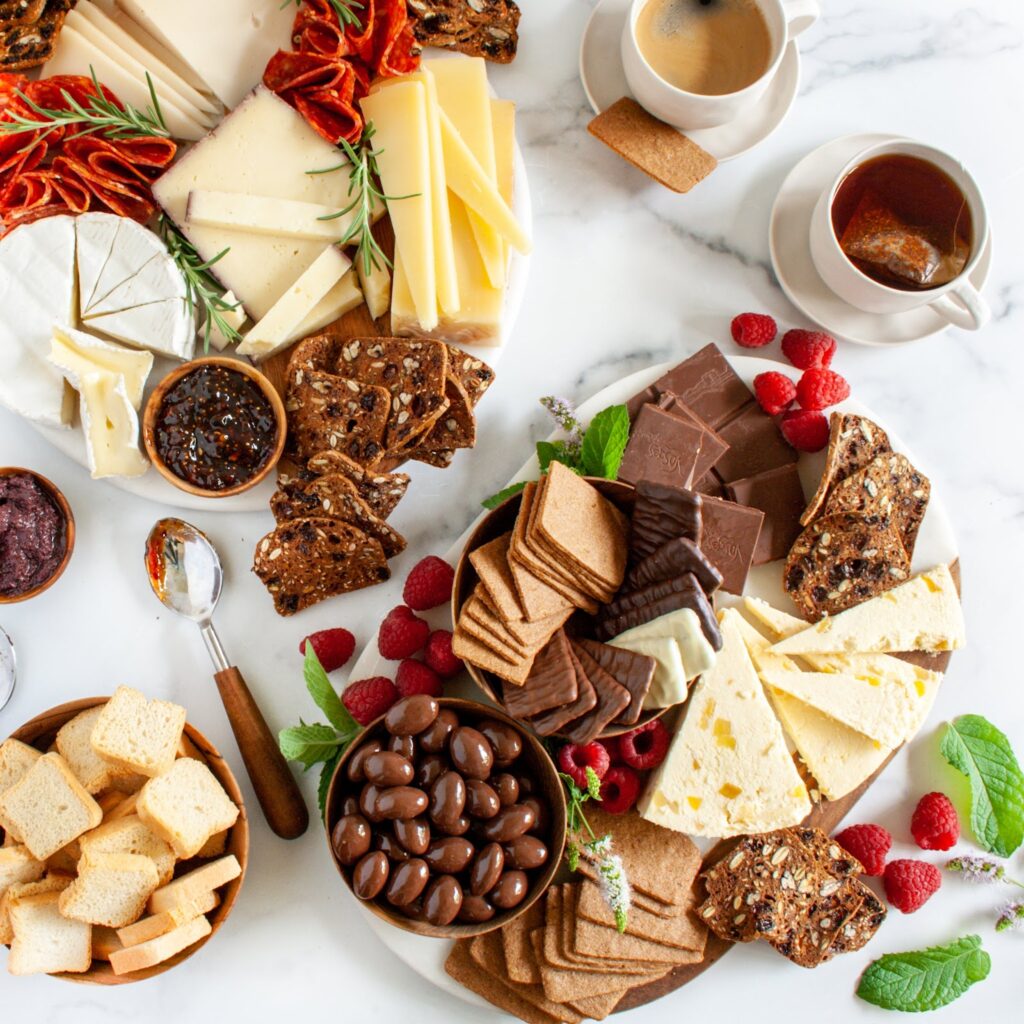 Giving this premium gift to a woman who deserves it would be a magnificent gesture. This gift comes with an assortment of cheese, cookies, tea, and all the love you can muster! Make a good impression at the next holiday gift exchange by surprising a loved one.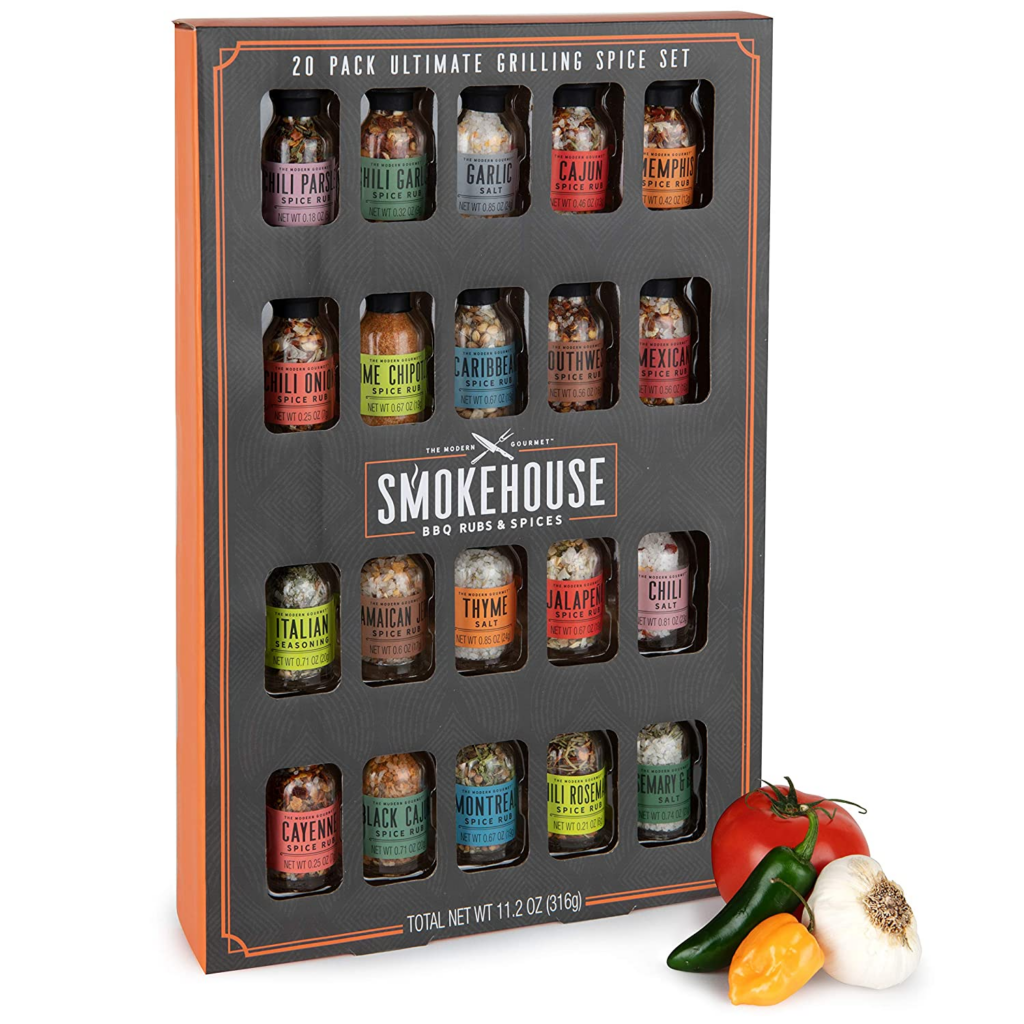 Do you know someone who loves to grill? If so, then gift them a package of Lime Chipotle, Chili Rosemary, Jalapeno, Black Cajun, and Chili Parsley seasonings. If you know a loved one who loves grilling, gift them this ultimate spice set and they'll love it.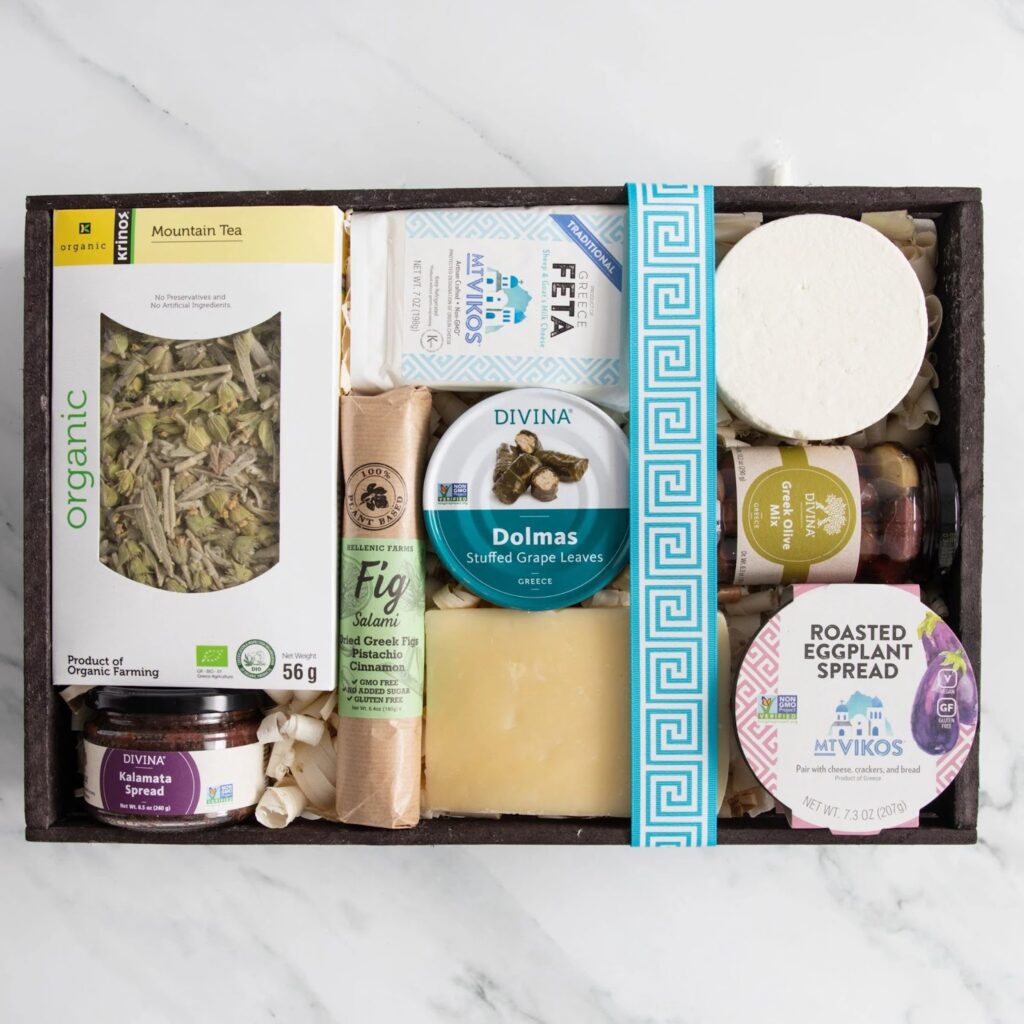 This gift basket is perfect for vegetarians because there are no meat products and it's filled with delicious cheeses and other plant-based treats. The very name "Greece" evokes images of clear blue skies, balmy temperatures, and delicious cuisine. Everything your loved one could want to have a taste of Greece is in this basket.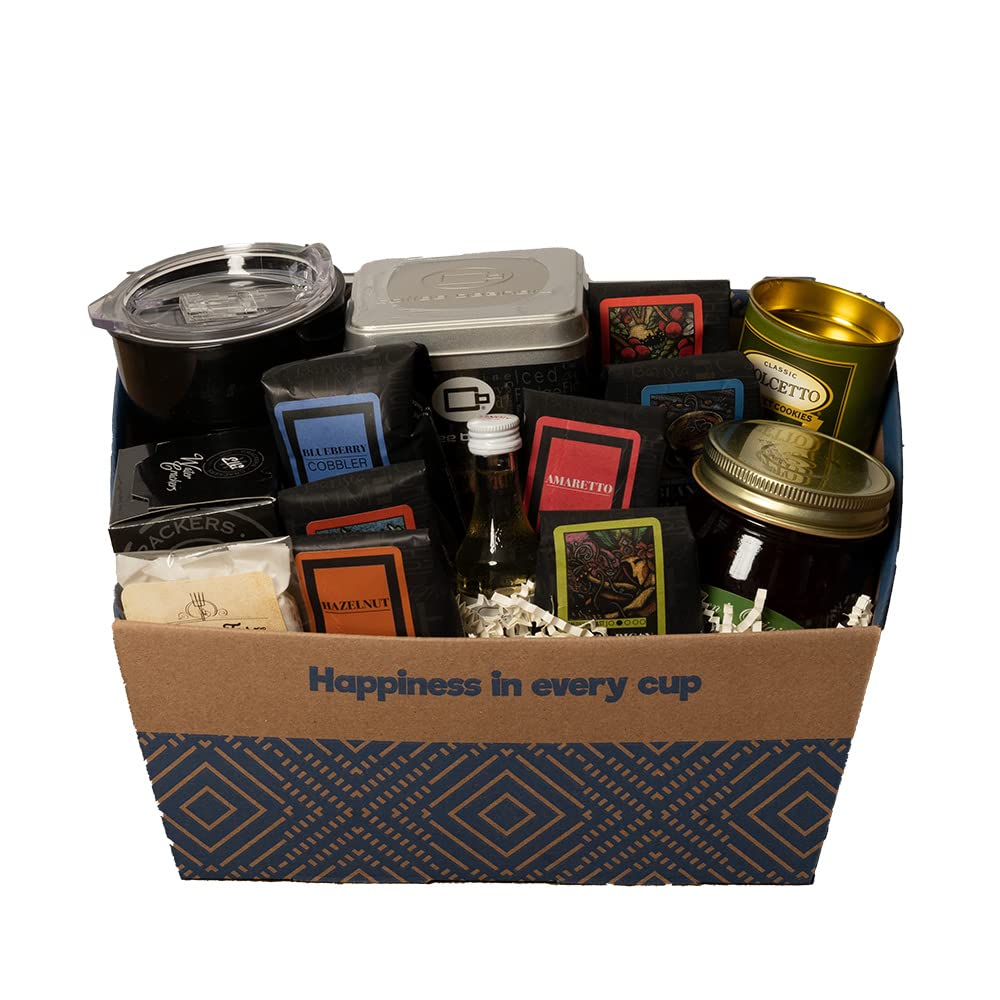 If you're looking for a way to brighten someone's day, look no further than this Gourmet Favorites Coffee Gift Basket, filled to the brim with delicious coffee and snacks. Sugar-free, lactose-free, and gluten-free options mean your loved one may enjoy great flavors without worrying about wreaking havoc on their digestive system. A perfect gift for anyone who prefers 0 calories.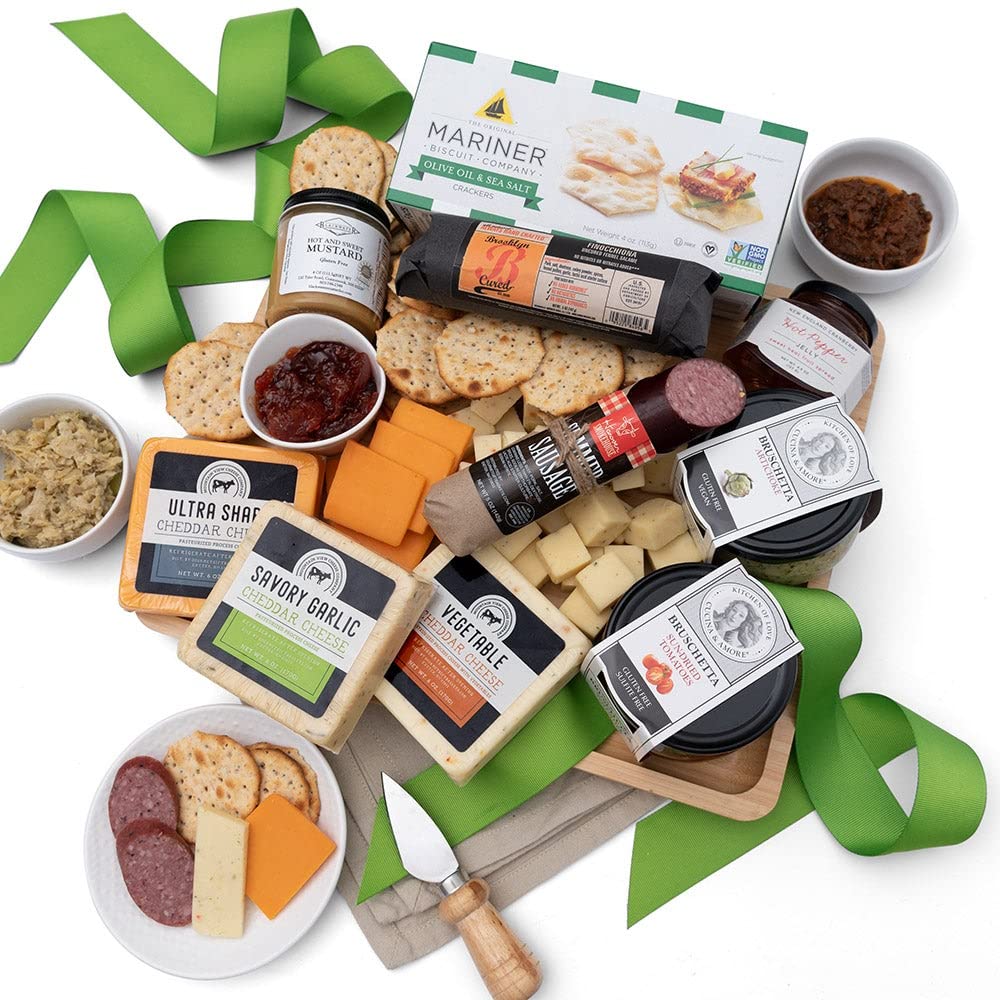 Looking for a great meat and cheese platter to gift this holiday season? The gourmet meats, artisan cheeses, crackers, and antipasto items on this platter were hand-picked to ensure the highest quality. Best to be enjoyed right away, although their best-before dates are within the next month.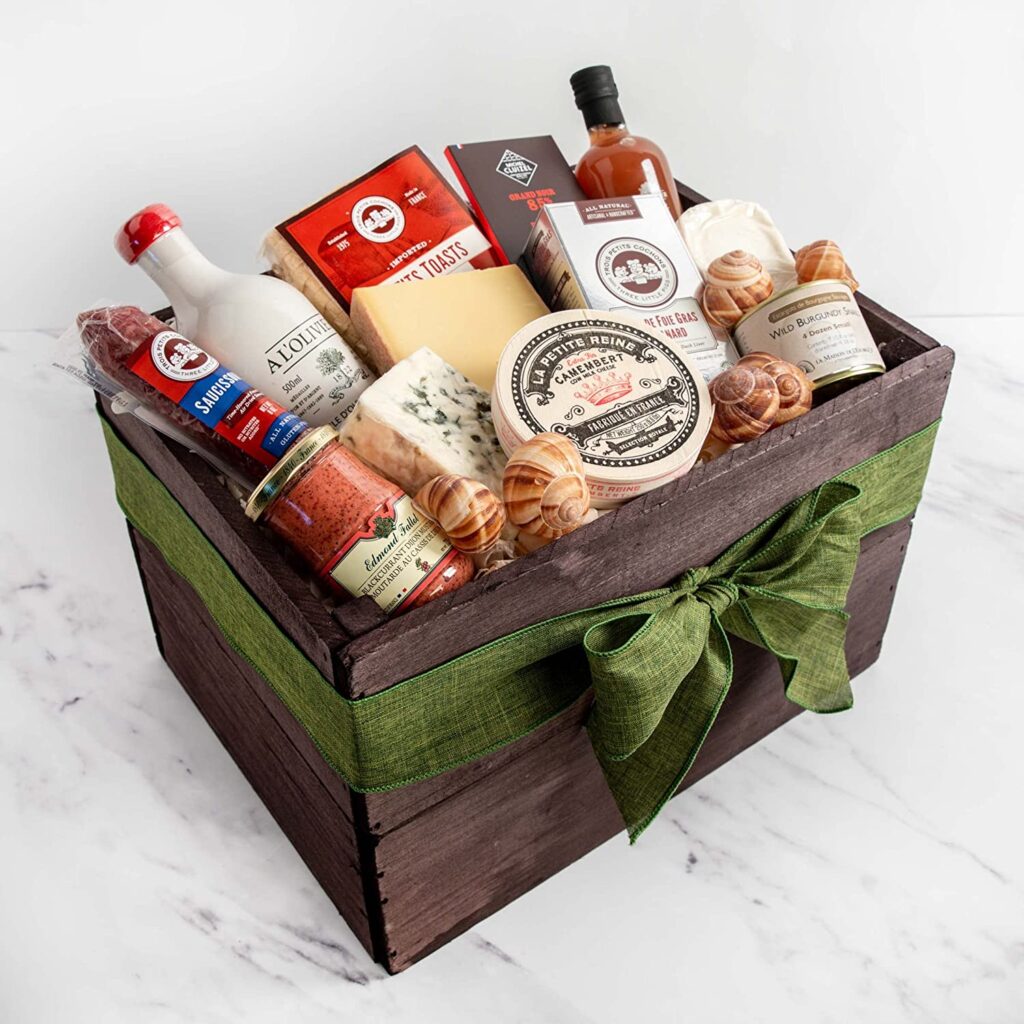 This gift includes French gourmet specialties that are well-packaged and contain delicacies such as foie gras, Banyuls vinegar, and Hazelnut oil are included. Among the items included are: Camembert, Roquefort, Buche de Chevre, Bloc de Foie Gras de Canard, Comté Black Label Reserve, Olive Oil, Mustard, Saucisson Sec, Fruit Vinegars, Chocolate, Mini Toasts, Escargot, Escargot Shells.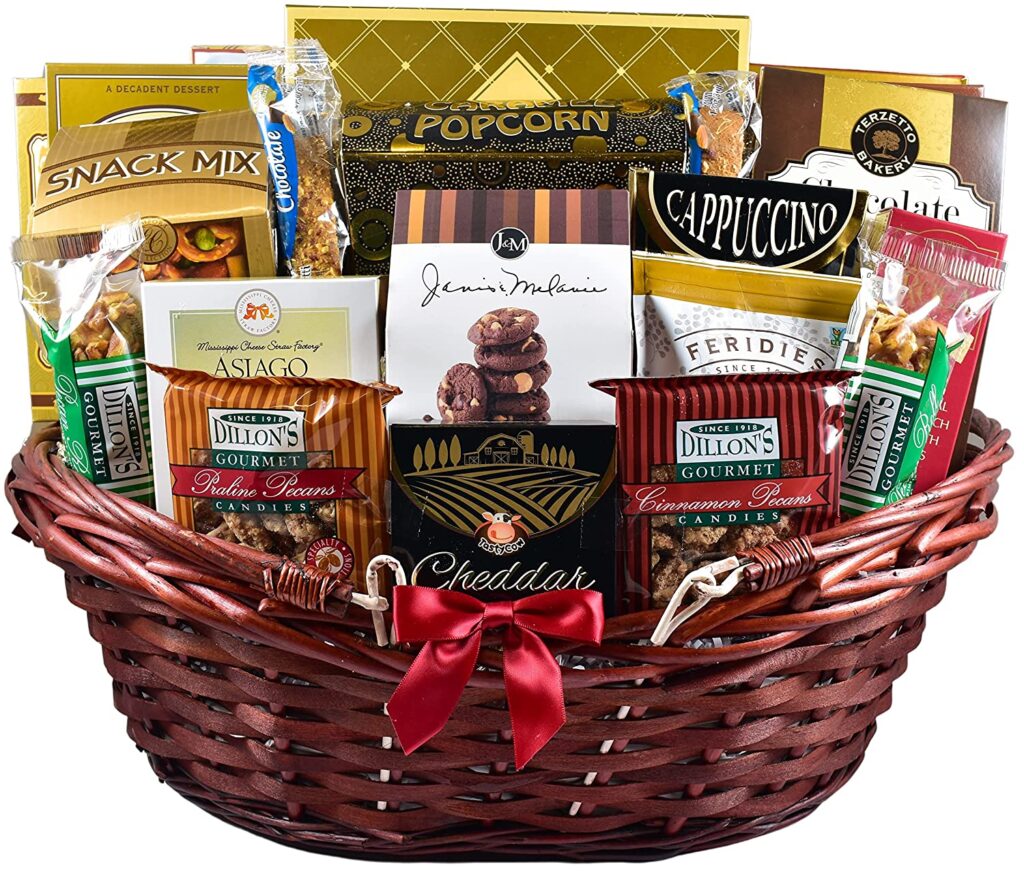 This enormous holiday gift basket is among the greatest gourmet food presentations you could ever send, and the holidays are the perfect time to do so. This lavish Christmas gift basket is stocked with delectable treats that your family will love during the holiday season. It includes various coffees, teas, chocolates, coffee cakes, cookies, meats, and cheeses.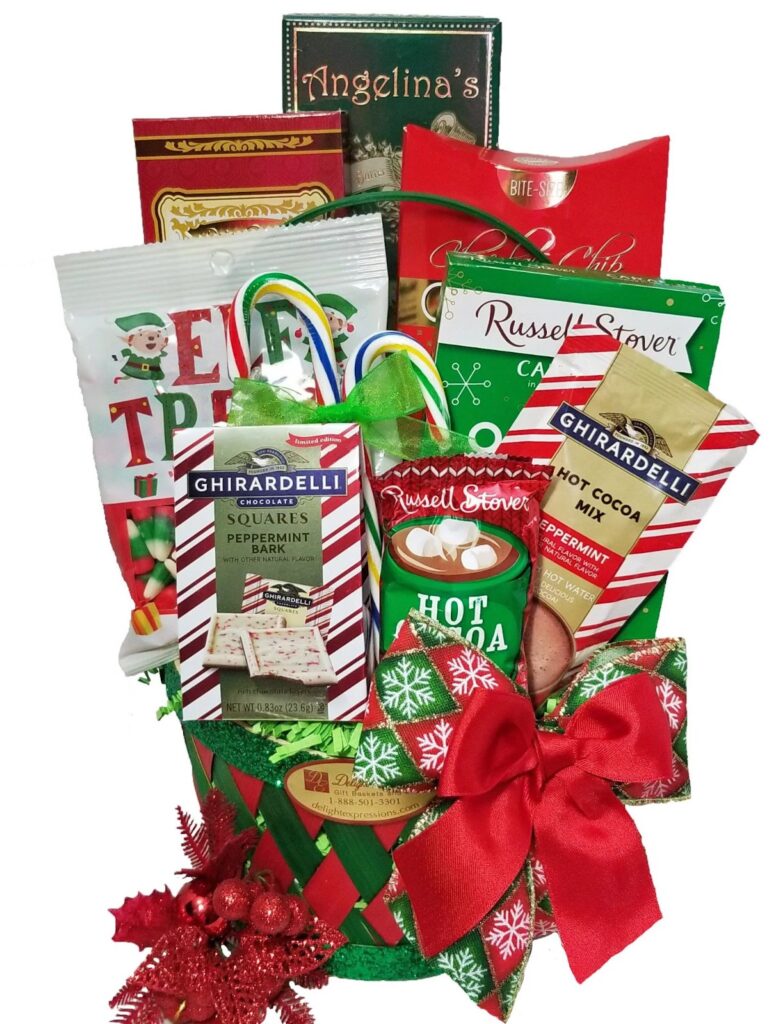 Share the holiday cheer with this beautifully hand-wrapped gift basket. Stuffed with holiday delicacies like a bag of Jelly Belly candy corn, cookies from Angelina, Sonia, and Primo Dolce, and a box of chocolate truffles. It also contains a bag of Ghirardelli peppermint chocolate squares, a box of Russell Stover milk chocolate caramels, a marshmallow bar for hot cocoa, and a box of candy canes.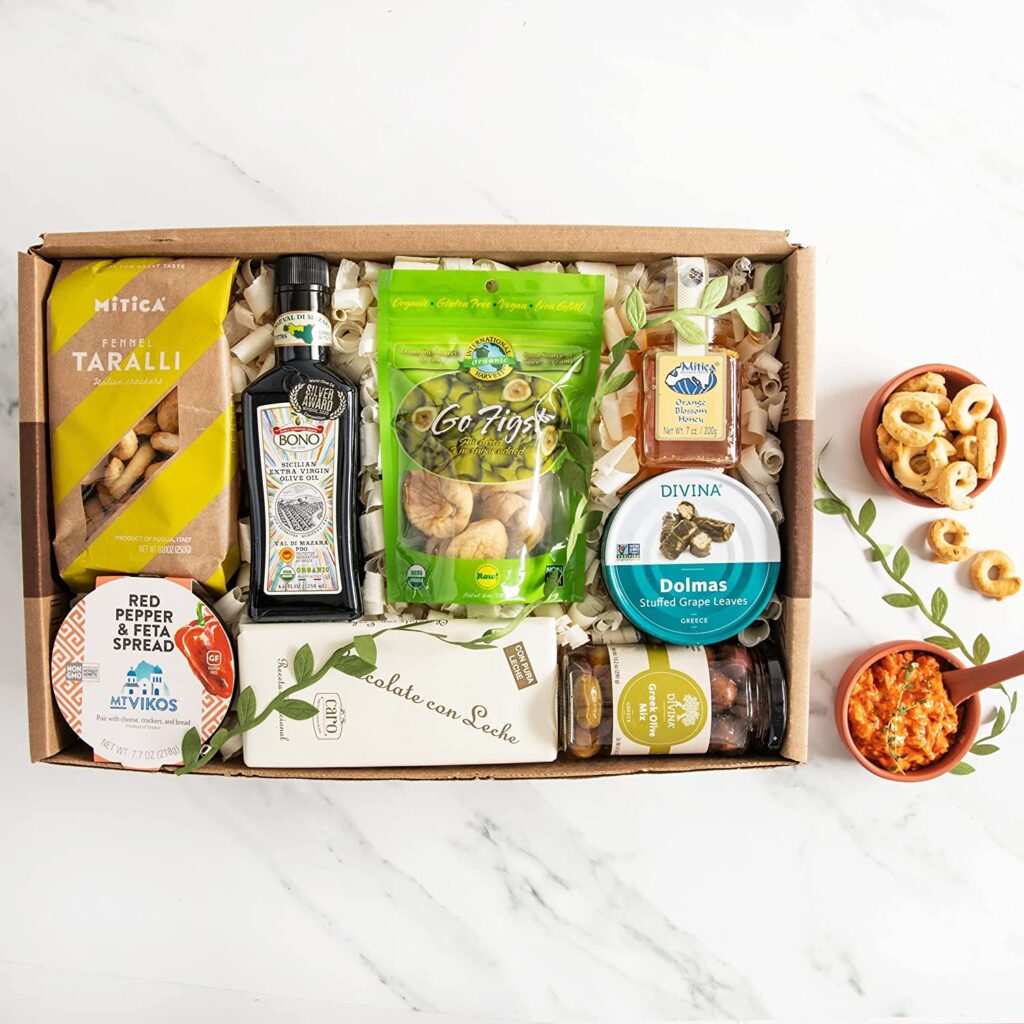 This Mediterranean gift basket features tasty treats from Italy, Greece, Morocco, and Spain to give you a taste of the diverse cuisine of this well-known, sun-drenched area. This gift is ideal for the holiday season, housewarmings, or for that special gourmet foodie in your life.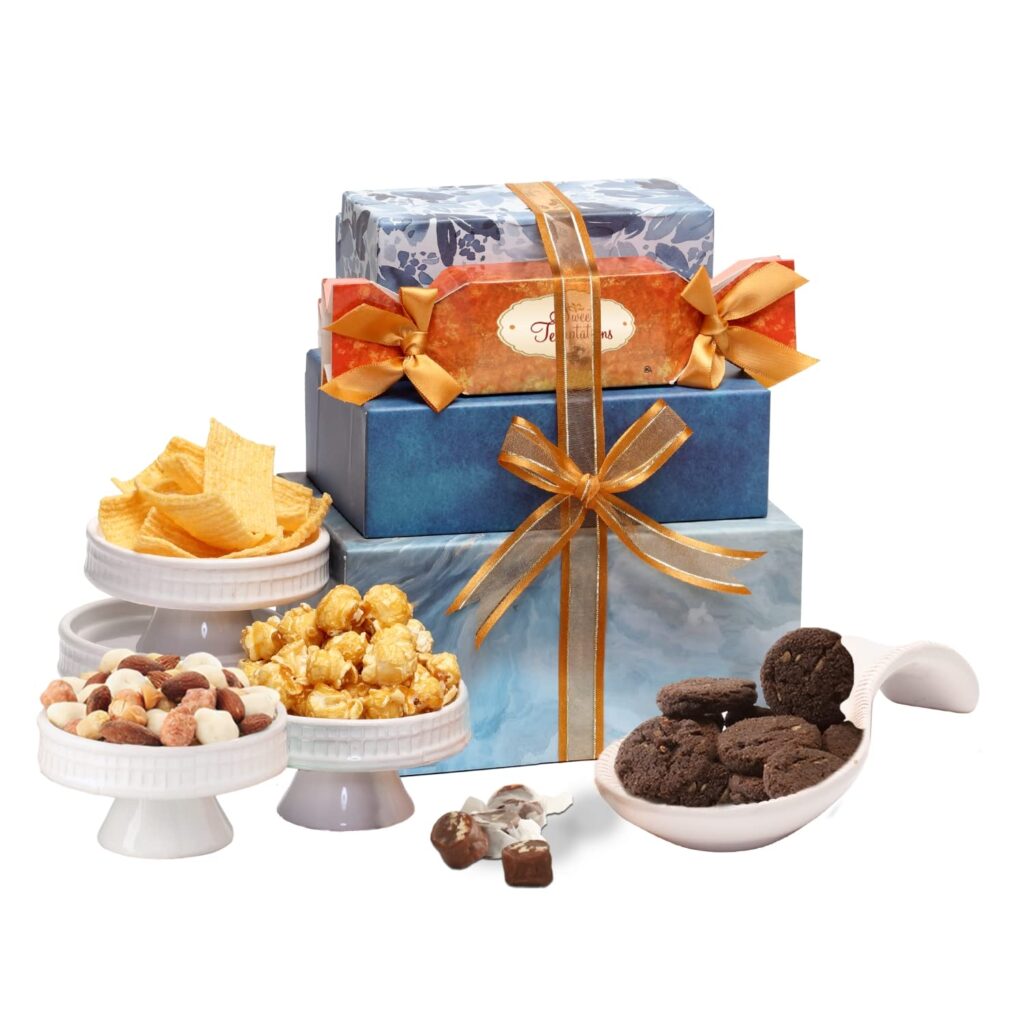 This is a fantastic gift for anyone this holiday season. This gift is filled with 2 lbs of different snack assortments with the perfect blend of sweet and savory. It includes chocolate chip cookies, gourmet caramel popcorn, creme brulee trail mix, chocolate pecan caramels, and Himalayan chips. The gift tower includes 4 stacked boxes that your loved one can reuse for decoration or storage.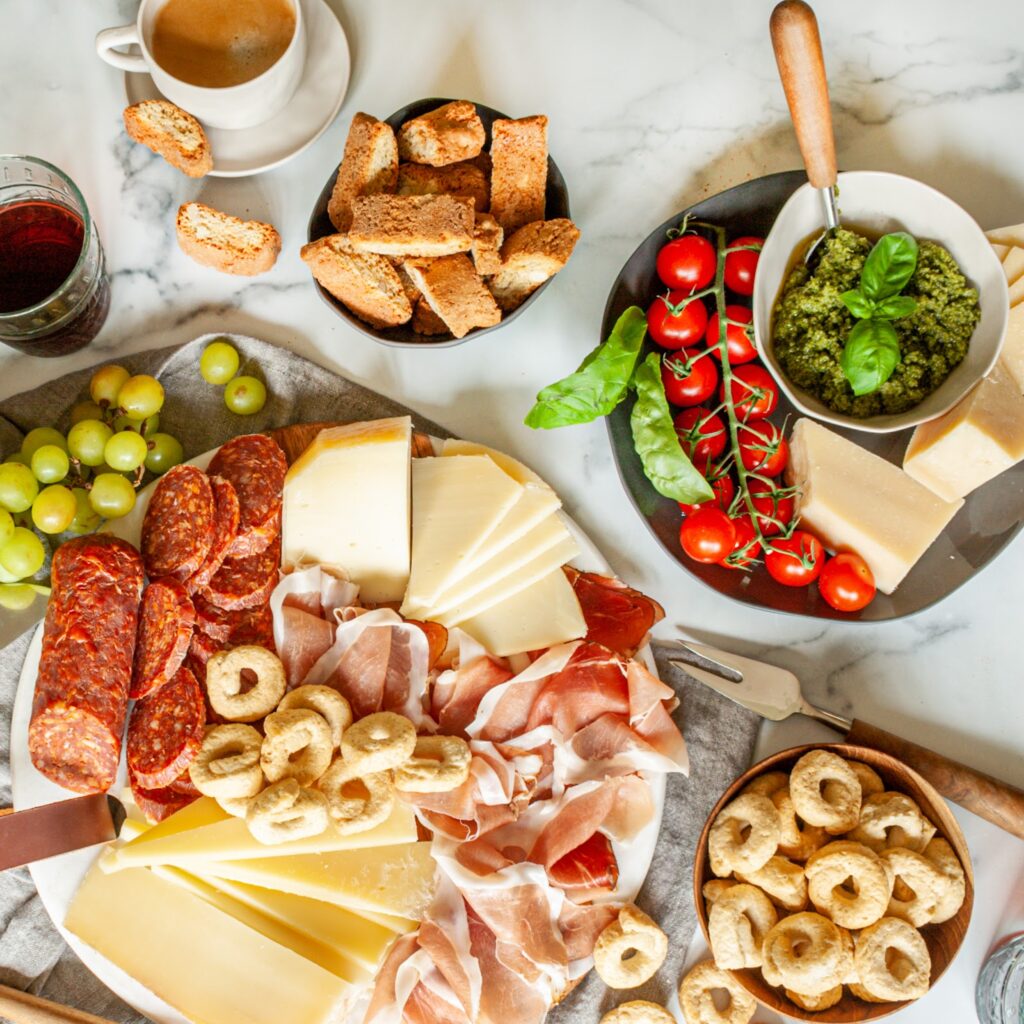 This igourmet Italian Classic Gourmet Gift Basket contains only high-quality items you will be proud to offer. Provolone Piccante is included in the impressive selection of cheeses, olive oil, Balsamic vinegar, and other condiments.
Your family will love this Piccante version, which is rarely available in the US and much more interesting than the mild Provolone most Americans have come to know. If you know any big fans of upscale Italian gourmet food this is the perfect gift for them.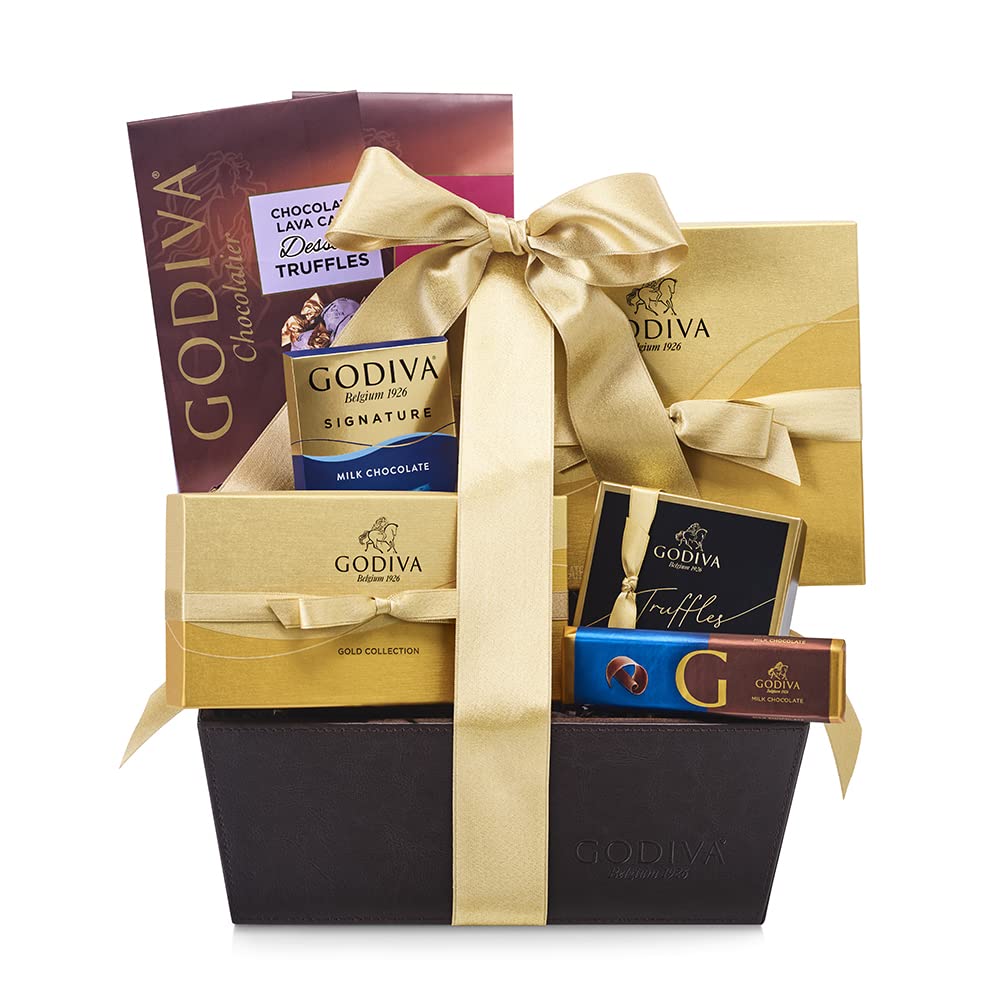 This Godiva gift basket might be one of the best consumable gift ideas for the chocolate lover in your family. There are lava cake truffles, chocolate bars, and more in this gift basket. There are also two of Godiva's renowned boxes, each containing a variety of white, milk, and dark Belgian chocolates. Godiva makes sure that your chocolates won't arrive melted (or frozen) by checking the temperature of the location where they'll be delivered.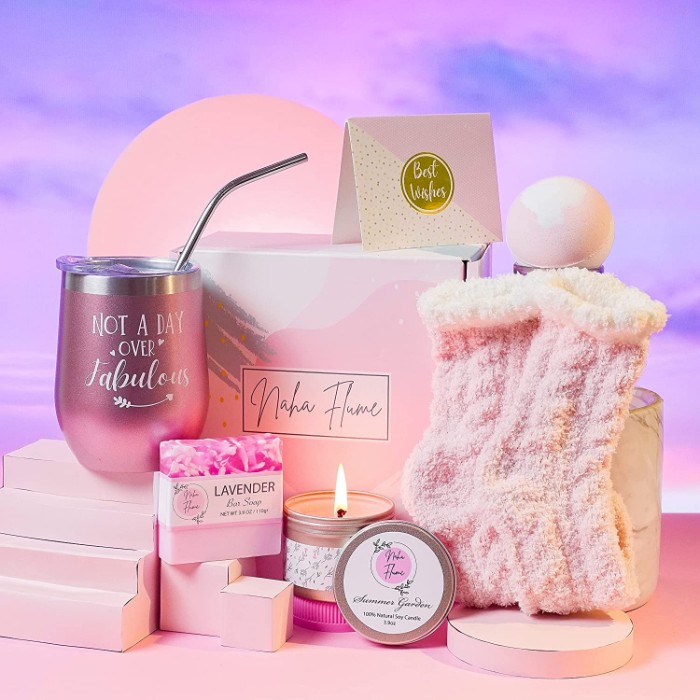 Every woman will be astounded by the elegance and sophistication of this gift box the moment she lays eyes on it. This set will give her the best surprise and make her feel so loved because it is packed with beautiful and thoughtful items.
Together, the items in the set will create a sumptuous spa atmosphere in her home, where she may relax in a soothing flowery bubble bath and sip her favorite beverage in complete comfort and style.

Summary
This list of the best consumable Christmas gift ideas is filled with gifts that your loved ones will be sure to enjoy. From gourmet food baskets to subscription boxes, this gift guide has something on this list for everyone. These gifts will allow your friends and family to indulge in their favorite treats while also enjoying some new flavors this holiday season.
Related Articles: